🏈

Wildcard Weekend in NFL

January 08, 2021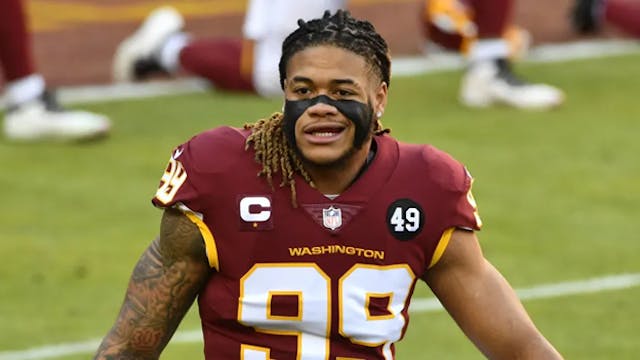 SOURCE: BRAD MILLS/USA TODAY SPORTS
The set-up: This year's postseason is supersized, with 14 teams having clinched playoff spots. The top two teams in each conference — the AFC's Kansas City Chiefs and the NFC's Green Bay Packers — have earned a bye, so the remaining 12 will play in six wild card games this weekend: three on Saturday and three on Sunday.
The games will be played in the higher seed's stadium, and each team has their own attendance policy based on COVID-19 restrictions (which the Cleveland Browns know a thing or two about).
Like every round of the NFL postseason, it's one and done, so teams that win in this first round will move right on to round two (aka the Divisional Round).
Saturday's must-see match: If you're going to watch only one game on Saturday, make sure it's the 8:15 p.m. ET matchup between the Tampa Bay Buccaneers (11-5) and the Washington Football Team (WFT) (7-9).
The Bucs are the stronger team and the heavy favorites to win, but quarterback (QB) Tom Brady might want to watch his back: WFT's rookie defensive end Chase Young has already marked him as a target. Bring on the drama.
Sunday's can't miss game: Saving the best for last, the Pittsburgh Steelers (12-4) will play the Browns (11-5) on Sunday night at 8:15 p.m. ET.
The Steelers just lost to the Browns on Sunday, but we wouldn't look into that too much: the Steelers were resting their best, while the Browns went all out, fighting for a playoff spot. Expect these division rivals to give us a wild Wild Card finale.
Get in on the action: Don't be stuck on the bench during the playoffs! Thanks to our friends at FanDuel, GISTers can compete in weekly NFL fantasy for cash prizes (!!!) throughout the playoffs. Here's the gist:
FanDuel is offering GISTer-exclusive weekly fantasy contests with $500 on the line. By pitching in $2 and setting a killer line-up, you'll walk away with cash if you're in the top 20% of participants!
Plus, by competing in at least two weeks of fantasy contests, you'll be entered in the final leaderboard — $2,000 is on the line, including the grand prize of $500, a $200 adidas gift card and GIST merch. Cool, no? Sign up and make your picks here (fanduel.com/GISTers) before games kick off on Saturday.*
🏀

The WNBA Played a Role in Warnock's Georgia Senate Seat Win

January 08, 2021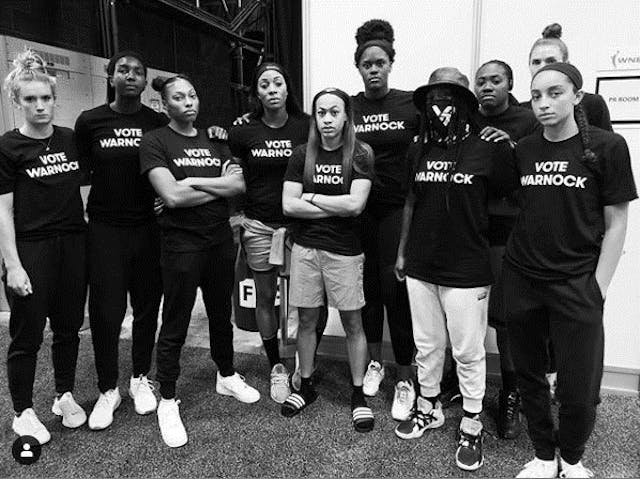 SOURCE: E_WILLIAMS_1, INSTAGRAM
Monday: A day before the Georgia runoff election, the WNBA's Atlanta Dream shared a video of its players encouraging their Georgian fans to get out and vote for Senate candidate Reverend Raphael Warnock. Now that's how you leverage momentum.
The catch? Warnock's opponent is the Dream's co-owner, Kelly Loeffler. You may remember her July 2020 letter to the WNBA commissioner, in which she opposed the Black Lives Matter movement and her team's involvement in it, saying the "political movement" didn't align with the league's values. No thank you, please.
Tuesday: The Dream's ringing endorsement was the push Warnock needed to beat Loeffler and become Georgia's first-ever Black senator. The players celebrated their owner's defeat on Twitter, and so did LeBron James, who tweeted his interest in buying the Dream team.
Wednesday: And then yesterday happened. There really aren't words to accurately capture the day's essence. As Congress gathered to confirm the presidential election votes, mostly white protestors stormed the Capitol Building in Washington, D.C., vandalizing the historic property in an attempt to disrupt democracy.
The big picture: Similar to these athletes, we can't help but think about the blatant differences in how yesterday's rioters were treated compared to the BLM protestors of last summer. Unfortunately, it was yet another demonstration of the impact of divisive leadership and institutionalized racism. Hypocrisy is alive and well.
🏈
🏀
Alabama's DeVonta Smith Named 2020 Heisman Trophy Winner
January 08, 2021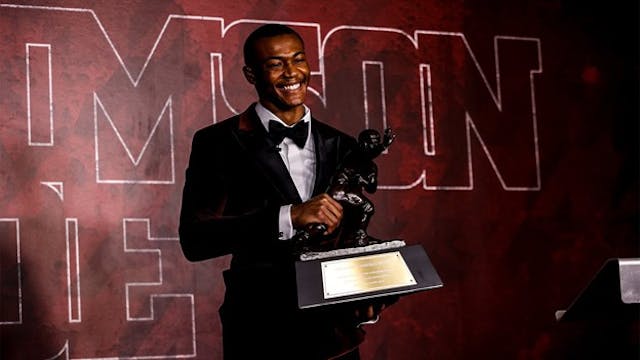 SOURCE: ALABAMA FOOTBALL/TWITTER
🏈Football: Alabama's DeVonta Smith was named the 2020 Heisman Trophy winner Tuesday night, making him the first wide receiver to take home the MVP award since 1991. How fitting for a topsy-turvy college football season. Smith gave an inspiring acceptance speech to close out the ceremony. Pass the tissues, please.
Meanwhile, Clemson QB Trevor Lawrence, the Heisman trophy runner-up, officially declared for the 2021 NFL Draft yesterday. Smith might have won the Heisman, but the NY Jets, er, Jacksonville Jaguars will also land a solid prize.
🏀WBB: COVID-19 sadly continues to impact college hoops. A positive test for No. 6 Baylor head coach Kim Mulkey canceled the highly anticipated matchup between her Bears and No. 3 UConn, originally scheduled for tonight. Wishing Coach Mulkey a speedy recovery!
Thankfully there is a top-ranked matchup still on the docket for this week: a Pac-12 showdown between No. 1 Stanford and No. 11 Oregon tomorrow at 2:30 p.m. ET. Nothing like some midday hoops to start your weekend off right.
🏀MBB: Men's hoops has also struggled with a long list of COVID-19 disruptions. No. 3 Villanova hasn't played a game since December 23rd and just paused activities again on Monday.
With all of these hiccups, it's no surprise the NCAA has opted to host the entire 2021 men's March Madness tournament in a bubble-ish environment in Indiana. We love to see it, but we're still (not so) patiently waiting on that women's bubble announcement...
🏒

Four Teams, Four Games Remaining in 2021 World Juniors

January 04, 2021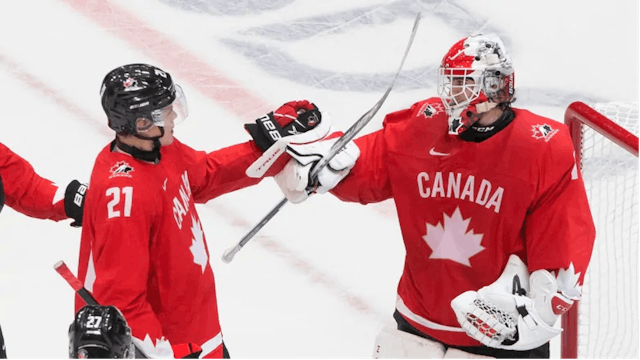 SOURCE: JASON FRANSON/THE CANADIAN PRESS
Canada vs. Russia: A year ago today, Canada and Russia both won their semifinal games, only to meet in the next day's final. Canada won that gold medal game, and Russia has probably been plotting their revenge ever since. Well, their day has finally come: the two hockey powerhouses will face off at 6 p.m. ET tonight in the first of two semis.
Canada is the tournament's only undefeated team, and they have the best goalie we've seen in a long time in Devon Levi. If Canada can capitalize on some quality scoring chances while Levi keeps the puck out of the net, their ticket to Tuesday's final should be well within reach. Touch wood.
USA vs. Finland: The Americans and the Finns have matching 4-1 records: Team USA lost their first match of the tournament to Russia while Finland's only loss came against Canada. Now they'll face each other in today's second semi at 9:30 p.m. ET.
Finland knocked Team USA out last year, so, like Russia, the Americans will be playing with a chip on their shoulder, but if they can stay disciplined and keep scoring goals like these, they'll likely send the Finns packing.
The final: If our predictions hockey dreams come true, then we could see a Canada-U.S. final on Tuesday at 9:30 p.m. ET. Could there be a better way to start off 2021 than with a World Juniors victory over the Americans? We think not.
⛷️
🏀
🏒
Quick Hits: This week in sports, Canada
January 04, 2021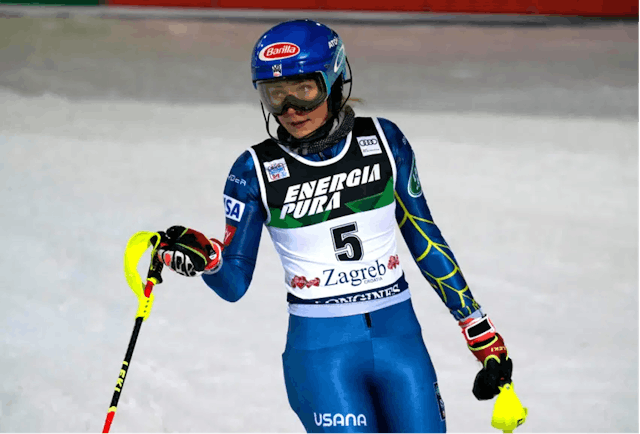 SOURCE: GIOVANNI AULETTA/AP
🎿Skiing: The first women's World Cup slalom event of 2021 took place in Croatia over the weekend, and legend Mikaela Shiffrin came within 0.27 seconds of her 100th podium. Close but no cigar. Her fourth place finish was still admirable though, in a rain-soaked slalom that her greatest rival, Petra Vlhová, won instead.
Meanwhile, Canadian Erin Mielzynski had her best showing in five years: a fifth place finish. Amazing.
🏀NBA: We're five games into the new season, but our beloved Toronto Raptors, who a mere year-and-a-half ago were on top of the basketball world, have managed to eek out only one win so far. We're not panicking yet, but if they can't pull out a W against the Boston Celtics at 7:30 p.m. ET tonight, we might just start.
In other news, Canadian superstar Jamal Murray and his Denver Nuggets, who made the Conference Finals just four months ago, are hanging around the bottom of the Western Conference. Yeesh.
🏒NHL: As the World Juniors wind down, the NHL is winding up for their January 13th start. But — and it's a big but — the Canadian division still doesn't have the all-clear, despite the federal government waiving the mandatory 14-day quarantine for players returning to Canada.
Alberta and British Columbia have approved games to be played in their provinces, but Ontario, Quebec and Manitoba are still weighing the risks, as teams like the Ottawa Senators and Toronto Maple Leafs are looking to host games amidst local lockdowns. Time's a tickin'.