🏅
🤸
🎾
History making moves for Simone Biles and Naomi Osaka
July 27, 2021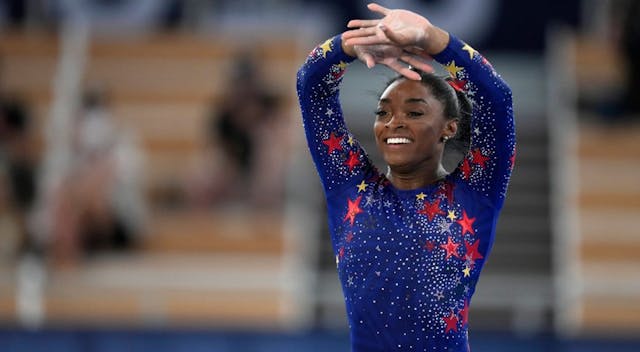 Source: Natacha Pisarenko/AP
🤸‍♀️Simone Biles: The gymnastic GOAT had a shaky start to the women's team final today, lowering her difficulty on the vault before leaving the arena with a trainer.
Biles withdrew from the team event moments later "," but she eventually returned to cheer on her team to silver from the sidelines, while the won gold.
But Biles' Olympics are not over. She'll hopefully be back Thursday for the women's all-around final before the individual events begin on Sunday. Cross your fingers.
🎾Naomi Osaka: The Olympic cauldron lighter will leave her home Games without a medal. World No. 2 Osaka was eliminated overnight by No. 42 Markéta Vondroušová (pronounced von-DROH-soh-vah) in the third round. ...not for a long time?
And with No. 1 Ash Barty and No. 3 Aryna Sabalenka having lost in the first and second rounds, respectively, it's anyone's guess who will own the podium.
⚽
🤸
⛳
🎾
Sports Quick Hits: June 7th, 2021
June 08, 2021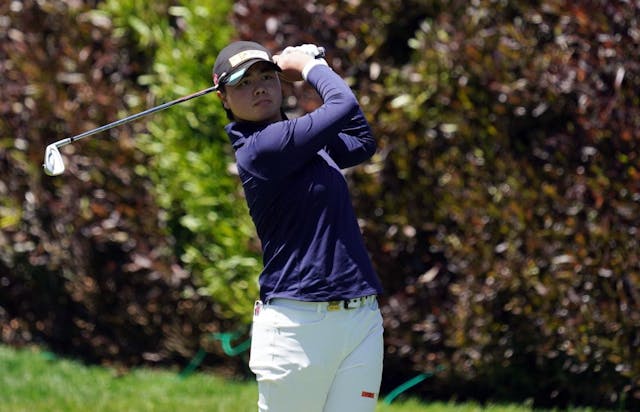 Source: Kyle Terada/USA TODAY Sports
⛳️Golf: With a and a , we definitely thought the U.S. Women's Open winner was going to be a ...but instead, it was Yuka Saso of the Philippines — at the ripe old age of 19 — who won it all in a three-hole , in tournament history. The kids are alright.
🎾Tennis: There go the greats. Serena Williams lost her fourth round match at the French Open yesterday, and Roger Federer, who just came back from a knee injury, after a grueling third round, four-set winner on Saturday. We weren't ready for goodbyes.
🤸‍♀️Gymnastics: The GOAT . Last night, Simone Biles won her , the most all-time by a female gymnast. No surprise here.
⚽️NWSL: The Orlando Pride celebrated the start of Pride Month by continuing their undefeated season yesterday, with a 1–1 draw against the Washington Spirit. The zero-to-hero Pride also continue to , after spending the last two seasons near the bottom. The whole league now gets and will return to the pitch June 19th.
🤸
🎾
🏈
🏆
Australian Gymnastics Addresses Abuse in the Sport, Halep Opts Out of Palermo Open, Tyson to Return the the Ring In Exhibition Match
July 27, 2020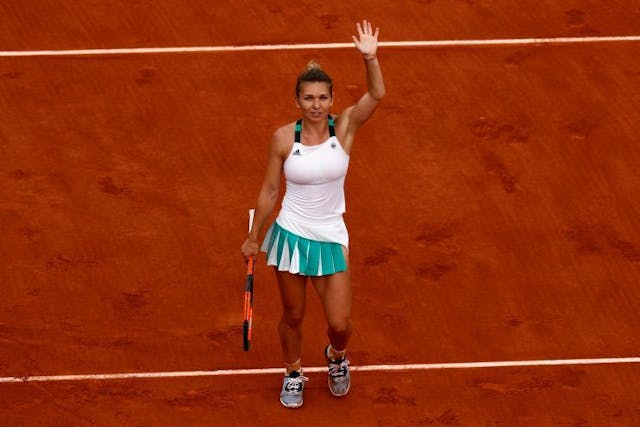 GETTY IMAGES
Gymnastics: Following the lead of their British and American counterparts, several Australian gymnasts recently publicized their personal accounts of abuse and harassment during their time with Gymnastics Australia.
Former gymnast and Commonwealth Games gold medalist Chloe Gilliland released a series of Facebook messages describing some of the abuse she faced and revealing that it led to bulimia, anxiety and suicidal ideations. Horrible.

In response, Gymnastics Australia CEO Kitty Chiller released an open letter, saying the organization applauds its athletes for speaking out and acknowledging that it has plenty of work to do. Damn right.
Tennis: World No. 2 Simona Halep is caught in a sticky situation. The 2019 Wimbledon champ was supposed to headline the Palermo Open, the first WTA International series tournament scheduled since the pandemic began, but pulled out after Italy's health ministry announced a mandatory 14-day quarantine for anyone entering the country from Romania (where Halep lives).
The Open's organizers are v. upset, arguing Halep could skip the mandatory quarantine as a pro athlete. But citing "the recent rise in COVID-19 cases in Romania and [her] anxieties around international air travel at this time," Halep withdrew anyway. We were excited to see her play, but we're much happier to see her stay healthy. Safety first!
Boxing: In this week's "but why though?" news, Mike Tyson is getting back in the ring. The former heavyweight world champion, who just turned 54, will take on another former world champ, 51-year-old Roy Jones Jr., in an exhibition match on September 12th.
Tyson, who's best known for his appearance in The Hangover films and for biting a part of Evander Holyfield's ear off during a 1997 fight (yes, that actually happened), hasn't boxed professionally in 15 years, but is still favored to win. TBH, we're not really sure what to make of this. Just protect your ears, Roy.
NFL: In our continuing quest to "look for the helpers," we've found our first opt-out of the upcoming NFL season. Kansas City Chiefs guard Laurent Duvernay-Tardif, who last year became the first M.D. to ever win a Super Bowl, has decided to forgo the 2020 season so he can continue helping those in need. Good guys do exist!
🏒
⛳
🏀
🤸
NHL and LPGA Release Restart Dates, Duke University Hires New Basketball Coach, Gymnasts Speak Out on Abuse in the Sport
July 13, 2020
GETTY IMAGES
NHL: It's officially official: the NHL's restart will take place in Canada starting on August 1st, with the Eastern Conference playing in Toronto and the Western Conference in Edmonton. Now we just need to know which players are in and which are out.
Players have until 5 p.m. ET today to opt out of the season restart, and at least seven players have already taken that route. The Montreal Canadiens, however, are giving forward Max Domi — who has Type 1 diabetes, which increases the risks associated with COVID-19 — an extra 10 days to make his decision. Fair play, especially since three of his teammates tested positive in recent days.
Golf: The first LPGA major of the season is a go! The AIG Women's British Open is scheduled for August 20–23rd, albeit without fans, at the Royal Troon Golf Club in Scotland. Heid doon arse up!
Basketball: One of college basketball's highest-profile teams has a new coach. After Joanne McCallie announced that she would not be returning to coach Duke University's women's basketball team next season, the Blue Devils hired Kara Lawson, who's currently an assistant coach for the NBA's Boston Celtics, as her replacement.
Lawson is a 12 season WNBA vet, a WNBA champion and All-Star and an Olympic gold medalist. Lawson also played four seasons of college ball under legend Pat Summitt, so it's safe to say the Blue Devils are in great hands.
Gymnastics: Unfortunately, two very disturbing stories came out from the world of gymnastics this week. After the release of Athlete A, a Netflix documentary that highlights the USA Gymnastics (USAG) sex abuse scandal involving Larry Nassar, gymnasts in the UK have begun speaking out on the abuse they've encountered across the pond.
On Thursday, two of Britain's most decorated gymnasts, sisters Becky and Ellie Downie, released a joint statement on their sport's toxic culture, calling it "abusive" and "dangerous," and showing that what happened with USAG is not isolated, but a pervasive issue in the sport. As a result, British Gymnastics has launched an independent investigation.
And speaking of USAG, former USAG coach Terry Gray — who was suspended for two years by USAG and the US Center for SafeSport back in October — was arrested in Las Vegas on Friday and now faces up to 14 counts of lewdness with a child under age 14. Just disgusting. This has to stop.
🤸

Say my name, say my name

June 18, 2020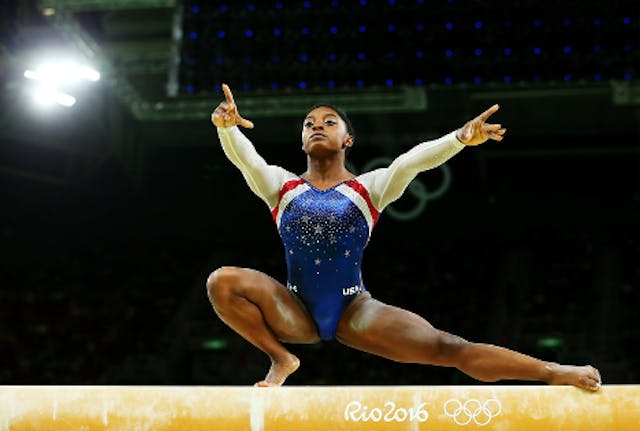 ALEX LIVESEY/GETTY IMAGES
The GIST: It's been quite the week for GOAT gymnast Simone Biles. On Monday, she was named as a plaintiff in the lawsuit against USA Gymnastics (USAG). Then on Tuesday, she performed a triple-double dismount — a move never been seen before. Get that dirt off your shoulders.
Wow: Wow is right. Biles is now one of more than 140 plaintiffs suing USAG for failing to protect them from disgraced former USAG team doctor Larry Nassar, who sexually assaulted over 300 female athletes and at least one male athlete under USAG's nose. Disgusting.
Although Biles kept her name out of the criminal and civil proceedings since the case was first made public in 2016, she hasn't remained silent. At last year's US Championships, she made her feelings very well known. So strong.
Can she compete for an organization she's also suing?: It seems counterintuitive, but yes. Similar to the US women's national soccer team and their ongoing lawsuit with the US Soccer Federation, Biles will still compete for Team USA. And you better believe she won't be missing next year's Tokyo Olympics — rumor has it they might just be her last.