🏉

Guide to Rugby

May 26, 2021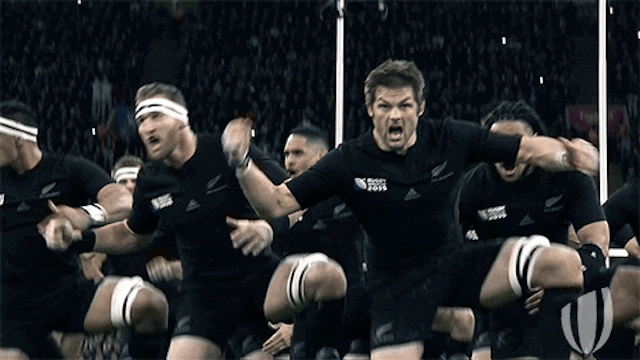 The GIST
Rugby is played on a grassy field (known as a pitch) with 15 players per team. It can, however, also be played with just seven players per team in a version that's called sevens rugby or often just 'sevens' (which made its Olympic debut in 2016). There are also other variations of rugby, including rugby football and Aussie rules, which are most commonly played in Australia.
The scoring system in a rugby match is similar (but not exactly) to good ol' American football. Scoring a try is worth five points and occurs when a player touches the ball down in the end zone (similar to football). After every try is scored, the scoring team has the opportunity to kick a conversion (like a field goal) for two extra points. Games are divided into two 40-minute halves and time expires when the ball is "dead" (kicked out of bounds) after the 80-minute mark. In sevens rugby, the games are only seven minute halves because there's a lot fewer players covering the same size of field, and that's just tiring AF!
How is rugby organized?
Canada doesn't have its own professional rugby league (yet!). There are, however, local club rugby teams all across Canada and many high schools and universities have rugby clubs. Aside from our national teams, the most notable team in Canada is the Toronto Wolfpack, the world's first transatlantic rugby team. WTF does transatlantic mean?! Well, the team is based in Toronto, but plays in the British Rugby Football League in England. Yep, this means lots of flying, jet lag, Spice Girls, tea and scones.
The British Rugby Football League is made up of a four-tiered system. In 2019, the Wolfpack earned entry into the Super League (highest tier) after defeating the Featherstone Rovers in a promotion play-off game. This means, for the first time ever, there will be a North American club playing in the top flight of the domestic British league. .
Canada also has one MLR (Major League Rugby) team called the Toronto Arrows. The 12-team MLR is the only professional rugby league in North America and held its inaugural season in 2018 (more on that later).
The best of the best
Hockey is synonymous with Canada and vice versa, right? Well, the same goes for rugby in England, Scotland, Ireland, South Africa, New Zealand and Australia. Now, if we had to narrow it down to the two best teams in the world, it would be the New Zealand All Blacks and the South African Springbok. Both teams have won the Webb Ellis Cup (the trophy for the Rugby World Cup title) three times, the most of any team. New Zealand's came in 1987, 2011 and 2015 while South Africa took the Cup in 1995, 2007 and most recently in 2019.
All Blacks stud retired from international play in 2015 but remains the highest point-scorer in test match rugby (a fancy way to say an international match between two senior national teams). Carter still plays club rugby for the Kobelco Steelers in Japan and plays the of center or fly-half. plays for the English national team, as well as the Saracens in London, England. He is one of the best (looking) converters in rugby, with more than 100 successful conversions in international play. Not too shabby!
Didn't your mama tell you not to ruck with a girl?
In Canada, rugby isn't really our thing on the men's side. So thank goodness our Canadian women kick some serious ass (typical). At the 2016 Rio Olympics, the Canadian women's sevens team captured the bronze medal with a dominant win over Great Britain. These women also won the gold at the 2015 Pan Am Games in Toronto, which really helped grow the sport in Canada. , , and (GIST Athlete Ambassador) are a few of Canada's best current players on the pitch.
Landry is the captain of the sevens program, who are going to be strong contenders for gold at the 2020 Olympics in Tokyo. These women live and breathe rugby and also love empowering women and encouraging young girls to get into the sport. PREACH, BABY, PREACH! After you've got #thegist on rugby, maybe it's time for YOU to throw on some cleats and show the boys who's boss.
Let's get local
The Toronto Arrows rugby team was founded in 2017 (as the then Ontario Arrows) and joined the Major League Rugby (MLR) professional league in North America for the 2019 season. MLR consists of nine teams — eight based in the United States and one based in Canada (the Arrows). This league is the highest level of professional rugby in North America and the league is set to expand in 2020 with three additional teams (Atlanta, Boston and Washington, D.C.). The MLR season spans six months from February through to late June. Go get em' boys!
Arrows Fun Facts:
Brian Burke (former GM of the Toronto Maple Leafs) is a huge supporter of rugby in Canada and is a .
And you know we have some trivia…
This is more of an FYI but, you cannot "forward pass" the ball in rugby — it must be thrown backward to a teammate. However, you can kick the ball forward along the ground and then run to grab it!
The Rugby World Cup (RWC) is hosted every four years. The most recent RWC was hosted in Japan in 2019 (won by South Africa) and the women's is set for 2021. FYI, in a landmark decision in 2019, the Rugby World Cup decided to drop gender markings from its tournament names meaning the 2021 women's edition will be known simply as the Rugby World Cup 2021. #EqualityAF
You don't get to pick your jersey number in rugby because jersey numbers are assigned to specific positions. Example: 9 = scrumhalf, 15 = fullback.
Rugby was invented when William Webb Ellis was playing soccer, caught the ball and ran to the goal while carrying it. Rules are made to broken we guess?

That's #thegist of it!
Written by Guest Writer & Rugby Guru: Victoria Spanton
Don't get The GIST's twice-weekly newsletter yet? Let's make it email official.
🏒
🏀
⚾
🏉
Leafs clinched a playoff spot
April 29, 2021
Source: Frank Gunn/CP
🏒NHL: The NHL postseason is just around the corner, and the Toronto Maple Leafs are the first through the gate. The Leafs clinched a playoff spot last night with their 4–1 win over the Montreal Canadiens, who are battling the Calgary Flames for fourth place — aka the final playoff spot. Odds we get a for the postseason?
🏀NBA: The Toronto Raptors, on the other hand, have all but kissed the playoffs goodbye. They still have 10 games remaining, but given seven of those are against some of the Western Conference's top teams, things aren't looking great. They'll try their best against the Denver Nuggets tonight at 9 p.m. ET.
🏉Rugby: The Canadian women's rugby sevens team is without a head coach. The team filed a complaint against the coaching staff in January, citing harassment and abuse, and though Rugby Canada found no wrongdoing (), coach John Tait stepped down anyway. Don't let the door hit ya!
⚾️ MLB: made his highly anticipated debut for the Toronto Blue Jays, and it was so great to see him dancing in the outfield that we'll just totally ignore the fact that they lost 8–2 to the Washington Nationals. Let's call it growing pains and hope for better when the Jays take on the Atlanta Braves tomorrow at 7:07 p.m. ET.
🎾
🏉
🏒
The GIST's Quick Hits - CA (April 5, 2021)
April 05, 2021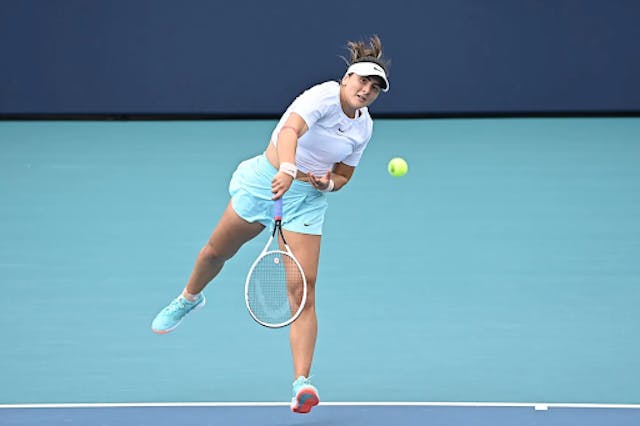 Source: Peter Staples/Miami Open
🎾Tennis: Saturday's Miami Open final against world No. 1 Ashleigh Barty didn't go as Bianca Andreescu hoped. After losing the first set, Andreescu was forced to pull out of the match after rolling her ankle in the second set. Her tearful match was a heartbreaker, but "runner-up" is a still solid title for a player returning from a year-long injury and rehab.
🏉Rugby: Team Canada's rugby women's 7s team is ready to roll into Tokyo. After more than a year off the pitch, they won the on Saturday in Dubai — the first of the team's two warm-up tournaments before the Summer Olympics. They'll go for two in a row in Dubai this weekend. yeah!
🏒Hockey: The Vancouver Canucks' COVID-19 list is . According to TSN, have tested positive for the virus, most with the . And while no one's been hospitalized, a few players have required IV treatment.
On the other side of the country, the Quebec Major Junior Hockey League () of the 2021 President Cup playoffs after five teams had players test positive for COVID-19. Scary.
🎾
⚾
🏀
🏒
⛳
🏉
A gong show
June 15, 2020
SHAUN BOTTERILL/GETTY IMAGES
The GIST: The NBA season isn't the only one in doubt. Due to COVID-19, the tennis season is hanging on by a thread, while the MLB situation is the literal definition of a gong show. The WNBA and NHL are looking good, though...well, kind of.
WTA & ATP: The good news is that the US Open will not move from its forever home in NYC to Florida as previously reported. The bad news is that the tournament might not happen at all. The US Tennis Association (USTA), which hosts the tournament, is currently considering three options, one of which is canceling the event altogether. Say it ain't so.
Another option includes holding the event with a ton of previously announced restrictions, even though many top players have said they will opt out if the restrictions are enforced.
The USTA stands to lose a lot of money regardless of what they decide to do, as the event doesn't have cancelation insurance. Rookie mistake.
MLB: Take a deep breath (or have a strong drink) before getting into this one. Quick refresher: the MLB and MLB Players Association (MLBPA) can't agree on the season restart. They've been punting proposals back and forth to no avail, mostly because the players want their full earned salary, while the MLB wants to pay them on a sliding scale.
On Saturday, the MLBPA rejected the MLB's latest offer, and now they're asking the MLB to just order them back to work for however many games the league wants (which might work out to around 50). Sorry, what TF?
While this seems very counterproductive to what the players have been fighting for, it might actually make sense. Here's why: if the players are ordered back to work, they can then file a grievance against the league for their equivalent salaries and monetary damages...which means the players could end up with more money than they asked for. Cheeky.
WNBA: The WNBA is also still negotiating their season restart, but it looks like the league wants to pay players their full salaries (up from the 60% they initially proposed) for 22 games (the 2020 regular season was set to be 36 games). The girls are getting paid!
This is great news, especially in light of what's happening in the MLB. WNBA players voted on this proposal over the weekend and results should be announced today. If the proposal's approved, we'll have basketball back on July 24th. Fingers (and toes and eyes) crossed!
NHL: Don't look now, but it looks like Las Vegas is going to be one of the two hub cities hosting the NHL's super weird postseason. Cue: "Waking Up in Vegas." The league has also decided that training camps will begin July 10th. So soon!
The NHL hasn't decided, however, what they're going to do if a player, coach or other essential team staff gets COVID-19 during the playoffs. This weekend, a Boston Bruin tested positive for the virus, so the league better make some quick decisions.
Everything else: The PGA returned this weekend, with Daniel Berger winning the Charles Schwab Challenge after going to a playoff with Collin Morikawa. The tournament was played without fans, which was a little strange without the polite golf claps, but still — live sports!
And New Zealand hosted their nation's first Super Rugby match since March, with over 20,000 fans (!!!) in attendance after the country declared themselves virus-free last week. See, this is the reward you get for wearing a mask and washing your hands!
🏉

Charity Williams

March 17, 2020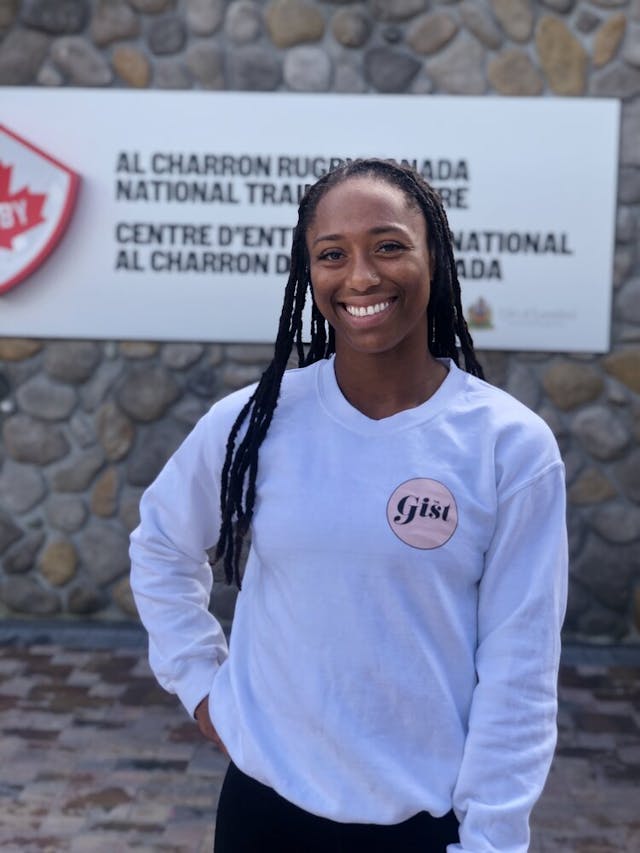 Introducing GIST Athlete Ambassador Charity Williams!
Charity Williams is, in one word, resilient. In two words: resilient and amazing. After overcoming a major setback in 2015 (keep reading for more), Charity became the youngest player on Canada's bronze-winning rugby sevens team at the Olympic debut of the sport in Rio 2016. Now, she's focused on two things: bringing home gold at the Tokyo 2020 Summer Olympics, and petting her friggin' adorable dog.
Let's get to our interview with Charity:

Lexie, at The GIST (TG): Okay, first of all, your adorable dog is named Arya. Arya as in Arya Stark?

Charity Williams (CW): Yes. I'm a huge Game of Thrones nerd.
TG: Do you want to talk about the ending of Game of Thrones?
CW: I...ugh. I disliked it. But you know, I really appreciated their work ethic and effort. I'll give them that.
TG: Nicely said. We could spend our whole interview on the GoT finale, but let's talk about you as an incredible athlete with a great story instead.
TG: First off, how did you first start playing rugby?
CW: Growing up, honestly, my only real dream was to be an Olympian. I was in gymnastics, but by the time I was 13 or 14 I realized that goal wasn't going to be accomplished in that sport. So then in high school, my buddy told me about this sport that I had never seen or heard of before called rugby…she was like yeah it's about to become an Olympic sport, you should give it a try. So, I went out for a practice and fell in love with it almost instantly.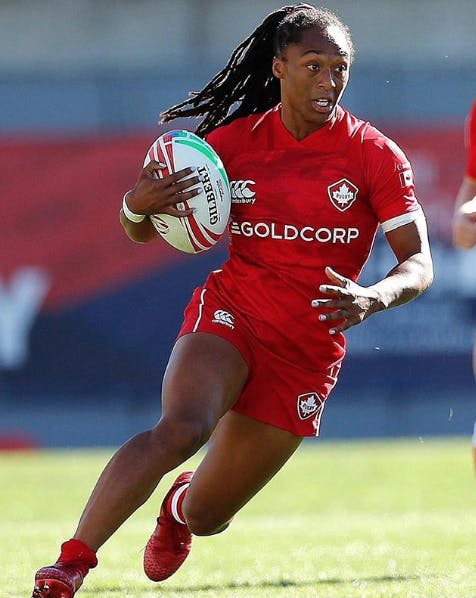 TG: That's great. What is it about rugby that stuck for you and made you fall in love with it?
CW: Rugby has always made me feel very included and appreciated.
Rugby has a place for literally everybody. There are so many working components to make a team, and so many different types of roles to fill. There are a lot of athletes, especially on my team, who were told they were too big or too small in other sports, and now they are national level athletes getting ready for the Olympics.
And, I also just really love the contact in rugby. Being a strong female is actually celebrated in this sport. I've always been strong, and I've always trained my body to be the best it can be, and this sport just really showcases that.
I've always had an athletic build, even growing up, and when you're young, kids can be a little mean if you're different or stand out. So it was really cool to find rugby where you need to be strong and tough and fit, so I've always felt comfortable here…and now it's become my job.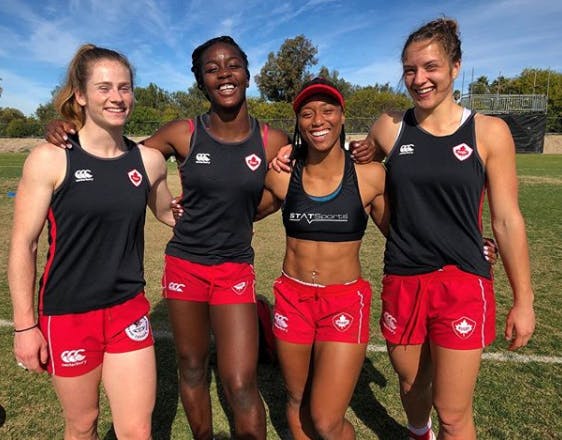 TG: What is something you're most proud of for overcoming or accomplishing so far in your career?
CW: Well, leading up to the Rio 2016 Olympics, I had been let go from the team at the beginning of the training season. So that was really, really hard. For one, it was my job, and I was living in Victoria to train for it, so it really changed my whole day-to-day living. And then, my dream of going to the Olympics seemed like it was over and it was hard to come to terms with that. It took me a couple of weeks to just feel really sad. Plus, the Pan Am Games were going on in my hometown of Toronto, and I wasn't part of that...it was just a really hard couple of weeks for me.
But then one of my strength and conditioning coaches sat me down and said, "let's make a plan… what do you want to do?" And I said, "I want this. This is where I want to be. I want to go to the Olympics."

So we wrote down all the steps to take to get back on the team. And step-by-step we went through that list. First, I emailed the coach to let him know I wanted to be part of the team and that I would show up and train and do whatever needed. So I did that for about six months, but I also had to get a job while going to the training sessions every day.
I was training three or four times a day on my own, or with a coach who took time out of his day to work with me, and eventually I got back to a place where I could be a threat physically on the field. Within six months, I was invited to join the team for a tournament in Dubai and got a "re-tryout". Then, they re-carded (Editor's note: "carding" or "carded athletes" refers to elite level athletes who are provided funding through Sport Canada. Otherwise known as the 'Athlete Assistance Program') me around January.
After being re-carded, my only goal was to stay there. I wasn't thinking about the Olympics. I didn't even think it was an option to actually go (Editor's note: While 19 players train with the team, only 12 players and 2 reserves are actually selected to go to the Olympics). My only thought every single day was to be helpful to everyone who was going. So I just put my head down and worked and continued to get called up to more and more tournaments.
Then, about two months before the Olympics started my coach told me I was going...and I just could not believe it. It was the most insane news I've ever gotten. Honestly. I thought I was working toward 2020 — 2016 wasn't even on my radar. I felt like my whole life flipped upside down. I was going to be an Olympian.
I was 19 and the youngest on the team. I went from cut from the squad in an Olympic year, to fighting and clawing my way back, to going to the Olympics.
TG: Wow. That is just...incredible. That takes so much perseverance. And it must be very isolating to deal with as there aren't a lot of people that understand what you're going through.
CW: Yeah, when I got cut I didn't tell any of my family. I was ashamed, but I almost didn't even believe it was happening. I sort of cut myself off from family and friends while I dealt with it. And, of course, I didn't want to be a distraction to my teammates who were getting ready for the Olympics. I held a lot of it in, but in some ways it gave me more of a fight because I processed it, and realized that the decision to stay there and keep fighting was something that I wanted to do for me. But that was the most insane experience of my life.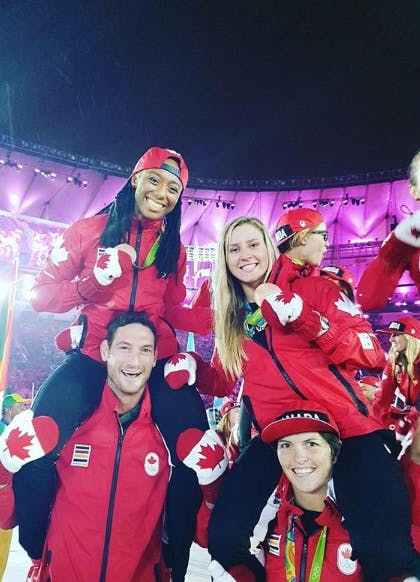 TG: Unreal. Major kudos to you. And it all happened within one season. Can you speak to that training season, and what that entails as an Olympic rugby player?
CW: Yeah. Well, we're very lucky. We're centralized (aka live and train out of one city) 11 months out of the year. We train Monday to Friday from 8 a.m. until about 4 p.m. — it's really a full-time job for us. We get a month off in the summer, and a couple of weeks at Christmas, but we're pretty much going all year long.
And for each tournament or competition (other than the Olympics), only 12 players go with one extra reserve (of the 19 centralized players), so it's almost like you're trying out for a team all the time.
But, we're also really lucky to be together because rugby is a very cohesive sport. It's really important to learn your teammates' patterns and tendencies to be successful, and we get to be together and do that.
And for resources, we get a lot of funding from Own The Podium (Editor's note: is a Canadian not-for-profit that provides resources to help athletes and teams medal at the Olympic Games), because we're gearing up to try to medal. Our program is top three in the world currently, so we do get a lot of funding support, which is great.
TG: Are the resources equal between the men's and women's rugby program?
CW: Um, no...It's a really sticky situation. There is a lot going on internally with Rugby Canada, but we do get more funding through Own The Podium because we're a very successful team. But inequality still exists between the funding for men's versus women's programs that the leadership on our team are really pushing to rectify.
TG: Sigh… We were really hopeful rugby would be different. But it's awesome to hear that the players are pushing for equality. Looking forward, what are some personal goals you want to achieve next?
CW: I mean, really, I want to be a core, important part of the team. When I went to the Olympics in 2016, it was amazing to be selected, but my purpose on the team was really to help the other players be the best they could be and support them.
So this time around, I've been training to be someone who's looked to in those moments. I want to become the best in the world. So I would say that my goal is to be a more important piece of the puzzle for my team and to really help us all bring home a gold medal.
TG: That's awesome. We're rooting for you! You've obviously overcome a lot so far in your career; what is something you've learned that you now pass along to others?
CW: Well, we recently had four new girls come on to the team who are fairly young, just coming out of their high school or university programs. And when you're coming in fresh, you feel like you're on top of the world, then all of a sudden, you come to a program where everyone is at the same level, or likely even a better level. So you can easily start to feel like you're not good enough, and get down on yourself.
But what I tell the younger players is, "you are here for a purpose. If you weren't good enough, or you didn't have enough potential, you wouldn't be here." It's easy to get discouraged if you're not at the level you want or need to be at yet, but if you put in the work and time, you can get there. So, work hard, respect where you are, appreciate the information and advice that's given, and every day just do the best that you can to improve. We've all been there. I was there for a really long time. I wasn't even on the team and I put my head down and worked and cracked that. So that's my advice in the longest way possible. *Charity chuckles*
TG: That's great. And for you to take what you've learned and so quickly be able to make it useful for younger players is unreal.

TG: On a separate but similar note, we know that young girls drop out of sport at double the rate of their male counterparts by the age of 14. How do you think we can combat this?
CW: I think it has a lot to do with what you see in the media. It's hard when you're young, kids can be so ruthless and you don't want to be embarrassed. I think kids just drop out of sports sometimes because it's so much easier than failing.
But, I think something that helped me when I was growing up, was seeing athletes' failures as much as their successes. Oftentimes, all we see is this person as the best in the world, but kids need to see that they don't have to be perfect right away, or win every single time. It doesn't help you learn or understand what it takes to be the best. So I think kids just need to see that everyone messes up at all levels. The best in the world make mistakes and it doesn't make them any less of an athlete.
TG: That is a really, really great point. Thank you!
TG: Now, let's mix it up with some rapid-fire questions. Here we go:

TG: What are you binge-watching right now?
CW: Glee right now! I've seen it so many times. It's just so good.
TG: What movie can you quote the best?
CW: Ah. It's so embarrassing! One of my favourite movies is Talladega Nights…it's just so funny. Should I say that? I don't know if I should. *Charity laughs* Okay, please don't print that. I'm embarrassed.
TG: You can invite any 3 people to dinner… who would it be? And what are you eating?
CW: Um, Serena Williams, obviously. Leonardo DiCaprio, he's amazing and I want to know everything about him… and Michelle Obama. And we'd have some nice medium rare steak and some mashed potatoes and asparagus. (Editor's note: Please invite us, too!)
TG: We also interviewed your teammate Bianca… if we asked her to give us one thing we don't know about you, what would she have said?
CW: Maybe she would say that I have a sugar addiction that I'm trying to fix.
TG: What is one thing we don't know about Bianca?
CW: Um… oh my gosh… Bianca. She's the funniest person of all time. Should I try to say something nice or no? There's not much she does wrong. She totally laughs like she is…a hyena. No! I don't know! She's really awesome.
TG: What song do you have on repeat right now on Apple music/spotify?
CW: Oh! Beyoncé - Partition
TG: What are your favourite and least favourite workouts?
CW: Favourite is …I feel so strong, I love them! And my least favourite workout is any sort of conditioning. We do these 100m sprints that really suck…
TG: Okay, and finally regarding a recent Instagram story, fans want to know when can we expect to see you go pro in golf?
CW: Omg that's so embarrassing! That's funny… I shouldn't have posted it. I don't even know how that happened. Hilarious.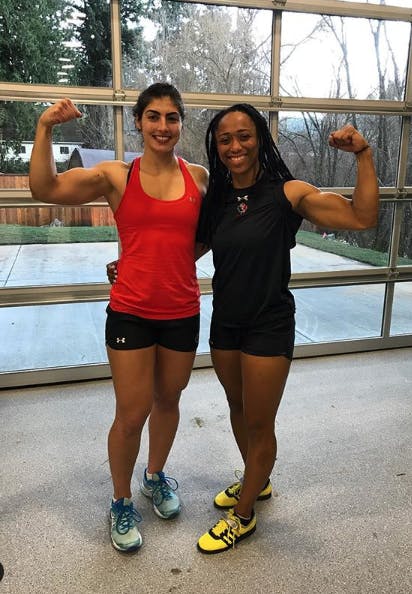 That's #thegistofit
Don't get The GIST's free twice-weekly newsletter yet? Let's