🎿
🥌
💨
⛸️
🏅
Olympics Day 15 Recap: Team Canada
February 18, 2022
SPORT CANADA/TWITTER
🎿 Freestyle skiing: Canada was seeing double in last night's women's freeski halfpipe final, with defending Olympic champion Cassie Sharpe and Rachael Karker claiming silver and bronze, respectively, behind none other than 18-year-old phenom Eileen Gu, who nabbed her third medal of the Games.
🥌 Curling: Adding some hardware to his gold medal from the 2006 (!!!) Turin Olympics, the skip from St. John's, Newfoundland, knocked out Team USA 8–5 for the bronze early this morning. Truly the best ever.
💨 Speed skating: After missing the men's 500m podium by just 0.03 seconds, Quebec's Laurent Dubreuil glided to his first Olympic medal, a silver in the 1,000m this morning. Don't sleep on this "sk8er boi."
⛸ Figure skating: Though this morning's pairs short program was, ahem, not great for both Kirsten Moore-Towers & Michael Marinaro and Vanessa James & Eric Radford, both teams have advanced to tomorrow's 6 a.m. ET free program where they'll have a chance to pick up their scores.
🥌
🏒
🏅
💨
Olympics Day 13 Recap: Team Canada
February 16, 2022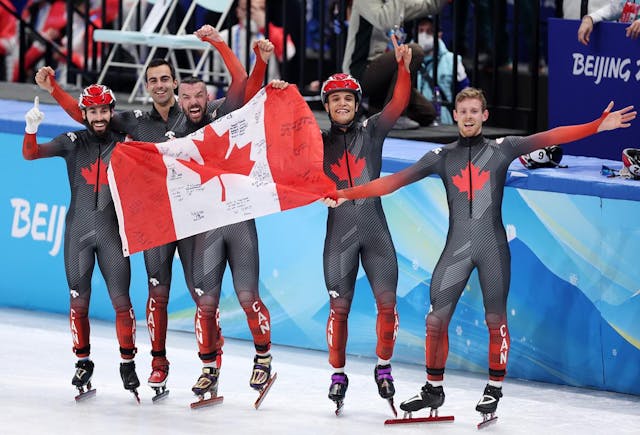 ANTHONY WALLACE/AFP VIA GETTY IMAGES
💨 Speed skating: Canada claimed a dramatic gold medal win in the men's 5,000m relay this morning. A tight race throughout, Steven Dubois brought it home, winning each shade of medal in Beijing.
🥌 Curling: Team Jennifer Jones was dealt a critical blow this morning after being upset 11–9 by China in extra ends. Sigh. Has anyone checked on CanWNT gold medalist and curling diehard Steph Labbé?
Skipping over to the men, Team Gushue clinched their spot in the semis ahead of their final round robin game against Great Britain at 8:05 p.m. ET tonight. While they can solidify third place, it's really a practice before the playoffs.
🏒 Men's hockey: Canada is currently battling Sweden in the quarter-finals on CBC. They've only got one shot to advance to the semis, so "vomit on your mom's spaghetti, or whatever that talking singer says."
💨
🏂
🏒
Olympics Day 12 Recap: Team Canada
February 15, 2022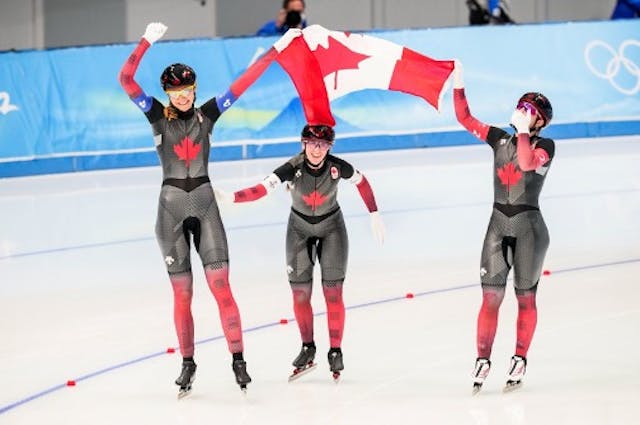 TEAM CANADA/TWITTER
💨 Speed skating: Team Canada is on top of the world (hey!) after winning gold in the women's team pursuit early this morning, setting an Olympic record (2:53.44) along the way. Coming off a perfect 2021–22 World Cup season, the trio was able to hold on when it mattered most.
The gold marks Isabelle Weidemann's third medal of the games (the most for Team Canada), making her the only Canadian long-track speed skater to win more than two medals at an Olympics.
🏂 Snowboard: Max Parrot returned to the podium with a bronze in men's big air this morning. Following his controversial gold in slopestyle — a missed grab that led teammate Mark McMorris to claim he should've won — his talent has been defended. And, in true Canadian fashion, McMorris said sorry.
⛸🏒 Ice qualifiers: Coming off an impressive fourth-place performance in the team competition, figure skater Madeline Schizas scored a 60.53 in her women's short program this morning to advance to Thursday's free skate.
Also on the ice, fifth-seeded Canada's men's hockey team is enroute to routing China and advancing to the quarter-finals. Let's see if they can match the women's success, eh?