🏅
🤸
🎾
History making moves for Simone Biles and Naomi Osaka
July 27, 2021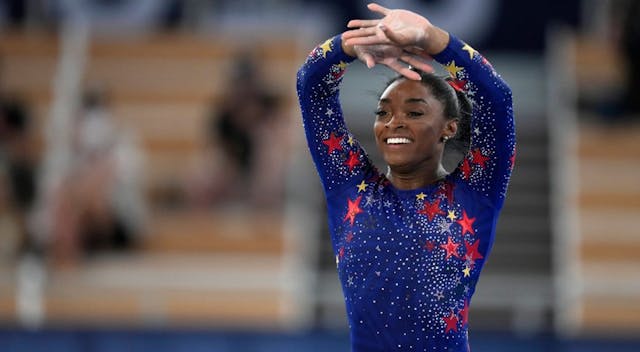 Source: Natacha Pisarenko/AP
🤸‍♀️Simone Biles: The gymnastic GOAT had a shaky start to the women's team final today, lowering her difficulty on the vault before leaving the arena with a trainer.
Biles withdrew from the team event moments later "," but she eventually returned to cheer on her team to silver from the sidelines, while the won gold.
But Biles' Olympics are not over. She'll hopefully be back Thursday for the women's all-around final before the individual events begin on Sunday. Cross your fingers.
🎾Naomi Osaka: The Olympic cauldron lighter will leave her home Games without a medal. World No. 2 Osaka was eliminated overnight by No. 42 Markéta Vondroušová (pronounced von-DROH-soh-vah) in the third round. ...not for a long time?
And with No. 1 Ash Barty and No. 3 Aryna Sabalenka having lost in the first and second rounds, respectively, it's anyone's guess who will own the podium.
🎾

Ashleigh Barty wins second career Grand Slam

July 12, 2021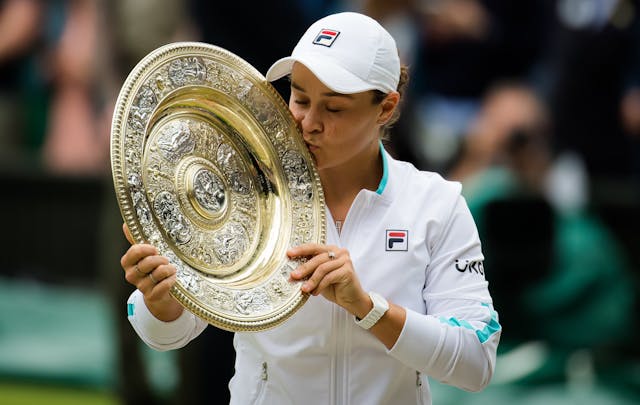 Source: Ash Barty/Twitter
Women's singles: Ten years after winning the , the 25-year-old Australian won her second career Grand Slam on Saturday in a three-set showdown against Karolina Plíšková (pronounced plish-KOH-va), .
Men's singles: It wasn't all sunshine and rainbows for Italy yesterday. Before the Euro final, Italian Matteo Berrettini lost the men's final in four sets to world No. 1 Novak Djokovic, who recorded his 20th career Grand Slam.
The title ties Djokovic with his other "Big Three" rivals — Roger Federer and Rafael Nadal — for the most men's singles titles in tennis history. Talk about a juggernaut.
Next up: The end of Wimbledon marks the end of grass court season. stars will begin prepping for the Olympics, while the rest of the tour moves stateside for August's North American tournaments ahead of the final major of the year, the U.S. Open.
🎾

Canadian Players Achieve Record at Wimbledon Quarterfinals

July 08, 2021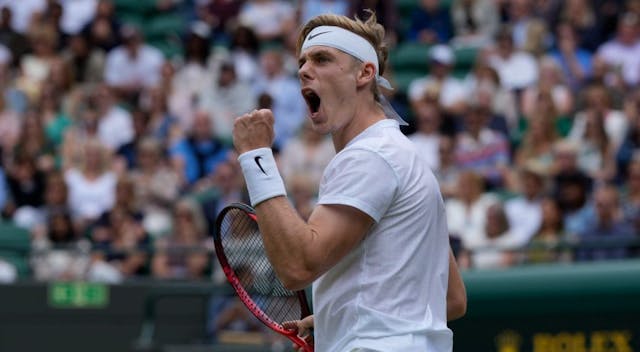 Source: Ash Barty/Twitter
Men's singles: For the first time ever, more than one Canadian played in the quarter-finals at a Grand Slam event, with world No. 12 Denis Shapovalov and No. 19 Felix Auger-Alliassime both taking to the grass.
"El Shapo" was up first, winning a against Russian Karen Khachanov and setting himself up for his first-ever Grand Slam semifinal. It'll be a tough one: he'll face world No. 1 Novak Djokovic tomorrow.
Women's singles: No Canadians on the women's side, but still oh-so-exciting. Starting today at 8:30 a.m. ET (quick, turn on your TV now), world No. 1 Ash Barty, who's on the hunt for her first Wimbledon title and second Grand Slam, is facing 2018 Wimbledon champ Angelique Kerber.
When that's over, former world No. 1 Karolína Plíšková (pronounced PLISH-koh-vah) faces two-time doubles Grand Slam champ Aryna Sabalenka, as they both play for their first singles major title. The winners of each match will move on to Saturday's final.
🎾

Wimbledon Preview

June 27, 2021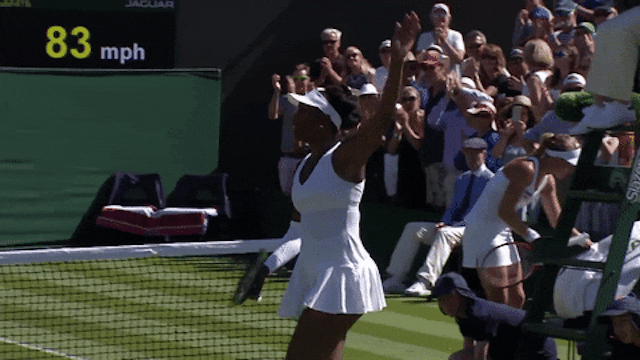 SOURCE: WIMBLEDON/GIPHY
QUOTE OF THE DAY
My dad said, 'Pick a tournament that you want to win more than any other tournament,' and I chose Wimbledon.
— Seven-time Grand Slam singles champion Venus Williams, on the importance of her five Wimbledon titles, which on multiple occasions came at the expense of her sister Serena. We love a Sister Slam.
📗 The history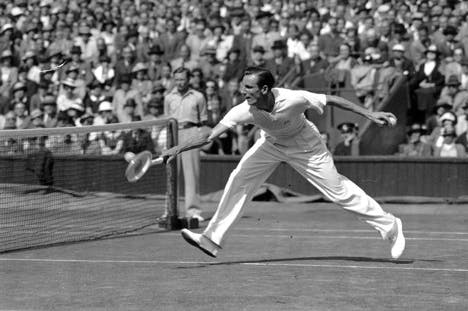 The Championships, Wimbledon, also known simply as The Championships, date back to 1877, making it the oldest tennis tournament in the world and arguably the most prestigious.
Originally played only by male amateurs, the tournament invited women to play singles in 1884, the same year the men's doubles event was introduced; however, the tournament wasn't open to professionals until 1968.
✔️ The details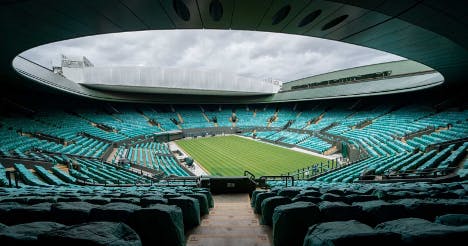 Until last year, the Championships had only been canceled twice before in its 144-year history — once from 1915 to 1918 due to World War I and again from 1940 to 1945 during World War II. COVID-19 caused the third cancellation to occur in 2020, but the summer event is back in full swing this year.
Over the next two weeks, 128 of tennis' best and brightest will compete in the men's and women's singles throughout six elimination rounds. Then, all eyes will be on Centre Court for the July 10th and 11th singles finals, with a full capacity crowd no less.
As for the doubles competitions, men's, women's and mixed pairs begin mid-week with the last rounds set for the final weekend.
A prize pot of £35 million (about $48.7 million USD) is up for grabs and we can once again expect an equal shake out of rewards to both the men's and women's singles winners: each will receive a cool £1.7 million (about $2.36 million USD). Cha-ching.
🎾 The surface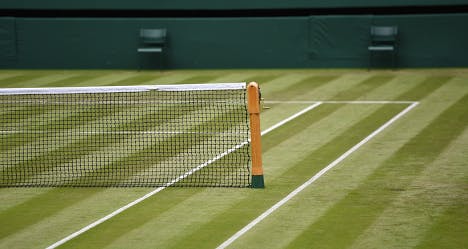 Wimbledon is the only Grand Slam tennis eventplayed on grass, and like clay, pros either excel or fall victim to the unique terrain.
The grass is precious to the club, so precious that Serena Williams was fined a whopping $10,000 (!!!) in 2019 for damaging the court during practice. You can expect to hear, "Keep off the grass!" more than once throughout the contest.
The lawn received a facelift of sorts in 2001, changing its makeup from 70% rye and 30% creeping red fescue to 100% perennial rye (whatever that means). The update also brought oodles of controversy.
But not all of the stadium's focus is on the ground. In 2009, organizers were looking up when they installed a retractable roof over Centre Court in preparation for those rainy English days. But this change was met with, you guessed it...more controversy.
Another element unique to the Wimbledon experience is the advertising, or lack thereof. Compared to other Grand Slams, the club sells a marginal number of advertising spots around the court.
They work with a few chosen partners, like Rolex, IBM and Slazenger, to supply the clocks, statistics and balls. And there's no commitment issues here. Slazenger, for one, has partnered with Wimbledon since 1902. Talk about loyalty.
🍓 Traditions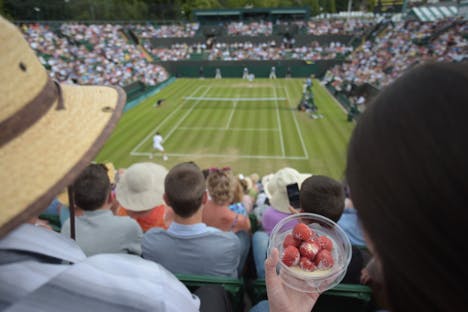 If you haven't already noticed, The Championships have a very strict dress code for participants, complete with a list of rules dedicated specifically to clothing and equipment.
White will be the new black in England for the next two weeks. It has been the staple color since the inaugural tournament. And white means white, all the way down to the inside of your cap.

The original reasoning behind the color choice was due, in part, to the supposed cooling effects, but it also allowed athletes to sweat discreetly on hot summer days since signs of sweat were deemed "improper." Uh, we're talking about sports here, right?

While we can't deny the dress code is part of the fun of watching, many players have challenged it. If they don't abide by the rules? They may be asked to change and even disqualified.
While avoiding the tournament's fashion police,spectators can pig out elegantly nibble on another Wimbledon tradition, strawberries and cream.
This sweet treat has become such a tournament staple it's estimated that 10,000 liters (about 2,642 gallons) of cream and 28,000 kilograms (about 61,729 pounds) of strawberries are consumed on average each year.
The price at Wimbledon for strawberries and cream has remained the same since 2010: £2.50 a pop (about $3.48 USD). Spectators are allowed to bring their own bottle of wine or champagne or two cans of beer to cut down on costs. Classy frugality.
Speaking of class, it's not Wimbledon without a member of the Royal Family making an appearance. While the Queen has only attended four times, with her last time in the Royal Box coming back in 2010, her grandsons and their partners have been known to enjoy the tournament more frequently.
This year's Championships might be too much of a trip for Prince Harry and Meghan Markle though, with the recent birth of their daughter and, well, the family drama.
✨ Memorable moments
Now that we know what not to wear, what to eat and who we might see, it's on to the action. Wimbledon has supplied some of the greatest moments in tennis history so before we witness what this year's tournament has in store, let's take a short walk down memory lane, shall we?
Fire and Ice: In one of, if not the greatest matches in tennis history, rivals (and polar opposites) Björn "Ice-Borg" Borg of Sweden and U.S. hothead John McEnroe met in the men's singles finals at the 1980 edition of The Championships.
It was there that the two found themselves in a fourth set tiebreaker and 20 minutes of back-and-forth point scoring ensued. Borg ultimately claimed his fifth Wimbledon title that day and the crowd certainly got their money's worth.
Sister, Sister: As competitors, the aforementioned Willams sisters have produced nail-biting finals matches. As partners, the two have an undefeated doubles record at Wimbledon. In 2008, Serena already had two Wimbledon wins against her sister but that year, Venus was the superior grass-court player.
When the two met in the finals, Venus secured a calm victory over her sister with an impressive 7–5, 6–4 performance. Whether they're competing against or with one another, these two have always rooted for each other.
Nadal-Federer showdown: Rafael Nadal and Roger Federer have battled on numerous occasions, but their 2019 semifinals Wimbledon match was certainly a stand-out clash. It was their first time meeting at The Championships since the epic 2008 final, and the two were firing on all cylinders in front of an energetic crowd.
It was Federer though, who claimed a 7–6(3), 1–6, 6–3, 6–4 win and advanced to the final where he suffered a tough loss to Novak Djokovic (pronounced JOCK-uh-vitch).
💪 Women to watch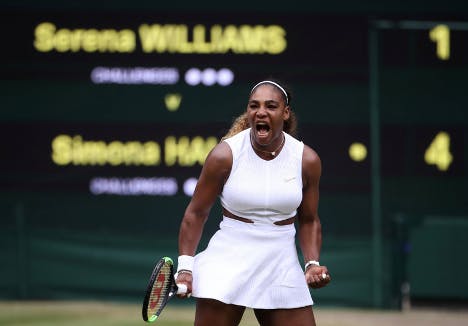 World No. 8 Serena Williams: All eyes will be on the GOAT as the seven-time singles champ goes after her record-tying 24th Grand Slam title once again. Williams was knocked out of the fourth round of the French Open, but we're hoping she'll come back swinging on the lawn in London.
World No. 1 Ashleigh Barty: After suffering an injury during the second round of the French Open, Barty enters the Championships as the No. 1 seed (again) and the Australian competitor will certainly have a target on her back.
World No. 23 Coco Gauff: In 2019, Gauff became the youngest player in the Open era to earn a main draw Wimbledon berth by coming through Qualifying. She's coming off a tough quarterfinal elimination at the French Open this year, but the 17-year-old has proven that while she may still be learning, she's also winning.
World No. 112 Venus Williams: While she didn't quite make the ranking cut-off for The Championships this year, just days after her 41st birthday, Venus was offered a wild card invitation to compete and make her 23rd Wimbledon appearance. This is her favorite Slam, so expect her to bring it.
👊 Men to watch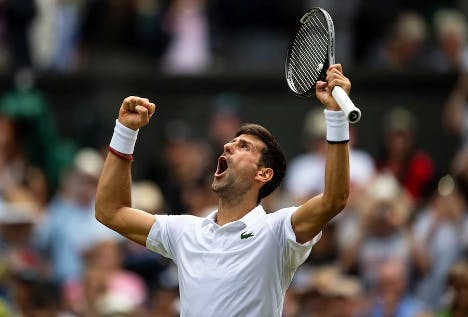 World No. 1 Novak Djokovic: "Nole" will be back on the grass to defend his singles title. After his French Open victory earlier this month, Djokovic became just the third man in Open era history to win each Grand Slam title at least twice. With a Wimbledon win this year, he'd also tie Federer and Nadal with 20 Grand Slam singles titles overall.
If he does come out on top, Djokovic could become the first male player to complete the "Golden Slam" –– winning all four majors and a gold medal at the Olympic Games in the same calendar year. Sheesh.
World No. 4 Stefanos Tsitsipas (pronounced see-see-PAS): Djokovic's fellow finalist at the French Open is ready to compete again on the grass court. While the Greek competitor hasn't had the best results at Wimbledon in the past, he'll be looking to change his luck in this year's edition.
World No. 8 Roger Federer: With eight Wimbledon singles titles under his belt, Federer enters the tournament as the former World No. 1, but the grass court vet may be out for blood with a chance to meet Djokovic in the final once again.
World No. 2 Daniil Medvedev: Medvedev was knocked out in the third round of The Championships in both 2018 and 2019 and will be looking to avenge that early exit this year. The Russian seed said that Federer is likely going to be his toughest opponent due to his style of play on the lawn.
😢 Who will be missed?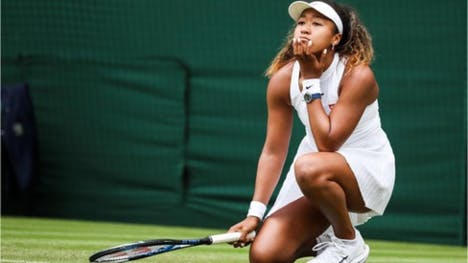 World No. 2 Naomi Osaka isn't making the trip to England, as she announced she will use the time to prepare for the upcoming Tokyo Olympics.
Osaka's history at Wimbledon is rocky. After suffering a loss to Yulia Putintseva in 2019, Osaka had a particularly rough time during the post-match press conference. If she needs a break to focus on her mental health, we certainly support it.
After tearing a muscle in May's Italian Open, world No. 3 Simona Halep also withdrew from the tournament, leaving the field pretty wide open.
On the men's side, the aforementioned Nadal won't be seen on the grass this year, either. Citing injury, the Spanish star pulled out of Wimbledon and the Olympic Games next month.
World No. 5 Dominic Thiem, who had already pulled out of the Olympics, also announced his Wimbledon withdrawal after a suffering a wrist injury during a warm-up tournament last week.
🎥 How to tune in
Catch all the white hot action beginning tomorrow on ESPN and The Tennis Channel in the U.S. and TSN in Canada. No TV? No problem. Follow along with live updates here.
🎾

Barbora Krejčíková and Novak Djokovic Take Home 2021 French Open Titles

June 14, 2021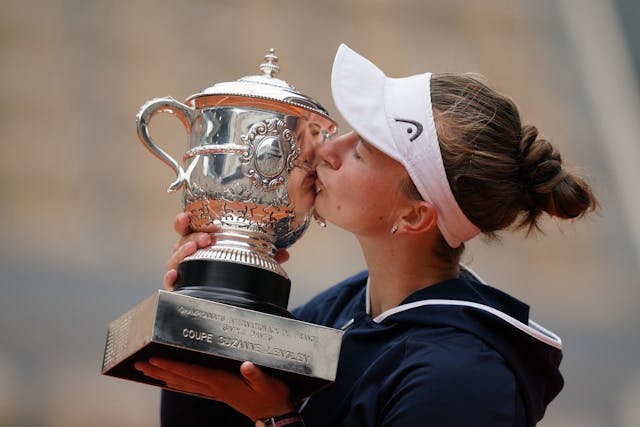 Source: Barbora Krejčíková/Twitter
Women's draw: Another year, another new women's singles champ. Barbora Krejčíková (pronounced krey-CHEE-koh-va), who had one singles title to her name before this tournament, beat Anastasia Pavlyuchenkova (pronounced pav-loo-CHEN-koh-va) on Saturday for her first ever major.
And yesterday, alongside partner Kateřina Siniaková (pronounced seen-yah-KOH-va), Krejčíková won the women's doubles title too, becoming the first woman since 2000 to win both the singles and doubles titles at the French Open. Get a girl that can do both.
Men's draw: World No. 1 Novak Djokovic continued his tennis world domination yesterday, winning his second French Open title and 19th Grand Slam title against No. 4 Stefanos Tsitsipas (pronounced see-see-PASS).
Up next: Wimbledon, mate. The next Grand Slam begins on June 28th, with Djokovic trying to tie Roger Federer (who is also playing) and Rafael Nadal () at 20 Grand Slam titles, whileSerena Williams is gunning for a . Mark your calendar.