⛸️
⚽
🎾
🏒
Skate Canada International, CANWNT Travel Plans Canceled
October 15, 2020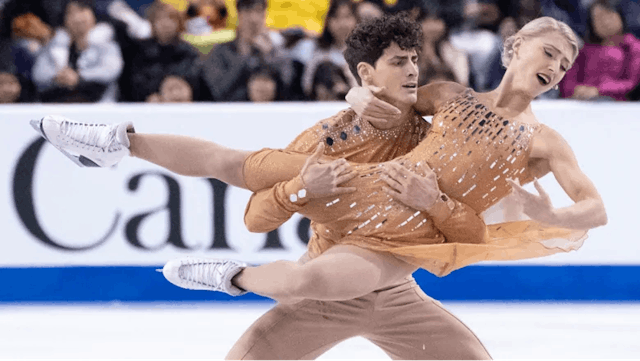 SOURCE: PAUL CHIASSON/CANADIAN PRESS
⛸⚽️Stop right there: It's not just football, folks. The pandemic is now putting a stop to even more of our national pastimes. Skate Canada International, which was set for October 30th–31st in Ottawa, has officially been canceled. The event was supposed to be one of six international Grand Prix of the skating season, but now our skating stars must look ahead to January's nationals event.
In other relatable news, our women's national soccer team had their travel plans kiboshed. The still-coachless team was set to head over to jolly old England this month for a pre-planned training camp, but the World No. 8 squad decided to cancel on the advice of public health officials. Way to set a good example, queens!
🎾Keep it rolling: Denis Shapovalov and Milos Raonic (pronounced MEE-LOSH RAUNITCH) missed the memo. Canada's top tennis stars are still on the road, having traveled from the French and Italian Opens, respectively, to the St. Petersburg Open in Russia, and it seems (knock on wood) to be worth the trip. Both players are through to the round of 16 in the ATP 500 event and will play for a spot in the quarter-finals today. Follow along here.
🏒Here, there and everywhere: A few big names have found new homes since NHL free agency began last week, but luckily, some of our favorites are staying put. The Montreal Canadiens signed Brendan Gallagher to a six-year contract extension and Jake Allen to a two-year extension, and Nick Paul is sticking with the Ottawa Senators for another two years.
The Toronto Maple Leafs have a new backup goalie in Aaron Dell and picked up Joey Anderson in a trade, and the Winnipeg Jets, Calgary Flames and Vancouver Canucks all re-signed players over the past few days. Guess a four-day work week really can be productive in Canada!
🎾

Rafael Nadal Wins His 13th French Open Title, Iga Świątek Wins on Women's Side

October 12, 2020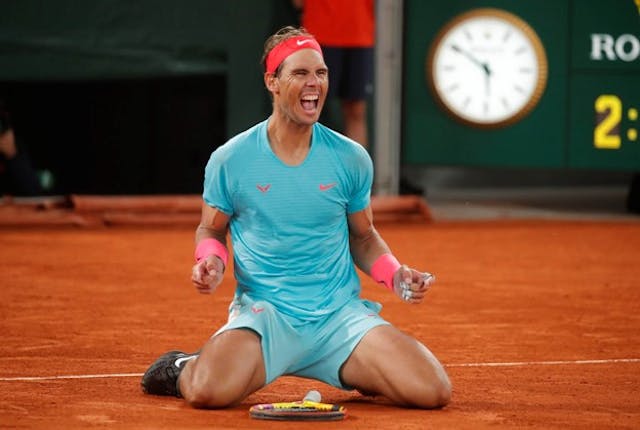 Source: Charles Platiau/Reuters
The GIST: This weekend, Rafael Nadal hoisted his 13th (!!!) French Open (aka Roland-Garros) trophy, and fresh-faced newcomer 19-year-old (pronounced SHVEE-ON-TIK) took the title on the women's side. Très magnifique.
How'd Rafa do it?: Nadal defeated rival Novak Djokovic (pronounced JOKE-OH-VITCH) in straight sets en route to the title, meaning the now holds an incredible 100-2 match record at the French Open. The final marked the 56th time Nadal and Djokovic have squared off, an incredible rivalry — but not the greatest in the history of the sport.
And on the women's side?: Newcomer Świątek swept world No. 4 in straight sets, making her the first Polish player to ever win a Grand Slam singles title. She's also the youngest to win the French Open since nine-time Grand Slam champion lifted the trophy in 1992. Pretty good company.
Świątek's French Open performance was truly next-level. She won every single set she played, eliminating top players (including world No. 2 ) on her way to the title.
And now Świątek joins a slew of first-time Grand Slam title winners. Over the last 14 Grand Slam championships, nine first-time winners have been crowned. Are you not entertained?
🎾
⛳
⚾
KPMG Women's PGA Championship, French Open Continue
October 08, 2020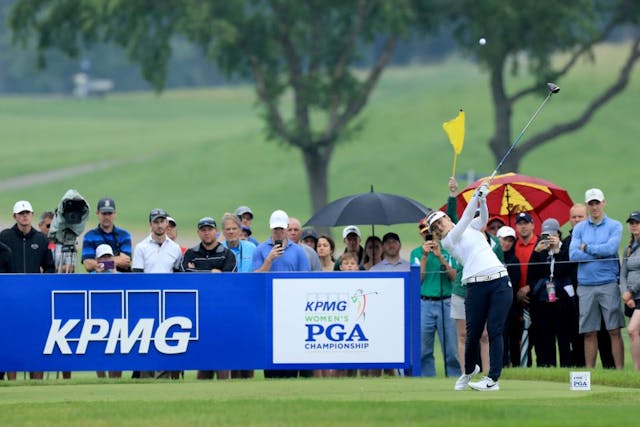 SOURCE: DAVID CANNON/GOLFWORLD
Golf: Can you believe it's still major season? The KPMG Women's PGA Championship, the LPGA's third of four majors this year (normally they have five), tees off today. Usually scheduled for June, the tournament hasn't been played in October since 1964, so organizers will have to get creative with fewer daylight hours.
The field is wide open right now: Australian Hannah Green is back to defend her title, World No. 2 Nelly Korda is desperate for her first major win, and Sophia Popov and Mirim Lee are each looking for their second majors of the season (and of their careers). Fun! Follow the leaderboard here.
Tennis: The French Open is down to the semifinals and the women's draw is wonderfully lopsided. One semifinal will feature a top-tier matchup between World No. 6 Sofia Kenin and No. 11 Petra Kvitová, both former Grand Slam winners.
Baseball: The MLB's best-of-five divisional series are still going strong. In the American League, the Houston Astros missed out on their chance to sweep the Oakland A's last night, losing 9–7 to make the series 2-1, and the Tampa Bay Rays lead the New York Yankees 2-1.
In the National League, the Atlanta Braves are up 2-0 in their series against the Miami Marlins, and the LA Dodgers lead the Battle of SoCal 2-0 against the San Diego Padres. Find the full postseason bracket here.
🎾

Second Week of French Open Underway

October 05, 2020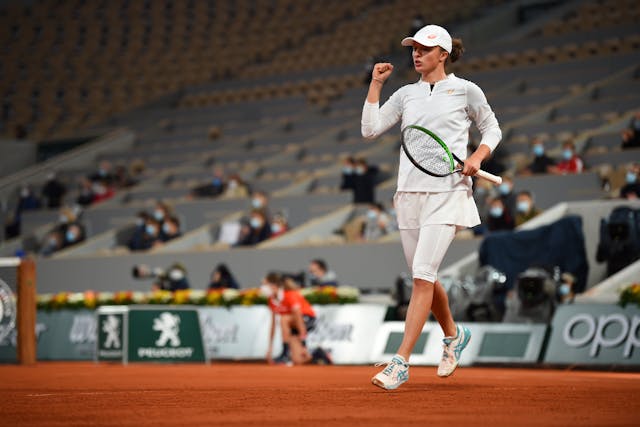 SOURCE: ROLAND GARROS/TWITTER
The GIST: Paris, France: the city of lights, love and...tennis underdogs. The second week of the French Open is underway, and some fresh faces are in contention for the last major of the year.
Like who?: Iga Świątek (pronounced SHVEE-ON-TIK) and Martina Trevisan, for starters. World ranked No. 54 Świątek, a 19-year-old from Poland, ousted the tournament's frontrunner, No. 1 seed Simona Halep. Just as impressive, Trevisan, who's ranked 159 and playing in just her second Grand Slam, knocked out No. 5 seed Kiki Bertens. Świątek and Trevisan will now face each other in tomorrow's quarter-final (QF). So cool.
And on the men's side, a very ill World No. 7 Alexander Zverev (pronounced SVAIR-EV) was also ousted by a newcomer this weekend, World No. 75 Jannik Sinner. The 19-year-old Italian is in a tough QF match though: he's playing 12-time champ Rafael Nadal tomorrow. Yeah, good luck with that one buddy.
Any other familiar faces?: A few top dogs are still hanging on. World No. 5 Elina Svitolina advanced to the quarters yesterday, No. 6 Sofia Kenin and No. 11 Petra Kvitová are set to play their fourth-round matches today and the top three men's players are still in contention. Check out the full schedule here.
⚾
🎾
Blue Jays' Season Already Over; Bouchard, Fernandez Crushing French Open
October 01, 2020
SOURCE: TORONTO BLUE JAYS/TWITTER
The GIST: As is always the case when it comes to Canadian sports, we have some good news and some bad news.
Always start with the bad: The Toronto Blue Jays' postseason is already over, after the Tampa Bay Rays swept their Wild Card series 2-0. To be fair, as the No. 8 team in the AL, the Jays' chances at the World Series were pretty slim to start with, and they just couldn't hold up against the No. 1 Rays. It's okay to cry a little.
On top of that, Toronto Raptors hype man Marc Gasol might be leaving the #6ix for the sun, sea and sangria in Spain. It was reported yesterday that he's signed with his hometown team FCB Barcelona for next season, though Barcelona head coach Šarūnas Jasikevičius has denied the report. Just a bad rumor, maybe?
Now hit me with the good stuff: Canadian women are killing it at the French Open! Eugenie Bouchard is on to the third round after a win against Daria Gavrilova, and teen phenom Leylah Annie Fernandez notched a comeback win in her debut match in Paris against No. 31 Magda Linette.
Fernandez is playing again today (as is No. 9 Denis Shapovalov), while Bouchard is set for tomorrow. Grab your red and white and follow the matches here.