🏈

Guide to Fantasy Football

May 26, 2021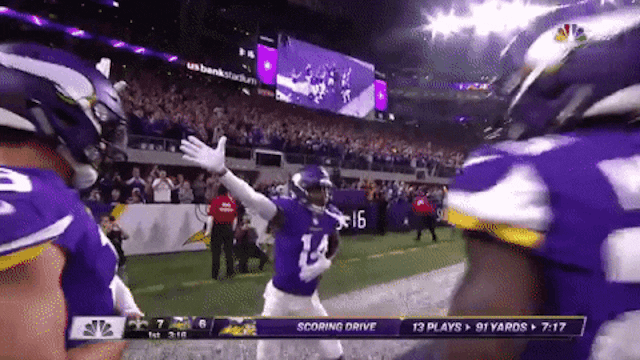 The GIST
Here's the deal: fantasy exists in pretty much any sport (yup, there's fantasy hockey, baseball, etc.) and is kinda like a computer game with real-world counterparts. We all know that football exists IRL and we all cheer for our favorite teams/players. But, as viewers, we don't have any decision-making power or skin in the game — players are chosen by the teams' owners/management, and viewers don't have a choice in who the teams sign. That's where "fantasy" comes in! So us regular folk can create our ideal team — our "fantasy" team, if you will. The catch is, this team is built online. You choose players from across the league that makes up your dream team. Your fantasy team then squares off against other people's fantasy teams. What's cool is that as much as your fantasy team exists online, the statistics of actual players in real-life games dictate how your fantasy team does.
Still with us? Great! This may sound a little bit complicated, but you really don't need to be a die-hard fan to participate in fantasy sports. Having a basic understanding won't make you basic; any smart and strategic babe (that's you!) can win it all. Before we get into it, there are a lot of football references in this guide (duh), so make sure you brush up on your football 101 before diving in.
Why is fantasy such a big deal?
As we at The GIST say all the time, sports have a unique way of uniting people, and fantasy sports are no different. It's a pretty unreal feeling when you get to brag about knowing a rookie would have an incredible season before anyone else, or picking up a player before he has a breakout game. There's also the less poetic aspect of having cash money on the line. And everybody likes winning money.
In fact, the market for fantasy football is so huge there's an entire TV show dedicated to it. There are radio stations dedicated solely to fantasy football and the NFL website has its own fantasy football section. Basically, FF is a BFD, so it's time to get on board.
Okay, but what's a sports pool and what's fantasy?
Pools
In terms of betting on sports IRL against other people, there are generally two main ways to do it: pools and fantasy. A "pool" in sports typically means you're picking one team to beat the other. "Fantasy" on the other hand usually means you're picking players to make up your team, which will then face other fantasy teams.
To start, the simplest type of pool is a standard pick 'em. That means you just pick who you think is going to win in each head-to-head match-up each week. The person in the pool who guesses the most victories wins that week.
Another type of pool is a survivor pool. Each week, you check the matchups and pick one team that you think will win their game. For example, if the New England Patriots (all-around awesomeness) are playing the Cincinnati Bengals (general sad pandas), you would choose the team you thought was going to win and then hopefully move on to glory. As long as the team you choose wins, you move on. The catch is you can only choose each team once throughout the 17 week season, so you may not want to choose all the obvious winners upfront. Oooo some strategy, we love it. Choosing a wrong team means you're kicked out of the pool. Bye Felicia!
Fantasy
Now, it's time for fantasy standard draft leagues. These require more effort and understanding, but once you get it, it's hella fun! Let's base things off Yahoo Fantasy because it's the most common website used.
First you draft your team, which means selecting (usually) 16 players. These are real pro football players who are top-dogs at their positions. Imagine an all-star season of your favourite reality show: only the best are worthy.
This is what the Yahoo draft page looks like once it's live:
While this dashboard looks a little complicated, here are all the parts you need to know:
Time in the top left corner: How much time you have to make a player selection. You only get 1-2 minutes to make your selection, which sounds like a lot, but it goes fast!
Red bar underneath: Your spot in the drafting order (see below on how that's decided).
Draft order: This is where all the teams in your league are listed, so you can see the order in which each team will select their player.
Middle top: When you click on a player, this is where his face and stats pop up. If they haven't been drafted yet and you want to pick him, you can click "Add to Queue," which is basically a waiting spot on the top right of the screen. This makes it easier to find the players you're interested in.
Middle of the screen: This is where all the available players are — you can search by position to make it easier to navigate. If they have a little red plus sign, it means they're injured.
Top right: If you've added players you want to your queue, this is where you'll see them. If someone drafts them before you can, they'll disappear from there.
Middle right: This is where you'll see the players you've taken that make up your team!
Drafting works as a snake. What the heck do snakes have to do with sports? Let's say your league has 10 people. The computer uses an algorithm (#math) to randomly assign you a number from 1-10 and then the order for picking your player will go from person 1 to person 10, then start with person 10 down to person 1, and then repeat, until everyone has filled their rosters. So if you're drafting 8th, 9th or 10th, you should have two picks ready to go cause that snake moves fast.
Standard leagues draft the following positions: quarterbacks (QB), wide receivers (WR), running backs (RB), tight ends (TE), kickers, and a team defence (meaning you choose the whole Green Bay Packers defence, not an individual player).
W-R-T means you can fill that spot with either a WR, RB or TE — it kind of acts like a wildcard. BN is your bench. The bench is like a holding spot for the players you aren't using that week. IR stands for injured reserve, the place you hope your star players never end up. Welp.
Once you draft your players, you set your roster each week. Yes, you've got to pick a roster EACH week! Also, FYI: The football week is Thursday to Monday with usually one game on Thursday, 14 on Sunday and one on Monday. Setting your lineup means deciding who you think is going to get you the most points. So, if one of your running backs is facing a team that has a killer defence, it might be better to bench him for the week. Yahoo provides predictions to help you out.
How do you get points?
Your commissioner (a fancy way to say organizer of the league) can change how each player earns your team points, but the standard Yahoo scoring is super easy to understand. Here's a quick breakdown:
There are two kinds of standard leagues: head-to-head and total points. Head-to-head means your team faces off against another team in your league each week, and whichever team gets the most points, wins that week. Total points leagues are similar, but instead of a winner and loser each week, your team's total points are counted over the entire season to determine placing.
Here is an example of what a head-to-head matchup could look like: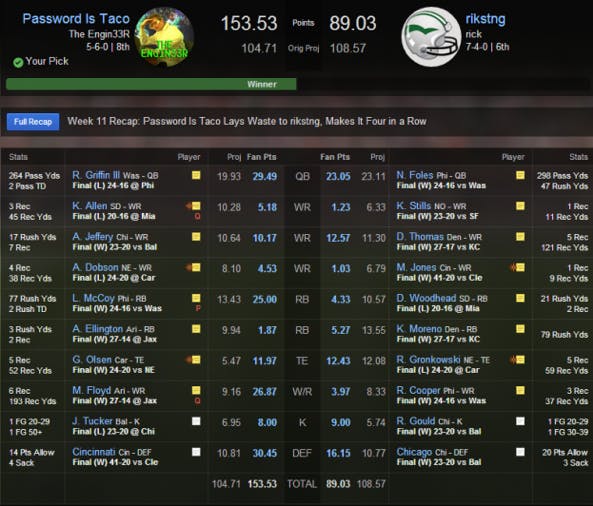 TBH, it sounds more complicated reading it than it is actually playing it.
First time? Here are some tips and tricks:
Step One: come up with the best team name ever! A common formula is a player's name plus something culturally relevant. Some examples include Turn Down for Watt, Pimpin' Ain't Breesy and Diggs in a Blanket. Think outside the box!
Next, you need to do some research – don't think of it as boring, going to the library, citing your sources research; but rather using your incredible intellect to assess the scene of the NFL. Plus, there are a lot of websites that kind of do everything for you. These include:
Each site has articles, lists, projections and rankings. Don't feel like you need to read everything and try not to feel overwhelmed — most of these sites say the same things. They're valuable for newbies to get an idea of who's hot and who's not (although we all know Tom Brady is hot hot hot). Once you have a basic knowledge of who's injured, sleeper picks (those guys who are fairly low key, but could have high potential to get you a lot of points), the top defences etc., you're ready to draft!!
Some hot tips to get you started:
Most importantly, it's key not to stress too much during the draft because nothing is really permanent. You have the ability to drop and add different players throughout the season, or even trade with other people in your league. If you took someone you regret, do some more research after the draft and drop that player for another one. If your QB gets injured or that one RB just isn't performing well, get some new ones! You learn a lot as you go.
Don't pick a quarterback first! While he may be Queen Bee (but not Queen Bey), there will be a lot of good ones available.
Go for RBs and WRs first. They do most of the scoring.
Take your defence second-last and your kicker dead-last. Some leagues will even eliminate the kicking category because it's the least important!
Don't take too many players from one team. Each team gets a bye week (a week off), so you'll be f***ed if they're all on your bench.
Stay relaxed, especially if the player you want gets taken, cause it's def going to happen. Have a few lined up so you're always ready. Remember, you only have a certain amount of time to choose each player.
Bonus: watch out for injuries during the season. If any player goes down, whether they're yours or not, try to get their backup!
Good luck and have fun, GISTers!
That's #thegistofit
Written with Guest Writer: Kara Steyn
Don't get The GIST's free twice-weekly newsletter yet? Let's make it email official.
🏈

Guide to Football

May 26, 2021
SOURCE: GIPHY.COM
The GIST
To start, it's important to know that football is really only played in North America where there are two main leagues: the National Football League (NFL) played in the U.S. and the Canadian Football League (CFL) played in Canada. Talk about a sport called "football" anywhere else in the world and they'll for sure assume you're talking about (or 'footy', as it's affectionately nicknamed).
The NFL
Let's start by giving you #thegist of the NFL, the most popular football league in the world where the best players aspire to compete.
NFL football is played on a 100-yard field with goalposts (called uprights because the posts face into the sky rather than the ground like soccer) at each end. There are 11 players from each team on the field at once. By passing or running the football, the point of the game is to score and to have the most points at the end of four quarters (this is the same in the CFL). Each team has four attempts (called downs) to advance the ball 10 yards before the ball is turned over to the other team. TBH, we know this can be confusing, but stay with us! The rules are similar in the NFL and CFL; however, there are some key differences. Keep reading to get #thegist on the CFL.
How's it organized?
There are 32 teams in the NFL, which is divided into two conferences (NFC and AFC) which are further split up into four divisions (North, South, East and West). There are 16 regular season games leading to the playoffs which culminates with the Super Bowl. From the wildly overpriced commercials, to the star-studded halftime show, to eating until you explode – the Super Bowl is an event like no other.
The best of the best
The best team from the 2019-20 season was the Kansas City Chiefs, who beat the San Francisco 49ers 31–20 marking KC's first Super Bowl title in 50 years. Kansas City was led by their exceptional quarterback (QB), Patrick Mahomes (who recently signed a record-breaking $503 million dollar (!!!) contract).
Determining who's the best player in the NFL is tough because there are so many different positions that require different skills. But it's pretty undisputed that Tom Brady, who is now a Tampa Bay Buccaneer is, quite literally, the greatest QB of all time with six Super Bowl rings. Other players to know in the league right now are Ciara's husband and Seattle Seahawks QB Russell Wilson, and wide receiver Michael Thomas (New Orleans Saints). You can check out the 2020 top 100 list as voted on by the players here.
Female footballers
Think football is a man's sport? Think again! There are actually three full-contact 11-on-11 leagues in the U.S., the biggest being the Women's Football Alliance (WFA). Formed in 2009, the WFA has continued to expand and now includes 60 teams (!!!) across three divisions, each crowning its own champion at the end of every season.
And for those who dig the game but not the tackling, there's always flag football — a similar game where players have to stop running when their flag is pulled off their belt rather than when they're tackled to the ground.
Ramp up your trivia game
Brett Favre (of Green Bay Packers fame) and Tom Brady are the only 40-year-olds to ever win a playoff game, and Brady is the only QB above 40 to win a Super Bowl.
Just 18 teams played in the NFL's inaugural season way back in 1922. We've come so far!
The CFL
Now that you have #thegist of football, let us break down how the CFL is different from the NFL:
A CFL field is 110 yards long vs. the 100 yard NFL field. It's also a little bit wider.
The CFL has 12 players on the field at one-time vs. 11 players in the NFL partially because the field is bigger.
How's it organized?
There are nine teams in the CFL, which is divided into two divisions: East and West. There are 18 regular-season games and then six teams make the postseason for the chance to win the . The season runs from June until the end of November, meaning the playoffs are generally played in sub-zero/snowy weather. Just check out the infamous 1996 Snow Bowl in Hamilton, Ont.!
The best of the best
The reigning Grey Cup champions are the Winnipeg Blue Bombers who beat the Hamilton Tiger-Cats 33–12, thus ending the longest Grey Cup drought in the league (29 years!).
The first Grey Cup was won in 1909 (!!!) by the University of Toronto Varsity Blues, because back then it was awarded only to amateur teams. Today, the Grey Cup is property of the professional CFL, while the Vanier Cup is awarded to top amateur University teams across the country.
Did you know…
There used to be some American teams in the CFL? The first team from the U.S., the Sacramento Gold Miners, was admitted to the league in 1993. American teams only played in the CFL for three seasons during the glory days of the early 90s.
The Winnipeg Blue Bombers have made the most Grey Cup appearances (25), while the Toronto Argonauts have won the most championships (17).
Don't get The GIST's free twice-weekly newsletter yet? Let's make it inbox official.
🏀

Guide to Basketball

May 26, 2021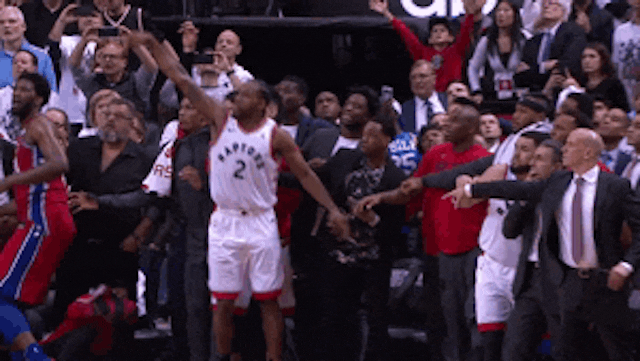 The GIST
Professional basketball is made up of four quarters lasting 12 minutes each. Five players on each team are on the court at the same time. The point of the game is to shoot a basketball in a hoop to get the most baskets (and the most points). A basket counts as either two or three points, depending on how far the shooter was from the basket they hit the shot. Courtside seats gives fans unprecedented access to the players, so basketball brings out celebrity sightings like no other sport. Just look at Drake getting up close and personal with Toronto Raptors coach Nick Nurse during the 2019 playoffs.
How is it organized?
The highest level of the sport is the National Basketball Association aka NBA. The league is divided into two conferences (East and West), and each of those conferences are further divided into three divisions. There are 30 teams in the league, and only one team in Canada - our Toronto Raptors! In the 2018-19 season, the Raptors went all the way to the NBA Finals against the thought-to-be-unstoppable Golden State Warriors and WON, bringing the Larry O'Brien trophy (like the Stanley Cup of the NBA) home to Toronto. Unreal.
The best of the best
The reigning NBA champions are the LA Lakers. The Lakers claimed their 17th (!!!) NBA title in franchise history during the NBA's historic 2020 bubble season played at Disney World in Orlando, Florida.
Superstar LeBron James led his Lakers squad, earning NBA Finals MVP honors by averaging nearly 30 points per game throughout the Finals. King James became the first player to ever win the MVP honors with three different franchises. True royalty.
James had some help from teammate Anthony "The Brow" Davis, who averaged 25 points throughout the Finals. Talk about a dynamic duo.
The 2020 bubble season was historic for many reasons, most notably the wildcat strikes for social justice which nearly ended the season midway through the playoffs. With these strikes and calls to action, these players and franchise put social justice at the forefront all season long.
In addition to King James and Davis, the league's most notable stars also include 2019-20 league MVP Giannis Antetokoumpo (pronounced YAWN-IS ANT-TET-TO-KOOM-PO), who could stir up some drama by joining a new team this offseason, and Houston Rockets guard James "The Beard" Harden.
When does the next NBA season start?
The 2019-20 NBA season ended on October 11th, right around when the new season would typically begin. It took some negotiating, but we officially have a start date for the 2020-21 season: December 22nd. It's a Christmas miracle!
Although this season won't be played in a bubble, things will still look a bit different. Most notably, each team will play 72 games as opposed to the standard 82. Exact schedule details (including fan attendance policies) are still TBD, but we're already counting down the days until tip-off
Play like a girl (it's better that way)
The WNBA is one of the best professional sports leagues for women in North America as these basketball bosses actually get airtime on top sports networks. Keep your eye on:
Wow! Can I get more info on the WNBA?
Absolutely! The WNBA season (typically) runs from May until late September or early October, with each of the 12 teams playing 34 regular season games. The league has actually been around since 1997, though only three teams remain from inception: the New York Liberty, Los Angeles Sparks and Phoenix Mercury. Go deeper on how the league is organized .
These women still have a long way to go before reaching parity with their professional male counterparts. But thanks to 87 nationally televised regular season games (more of this, please!), the WNBA saw an incredible 68% increase in viewership during the 2020 season. Amazing what happens when you put women's sports on TV!
And prior to the historic wubble season, we finally saw the WNBA bet on itself by signing a groundbreaking new collective bargaining agreement (CBA) that will significantly benefit the players. Among other things, players receive an increase in salary that improves the average compensation from $79k to $130k (!!!) with the league's top players set to earn $500k — more than three times the previous maximum. Cardi B would be so proud.
There's obviously still a long way to go before there's parity with the men's professional leagues. That being said, this is a BFD — the WNBA listened to its players and took their input into account more than ever before. It's refreshing to see a league partner with its players and bet on its women to move closer to closing the inequality gaps that still exist in women's sports.
One last thing…
The most important (although we are admittedly biased) fact about basketball is that the sport was created in 1891 by Canadian James Naismith! O' Canada, indeed!
Don't get The GIST's free twice-weekly newsletter yet? Let's make it email official.
🏀

Guide to Fantasy Basketball

May 26, 2021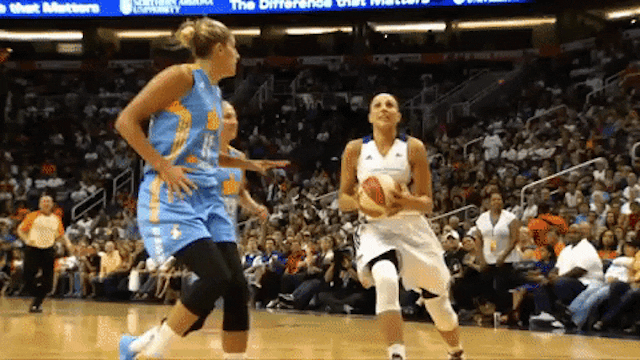 WTF is fantasy basketball?
So glad you asked! Fantasy basketball is all about building the best (imaginary) basketball team with real NBA players and competing against the other teams in your league to prove who's best.
Not entirely clear? Let's compare this to Hollywood then, because we're suckers for pop culture and why the heck not. We want you to picture your favorite actors. Next, imagine if all of your favorite actors were to suddenly team up and join a movie that YOU have full creative control over. The actors are real, their ability to deliver lines is real, but YOU select who's on the cast, what parts they play, and how they will be directed.
For this exercise, replace Ryan Gosling with LeBron James, replace the movie set with a court, and replace line delivery skills with bball skills in your mind. That is fantasy basketball. You have control of your players and your players have control of the game and their ability to produce results.
Sounds fun, how do I play?
To play this fun AF game, you first need to join a league. Your office may already have one in the works, so definitely ask around, but you can also join a league for free online! These websites are some of the best, and most popular out there:
Once you join a league, a "Draft Day" will be set and scheduled by your league's commissioner (fancy phrase for league organizer). You should aim to do all of your prep work and research before your scheduled Draft Day, as this will be the day that you actually select your team. It's a BFD.
Before we dive in, you should know that teams are mostly made up of six forwards (SF, PF, F), five guards (PG, SG, G), and two centers (C), for a total roster of 13 players (ten active players + three inactive bench players each day). There are 301 players in the NBA and you only need to pick 13 on Draft Day, so be sure to make your picks count.
Fantasy basketball is generally structured in a VERY similar way to fantasy hockey – if you have not yet checked out our Fantasy Hockey Guide, then we strongly recommend you take a quick jump over and read all about the wonderful world of fantasy sports and the small nuances that come with it.
Let's return really quickly to Draft Day, as this day is absolutely critical to your success. There are two types of drafts – the snake draft, by far the most common, and the auction draft. Just like hockey, a snake draft is when each team in the league is assigned a predetermined draft number and selects a player (from the remaining available players) to join their roster on their respective turn. If there are ten teams in your league, then you will draft somewhere between first and tenth, with the tenth drafter also selecting the eleventh pick because the order flips after each round. It will look something like this:

The whole point of Draft Day is to build your team using the best players available to you. Whether you pick the known high performers or take a gamble on a potential breakout star (aka sleeper pick), Draft Day is all about what you decide. There's some strategy to this, y'all! But, don't fret, your picks are not set in stone; you'll get the chance to make trades or pick up undrafted players during the season to mix your roster up and chase after a baller you couldn't/didn't nab in the draft. As always though, beware the buyer as a big trade could require you to give something big up in return…
If you haven't a clue what to do, most websites offer ADP (Average Draft Position) for each player to help a sister/mister/GISTer out. The ADP is the average spot that the player was taken across all of the drafts run on that website – the higher the ADP, the more in demand that player is, which is a big clue that they might be pretty friggin' good.
As an owner after the draft, you set up your squad every day and select which players get to play Like Mike and hit the bball court and who gets to sit on the bench. Most often, you'll play against another team in your league each week in a head-to-head format to see who's team does the best in a variety of categories – points, threes, rebounds, assists, and steals are some of the most common categories, but it can vary depending on what your commissioner has decided.
The team who outscores their opponent in each of the league's categories at the end of every week will earn a point; for example, if Team A had 36 total rebounds for the week and Team B had 32, Team A would earn a point. The team with the most points in their "head-to-head" matchup will earn the dub (win because dub is short form for W) for the week and this will go towards their overall standing in the league. Rinse and repeat this process until playoffs and there you have it, a regular-season of fantasy basketball.
Wanna get good? Here are some draft tips to get you started
À la Elle Woods & her iconic orange Mac laptop in the 2001 classic Legally Blonde, you're gonna have to sit down, do some homework, and take some notes in order to slay your fantasy league. So hit the Google and check out these resources:
🏀

Exciting NBA Playoffs action

May 25, 2021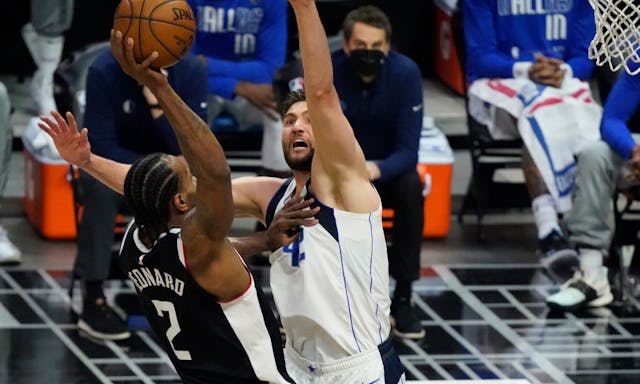 Source: USATSI
The weekend: Four of the eight opening games ended in an upset, with each game staying fairly close. The largest point differential was just 14 points and six games were decided by 10 points or less. Parity, is that you?
The highlights: Postseason basketball hits different. Here are some of our favorite plays from the weekend:
Milwaukee Bucks' Khris Middleton called "game" with to defeat the Miami Heat 109–107 in overtime on Saturday while Trae Young had a of his own yesterday in the Atlanta Hawks 107–105 win over the NY Knicks.
Though the Dallas Mavericks pulled off a 113–103 win over the LA Clippers on Saturday, Clippers star Kawhi Leonard posterized Mavs' Maxi Kleber with .
What's next: We'll be spoiled with daily playoff basketball until at least next Monday. The No. 5 Miami Heat look to bounce back against the No. 3 Milwaukee Bucks tonight at 7:30 p.m. ET, followed by the No. 3 Denver Nuggets vs. the No. 6 Portland Trailblazers at 10 p.m. ET. Settle in.