🏅

Record breaking Olympics for Team Canada

August 09, 2021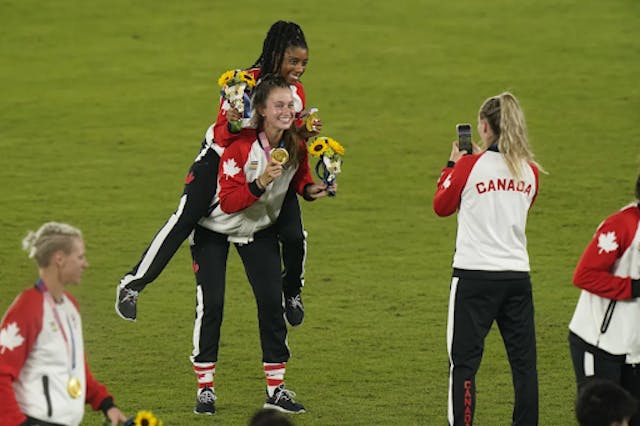 Source: Adrian Wyld/The Canadian Press
The women: Though the men showed up eventually, it was Team Canada women who dominated the Games. Starting with silver in swimming's 4x100m freestyle relay on Day 2, women won Canada's first 13 medals, and 18 total (75% of Canada's medals). Who run the world?
Speaking of the water, swimmer Penny Oleksiak notched three podium finishes to become Canada's most decorated Olympian with seven career medals — and the 21-year-old has plans to add to the tally in Paris 2024.
The records: Canada's athletes tied another Canadian record, earning seven gold medals in these Games, with swimmer Maggie Mac Neil, weightlifter Maude Charron, sprinter Andre De Grasse, decathlete Damian Warner, cyclist Kelsey Mitchell, women's eight rowing and the women's soccer team each bringing home gold.
Canadian swimmers also broke seven national records, while Warner set an Olympic decathlon record and soccer player Quinn became the first openly trans and non-binary Olympic medalist. Proud.
🏅

Sports Quick Hits: Special Edition August 9th, 2021

August 09, 2021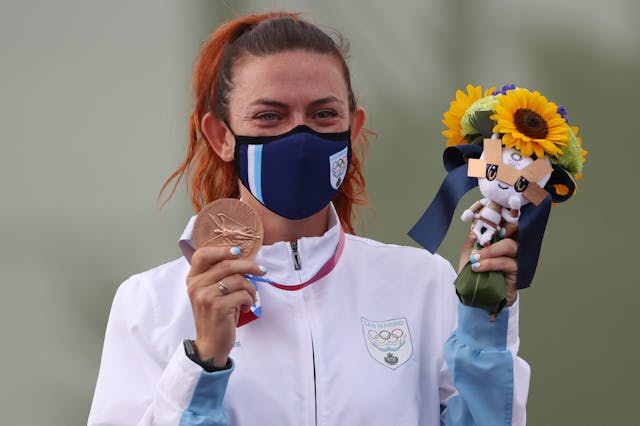 Source: Ian Bremmer/Twitter
🏅First medals: Trap shooter Alessandra Perilli won San Marino's first Olympic medal, and both Burkina Faso and Turkmenistan also recorded their first medals. Weightlifter Hidilyn Diaz of the Philippines, triathlete Flora Duffy of Bermuda and weightlifter Fares Ibrahim Elbakh of Qatar all won their respective country's first-ever golds.
✨New events: Skateboarding's medals went mostly to teenagers — including 13-year-old gold medalist Momiji Nishiya of Japan — while climbing great Janja Garnbret of Slovenia won inaugural sport climbing gold and Team USA surfing legend Car​​issa Moore took home surfing gold.
🏳️‍🌈Team LGBTQ+: With at least 182 publicly out athletes, the Tokyo Games had more than triple the out athletes than Rio 2016, and 56 of them were medal winners. Team LGBTQ+ won 32 total medals (multiple team athletes share a medal) and, , won more medals than any country that criminalizes homosexuality. Love really does win.
​​🥰Feel good moments: We asked our GISTers for their favorite Olympic moments, and one response came in over and over: when Qatar's Mutaz Barshim and Italy's Gianmarco Tamberi the men's high jump gold. Over 16 days of competition, it was the moment that best represented the true Olympic spirit.
🏅

Team Canada Updates

August 09, 2021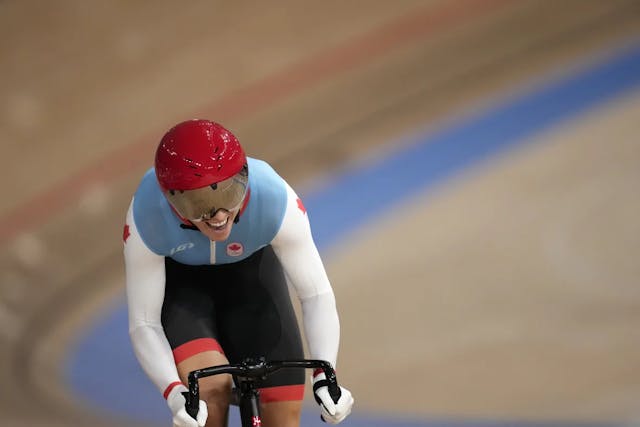 Source: Christophe Ena/The Associated Press
🚴‍♀️Cycling: Kelsey "" Mitchell's unexpected gold medal win in the women's track cycling sprint was the perfect way to cap off Team Canada's record-breaking Olympics. Mitchell only began cycling competitively in 2017, when she . Now, she owns the podium.
🛶Canoe: Team Canada's final bronze came from Laurence Vincent Lapointe and Katie Vincent in Saturday's women's C-2 500m. After coming back from fifth place at the race's halfway mark, the duo finished third for Vincent Lapointe's second Tokyo medal and Vincent's first.
🏅

Andre De Grasse seeing gold after men's 200m race

August 04, 2021
Source: Olympics/Twitter
The race: After a few medal-less days for Canada, De Grasse followed up his 100m bronze with a personal best 19.62 in the 200m — faster than Usain Bolt's gold-winning sprint in Rio 2016 — to win Canada's first gold in track since Donovan Bailey in Atlanta 1996 and Canada's first 200m gold since 1928.
De Grasse is now nine-for-nine in Olympic and world championship finals, having won a medal in every major race he's competed in, but this marks his first ever gold.
🏅
⚽
Team Canada Olympic Updates
August 04, 2021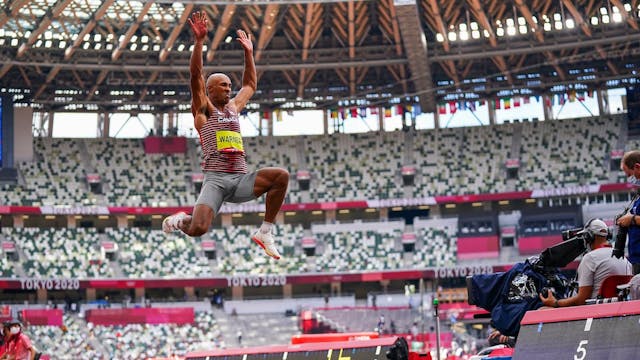 Source: Team Canada/Twitter
🏃‍♂️Track & field: After five of the , Canadians Pierce LePage and Damian Warner are sitting second and third, respectively, with Warner finishing first in the 100m and long jump, and LePage winning the shot put. They'll compete in the last five events tonight, starting with the 110m hurdles starting at 8 p.m. ET.
Meanwhile, Gabriela Debues-Stafford qualified for tomorrow's women's 1,500m final, and her sister Lucia Stafford finished one spot back from qualifying.
⚽️Soccer: The heat is (literally) on for the Canadian and Sweden women's soccer teams. They've jointly petitioned the IOC to change the time of Friday's gold medal match from 11 a.m. JST (Thursday at 10 p.m. ET) to later in the day to avoid the extreme heat.
🛶Canoe: With the C-1 200m sprint in the Olympics for the first time, 13-time world champion Laurence Vincent-Lapointe — who was two years ago and hadn't raced since June 1st, 2019 — is finally back in competition.
She finished first in this morning's heat and, along with fellow Canadian Katie Vincent, will race in tonight's semis starting at 8:44 p.m. ET.