🏀
⚾
⚽
Sports Quick Hits: Monday June 14th, 2021
June 14, 2021
Source: Darren Abate/AP
🏀NBA: Sure, , but the NBA action we're excited about is behind the bench. The Portland Trail Blazers and Orlando Magic are both searching for new head coaches, and not one, but two women — San Antonio Spurs assistant Becky Hammon and University of South Carolina head coach Dawn Staley — . About damn time.
⚽️Soccer: Though world No. 8 CanWNT delivered a disappointing 0–0 performance against No. 27 Czech Republic on Friday (just a day before what should be a national holiday: Christine Sinclair's birthday, who's now 38), coach Bev Priestman against a tough No .7 Brazilian squad today at 3 p.m. ET.
⚾️MLB: The Toronto Blue Jays 18-4 win over the Boston Red Sox yesterday looked more like a football score than baseball, with the Jays hitting eight home runs, the most ever by any visiting team at the Sox' 109-year-old Fenway Park. Watch them close out the series at 7:10 p.m. ET tonight. Do we hear nine?
🏒

Montreal Canadiens to play the Vegas Golden Knights in Game 1

June 14, 2021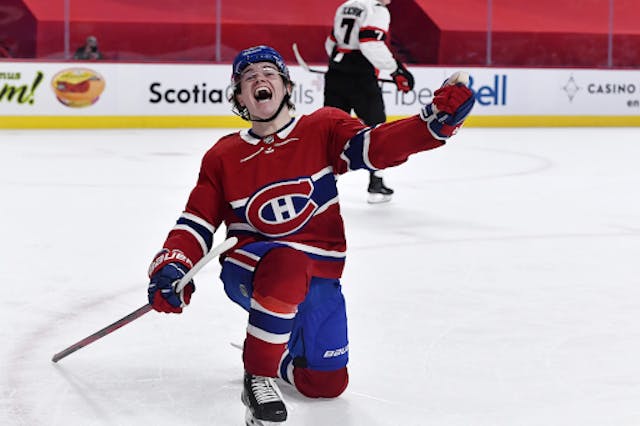 Source: Eric Bolte/USA TODAY Sports
Game one: The Habs' journey continues tonight at 9 p.m. ET — a full week after sweeping the Winnipeg Jets. Their semifinal opponent? The Vegas Golden Knights, a four-year-old in their fourth straight postseason. Wunderkinds.
Goaltending will be the name of the game in this one, with Habs goalie Carey Price showing why he's , and Vegas goalie hunting down his fourth Stanley Cup.
The series: After finishing second in the West Division and as one of the favorites to win the Cup before the season even started, Vegas has the clear advantage. With one of the strongest first lines in the league and newfound powerhouse defense, they've made a hockey oasis in a desert town.
But — and that's a big but — Montreal has been written off more times than we can chant "" and they're still in it. They're the underdogs, of course, but that chip on their shoulder helped them make it this far. TL; DR: this is going to be fun.
⚽

Exciting Action Continues for Day 4 of Euros

June 14, 2021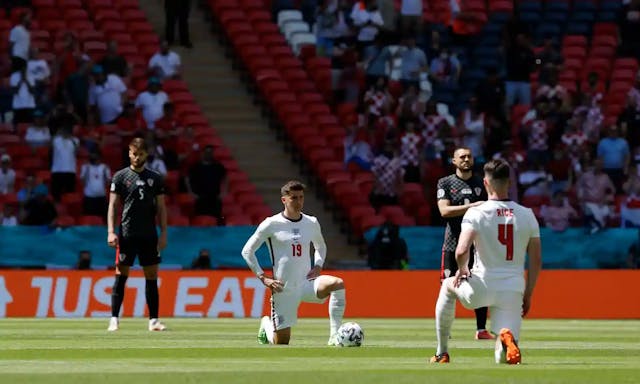 Source: Tom Jenkins/The Guardian
❤️Christian Eriksen is stable: In a very scary moment in Denmark's first match against Finland on Saturday, Danish footballer Eriksen collapsed on the field due to a now-confirmed cardiac arrest, requiring trainers to use a defibrillator and while on the pitch.
🏴󠁧󠁢󠁥󠁮󠁧󠁿England gets booed: Despite and players, the team was still booed by their home crowd when they took a knee ahead of yesterday's first match against Croatia (which England won 1–0). Disgusting. For more on this continuing act of racism, check out of The GIST of It.
🗓On the schedule: There are today, but only one is a can't-miss: Spain vs. Sweden at 3 p.m. ET. With both teams dealing with COVID-19 woes, some youngsters will be in the spotlight.
🎾

Barbora Krejčíková and Novak Djokovic Take Home 2021 French Open Titles

June 14, 2021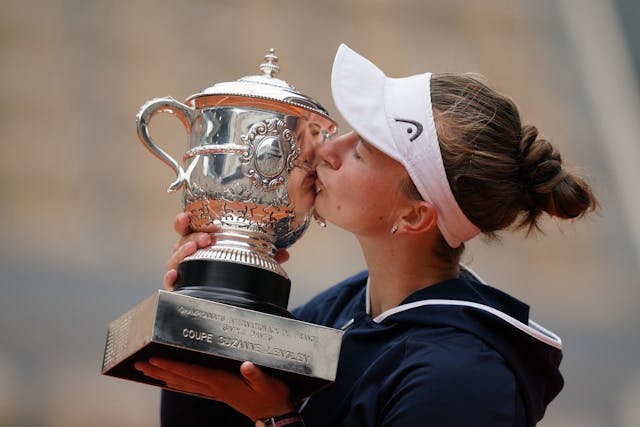 Source: Barbora Krejčíková/Twitter
Women's draw: Another year, another new women's singles champ. Barbora Krejčíková (pronounced krey-CHEE-koh-va), who had one singles title to her name before this tournament, beat Anastasia Pavlyuchenkova (pronounced pav-loo-CHEN-koh-va) on Saturday for her first ever major.
And yesterday, alongside partner Kateřina Siniaková (pronounced seen-yah-KOH-va), Krejčíková won the women's doubles title too, becoming the first woman since 2000 to win both the singles and doubles titles at the French Open. Get a girl that can do both.
Men's draw: World No. 1 Novak Djokovic continued his tennis world domination yesterday, winning his second French Open title and 19th Grand Slam title against No. 4 Stefanos Tsitsipas (pronounced see-see-PASS).
Up next: Wimbledon, mate. The next Grand Slam begins on June 28th, with Djokovic trying to tie Roger Federer (who is also playing) and Rafael Nadal () at 20 Grand Slam titles, whileSerena Williams is gunning for a . Mark your calendar.
🏈

Race-norming in the NFL

June 13, 2021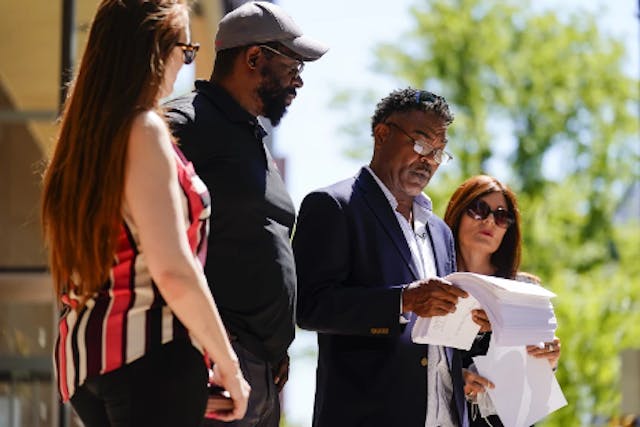 SOURCE: MATT ROURKE/AP
QUOTE OF THE DAY
I'll believe it when I see it.
— Former NFL running back Ken Jenkins, on the NFL's recent promise to stop race-norming. We're with him.
🧠 What is race-norming?
Race-norming is a pervasive practice mainly used in the medical field. In essence, it assumes that the baseline cognitive function of a Black person is lesser than that of a white person.
It was in the 1990s that race-norming practices began to supposedly help diagnose dementia and determine appropriate treatment for those suffering from the syndrome.
It's unclear whether the NFL began using the practices prior to their 2015 concussion settlement (more on that below), but they did put together a Mild Traumatic Brain Injury committee in 1994.
The league initially claimed that race-norming was used at the discretion of clinicians making the diagnoses, but it has since been discovered that physicians felt pressured into using the practice.
So why are we talking about race-norming now? Because the NFL brought it up a couple of weeks ago and then swiftly brushed it aside with other football news. And while it's been floating around the media a bit lately, it's not being talked about nearly enough for our liking.
💸 The settlement
Thousands of former players sued the NFL in 2011, accusing the league of hiding what they knew about repeated head trauma and its effects, including dementia, post-concussion syndrome and a brain disease called chronic traumatic encephalopathy (CTE).
The league settled for $1 billion and began awarding the settlement money to former players who suffered brain injuries while playing in the NFL.
To determine who was awarded settlement money, the league assessed players' dementia and brain injury claims to determine if their brain degeneration was directly caused by playing football in the NFL.
But because of race-norming, Black players had to show a larger cognitive decline than their white peers to qualify for settlement money. WTF?
🔨 The latest lawsuit
Unsurprisingly, many players were refused money from the settlement over the past decade, including retired Black players Kevin Henry, an eight-season defensive lineman for the Pittsburgh Steelers, and Najeh Davenport, an eight-season running back (RB) for the Steelers, the Green Bay Packers and the Indianapolis Colts.
They each played very different positions, Henry in the 1990s and Davenport in the 2000s, but both suffered repeated traumatic brain injuries during their time in the league.
The two men were so sure the NFL had denied their claims because of race-norming that they filed a civil rights lawsuit in 2020 with judge Anita B. Brody, who has overseen the settlement since 2011.
The mediation is ongoing, but in the meantime, former Washington RB Ken Jenkins started a petition to demand equal treatment for Black players in the NFL and, a few weeks ago, he delivered 50,000 signatures to Judge Brody.
In response to those 50,000 signatures, the NFL said, "There is no merit to the claim of discrimination." Yeah, we didn't buy it either.
📝 The NFL's statement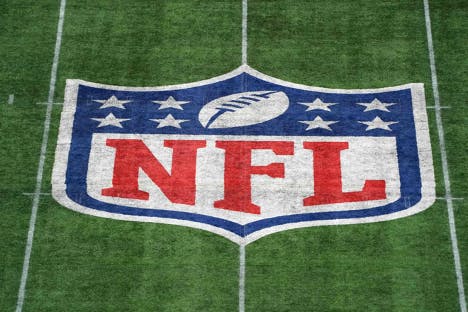 You might want to sit down for this one. After everything that's happened, last week, the NFL...wait for it...changed their tune and admitted to race-norming. Contrary to most of their actions for the past however many decades, the NFL released a statement indicating they "are committed to eliminating race-based norms in the program."
Also according to the statement, a newly formed panel of neuropsychologists, including two female and three Black doctors, are working on a new testing program proposal to replace the current race-norming practices.
➡️ The next steps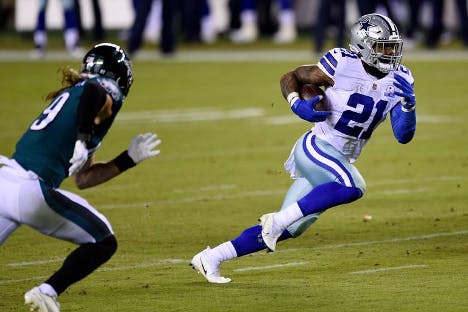 Once the new testing system is ready, the NFL will use it going forward and will also reopen claims they previously denied based on racial bias. It's the least they can do, but it's especially important with dementia claims.
Out of the over 2,000 players who claimed their dementia diagnoses were a direct result of their time in the NFL, less than 600 were awarded compensation from the original settlement.
In the nearly two weeks since making the announcement, the NFL hasn't addressed the matter further and no dates or deadlines were included in the statement. The next steps, though proposed, remain vague and unclear.
💭 The GIST's take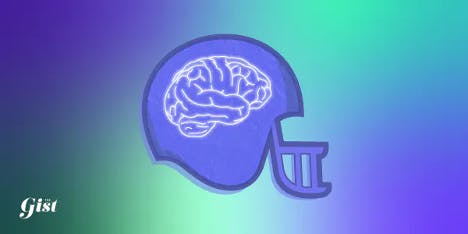 We hope the new system will provide some vindication for players who've been denied compensation they're rightfully entitled to. And more than that, all of the affected players and their families and caretakers deserve an official apology — at the very least — from the NFL.
After denying for so long that they were discriminatory and frankly blatantly racist towards players who sacrificed their bodies and brains for the league, it's a cop out to only acknowledge it now that they've decided to stop the practice. Hold the applause.
We're happy that this is the end of the race-norming practice in the NFL, but it can't be the end of the conversation. To learn more, listen to this episode of our podcast, The GIST of It.