🏒
⛳
🏀
🤸
NHL and LPGA Release Restart Dates, Duke University Hires New Basketball Coach, Gymnasts Speak Out on Abuse in the Sport
July 13, 2020
GETTY IMAGES
NHL: It's officially official: the NHL's restart will take place in Canada starting on August 1st, with the Eastern Conference playing in Toronto and the Western Conference in Edmonton. Now we just need to know which players are in and which are out.
Players have until 5 p.m. ET today to opt out of the season restart, and at least seven players have already taken that route. The Montreal Canadiens, however, are giving forward Max Domi — who has Type 1 diabetes, which increases the risks associated with COVID-19 — an extra 10 days to make his decision. Fair play, especially since three of his teammates tested positive in recent days.
Golf: The first LPGA major of the season is a go! The AIG Women's British Open is scheduled for August 20–23rd, albeit without fans, at the Royal Troon Golf Club in Scotland. Heid doon arse up!
Basketball: One of college basketball's highest-profile teams has a new coach. After Joanne McCallie announced that she would not be returning to coach Duke University's women's basketball team next season, the Blue Devils hired Kara Lawson, who's currently an assistant coach for the NBA's Boston Celtics, as her replacement.
Lawson is a 12 season WNBA vet, a WNBA champion and All-Star and an Olympic gold medalist. Lawson also played four seasons of college ball under legend Pat Summitt, so it's safe to say the Blue Devils are in great hands.
Gymnastics: Unfortunately, two very disturbing stories came out from the world of gymnastics this week. After the release of Athlete A, a Netflix documentary that highlights the USA Gymnastics (USAG) sex abuse scandal involving Larry Nassar, gymnasts in the UK have begun speaking out on the abuse they've encountered across the pond.
On Thursday, two of Britain's most decorated gymnasts, sisters Becky and Ellie Downie, released a joint statement on their sport's toxic culture, calling it "abusive" and "dangerous," and showing that what happened with USAG is not isolated, but a pervasive issue in the sport. As a result, British Gymnastics has launched an independent investigation.
And speaking of USAG, former USAG coach Terry Gray — who was suspended for two years by USAG and the US Center for SafeSport back in October — was arrested in Las Vegas on Friday and now faces up to 14 counts of lewdness with a child under age 14. Just disgusting. This has to stop.
🏀

WNBA Bubble Conditions are Disappointing, Players Want Atlanta Dream Co-Owner Loeffler Out

July 09, 2020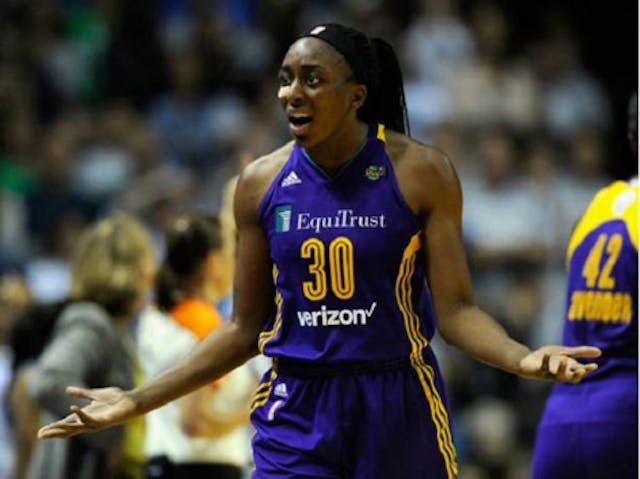 HANNAH FOSLIEN/GETTY IMAGES
The GIST: The WNBA season is set to tip off on July 24th. And unfortunately, instead of talking about the upcoming season, it's what's happening off the court that's in the spotlight...and not for the best reasons.
What's going on?: Like many other leagues, the WNBA is going the hub city route, with all teams living, practicing and playing in a bubble environment (affectionately referred to as the #wubble) at the IMG Academy in Bradenton, Florida.
But unlike many other *cough* men's leagues *cough* the "wubble" is not swanky. Players have been sharing pics and videos of the substandard living arrangements, including a sparse laundry room featuring a mouse trap, bedrooms with broken beds and dirty floors, and reports of bed bugs, meager food and bad plumbing.
On top of that, the league didn't charter flights for the players, so most have travelled to Florida via commercial airlines. This, of course, puts them at a greater risk of contracting COVID-19 and totally contradicts the purpose of the bubble. The league has some fixing to do, ASAP.
Seriously. What else?: In addition to the Fyre Festival situation going on in Florida, the league is also dealing with Kelly Loeffler. Loeffler is a part owner of the Atlanta Dream and a U.S. Senator from Georgia. And earlier this week, she sent a letter to WNBA Commissioner Cathy Engelbert, asking her to reconsider supporting Black Lives Matter and to disallow players from wearing messages of protest or support on their jerseys.
Ugh. How did the league respond?: Engelbert, thankfully, is having none of it. On Tuesday, the WNBA released a statement denouncing Loeffler's involvement in the Dream, saying the league is "based on the principle of equal and fair treatment of all people," and reinforced their commitment "to use our platforms to vigorously advocate for social justice."
The players aren't having any of it either. Many are calling for Loeffler to give up her ownership, with the WNBA Players Association tweeting "E-N-O-U-G-H! O-U-T!"
Washington Mystic star Natasha Cloud (who, reminder, has opted out of this season to fight for social justice) even "called her BS" in an interview on CNN, saying that Loeffler's lack of support in a league made up of 80% Black females "is a problem." Yup, and that's putting it lightly.
⚽

MLS Is Back Tournament Forced to Rejig Schedule

July 09, 2020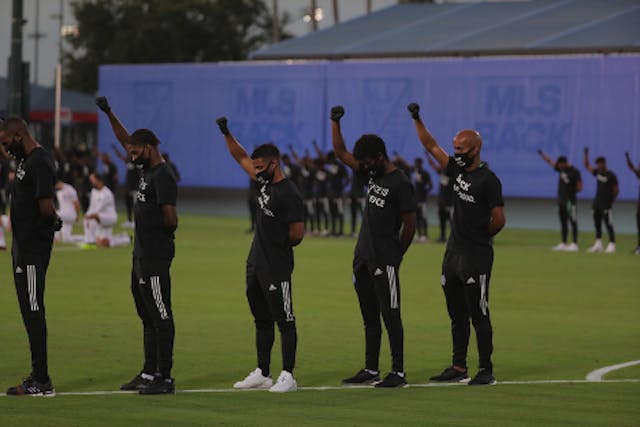 MLS TWITTER
The GIST: The MLS Is Back Tournament (the most snoozy and literal name ever, we know) kicked off last night, meaning that, along with the NWSL's Challenge Cup that's already underway, it's soccer's time to shine. But unfortunately, it's not all sunshine and rainbows for the world's most popular game.
Why not?: Put simply, COVID-19. On Tuesday, FC Dallas (FC stands for Football Club) pulled out of the tournament after 10 players and a coach tested positive for COVID-19. Shortly thereafter, Nashville SC (SC stands for Soccer Club) announced five players tested positive and four players had inconclusive tests, leading many to wonder if they'll be the next team to drop out.
With FC Dallas dropping out and Nashville SC delaying games, the league had to rejig its schedule just two days before last night's kickoff. We don't envy that job.
This gives us wild déjà vu. Two weeks ago, the NWSL found themselves in a similar situation after the Orlando Pride pulled out of the Challenge Cup due to multiple players and staff testing positive for COVID-19. We've said it before and we'll say it again: maybe it's still too soon?
What does the MLS schedule look like now?: With FC Dallas dropping out, the schedule has been adjusted to accommodate 25 teams instead of 26, but the format of the tournament — a group stage followed by a knockout stage — is staying the same (v. similar to the World Cup).
In the group stage, Eastern Conference teams are split into groups A, C and E and Western Conference teams into B, D and F, with each team playing three group stage matches.
After that, the top two teams in groups B to F, the top three teams from group A and the next best three teams overall will move on to the 16-team knockout round, which starts on July 25th.
Got it. So how was opening night?: Awesome. And it was made even better by every player showing solidarity with the Black Lives Matter movement.
And how's the Challenge Cup going?: Swimmingly. After two exciting games yesterday, there's just four more left in the group stage. North Carolina Courage currently hold the top spot, with the Houston Dash, Washington Spirit, OL Reign and the hostesses with the mostesses, Utah Royals FC, all in a battle for the second seed.
🏆

Ivy League Postpones Fall Collegiate Sports to Spring 2021

July 09, 2020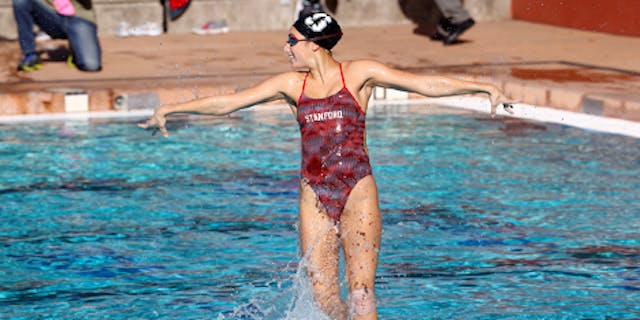 HECTOR GARCIA-MOLINA/ISIPHOTOS.COM
The GIST: As we anticipate the return of so many pro sports, the college sports world is not looking great: it seems like a few sports won't be coming back this year...or ever.
The big picture: Earlier this week, most Ivy League schools announced they're going online for the fall semester and because of that they're also postponing fall collegiate sports until the spring. And yes, that includes football.
This is a BFD not only because people are obsessed with college football, but also because football represents a huge part of most colleges' revenue, which is then used to help fund less financially lucrative sports (think: fencing, wrestling, rowing).
An example: Yesterday, Stanford University — which has produced numerous Olympians and national champions, and counts golfer Tiger Woods and soccer star Julie Foudy as alums — announced they will be cutting 11 of their 36 varsity teams. Without the cuts, the school has said they would lose an estimated $70 million from the effects of the COVID-19 pandemic and the loss of the football season. Whoa.
The good news? The school will honor any athletic scholarships for affected students. And, if pandemic measures allow it, the school will let the 11 sports continue during the 2020–21 school year, but they will have to transition the teams to club sports (which means no funding) by the start of the 2021 academic year.
⚽

Guide to Soccer

July 08, 2020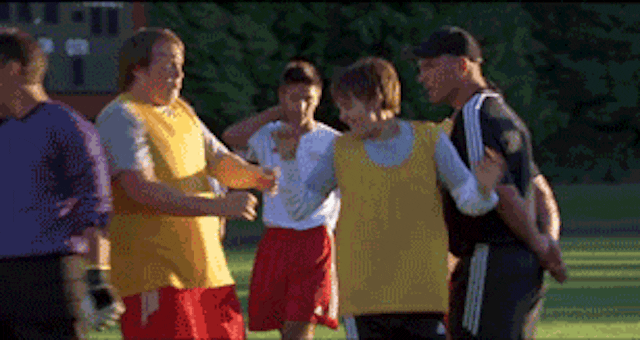 The GIST
Soccer is played on a field called a pitch with nets on both ends. Each team has 11 players (including a goalkeeper). A game is made up of two 45 minute halves. The object of the game is to score goals by kicking or heading the ball into the other teams' net. The soccer ball cannot be touched with hands or arms unless you're the goalkeeper or completing a throw in. Consequently, the game is known as "football" pretty much everywhere except North America. This name, of course, makes much more sense in comparison to NFL or CFL football, a sport played primarily using your hands. SMH at whoever came up with that name.
How is it organized?
Soccer is a wildly popular global sport mostly due to its accessibility — you literally just need a ball to play it. As a result, almost every single continent has its own professional soccer league (which can get a little confusing). The most popular men's leagues are the English Premier League (EPL), Spanish La Liga and Major League Soccer (MLS). MLS is played in North America.
Unlike other sports with a regular season and playoffs, teams collect points for wins at home or away, and goals home or away, so that at the end of the season a champion can be named. Playoffs start after the season champ is determined. On top of that, because soccer is a worldwide sport, there are huge tournaments where players represent their countries rather than the professional teams they're signed to. These are the World Cup (played every four years) and the Euro Cup (also every four years but in the even-numbered year between World Cups).
Women in Soccer
Unlike men's soccer, which is well established in Europe, women's soccer is most popular in North America. The best league in the world is the National Women's Soccer League (NWSL) with all teams based in the US. Some other leagues include the FA Women's Super League in England and D1F which stands for Division 1 Feminine in France. The reigning NWSL champs are the North Carolina Courage.
Women's soccer is even more important on the international stage in tournaments like the Olympics and the World Cup. Here at The GIST, we are obsessed with our Canadian women's national team. Most recently they were two-time bronze medallists in back-to-back Olympics and were ousted in the round of 16 in the 2019 World Cup. Not too shabby. Our fearless leader, Christine Sinclair (Portland Thorns FC), is the world's top goal scorer — male or female — for international goals. Get it, girl!
Stuff to Know About Soccer
Soccer is the most popular sport in the world, being played in over 200 countries!!

No one knows exactly when soccer was created, but the earliest versions of the game can be traced back 3,000 years. Woah.
Don't get The GIST's free twice-weekly newsletter yet? Let's make it email official.