🎾

Guide to Tennis

May 26, 2021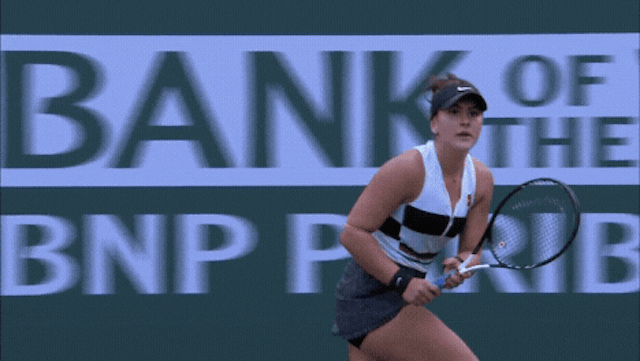 The GIST
Today, tennis is a racquet sport that is played individually or in doubles. Tennis is played on a court — grass, clay or hard surface. The point of the game is to hit the tennis ball over the net so that the opponent can't return the ball. Points are awarded when one player isn't able to get the ball back over the net.
Scoring tennis is a bit weird and wacky. Each match is made up of sets made up of games. That's where the phrase 'Game, Set, Match' comes from! The score of each game goes from zero (called love), to 15, 30 and finally 40. If the game is tied 40-40, that's called deuce, and players have to win two straight points (the first is called advantage) in order to win the game. Get full details on scoring here.
How is it organized?
Men play under the ATP (Association of Tennis Professional) and women play under the WTA (Women's Tennis Association). Each league hosts tournaments throughout the world and throughout the year, but the most important are the 'grand slam' events, also called majors, which are the Australian Open, French Open, Wimbledon and US Open. These events get the most media attention, have the highest payouts, attract the best players and offer the most ranking points (i.e. are the most important to becoming No. 1 in the world).
The most prominent of the majors is Wimbledon which is played in London, England every July. Wimbledon started more than 125 years ago and is played on a grass surface, which makes the game move a lot faster. Wimbledon also has a strict dress code where players must wear only white, a tradition dating back to the 1800s when players were concerned with inappropriate sweat stains showing on clothing. Yup, you read that right.
The best of the best
Although tennis might be old school at heart, it is the only mainstream sport that pays out women and men equal prize money in grand slam tournaments and, for the most part, gives males and females the same airtime on TV. The U.S. Open was the first of the majors to award equal prize money in 1973, while the oldest tennis tournament in the sport's history, Wimbledon, didn't reach that milestone until 2007.
Some of the best in the world on the women's circuit include Romania's Simona Halep, Japan's Naomi Osaka, Australia's Ashleigh Barty and our very own Canadian star Bianca Andreescu! However, the number one in our hearts is superstar American Serena Williams, who blew us away by climbing back into the Top 10 of the WTA rankings after being OOO while she was pregnant with her first baby, Alexis Olympia Ohanian Jr.
Prior to giving birth, Serena dominated the courts as the world record holder for the most Grand Slam wins across female singles and doubles play! You may also recall Serena absolutely slaying in Beyonce's "Sorry" music video. And did we mention that she was pregnant when she won the Australian Open in 2017? Like WHAT!?
On the men's side, being the best in the world continues to be a three-way battle between Switzerland's Roger Federer, Spain's Rafael Nadal and Serbia's Novak Djokovic (pronounced JOKE-OH-VITCH). But Federer is often touted as the best male tennis player of all time with 20 Grand Slam titles. Off the court, he's a total gentleman and remarkably has two sets of twins!
What about Canadians?
We have to give it up to our girl Bianca Andreescu, who took the tennis world (and our hearts) by storm in 2019. She became the first Canadian to win the Rogers Cup (a tournament held in Toronto and Montreal) since 1969 and then became the first Canadian EVER to win a grand slam, beating Serena Williams (!!!) in the U.S. Open final in September. This helped her skyrocket to a career-high ranking of No.4 in the world. Get. It. Girl.
On the men's side, our best men's competitor is Milos Raonic (pronounced RAU-NITCH), who's highest career ranking was No. 3 in the world. Recently, he's found himself in injury trouble and hasn't been in top form. Also, look out for young stars Denis Shapovalov and Felix Auger-Aliassime who continue to impress.

Don't get The GIST's twice-weekly newsletter yet? Let's make it email official.
⚽

Guide to Soccer

May 26, 2021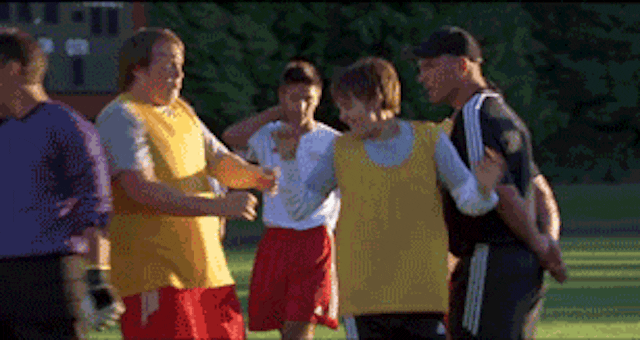 The GIST
Soccer is played on a field called a pitch with nets on both ends. Each team has 11 players (including a goalkeeper). A game is made up of two 45 minute halves. The object of the game is to score goals by kicking or heading the ball into the other teams' net. The soccer ball cannot be touched with hands or arms unless you're the goalkeeper or completing a throw in. Consequently, the game is known as "football" pretty much everywhere except North America. This name, of course, makes much more sense in comparison to NFL or CFL football, a sport played primarily using your hands. SMH at whoever came up with that name.
How is it organized?
Soccer is a wildly popular global sport mostly due to its accessibility — you literally just need a ball to play it. As a result, almost every single continent has its own professional soccer league (which can get a little confusing). The most popular men's leagues are the English Premier League (EPL), Spanish La Liga and Major League Soccer (MLS). MLS is played in North America.
Unlike other sports with a regular season and playoffs, teams collect points for wins at home or away, and goals home or away, so that at the end of the season a champion can be named. Playoffs start after the season champ is determined. On top of that, because soccer is a worldwide sport, there are huge tournaments where players represent their countries rather than the professional teams they're signed to. These are the World Cup (played every four years) and the Euro Cup (also every four years but in the even-numbered year between World Cups).
Women in Soccer
Unlike men's soccer, which is well established in Europe, women's soccer is most popular in North America. The best league in the world is the National Women's Soccer League (NWSL) with all teams based in the US. The NWSL was the first pro sports league in the US to return from the COVID-19 sports shutdown, with the Houston Dash winning the inaugural Challenge Cup. And with the regular season being disrupted, the North Carolina Courage will be going for a NWSL title three-peat this year after hoisting the trophy in 2018 and 2019.
Another major tournament to have on your radar is the Union of European Football Associations (UEFA) Champions League. The tournament is an international competition, pulling together the best club teams from across Europe. Check here for more deets on the Champions League structure and keep your eyes on Canadian women's national team member Kadeisha Buchanan, a stud defender for Olympique Lyonnais (aka Lyon). So proud.
Speaking of the Canadian women's national team, we have to talk more about our favorite squad. Most recently they were two-time bronze medallists in back-to-back Olympics and made it all the way to the round of 16 in the 2019 World Cup. Not too shabby. Our fearless leader, Christine Sinclair (Portland Thorns FC), is the world's top goal scorer — male or female — for international goals. HYFR.
Stuff to Know About Soccer
Soccer is the most popular sport in the world, being played in over 200 countries!!
No one knows exactly when soccer was created, but the earliest versions of the game can be traced back 3,000 years. Woah.
Don't get The GIST's free twice-weekly newsletter yet? Let's make it email official.
🤼

Guide to MMA

May 26, 2021
The GIST
MMA stands for Mixed Martial Arts. As the name suggests, an MMA fight can involve many different fighting styles including judo, Muay Thai, Brazilian jiu jitsu, boxing, wrestling, karate and more. Each of these fighting styles has several different forms of striking and grappling — so you're actually watching many different sports in one. More bang for your buck, what's not to love?!
WTF is striking and grappling, you ask? Well, striking is where you use your limbs to hit your opponent.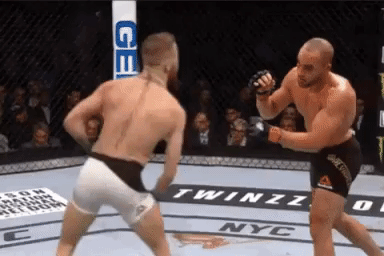 While grappling involves different techniques like throws, clinches, takedowns, joint locks and chokes in order to control your opponent at close range.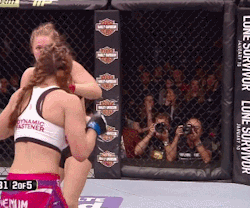 How do you win an MMA fight?
You can win an MMA fight in several different ways. Usually the goal is to win by either knockout or submission. A knockout is when you render your opponent unconscious by punching or kicking them hard enough. Yeesh. A submission is when your opponent either physically taps your body to let you know that they give up or a verbal tap to the opponent or referee. If there is no knockout or submission, the fight will be decided by the judges who score each round. There are only a few things that aren't allowed during a fight like strikes to the back of the head, eye gouging, hair pulling, etc.
How do they score?
MMA fights are scored based on a few criteria. The most important criteria in a fight is effective striking and grappling. Second, effective aggression, and third, cage or ring control. Rounds are scored out of 10 points, with the winner of a round scoring 10, and their opponent usually scoring eight or nine, depending on how well they performed. While it's theoretically possible for both fighters to score 10 in the same round, it's very rare as they would have had to perform with the exact same effectiveness and impact.
How is it organized?
Leagues
Like other professional sports (football having the NFL and CFL, for example), there are a number of different MMA leagues. We're guessing the first league that comes to mind for you in the UFC (Ultimate Fighting Championship). However, the UFC is not the only company that runs MMA fights, they're just the biggest and richest (like the NFL). There are several other companies like Invicta (which runs exclusively women's fights…love it), Bellator and One Championship that also host MMA leagues. That said, UFC is considered the 'top' league, so it's basically every professional fighter's dream to be signed by them (because there are no teams —players get signed directly with the leagues).
Weight Classes
MMA fights are organized into , so you'll hear a lot about fighters needing to "make weight" for a fight. Often, fighters will fight in a lower weight class than their average day-to-day weight. Why? Because they can manipulate their water weight just prior to the fight to lose a lot of weight quickly (like Channing Tatum in Foxcatcher). Then, as soon as the athlete weighs in just before the fight at their lower weight (each athlete has to weigh in the day before the fight to make sure they meet the rules), they can immediately rehydrate and fight the next day at their usual higher weight. This gives them a potential size advantage. And as they say, the bigger, the better.
Fights
Fights are typically three or five rounds in length, depending on the event or title. Rounds are typically five-minutes long with a one-minute rest period between rounds. We know it doesn't sound like a lot BUT these fights are tiring AF.
The best of the best
The 'best of the best' is whoever is the of their division (aka weight class) at any given time. The winner of a weight class can change any time there's a title fight, which generally happens every few months. A title fight determines who is considered 'champion' of that division. For example, you've probably heard of someone being 'heavyweight champion.'
Some of the best fighters of all time include: Anderson Silva, Fedor Emilianenko, Conor McGregor and Georges St. Pierre (who's Canadian — shout out!) and some badass women that we mention below (keep reading). Some people would argue also deserves to be on this "best of the best list", but he's basically failed every drug test he's ever been handed so — v debatable.
The women
The women's division of the UFC is only about ten years old (check trivia below for why that is!). One of the most recognizable names in MMA is Ronda Rousey because she was the first woman signed in the UFC (back in 2012) and consistently won her fights in spectacular fashion. Rousey was the first American woman to medal in judo at the Olympics, so it's not surprising that she dominated fights with her grappling. Rousey has since moved on from the UFC (she's now performing in the WWE), so there's a new Queen in town. At the end of 2018, Amanda Nunes became the first female double champion.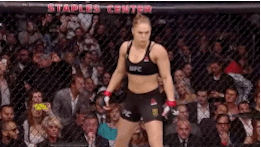 While that's all amazing to see, there's unfortunately still tons of sexism in the fighting world. When asked what advice he would have for women trying to make it in the fighting industry, lightweight champ Khabib Nurmagomedov responded with: "For females, I have very good advice, be fighters at home. And one more advice, all the time, finish your husband." LIKE, ARE YOU KIDDING ME?! Georges St. Pierre (GSP) was once quoted saying that while he can watch a men's fight and admire the technique, he does not watch female fights because he just feels bad for them. We don't want your empathy, dude.
Trivia
The next time you're at a bar and the fights are on, throw one of these facts out and let people bask in the glory of your MMA wisdom...
The oldest UFC fighter to win a title is Randy Couture, who did it at age 45. There is a pretty good chance this record will never be broken.
In 2011, when asked when women would fight in the promotion (the main fight that the league is promoting), Dana White, owner of the UFC (who is a man, don't be confused by the name) responded, "Never." Ronda Rousey was then signed to the UFC in 2012 after Dana took notice of her skills and athletic accomplishments. Get it, girl!
That's #thegist of it!
Written by Guest Writer: Kaeli Sweigard

Don't get The GIST's twice-weekly newsletter yet? Let's make it email official.
🏒

Guide to Fantasy Hockey

May 26, 2021
SOURCE: GIPHY.COM
Just Google the word "fantasy" and it'll land you right in the thick of podcasts, YouTube videos, articles and draft predictions for the four major sports leagues (that's the NHL, MLB, NBA and NFL). This fantasy stuff is a ! In fact, we also have a guide to fantasy football and a guide to fantasy basketball you can check out. But back to hockey…
WTF is fantasy hockey?
Fantasy hockey is one part real, one part fake and 100% a whole lot of fun. Your mission, should you choose to accept it, is to pick a team of players that is better than any other team in your fantasy league. The players are real, the points they score are real, but the combination of players together is what makes it fantasy. You have the opportunity to create a dream team (or the dreamiest looking team, depending on your draft strategy *swoon*) made up of your favourite players and, ideally, the players you think will do the best this season.
Okay, I'm in. How do I play?
To play, you'll need to join a league. A lot of workplaces will get groups together to do this. Or you can join a league for free online. We'd recommend taking a look at these websites:
Then it's time to do a little prep work (this is a lot more fun than homework or that powerpoint presentation your boss keeps hounding you for). You'll want to make up a list of players that you have the most interest in and want to try and get on your team. Most often, teams are made up of nine forwards, six defensemen, one utility player (forward or defence, your choice), two goalies and five to seven bench spots (these are the extra guys you'll need when someone gets hurt, goes on a cold streak or doesn't play for a few days).
Each day, as an owner, you get to set your lineup and pick which players hit the ice and which players will ride the pine. Then sit back and relax as your fantasy site calculates scores for you live, so you can watch your guys play in real life and watch your fantasy team rocket to the top of the standings at the same time.
Got it. But how do I be good?
You could pick your team based on best hockey flow (oh hey there ) but maybe go with something a little more practical if you want to compete with the best fantasy owners in your league. and have some top player lists that can help you with this.
If your league is hosted on Yahoo (which it likely is), the site will also give you a list of players the experts think will have the best season. Don't get overwhelmed by these sites. They're showing you way more information than you're probably ever going to need to know.
This sounds fun. What else do I need to know?
Here's a list of things that will definitely come up so you're ready for the big leagues.
Draft Day - This is undoubtedly the most important day of your fantasy year because this is the day that you get to build your team. The most common type of draft is a snake. Each team will have a predetermined draft number (if your league has ten teams, you'll get to draft somewhere between first and 10th). In a snake format, the 10th team to draft also gets to pick the 11th player because the order switches directions. This means that, as awesome as it is to draft first, you'll have to wait around until the 20th player to get to choose again.

Your goal is to draft the best player that's still available. And don't worry, Yahoo will give you suggested picks so you don't have to frantically flip through your research if the guy you really wanted went one draft pick ahead of yours.
ADP (Average Draft Position) - Each fantasy site will show the average draft position of players. This is the average spot that that player was taken across all of the drafts run on that website. The higher the ADP, the more in demand that player is.
Trades - Just like the real NHL, your league will give you the option to trade. This can be great news if the #1 player you really wanted on your team went to someone else, though you'll likely have to give up something big in return. Trades are a great way to shake things up and get access to players you might have thought were gone forever.
Waiver Wire - This is where you'll be able to get players that weren't chosen in the draft. Sometimes players get hurt or they underperform and you're going to want to give them the snips. (Don't worry, we won't tell them *wink*) You can replace them with players from the waiver wire. As long as no one else owns a player, they are fair game for you to add to your squad.
Sleeper Pick - These guys are not actually asleep (hopefully). A sleeper pick is a player that has the possibility of being a big breakout star, kind of like an underdog. It's not a guarantee, but if you get lucky he could be one of the best guys on your team. At one point, both and were sleeper picks — now they are two of the best guys on their respective teams.
Head-to-Head - This is the most common type of fantasy league. Say your league has 12 teams, each week you'll face off against another team. Your goal is to be better than the team you're up against in a number of categories; goals, assists, shots on goal, blocks, hits, etc — the categories will depend on your league. At the end of the week, you'll get one point per category that you won.
Rotisserie League - Wipe the drool off your face, this has nothing to do with chicken (unfortunately). This type of league might be a little easier to understand than head-to-head. Think of rotisserie like "total points." Every category is tallied from the beginning of the season to the very last game. To win, you must have the most points at the end of the year.
Each league will have categories that are a little bit different (some might include penalty minutes, others might not), so tweet us questions ( or ) if you want help with your specific league!
Some draft tips to get you started:
Get acquainted with the top ten guys in the league. It's always going to be debatable, but your first-round pick is probably the most important.
There is no right or wrong way to draft, but try to get a core group of players early (three forwards, two defense and a goalie) and then start to fill in the gaps where you think you might be lacking talent.
Don't waste a high draft pick on a goalie – sometimes they pay off, but more often than not they aren't worth reaching for. Goalies are notoriously unpredictable, and even the best in the league (like ) can have bad seasons. You're better off taking a more reliable player with that draft pick.
OUR HOTTEST TIP: Still stressed after reading all of this? You can stage a mock draft online on Yahoo . This comes with no pressure and just gets you acquainted with how the drafting process works. We cannot recommend this enough if you've never joined a fantasy league or drafted before. Practice makes perfect and all that stuff, ya feel?
Fun fact to share on draft day:
Fantasy hockey might not be the biggest fantasy format, but it was the first! Fantasy hockey launched on the web in early 1995 and it paved the way for all other fantasy formats.
Still have questions? That's what we're here for! Slide into our DMs, tweet us or hit us up with an email — we want to help you be the best fantasy hockey owner you can be.
Written By: Alexis Allison
GIST Guest Writer and Hockey Guru
Don't get The GIST's twice-weekly newsletter yet? Let's make it email official.
🏒

Guide to Hockey

May 26, 2021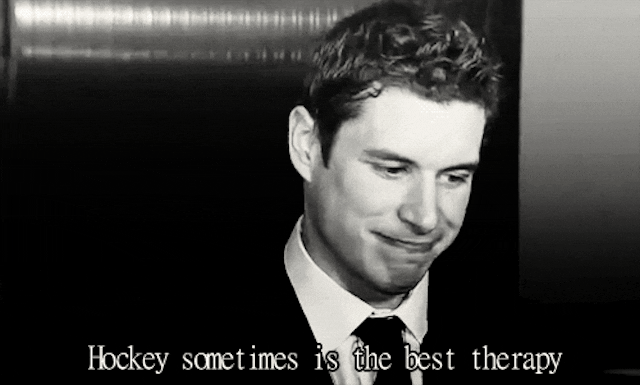 The GIST
The point of the good ol' hockey game is to have the most goals after three, 20 minute periods of play. Each team has five players (three forwards and two defence) plus one goalie on the ice at a time.
How is it organized?
The most popular hockey league in the world is the National Hockey League, aka the NHL or "chel" if you're a true "hockey beauty" *rolls eyes*. Teams are divided into the Eastern and Western Conferences and are then further divided by divisions. There are 31 teams (until Seattle's expansion team begins its franchise in 2021-22) and 82 regular season games.
At the end of the regular season, the top three teams in each division and then the remaining top two teams in the conference, regardless of the division (this playoff format is v. controversial because sometimes one division is stronger than the other, meaning that two of the best teams in the conference may have to play each other in the first round) will move on to the playoffs. This means each division will have a minimum of three and a maximum of five teams in the playoffs. The playoffs consist of four rounds of best-of-seven series (teams must win four of the possible seven games to advance) with a chance to win the coveted Stanley Cup aka "Lord Stanley" in the end.
The best of the best
The 2020 Stanley Cup Champions are the Tampa Bay Lightning! The Lightning claimed the first (and hopefully last) bubble championship and their second Stanley Cup in franchise history, defeating the Dallas Stars in six games. Centre Brayden Point led the Lightning offense with 14 goals and 19 assists (!!!) throughout the playoffs. On the defensive side, defenseman Victor Hedman was awarded the Conn Smythe trophy (the award for the MVP during the playoffs). Other top players in the league include Sidney Crosby (Pittsburgh Penguins), Nathan MacKinnon (Colorado Avalanche), Connor McDavid (Edmonton Oilers) and Patrick Kane (Chicago Blackhawks)
When will the next NHL season start?
COVID-19 paused the NHL regular season in March forcing a four-month hiatus in play. In a normal year, the new NHL season would begin in October...but we all know 2020 is certainly not normal. With the 2020 season wrapping up in late September, the league is targeting January 1st as the potential start date for the 2021 season, although nothing's set in stone just yet. We'll be waiting for that puck to drop!
All my ladies, let me hear y'all!
The women's hockey scene has gotten mighty messy as of late. At the end of its 2019 season, the Canadian Women's Hockey League (CWHL) (one of two professional women's hockey leagues based in North America at the time) unexpectedly folded due to unsustainable business operations. It consisted of six teams, four based in Canada, one in the US, and one in China, and left a lot of female hockey stars without a team.
Then there's the National Women's Hockey League (NWHL) which has just five teams centralized in the Northeastern US. However, in both the former CWHL and the current NWHL, players get paid next to nothing compared to their male counterparts. Most of the league's players juggle full-time work and pro-hockey as the league's average salary is just $15k. To put this in perspective, the lowest amount an NHL team can pay a player is $700k. Can you say #WageGap?
So in 2019, more than 200 of the world's best female hockey players joined forces to fight for change forming the Professional Women's Hockey Players Association. They are currently boycotting (refusing to play) in the current professional hockey league structure with the goal of creating a viable cross-border league with better working conditions (is health insurance so much to ask?) and better pay. That means no Marie-Philip Poulin, no Hilary Knight and no Brianne Jenner to watch this season. Welp.
But, you can watch them on their Dream Gap Tour this year. It's a short-term band aid but will hopefully help create a long-term solution. For now, the conversation seems to be at a standstill and the future of women's hockey hangs in a kind of uncomfortable limbo. Subscribe to The GIST and follow our social channels to stay up-to-date on more of this news.
Fun facts
The Stanley Cup was created in 1893. It was named for Lord Stanley of Preston, a Canadian Governor General.
The Pittsburgh Penguins (that's Sidney Crosby's team!) used to have a real-life penguin mascot. Pete, as he was affectionately called, was introduced in 1968 before a game against the Pennsylvania state rival Philadelphia Flyers.
There are more than 2,200 names engraved on the Stanley Cup (FYI, each team has their names engraved after winning), but only 12 women have made the cut, either as owners or team executives. Let's get to adding to this tally, shall we?
Don't get The GIST's twice-weekly newsletter yet? Let's make it email official.