🏆

How people are helping out

March 16, 2020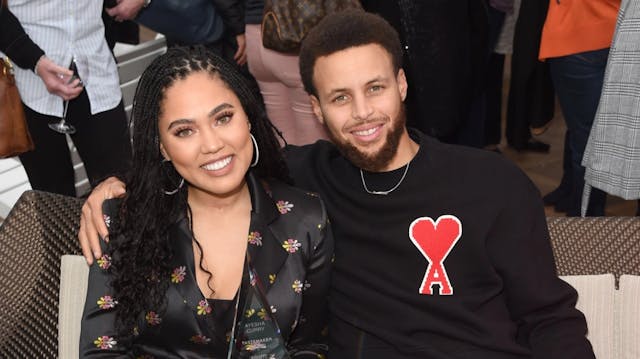 The GIST: To paraphrase Mr. Rogers, in times like these, we need to look for the helpers. To name a few, Rudy Gobert is donating over $500k to various COVID-19 relief funds after Cleveland Cavalier Kevin Love got the donating party started by pledging $100k to support Cavs arena and support staff. Meanwhile, Golden State Warrior Steph Curry and wife Ayesha are providing over one million meals to students who rely on the National School Lunch Program but can't attend school due to COVID-19.
🏆

Players impacted by COVID-19

March 16, 2020
The GIST: COVID-19 isn't just affecting day-to-day league operations; some athletes have tested positive for the virus. After Utah Jazz Rudy Gobert's positive COVID-19 result ignited the wildfire of North American major league suspensions, another two NBA players have tested positive: Gobert's teammate Donovan Mitchell and Detroit Piston Christian Wood. An unnamed XFL player has also tested positive.
Across the pond in the English Premier League (EPL), Arsenal FC (FC stands for football club) manager Mikel Arteta and Chelsea player Callum Hudson-Odoi tested positive, forcing the EPL to finally (they'd been hanging on 'til the last minute) put their season on hold. Other soccer stars from around Europe have tested positive too.
🏆

COVID-19's impact on sports

March 16, 2020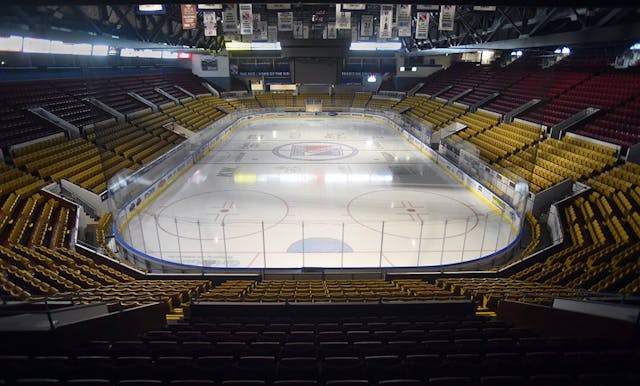 The GIST: Thanks to the COVID-19 pandemic, most sports are canceled (or postponed, at least). Here's #thegist on what's off, what's on and what's a big ol' question mark in the sports world.
Taking a time out: Last week, the NBA and NHL suspended their almost-finished regular seasons for at least a month, while the MLS put their very new season on hold. The MLB put a pause on spring training and will delay the start of their regular season, (which was due to start on March 26th) by at least two weeks, while the National Women's Soccer League (NWSL) canceled their preseason games altogether. And, in what arguably hit North America the hardest, the NCAA's March Madness basketball tournament was straight up canceled. Welp.
Around the world, soccer matches, auto races, curling championships and marathons have all been canceled or postponed too. Follow along here for the running list.
All systems go: Meanwhile the Ultimate Fighting Championship (UFC) decided to go ahead with all scheduled fights, albeit in empty arenas. WWE Wrestlemania 36 is also still happening (apparently with fans in attendance, SMDH) on April 5th, where former New England Patriot Rob Gronkowski is due to appear. Seems like a pretty irresponsible money grab to us.
The 2020 NFL Draft is still scheduled for April 23rd to 25th in Las Vegas, though we'll likely see some major modifications to the event (i.e. we probably won't see the draft picks travel by boat across the Bellagio fountain).
The land of uncertainty: The Olympic Games are the biggie. Fortunately, the Summer Games in Tokyo don't start until July 24th, so the IOC doesn't have to race to make any major decisions...yet. And Japan's prime minister Shinzo Abe is still confident the Games will go on. Appreciate the optimism, dude.
The only thing that has changed is the Olympic flame. Generally, this flame is transported all over the world, eventually making its way to the Olympic site. However, the Olympic flame is set to be transported straight to Tokyo this week without fanfare.
⛸️

Kaetlyn Osmond

March 13, 2020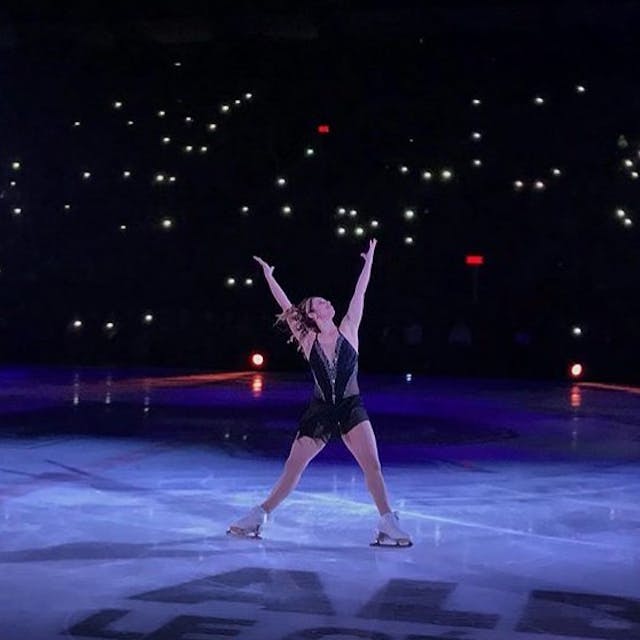 We are so excited to have figure-skating superstar Kaetlyn Osmond as a GIST Athlete Ambassador. This kick-ass competitor needs no introduction.
During Kaetlyn's figure skating career, she won three national titles, won three Olympic medals (team and singles), won Canada's first ladies' World Championship in 45 years (!!!), and racked up plenty of other accolades (including her hometown naming their after her).
At the ripe age of 22 Kaetlyn retired from competition after winning the 2018 World Championships. Now, Kaetlyn is a professional skater skating in travelling shows, and is focusing her efforts toward growing the sport in Newfoundland and empowering young female athletes to participate in sport. Can we get a hell yeah?!
We recently sat down with Kaetlyn Osmond to discuss figure skating, retirement, what's next, and importantly, if she were a Harry Potter character, which one would she be.
Jacie at The GIST (TG): How did you first get into figure skating?
Kaetlyn Osmond (KO): I first started skating when I was two-years-old (Editor's note: Okay, yes, you read that right, *skating* at two-years-old!). In Marystown, there weren't a lot of options outside of the traditional sports. My parents were both hockey players so they put us into figure skating to learn to be hockey players (Editor's note: figure skaters are widely respected across ice sports for their incredible skating abilities, so much so that many NHL players, like star either figure skate first, or receive lessons from figure skaters, like ), but neither of us made the switch. My sister was a figure skater, so of course as the younger sibling I wanted to be exactly like her.

Funny story actually. Nine years ago, my sister stopped skating after I competed against her for the first time and I beat her. She literally quit skating right after. *Kaetlyn chuckles*
TG: Okay that is so funny. We love a good sibling rivalry. What's your favourite memory competing in figure skating?
KO: There are so many great moments. National competitions are probably my favourite — it's really cool to compete only against other Canadians in front of a Canadian crowd. It's such a great feeling and the atmosphere is incredible.
The Olympics will always hold a special place in my heart, too. Not so much my first Olympics because, unlike what seemed like the rest of Canada, I didn't watch them growing up so I didn't understand what people were talking about with the hype until the closing ceremonies. But, after that first Olympic experience, I was so excited for the following Olympics which were a huge highlight, and the outcome made it even better!
c/o of Kaetlyn's Instagram @kaetkiss
TG: Yes your team gold medal and your Olympic bronze medal were amazing! Canada was/is so proud of you winning those medals. Speaking of which, you've competed and won both as an individual and in a team. Can you speak to the differences?
KO: Team events are new; they only became an Olympic event in 2014. It's a different preparation because you're not practicing together the way a team normally does. We all train individually, and at opposite ends of the country. So, we don't see each other until the event. You go into it knowing what you can do individually, and try to support the rest of the team the best you can just by doing what you do. In team events, you have to be very strategic in the order of competition, and who's competing in what. Versus, as an individual competing, you just have your job and know when you're skating and what you're doing.

But, I did learn at Pyeongchang 2018 Olympics (Editor's note: again, Canada won the gold!) that being on the podium with other people is so, so great. You're holding other people's hands, vibrating, shaking and sharing this incredible experience with others. On my own, it was kind of boring! I was thinking, "where is everyone?" *Kaetlyn laughs*
TG: What's your favourite thing about figure skating?
KO: Performing. It's a big part of skating —along with the athleticism, of course. One of the best things we're able to do is tell stories and become part of the crowd and make people feel a certain way through our performance. It's really fun to have that ability and to be able to become a different person through each program.
TG: There is something so captivating about performative sports — other athletes/sports just aren't exposed to that.

KO: Actually, my favourite skating fans are those that don't understand the sport that much. They can actually sit back and enjoy the performances and appreciate the athleticism in it, whereas avid skating fans that know all the rules and judging will get caught up in the specifics and can sometimes lose the big picture.
TG: You've lived all across Canada — born in Marystown, Newfoundland, moved to Montreal at seven, Edmonton at ten, and now Toronto. What has the experience of moving around been like? Do you return to Newfoundland often?
KO: Yeah, and somehow I ended up living in the middle *Kaetlyn laughs*. Newfoundland is where I started, but I lived in Edmonton for the longest — I was there for 13 years. It was great for training, and all of my friends and family were there, but I always consider myself from both Edmonton and Newfoundland. I still enjoy returning to Newfoundland, but it's nice being here in Toronto, in the middle. It's like a fresh start for me. But each place still means something different and is special.
TG: You've been retired for about a year now from competitive skating. What was that decision like, and how has the last year been?
KO: When I look back on the decision to retire, a lot of people said I made the decision after I won (2018 World Championship) and that I made a lot of my decisions based on not wanting to compete with some of the younger skaters coming up with their different jumps and quads and craziness.
But really, I made my decision to retire long before that. I didn't realize until later, but in the back of my mind, I had made the decision to retire two years prior. I had told myself, "the last two years of my skating have been horrible and I want the next two years to make up for it. Then, I'll be done."
It really helped. Having that deadline in the back of my mind helped me push really hard for those next two years knowing there was an end goal.
Those were the best two years of my life, and I ended on such a high note. I knew as soon as I hit my ending position at Worlds that it was my final breath of skating and that's exactly what I felt like, as dramatic as it sounds. I hit my ending position and that was it, that's all I had.
Just before that (Editor's note: "that" being winning the World Championships. So casual.) happened, I had almost hit my breaking point. We had about three full weeks of training between Olympics and Worlds in 2018, and they were the longest three weeks of my life. I was injured, crying every five seconds, complaining to my coach that I couldn't go to Worlds, I felt like I just didn't have it in me to compete.
Then, the week actually being in Milan at Worlds was so challenging. Looking back on it now, it was a final challenge — to endure the worst week of my life to get the best outcome. That's what it felt like. And then that was it. I walked up a couple of stairs to get to my coach after I finished, and my coach looked at me, asked how I felt and I said, "that was the longest four minutes of my entire life." He said, "that's okay, you're done." He didn't know until later what I meant at the time when I replied, "yes, I'm done."
TG: Incredible to be able to work through that though and end up with a gold! So, what's next for you after skating? You're interested in broadcasting. Can you tell us more about that?
KO: My ultimate dream would be to have my own radio show in the morning. Then I realized radio isn't really a thing anymore *Kaetlyn chuckles*. I don't understand, I love the radio! So, I'm trying to dip my toes into podcasting, but haven't convinced myself to do one yet. I'm playing around with podcasting and working on my own media training to get into that side. Of course I want to stick with sports as much as I can, but I don't want to just focus on figure skating because that's the only identity I've ever had.
I'm also coaching skating part-time right now and doing shows full-time. And then my camp in Newfoundland has been my big focus lately.
TG: Let's talk about your camp. You're promoting the sport of figure skating with young girls in Newfoundland (along with a charity and scholarship component). Can you speak to that?
KO: If everything runs properly there will be a series of camps across different cities in Newfoundland & Labrador starting in December, with a full day seminar in each place. Anyone competitive in the Newfoundland skating community can attend. At these camps, I'll keep my eye out for skaters with a lot of potential to invite to another camp with more coaches there to really help them excel.
The end goal is not to take skaters out of Newfoundland, but to make skating more popular there and to help the skaters become more confident. When I go back to Newfoundland, people say I got better because I left…but who knows what I could have done there. I want people to know there are resources in Newfoundland, and you don't have to leave to be successful.
TG: Figure skating is such a beautiful sport and obviously very visual. Can you speak to the pressure to look a specific way? And how that may have changed post-competing?
KO: I'm not the typical shape for a figure skater. I'm "too tall" (Editor's note: she's 5'4" inches, and yes, that's considered tall in skating) and not the stereotypical toothpick skater that can easily jump in the air, but I have a powerful side. That's what differentiated me. While I was a tiny bit bigger than everyone else, I had more power on the ice.
I was frequently told that I couldn't skate to a piece of music because I "wasn't the shape of a ballerina". You're always thinking, "this would be a lot easier if I was smaller. Easier on my body to jump if I was smaller." But when you're at peak shape, losing even a pound isn't possible! On top of that, you're in tiny dresses that show everything about your body and are put in front of judges and audiences and lights. I wouldn't change the little tiny dresses though; I love them! I think with being a performance skater, the outfits can really add to the story you're telling.
But the pressure to look a certain way really does add stress. A lot of skaters end up with an eating disorder — even if it's not a disorder, your weight and the look of your body is in the back of your mind all the time.
Since retiring from skating, the pressure to look a certain way has actually affected me more, and it bothers me how much it does. It's not something you can control. Words, even though they aren't intended to be harmful, still make an impact. My coach was never trying to make me feel like I was too big or not in shape enough, but he just wanted what was best for me and to find ways to make my competing easier, which included losing weight. I still have a hard time with people talking about diets. I've realized, not even just in the skating world, just how much weight and dietary habits are a huge source of small talk.
I had an amazing dietician that helped me through my hardest years (age 16-18) and she was one of my favourite people I've worked with. I was never on a diet. She was like you need to eat, you're growing, you need to be strong to finish your four minute, incredibly demanding long program. She didn't want me to suppress my cravings which was a huge help. Because if someone tells me I'm not allowed to have a cookie, I'm going to want it. She says to give into your cravings but keep it in check. Moderation was key.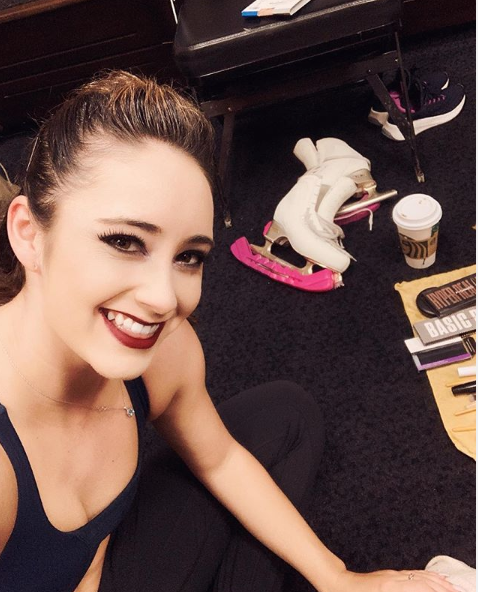 TG: Thanks so much for being so candid about that. It's sometimes hard to think about/talk about the pressure that we put on our bodies to look a certain way.
Figure skating is a sport that looks "easy" because it's so beautiful. But obviously, it's such hard work to make it look so easy. Can you give us some insight into the type of training you've done since you were younger?
KO: When I was younger, I skated for six hours a day. There wasn't that much wear and tear on my body and I wasn't doing any big tricks. I was living with my coach in Montreal, and my sister was always at the rink anyway, so I just skated all the time because I was there.
As I grew up, those hours became too much. I started limiting myself to skating three hours per day maximum. I learned that quality over quantity was better and I could maximize focus better in three hours versus six. It made me stronger.
Being on ice is the easy part. Outside of that, there was: strength and conditioning training, ballet, pilates, yoga, physio once a week, massage therapy, sports psychology. An hour warm-up before skating, 30 minute cool down after. Skating really was a full-time job.
After grade 12 training became a lot easier because I could sleep in a bit more and have the full day to focus. But while in school, I was up at 4:30am to go to the gym beforehand. Then, I'd go to school, and then skate after school every day.
TG: That sounds so gruelling, especially as a teenager. Kudos to you.
TG: On another, but important, note...We know that young girls drop out of sport at double the rate of their male counterparts by the age of 14. How do you think we can combat this?
KO: There are a lot of ways!
Creating a more fun and positive atmosphere in sports to keep girls invested more.
Being able to see more women in sport. Thankfully, I grew up in a sport that is female-dominant. Also, it's important to know it's okay to not succeed right away.
And more opportunities. Everyone wants to make it to the Olympics, but there are more opportunities outside of the Olympics. Look forward to other aspects of the sport and don't think so far ahead because, unfortunately, not everyone is going to the Olympics.
Those are great points. Alright, now for some fun. Let's get into some rapid fire questions:
On the note of off-ice training, what's your favourite workout?
KO: Core workouts. Pilates and ballet help a lot with that. It made me feel I was centred. If my core was activated, everything else really fell into place… my core was also the first thing to go after retiring! *Kaetlyn laughs*
TG: Figure skaters are sometimes superstitious with certain skaters always having a routine when they get on the ice. Did you have one?
KO: No nit-picky weird things. When I was younger, I thought I had to drink orange juice before I skated. A cup of orange juice or a chocolate bar to get a sugar boost for the program. Then, I realized that having a superstition wasn't the best idea. Because then if you can't get your orange juice, you get nervous! So I tried to stay away from having a superstition.
TG: That's a good call. What's one healthy habit you have that an everyday non-elite athlete should insert into their life?
KO: Wake up and think of three great things in the morning. And then getting yourself out of bed to do something.
When I was given the opportunity to sleep in more, it was harder to get up. Waking up and knowing that you have something to do when you get up, whether it's a five minute run or sitting down to write, it makes a difference.
TG: What's your favourite jump?
KO: Triple flip, triple toe. (Editor's note: 's Kaetlyn nailing this combo)
TG: What was it like landing your first triple? How old were you?
KO: My first real triple in a competition was the . I fell on my jump beforehand, and told myself I couldn't fall twice in a row. So then I went and landed it. Oh, and it was when I competed against my sister and she was like, "What?!"
TG: What's your favourite TV show?
KO: Supernatural.
TG: If you could be a character from Harry Potter who would you be?
KO: Hermione. She's badass.
TG: What are you most excited for in 2019?
KO: To learn about myself. To try new things.
TG: Who's your role model?
KO: My sister.
TG: What's your guilty pleasure?
KO: Watching Shameless. I hate myself for watching it, but it's so addictive. And candy. I can't resist. Sour patch kids are my favourite. Funnily enough, not chocolate.
TG: Do you have a mantra that you live by?
KO: When growing up it was, "find the joy in what you do and the passion will burn out the pain". Or something along those lines.
Something I heard a couple of weeks ago at the Lululemon 10km run was, "If you're brave enough to start, you're strong enough to finish." I thought that was one of the best things I've heard. Especially because I don't run, so it was a huge challenge.
That's #thegistofit
Don't get The GIST's free twice-weekly newsletter yet? Let's .
🎾

Sharon Fichman

March 13, 2020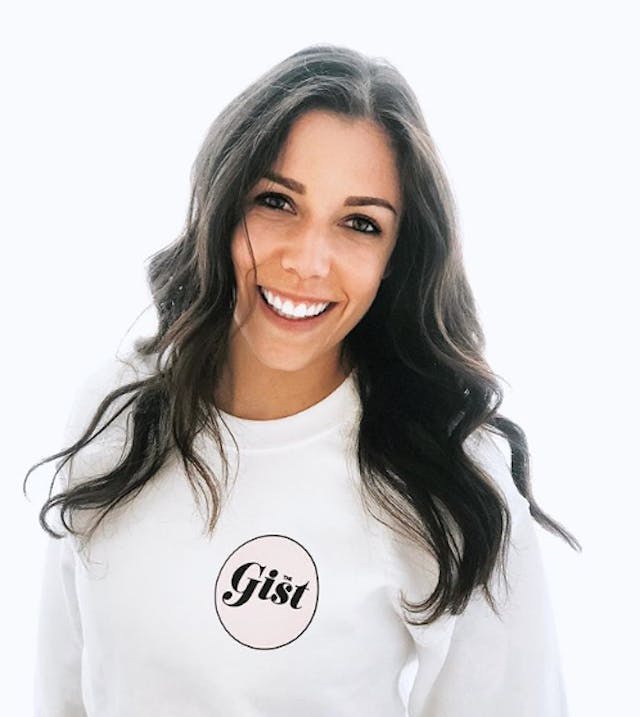 Sharon Fichman is the 87th ranked doubles tennis player in the world and a GIST athlete ambassador. After hanging up the racquet for two years from 2016-2018 after suffering some serious injuries, she decided to get back on the court and now has a new perspective and appreciation for the sport.
Prior to going back on tour in 2018, Sharon dedicated the majority of her time to coaching tennis, and feels it's her responsibility to inspire and share her love for the sport with the next generation of female athletes. Can we get a hell yeah?
Let's get into our interview with Sharon:
Ellen, at The GIST (TG): Let's go back to the beginning *Hilary Duff's plays in the background*: how did you first get into tennis?
Sharon Fichman (SF): My family is actually a big tennis family. My dad loved the sport and played nationally in Romania where my parents are originally from. My mom was a big fan and would literally watch it at any opportunity she could. So when my parents moved to Canada, the first thing they looked up was the closest tennis court to our house.
When I was about four-years-old I found a racquet and an old tennis ball in my basement and went to play with my mom. After about 30 minutes, I figured out how to have a rally against the wall. She rushed us home after and said to my dad, "you have to see this!" Needless to say, my Dad was so excited at my game at the age of 4, we basically decided then and there that I would be a tennis player.
c/o of Sharon's Instagram @shazzzzy
TG: Did you grow up in Romania as well?
SF: No, I was actually born in Toronto. My parents escaped the Iron Curtain, fled to Israel, then came to Canada around 1989. Pretty crazy story.
TG: Wow, that sounds wild. We'll have to save that story for another day. Now, tennis is a very different, independent sport compared to other team sports. Can you speak to that?
SF: It is a different sport, for sure. You're alone... except for when playing doubles, and unlike other sports where the coaches are on the sidelines, you can't get any help from coaches. You're out there alone for a long time and you get so physically and mentally tired. It's also a sport that can be affected by the weather and the different types of surfaces. In basketball, for example, there's one type of court, but in tennis there's grass, clay, hard, indoor, outdoor…
You have to be really good at being comfortable being uncomfortable in tennis.
TG: I've only ever played on hardcourts and can't even imagine how the game must change on surfaces like clay and grass. Speaking of changes...do you like singles or doubles better?
SF: Right now, I like doubles better. It's more of like a fun, reaction game and it's a lot easier on my Achilles...I had a 9mm Achilles tear in 2013 that wasn't fully understood for a while. It was misdiagnosed; I didn't have surgery, and then eventually it built up scar tissue. I just played through it for a few years but unfortunately it's become a chronic issue at this point. I love playing singles now, but if I play too long or play too many days in a row, my Achilles really hurts.
TG: Yikes, that sounds horrible. With that injury in mind, was there a time when you didn't love tennis?
SF: I stopped in 2016 mostly because of my ongoing Achilles injury and recurring injuries which stemmed from a bad ankle sprain. I also had a major knee surgery in summer 2014, shortly after Wimbledon. I was basically falling apart. I thought I would be healthy, would start playing again, and then a month or two later I'd re-injure myself. My rankings continued to drop and I went from main draw of Grand Slams to the qualifying draws of some of the smallest professional tournaments, which was super frustrating.
There was so much pain physically, and it took a toll on me mentally, to the point where I was no longer enjoying my time on the tennis court and the fight to grind through injuries was gone. It's so hard to build yourself back up and build your ranking, and then see it drop...and then repeat the cycle each time I had another injury. My love for tennis just wasn't there anymore.
I thought I needed a break and then the break just turned into, "I'm loving life right now without tennis and I'm happy to put the racquet down." So, to be totally honest, I never really thought I would come back to it.
TG: That must have been super tough for you, but happy to hear that when you stopped playing, there were no regrets. What did you do between 2016-2018 while you weren't playing tennis?
SF: It's an interesting story. When I first stopped playing, I was living in Vancouver. That's where I had been training and I absolutely loved it there. I didn't do much for five or six months and then I started seeing someone. I've always had this passion for food. I've seen every episode of Chef's Table…twice *laughs*. 90% of my Instagram is food or chefs. I have a restaurant bucket list of places I want to go to and eat around the world.
Anyway, I had never had a job outside of tennis, but I thought maybe I'd want to open a restaurant — I actually got the idea from Chef's Table. I knew nothing, but I wanted to learn as much as I could so naturally, I thought I needed to learn all of this from the best restaurants in Vancouver and see if it was actually something I'd like and something I could do. I started working at a restaurant for a few months and I loved that place. I had such a good experience. It was so fun to do something completely different, in an environment where no one knows you (Editor's note: since starting The GIST we've learned the tennis world in Canada is really small. It seems as though everyone knows everyone!). I really loved it, but I realized that industry wasn't going to be my schtick. There are such crazy hours and everyone's sleeping while you're awake and vice versa. It was cool, glad I did it, but I prefer to see the sun.
TG: The restaurant industry is very gruelling!
SF: It is so demanding! Both physically and socially. I actually learned a lot, in social aspects, and it helped me learn how to lead, and to be cool and calm.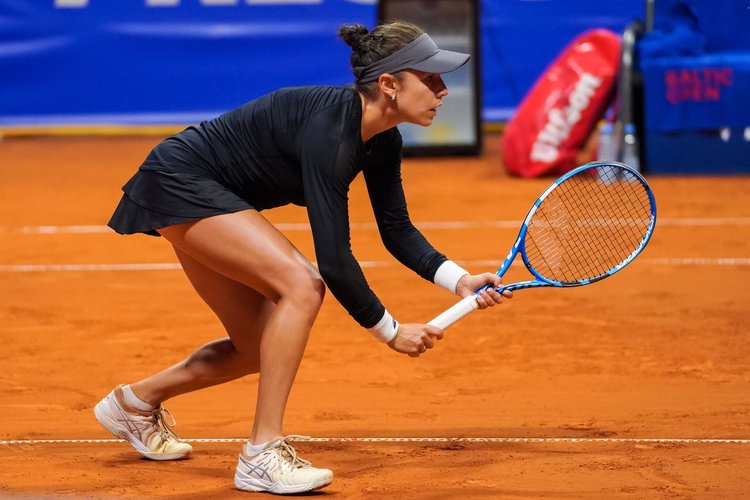 TG: So, how did you end up playing tennis again?
SF: So this is a bit of a complicated one. What sparked my comeback was my fiancé Dylan (Editor's note: is a pairs figure skater, winning a silver medal at the 2014 Olympics).
Unfortunately, back in December 2017 Dylan had a serious but fluke accident. While he was taking a break between workouts, he gave me a call while he was relaxing on a stretching mat. While we were on the phone together, a 200 pound mirrored door next time him unhinged and fell on him.
He was knocked unconscious and suffered multiple facial lacerations, a cracked bone in his hand, multiple stitches in his right hand and was concussed for two months. What was horrible, is that I heard everything on the other end of the phone, not knowing whether or not he was dead or alive, and this was as I was about to board a three hour flight back to Toronto.
So, on the plane ride home, I literally sat there in radio silence, not knowing what news I would receive when I got off the plane. It was honestly the scariest three hours of my life. Fortunately, he obviously came out the other side, and was seriously injured. Him talking on the phone with me saved him some serious head damage as otherwise, he would have likely been meditating with his eyes closed, and wouldn't have been able to react with his hand to help stop the majority of the impact.
Because of this, Dylan couldn't go to the PyeongChang 2018 Winter Olympics, which was just so sad. The Olympics were always Dylan's goal. This injury was also how he ultimately ended his career...it was a devastating time. His dream and goal was to go to two Olympic Games and he was unable to fulfill that.
So, long story short, this was the "spark" for me to make it to Tokyo...I wanted to return to tennis and build my ranking high enough to go to the Tokyo 2020 Olympic Games and have Dylan come with me so that his goal of going to two Olympic Games would somewhat come true. I know it's not the same as competing but at least it's something. This is why I returned to professional tennis and work as hard as I do.
TG: Wow. We had no idea that happened to Dylan that is so horrible. He must have been so devastated. It's amazing to see how you both have found a silver lining from that injury and we think it's so awesome seeing you back out there.
We know you've had a bit of a roller coaster with tennis, but what's your favourite memory playing the sport?
SF: That's really hard. The biggest tournament I won in singles was in Cannes, France, and that was one of my best memories. Also, my most recent time playing in Fed Cup. I actually cried at the end of the match. It was so overwhelming and incredible. I don't know if I'm ever going to play Fed Cup again. I hope I will, but there's a lot of depth in Canada right now. I appreciate every moment so much more at this point in my career. In the past, I took it for granted. I didn't understand the honour as much because it was just 'what I did'.
Now, I'm back with a different perspective. Everything is a celebration for me, because I might never have the chance to play on whatever court I'm playing on again.
I'm shooting for Tokyo 2020 Olympics and after that I don't know what will happen, how my body is going to be. Until then, I'll just love every second. Every moment will be the best moment.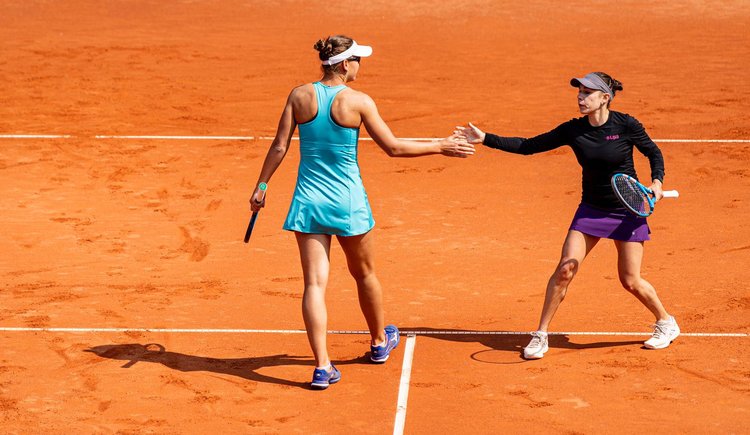 TG: Amazing, we'll be rooting for you! We know that young girls drop out of sport at double the rate of their male counterparts by the age of 14. How do you think we can combat this?
SF: Really, really good question.
Having more role models and more women in sport that the younger generation can look up to is important. And also, coaches. I'm a big believer that when you're finished as an elite athlete, it's your responsibility to give back to the sport in some way. Somebody, or numerous people, helped you achieve what you did, and it's your turn to do that for someone else. So I feel that it's important to have athletes, especially female athletes, be involved and inspire the younger generation.
Investing in coach education is super important. It's really important for coaches to be more sensitive to different players' needs and not be in a rigid, cookie-cutter box. The best coaches in the world are able to adapt to different types of athletes including different genders. You'll hear that kids will stop because of a poor coaching experience or training environment, or that a person who should have been in a role model position turned them off the sport. As a coach, you are in such an influential position, and having more women and people who have the skills to grow that passion in kids is so important.
TG: Absolutely! And that's actually a really interesting point as there's been a lot of research about the differences in coaching styles.
Totally. It's really sad to see the amount of athletes who leave the sport with a lot of potential.
Tennis and sport made me who I am and has had such a positive impact in my life, and that's what I want for other people.
TG: Now to end our time together, I want to ask you some really fun, rapid fire questions. Let's do it:
TG: What is your mantra?
SF: The biggest thing that I say before a match is, "If you want it you have to go get it". No one is ever going to give you anything. You have to earn it and go get it yourself. If I ever have the mindset where I just hope my opponent is going to screw up then I've already lost. The best chance you have of being successful is to be brave.
TG: What did you want to be when you were growing up?
SF: In kindergarten, I wanted to be a fire truck haha. Then, I wanted to be a veterinarian. Then, that quickly changed to being a professional tennis player. I still love animals though!
TG: What's your favourite TV show?
SF: Right now, I'm very sucked into this show on Netflix called Fauda. I've also been on a Blacklist binge. Dexter is one of my favourite shows of all time. Oh, and I really like New Girl. There were points when I had to pause episodes because I was laughing too loudly.
TG: If you could be a character from Harry Potter who would you be?
SF: Hermione, for sure. Not even a question.
TG: Who's your role model?
SF: My partner Dylan. In tennis, I've always loved . For a period, I was also obsessed with . I read her book and even took up boxing.
TG: What's your guilty pleasure?
SF: Playing video games. Pokemon video games.
That's #thegistofit
Don't get The GIST's free twice-weekly newsletter yet? Let's .