Brooke Henderson wins second career major title
July 25, 2022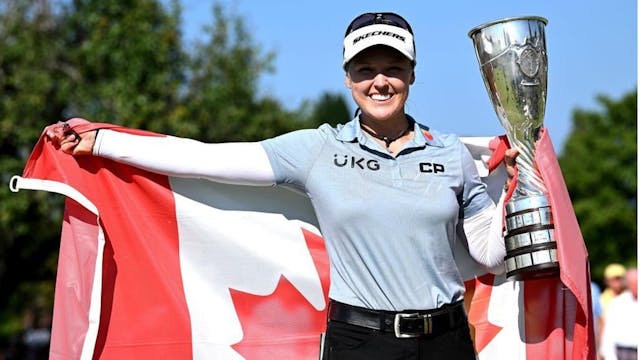 SOURCE: TSN/TWITTER
The GIST: Smiths Falls, Ontario's very own Brooke Henderson notched her second career major title (and her first since 2016!) with yesterday's down-to-the-wire Evian Championship win, earning $1M in prize money in the process. Time to freakin' par-tee.
Trail to the trophy: Sitting atop the leaderboard heading into yesterday's final round, Henderson struggled to get started on Sunday, blowing her lead over American Sophia Schubert after recording a bogey and double-bogey in the front nine.
But the 12-time LPGA champion didn't back down, leveling her score with Schubert ahead of the 18th hole, before draining a walk-off birdie to win the tourney. Move over, Marie-Philip Poulin, there's a new Captain Clutch in town.
The context: The win is especially refreshing for Henderson, who had a rocky first half of the season after an LPGA rule change forced her to alter the specs of her driver (a very important club), which impacted her swing.
With two wins under her belt this year, Henderson's clearly figured things out. Next up? Going fore a 13th tour win at this weekend's Women's Scottish Open.