Women's Euro sees record spending, wagering for final game in England
August 01, 2022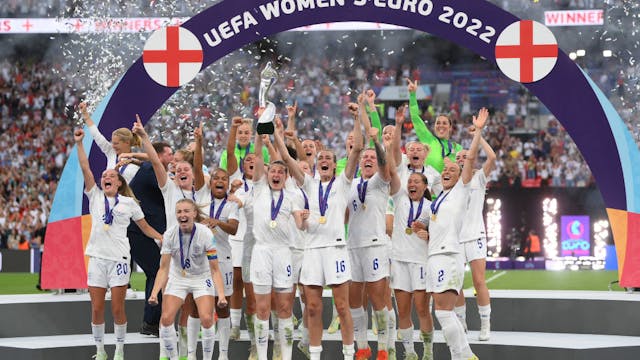 SHAUN BOTTERILL/GETTY IMAGES
The GIST: England's 2–1 on-field triumph over Germany in yesterday's Women's Euro final wasn't the only win for the country — off-field engagement also saw unparalleled success.
The 87K sellout crowd at Wembley Stadium set the attendance record for a European Championship (women's or men's) and the English rallied and wagered like never before. Football — and revenue — are coming home.
The spend: The Lionesses' final appearance had fans drop an estimated $167 million during the match. A projected $56 million was spent at pubs with the remaining $112 million going toward at-home snacks and merchandise. Pints and crisps for everyone.
The $167 million spent on the final alone dwarfs the $65.6 million in revenue the entire tournament was expected to generate across its nine host cities. And the original $65.6 million projection was already four times the actual revenue produced by the 2017 edition in the Netherlands. Gonna need a bigger boat wallet.
The bettors: Audiences also literally bet on women at record-breaking pace ahead of yesterday's final. As of Thursday, 1.5 million bets were placed on the tourney, with 86% made by men. And top British platforms Ladbrokes and Coral saw a fivefold increase on Women's Euro bets compared to the 2017 event.
Folks from the U.K. comprised 46% of online wagerers this month, while 22% of bets came from Germany and 16% originated in Brazil. A global game, indeed.
The NFTs: Amidst the aforementioned growth, the Football Association (FA) is hoping to drive future engagement with digital collectibles. On Friday, the FA issued requests for proposals for NFT licensing rights (for both the men's and women's national teams) as it searches for a partner to create a platform for the tokens.
Zooming out: The overwhelming success of this year's Women's Euro is simply the most recent example of the global rise of the women's game, and should reflect what's to come at next summer's FIFA Women's World Cup. Women's soccer is just getting started.