🎾
🏒
⚽
Bits & Bites: This Week in Sports (Canada)
January 14, 2021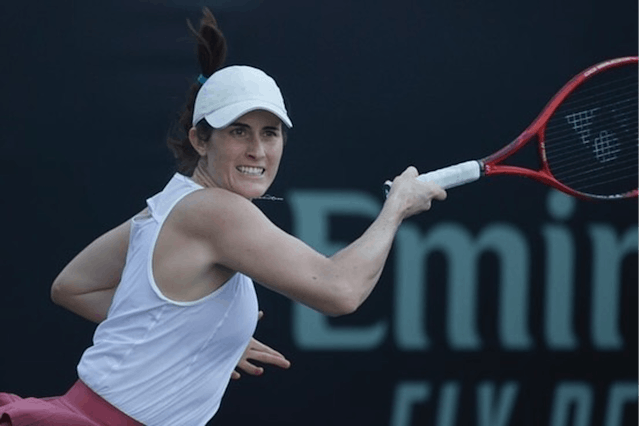 SOURCE: TENNIS CANADA
🏒NHL: Regardless of how desperately we missed hockey, it still feels like the new NHL season snuck up on us last night...especially with that 5:30 p.m. ET puck drop between the Pittsburgh Penguins and the Philadelphia Flyers. Sidney Crosby was back to his classic goal-scoring ways, but so were the Flyers, who won 6–3.
The prime matchup of the night was, of course, the Toronto Maple Leafs and the Montreal Canadiens. Renewing their age-old rivalry, the Leafs took the W in overtime. Check out all the scores from night one here.
🎾Tennis: Thanks to three straight qualifying wins, 30-year-old Vancouverite Rebecca Marino qualified for the upcoming Australian Open yesterday, securing her first major appearance since 2013. Age is but a number.
On the flipside, former World No. 4 Eugenie Bouchard was dealt a second qualifying round loss (and a classic sister snapback from her twin), so she'll miss the major, due to start February 8th. Ouch.
⚽️Soccer: Everyone, including Megan Rapinoe, knows that Canadian soccer is the best soccer. And the North Carolina Courage showed they agree, drafting Deanne Rose, Canada's youngest goal scorer in Olympic soccer history, as their 10th overall pick in last night's NWSL Draft. Represent!
🏒

Everything you need to know about the 2021 NHL season

January 13, 2021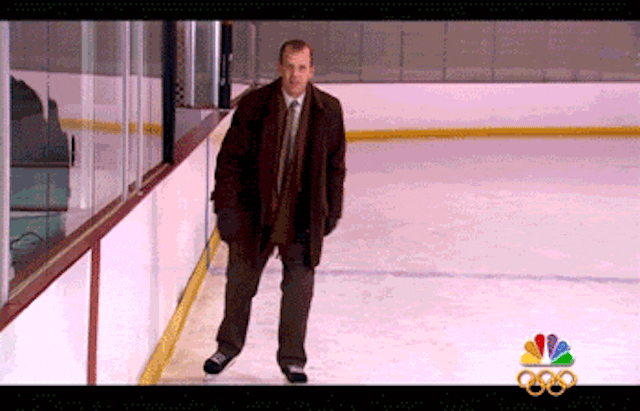 The format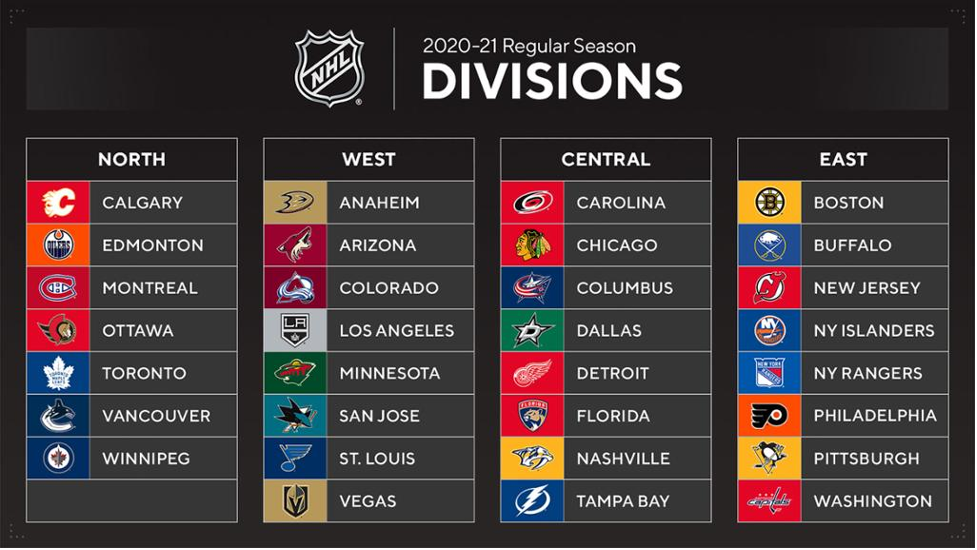 The temporary setup: As is the case in these very abnormal times, the NHL is shaking things up. Their new regular season will run from tonight through May 8th, with each of the 31 teams scheduled to play 56 games (down from the usual 82).
And unlike past seasons, teams will play only against their divisional opponents. Talk about déjà vu.
The new divisions: To cut down on travel and to work around the still-closed U.S.-Canada border, the league has done away with conferences and instead introduced four realigned divisions. If you're about old-school rivalries, this is the season for you.
The three American divisions — East, West and Central — are made up of eight teams each, while the North Division features the seven Canadian teams. Get ready for multiple battles of Ontario, Alberta, Pennsylvania and New York.
The ultimate goal: Once the regular season wraps up in May, the journey to the Stanley Cup will begin. The top four teams from each division will move on to the two-month-long postseason, which is set to give us our first-ever Stanley Cup in July.
Teams to watch
North Division: GISTers living in Eastern Standard Time are in for a treat, as the surging Vancouver Canucks, usually hidden away during late-night Western Conference games, will finally be watchable before bedtime. The Canucks aren't the most popular Canadian team, but they might be one of the best.
East Division: The Boston Bruins are perennial favorites...to win the Stanley Cup, that is. Outside of New England, they're the team that everyone loves to hate, but for good reason. They won the Atlantic Division last season and will likely be at the top of the East Division this season.
West Division: If we were forced to place a bet today on this year's Stanley Cup winner, we'd have to go with the Colorado Avalanche. Based on what we saw last season and what the 2021 team looks like on paper, these guys are the ones to beat.
Central Division: For the first time in NHL history, the two teams that played in last year's Stanley Cup Finals are in the same division. 2021, you wild. The Tampa Bay Lightning will be playing to defend their title, while the Dallas Stars are looking for revenge. Bring on the drama.
Players to watch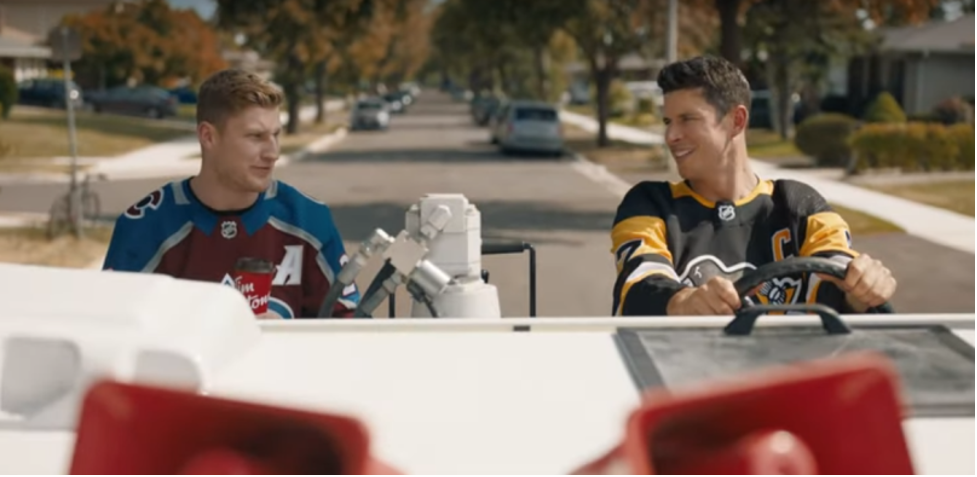 Nathan MacKinnon (Avalanche): Not only is MacKinnon the best Av, he's also the best active player to have yet to hoist the Cup. This could — and should — be the year MacKinnon takes home all the hardware. No pressure.
Taylor Hall and Jack Eichel (Buffalo Sabres): The first overall 2010 draft pick (and friend of The GIST) and the 2015 second overall pick are this season's must-watch duo, and the pairing is expected to be "lethal." Okay, bro.
Alex Ovechkin (Washington Capitals): Ovi is just 25 goals from the No. 5 spot on the most career goals list and 14 power play (PP) goals away from the all-time PP goals record. He could move up the multi-goal games leaderboard, too. Records are made to be broken.
Other forwards to watch: Sidney Crosby (Pittsburgh Penguins), Connor McDavid and Leon Draisaitl (pronounced DRY-SIGH-TIL) (Edmonton Oilers), Alexis Lafrenière (New York Rangers), Auston Matthews (Toronto Maple Leafs).
Roman Josi (Nashville Predators): The Preds will need to score a lot more than last season if they want to be serious contenders for the Cup, but they can at least rely on captain Josi to keep the puck out of their own zone. Watch out for the Norris Trophy winner to defend his title this year.
Victor Hedman (Lightning): Hands down, Hedman is the best defender in the league right now (unless you're talking to Roman Josi fans). He blocks shots, kills penalties and appreciates art. What more could you ask for?
Shea Weber (Montreal Canadiens): The Habs have made some moves recently, so it's helpful to have a steadfast player like Weber to anchor the team amidst change. We also want to keep an eye on him in case he shoots a puck through the net again.
Matt Dumba (Minnesota Wild): We're actually excited to see what Dumba can do off the ice. He's a founding member of the Hockey Diversity Alliance (HDA), and the NHL has a lot of catching up to do when it comes to diversity and inclusion.
Other defensemen to watch: Dougie Hamilton (Carolina Hurricanes), Shea Theodore and Alex Pietrangelo (pronounced PUH-TRAN-GEH-LOW) (Vegas Golden Knights), Cale Makar (Avalanche).
Connor Hellebuyck (Winnipeg Jets): The Jets didn't have the greatest showing last season, but that was through no fault of Hellebuyck. He's the NHL's best netminder, and the hopes and dreams of all hockey fans in that big middle part of Canada are resting on his shoulders.
Carey Price (Canadiens): No stranger to the pressure of a hockey-crazed city, Price is yet again leading the charge for a Habs' Stanley Cup, and he's doing it in a pretty sweet mask.
Other goalies to watch: Andrei Vasilevskiy (Lightning), Tuukka Rask (Bruins), Frederik Andersen (Leafs).
Ch-ch-ch-ch-changes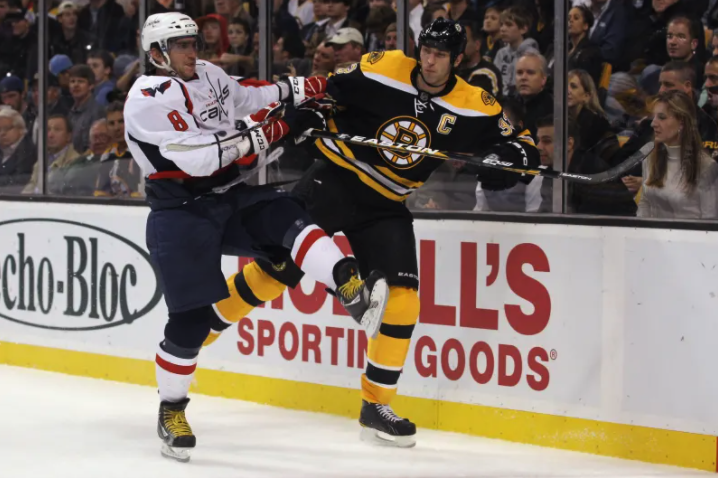 New rules: Dua Lipa may have given us three rules to abide by, but the NHL only wants you to know about one: the offside rule. Starting today, a player's skate won't have to be in contact with the blue line to be considered onside. A small change that's a BFD. This video can help explain it a bit better.
Different teams: Resident giant (he stands at 6 feet 9 inches, off skates) and oldest active player in the league, Zdeno Chára (pronounced Z'DEHN-OH), is a Washington Capital now. After 14 seasons as a Bruin, it's going to be super weird to see him in anything but black and yellow.
Gone girl goalies: Just days after Washington Capitals goalie Henrik Lundqvist announced his successful open heart surgery (no, he's not playing this season) last week, Chicago Blackhawks goalie Corey Crawford announced his shocking retirement. They'll both be missed.
Women making their mark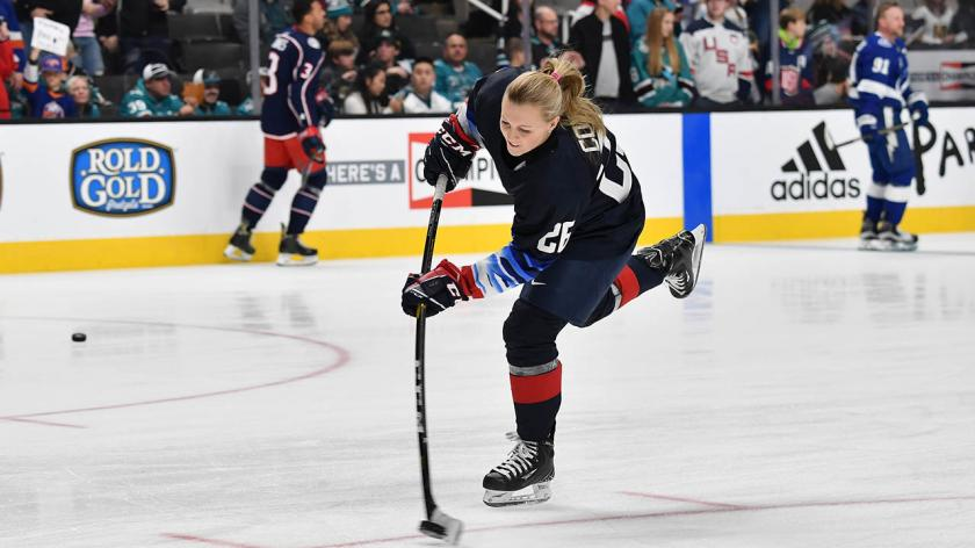 Kendall Coyne Schofield: An Olympic gold medalist, six-time World Championship winner and first woman to compete (and slay) in an NHL All-Stars skills competition, Coyne Schofield is adding player development coach to the resume with her new role in Chicago.
Kim Davis: The NHL Executive VP of Social Impact, Growth Initiative and Legislative Affairs, Davis has been in her role for three years now, but with all that we experienced in 2020, you better believe Kim will be making waves in 2021.
Cammi Granato: The Seattle Kraken still have a season before they step onto the ice, but Granato, former Team USA captain and the NHL's first female scout, is in the thick of it. October can't come soon enough.
P.S. The Kraken also have a female Director of Hockey Administration in Alexandra Mandrycky, a female VP of Strategy and Analytics in Kendall Tyson and VP of Team Finance in Stephany Keeley. We stan them so hard already.
THE GIST'S PICKS
WHAT TO CHECK OUT:
The NHL's fire Reverse Retro alternate jerseys. For the first time, each team will be rocking an alternate inspired by a jersey the franchise wore in a previous season. With so many cool designs and color schemes, it's hard to pick just one.
WHAT TO PLAY:
Interested in learning more about fantasy football? Well, now's your chance. We have our own GIST-exclusive fantasy contest that refreshes each week of the playoffs.
Whether you're totally new to fantasy or have already dipped your toes, this one's super easy and fun to play. So grab a friend and register to play for real cash prizes here.*
WHO TO CELEBRATE:
The unsung heroes of the NHL: dressing room DJs. Pump up the jams and check out this article on the music NHLers play before games and how they're chosen to handle the aux.
WHAT TO WATCH:
A visual history of a quirky hockey tradition: booing NHL commissioner Gary Bettman. Each year, the commish is booed during the presentation of the Stanley Cup. The NHL even pre-recorded boos for the fan-less 2020 Stanley Cup playoffs. Stay rowdy, hockey fans.
WHAT TO READ:
This article on the formation of the HDA, their efforts to partner with the NHL and the HDA's subsequent decision to operate independent of the league. Here's to sustained change and action in the new season.
*P.S. This is a sponsored post. We promise you're going to love it.
🏈

Tonight: CFP National Championship, Alabama vs. Ohio State (CAN)

January 11, 2021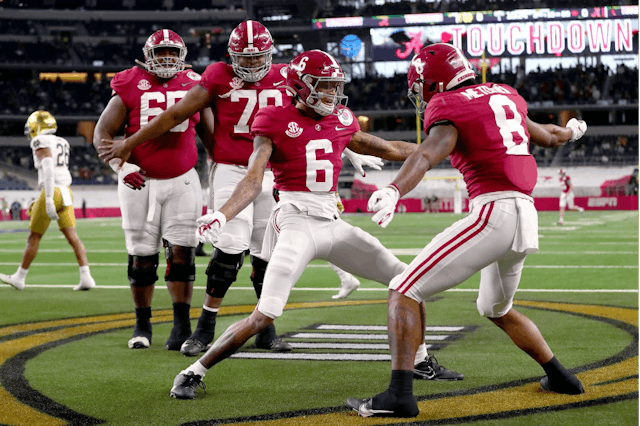 SOURCE: TOM PENNINGTON/GETTY IMAGES
The teams: The No. 1 Alabama Crimson Tide went a perfect 10-0 this season, capturing the school's 28th SEC championship en route to their eighth National Championship appearance since 2010. Boasting three of the top five finishers for the Heisman Trophy (in addition to a long list of other award winners), it's an understatement to say Alabama's roster is incredibly stacked.
No. 3 Ohio State's appearance in the CFP is a bit controversial. Due to COVID-19 cancellations and a delayed season start, the Buckeyes only played five regular-season games.

Still, they're fresh off a blowout 49–28 upset over No. 2 Clemson and could pull off another underdog miracle tonight. Woof.
Players to watch: Alabama wide receiver (WR) and Heisman Trophy winner DeVonta Smith has been an absolute force all season, breaking ankles and records. Along with Heisman finalist QB Mac Jones, he'll lead an Alabama offense that puts up video game-like scores with ease.
Keep an eye out for Canadian John Metchie III, a WR for the Crimson Tide. The sophomore has made a name for himself on a star-powered 'Bama team and will be an important target for QB Jones tonight.
Ohio State QB Justin Fields was the main factor in the Buckeyes' upset victory over Clemson. Fields tossed six (!!!) touchdowns (TDs), stepping up through injury to lead his squad. But…is he ready for the biggest stage of his career?
Prediction: While we do love an underdog story, we're expecting the elite Alabama roster, led by legendary coach Nick Saban, to roll away with the title. But our GISTers are split. Only 54% of GISTers who participated in our first-ever "Sunday Scroll" newsletter poll think the Crimson Tide will take home the National Title. Drama.
🏈

NFL Wildcard Weekend Recap

January 11, 2021
SOURCE: NFL/TWITTER
The expected: To no one's surprise, quarterback (QB) Tom Brady led the Tampa Bay Buccaneers to a wild-card win in Saturday's primetime game against the Washington Football Team (WFT).
WFT back-up QB Taylor Heinicke (pronounced HIGH-NUH-KEY) gave them a run for their money, but Brady, who has now beat 17 different teams in the playoffs over his career, was never in doubt.
Just hours earlier, the No. 2 seed Buffalo Bills edged out the Indianapolis Colts for their first playoff win in 25 years, and the New Orleans Saints beat the Chicago Bears in a bit of a snoozefest yesterday.
The unexpected: The LA Rams gave us the first shock, beating the heavily-favored Seattle Seahawks in their own house on Saturday afternoon. Moreover, they won with their QB Jared Goff, who was supposed to still be recovering from thumb surgery, when their backup-turned-starter QB John Wolford was sent to the hospital after a nasty hit.
Then yesterday, Baltimore Ravens QB and 2019 NFL MVP Lamar Jackson was finally vindicated when his Baltimore Ravens beat the Tennessee Titans, securing his first-ever playoff win. It helped that the Ravens' defense held Titans running back "King" Derrick Henry to just 40 yards.
And in the most unexpected turn of events, the Pittsburgh Steelers forgot how to football. Literally. Just. Forgot. The COVID-19-depleted Cleveland Browns were up 28–0 before the first quarter was finished for the most unanswered points scored in any first quarter in NFL postseason history. They went on to win 48–37. OMG.
🏀
🏂
⛸️
🏒
Bits & Bites - Canada
January 11, 2021
SOURCE: JACOB KUPFERMAN/AP
🏀NBA: As the youngest of the infamous Ball brothers, Charlotte Hornets' LaMelo Ball has spent his life trying to keep up with the older guys. All that practice paid off on Saturday night when he became the youngest NBA player to ever score a triple-double. Not bad for just his 10th career game.
Maybe the Toronto Raptors can take notes? They're now 2-7 following yet another loss. After Saturday night's spark of hope, in which they set a franchise record for most points scored in a game (144, for those counting), they lost to the Golden State Warriors by one point last night. Nick has some work to do.
🏂Snowboarding: If this weekend's FIS Snowboard World Cup Big Air competition is any indication of what February's World Championships will be like, Canadians should be pumped. Olympic silver medalist Max Parrot won the event with a technically perfect showing, while Liam Brearley finished seventh.
On the women's side, Jasmine Baird and Laurie Blouin finished 15th and 16th, respectively. Solid results, but still some work to do.
⛸Figure skating: Kudos to Skate Canada for adapting to the new world of virtual *waves hands* everything. Over the weekend, they held the first half of their first ever Skate Canada Challenge, a completely virtual event which allowed skaters to participate via livestream from their empty home arenas. Check out the results here.
🏒Hockey: The Toronto Maple Leafs organization made herstory when they hired the first female equipment manager in North American men's pro hockey for their AHL team, the Toronto Marlies. Love it!