🏈

NFL Conference Championships Preview

January 18, 2021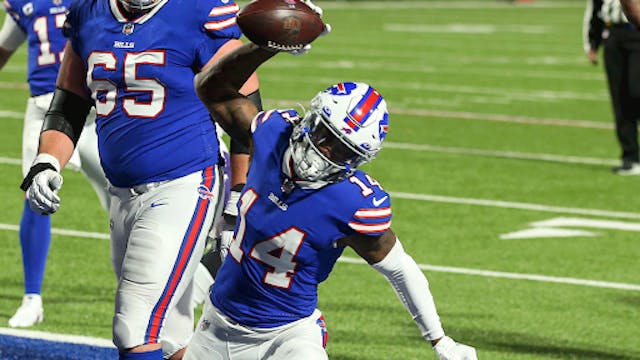 Source: NFL/Twitter
Buffalo Bills: Here's something we haven't heard since : the Buffalo Bills are Super Bowl contenders. It took them a while to warm up against the Baltimore Ravens in Saturday night's game, going into halftime with a 3–3 tie, but once they got going, they never looked back.
Kansas City Chiefs: Win the game, lose the QB. KC won their matchup 22–17 against the Cleveland Browns yesterday, but lost reigning Super Bowl MVP Patrick Mahomes to a concussion in the process. Vet QB Chad Henne subbed in to solidify the win, but it's still too soon to know who will start next weekend.
Green Bay Packers: The LA Rams never really stood a chance. Over 8,000 showed up to watch QB Aaron Rodgers lead the Packers to a 32–18 win on Saturday afternoon. That home-field advantage helped send the Pack to their fourth conference final in seven years and a chance at another Super Bowl a decade after their last.
Bucs: At 43, QB Tom Brady proved that age is but a number in last night's primetime game against the New Orleans Saints, who were led by young gun QB Drew Brees (who turned 42 on Friday). The Bucs won 30–20 (with a big helping hand from the defense) and Brady is now on his way to his , but record 14th career conference championship.
🏒

Toronto Maple Leafs Lead All-Canadian North Division

January 18, 2021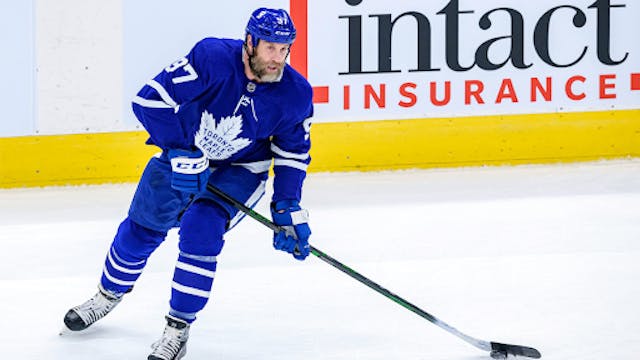 Source: Sharks on NBCS/Twitter
Winnipeg Jets vs. Toronto, 7 p.m. ET: Okay, you ready? After losing to the pesky Sens on Friday, the Leafs rebounded well, beating Ottawa on Hockey Night in Canada. The Blue and White are feeling good after resident old-timer Joe Thornton scored his first goal as a Leaf in the process.
The other Leafs' veteran (and former Senator), Jason Spezza, doesn't share the same fortune. He was placed on yesterday, meaning another team can pick him up. And if that happens, he's . Weird ending to a pretty storied career, TBH.
For their part, the Jets are the only undefeated team in the North right now, with a grand total of one win. They had to miss practice Saturday after COVID-19 protocol kept them off the ice until yesterday, so they could be a bit rusty tonight.
Montreal Canadiens vs. Edmonton Oilers, 9 p.m. ET: Connor McDavid and his Oiler buddies have a chance to save face from Saturday's brutal 5–1 loss to the Canadiens. But based on Habs goalie Carey Price's , there's a solid chance he won't let that happen.
Vancouver Canucks vs. Calgary Flames, 9 p.m. ET: The Canucks — who we had pretty high hopes for about a week ago — are last in the North Division. Jinx, we owe them a coke. There's hope though: star winger J.T. Miller could make his season debut after missing the first three games due to COVID-19 protocol.
🎾

COVID Precautions Ahead of Australia Open

January 18, 2021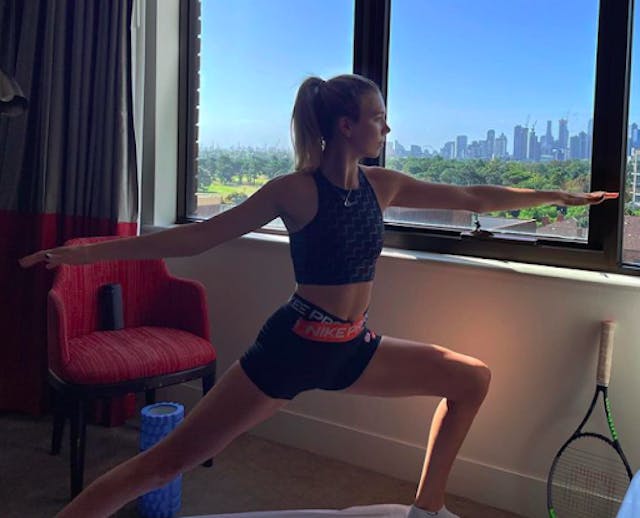 Source: Katie Boulter/Instagram
The background: The first major of the season, the Australian Open, is set to begin February 8th in Melbourne. Given Australia's mandatory two-week isolation requirement for all international travellers (even the athletic ones), players were advised to arrive around three weeks early to be safe.
To help accommodate this, the Open organized 17 chartered flights, exclusively for participating players, coaches and officials.
All passengers had to show proof of a negative COVID-19 test before boarding the flight, and upon arrival, players were expected to quarantine in hotel complexes that would still allow them to train and practice on outdoor courts.
The problem: Five travellers — including — from three of the flights tested positive for COVID-19 upon arrival in Melbourne, which forced all 201 passengers into an even stricter 14-day quarantine.
That means that 72 players (none of whom have tested positive, BTW) cannot leave their hotel rooms for two weeks. No outdoor practices, no on-court training, no fresh air for two whole weeks.
The affected: Andreescu, who is set to return to the big stage after 15 months of injury leave, is stuck in quarantine, along with her coach, fellow Canadian Vasek Pospisil, Victoria Azarenka, Kei Nishikori and about 30% of players set to play in the Aussie Open. And .
Players have taken to Twitter to complain about the forced quarantine, claiming Tennis Australia didn't properly prepare them, while Tennis Australia claims all players were made aware of the rules before travel. A classic case of "they said, they said."
🏀

Houston Rockets Trade Harden to Brooklyn Nets

January 14, 2021
SOURCE: MARK MULLIGAN/HOUSTON CHRONICLE VIA AP
The Harden saga: James Harden's antics finally paid off. After he was asked to not attend yesterday morning's practice, news broke around 4 p.m. ET that the Houston Rockets wild child got his wish and was traded to the Brooklyn Nets.
No one's going to miss him much in Houston. Ex-teammate John Wall admitted earlier in the day that things in the locker room had "been a little rocky," while DeMarcus Cousins called out Harden's "disrespect" and said he "doesn't care" if Harden leaves.
The Nets saga: It's fine if Harden forgets to bring the drama to Brooklyn, because the Nets already have plenty. Exhibit A: Kyrie Irving. While away for personal reasons last week, the flat-earther allegedly attended a birthday party (people are still having birthday parties?!) and was recorded dancing without a mask.
While the NBA investigates, All-Star Kevin Durant will be there to welcome Harden to the team, though we're not sure how coach Steve Nash plans to deal with all three giant egos. Good luck!

Keep an eye out for some spicy action on Saturday night in what could be Harden's first game, when the Nets play the Orlando Magic at 6 p.m. ET.
The COVID-19 saga: In other news, the NBA, like the rest of the world, has a serious COVID-19 problem. The NBA was forced to postpone three games last night, bringing their total to nine rescheduled games this season.
🏈

NFL Division Playoffs

January 14, 2021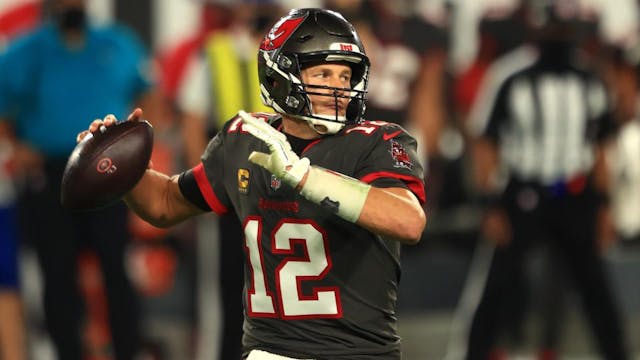 SOURCE: FORBES
LA Rams vs. Green Bay Packers, 4:35 p.m. ET: What happens to the old adage "defense wins championships" when both teams have stacked Ds? That's where the offense comes in, and considering LA's injury woes, Packers quarterback (QB) Aaron Rodgers should be the difference maker in this game.
Baltimore Ravens vs. Buffalo Bills, 8:15 p.m. ET: Here's the deal: it's supposed to snow in Buffalo on Saturday. The issue? Ravens QB Lamar Jackson has never played football in the snow. So while the cold never bothered the Bills anyway, the Ravens will likely have to rely on running back (RB) J.K. Dobbins.
Cleveland Browns vs. Kansas City Chiefs, 3:05 p.m. ET: The Browns are still flying high after embarrassing the Pittsburgh Steelers last week, but they better get focused. Kansas City is coming off a bye, and a well-rested duo of tight end (TE) Travis Kelce and wide receiver (WR) Tyreek Hill is terrifying for any team.
Tampa Bay Buccaneers vs. New Orleans Saints, 6:40 p.m. ET: It's the battle of the boomers (okay, not quite!), with 43-year-old QB Tom Brady's Bucs visiting 41-year-old QB Drew Brees' Saints. The Bucs are 0-2 against the Saints this season...but something tells us the Saints won't earn the sweep.
You vs. other GISTers: As the Wild Card winners prep for the Divisional Round of the playoffs, you can prep for the second week of FanDuel's GISTer-exclusive weekly fantasy contest.
Fortunately, it's pretty easy (and so fun!). All you have to do is select nine players to be part of your ideal NFL playoff team, and info about each player is accessible through FanDuel's platform.