🏈

Can you smell what The Rock is cooking?

March 11, 2021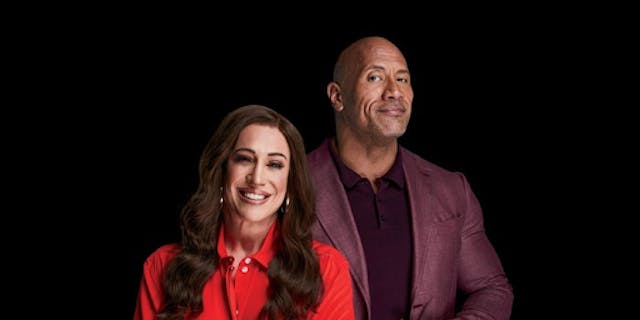 Source: Nigel Parry
The news: In a joint statement yesterday, the CFL and Xtreme Football League () — owned by Johnson and his business partner (and ex-wife, how nice) Dany Garcia — announced they "have agreed to work together to identify opportunities for the leagues to collaborate, innovate, and grow the game of football." Cool cool cool.
This new relationship shouldn't affect the CFL's 2021 season, which is still first priority. Players are set to report to training camp in May.
But the XFL's relaunch is on the line. The inaugural season was scheduled to start in spring 2022, but that's been put on hold pending further discussions with the CFL. Interesting...
The future: So, what does this partnership actually mean? With the CFL dealing with increasing financial issues, initial thoughts include the two leagues playing against each other like conferences, but the leagues haven't given us any concrete plans or timelines just yet.
That said, there are some pretty big differences between the two. Canadian football is played on a bigger field, with bigger balls, from June to November.
The XFL, on the other hand, is a February to April league that mostly follows American rules. And in classic Canadian fashion, our lil old league may have to conform to the American way if it wants to survive.
🏀

Natasha Cloud Returning to Washington Mystics

March 11, 2021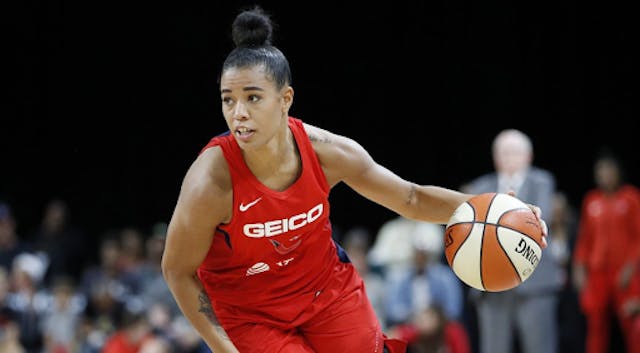 Source: John Locher/AP
WNBA: First, the good news. is coming back! After opting out of the 2020 season to advocate for social justice, she signed a multi-year deal yesterday with the Washington Mystics: the same team who drafted her in 2015 and won the WNBA Championship in 2019.
USA - NBA: The NBA is back, too, where things are heating up. The second half of the season started last night, after a quick All-Star break, and the league's trade deadline is just two weeks away: March 25th at 3 p.m. ET.
The Brooklyn Nets already made the biggest trade of the season with the addition of James Harden, but a few other big names remain on the trade block, including Toronto Raptor Kyle Lowry, Cleveland Cavalier Andre Drummond and Houston Rocket P.J. Tucker.
CA - NBA: The second half of the NBA season started last night, after a quick All-Star break, and the league's trade deadline is just two weeks away: March 25th at 3 p.m. ET. And no fanbase will be more stressed during the next two weeks than Toronto Raptors fans, all thanks to the "will they or won't they" trade rumors surrounding our beloved Kyle Lowry.
Lowry recently sold his house in Toronto, and the 76ers showed some interest in their hometown boy. And though Lowry's agent already shot down the idea of a trade, we won't believe that until March 25th comes and goes.
In the meantime, let's enjoy Lowry for as long as we have him. He'll play tonight when the Raps host the Atlanta Hawks at 7:30 p.m. ET with coach Nick Nurse back as bench boss after missing the last few games due to COVID-19 protocols.
🏀

NBA All-Star Game in Review

March 08, 2021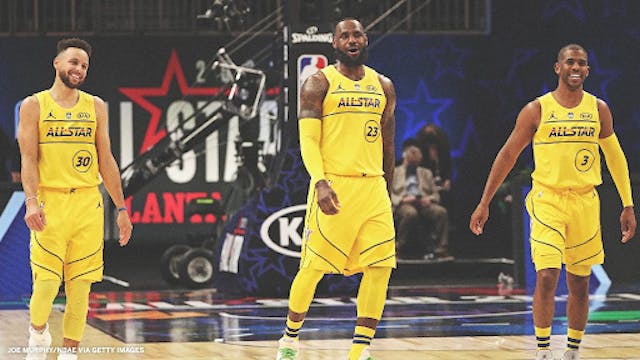 Source: Sportscenter/Twitter
Pre-game drama: Many players (and us) about an ASG in the middle of a pandemic, and what happened on Sunday shows exactly why. Just hours before the event began, All-Stars Joel Embiid and Ben Simmons were due to COVID-19 contact tracing, which may also affect their eligibility to play for their team, the Philadelphia 76ers, in the coming days.
On top of that, the NBA also sent out over 200 cease-and-desist orders to organizers around Atlanta for using NBA and ASG logos for unsanctioned parties planned over the weekend.
The festivities: Instead of a full weekend, like usual, the NBA condensed all the fun into a few hours yesterday. They started with the — won by Indiana Pacer Domantas Sabonis — then moved to the always-exciting three-point contest, where Golden State Warrior Steph Curry .
Team LeBron won the ASG itself, 170–150, over Team Durant, and Portland Trail Blazer Anfernee Simons took home the . Fun times , but let's get back to the real stuff now, shall we?
🏒
🏈
Remembering Walter Gretzky and Chris Schultz
March 08, 2021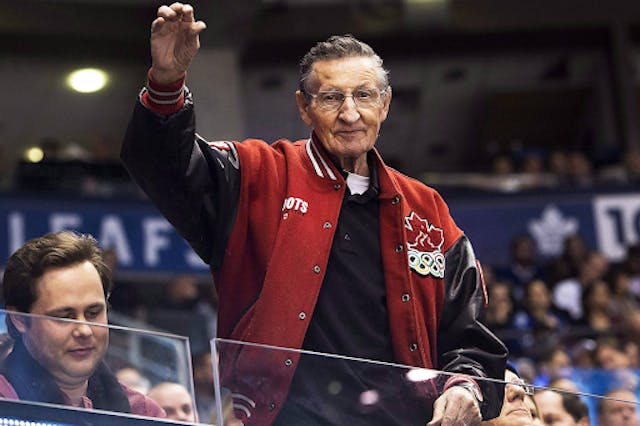 Source: Nathan Denette/Canadian Press
🏒Walter Gretzky: Affectionately known as "Canada's hockey dad," Walter was the father of the great Wayne Gretzky and the single most influential figure in Wayne's hockey career. Introducing Wayne to the game at age three, Walter also coached minor league teams in Brantford, ON and had a significant role in the development of minor hockey in Canada.
🏈Chris Schultz: News emerged of NFL and CFL star Chris Schultz's sudden death early Friday. Schultzy spent three seasons in the NFL, as one of just a handful of Canadians drafted into the league in the '80s, before returning to Canada to play for the Toronto Argonauts for nine seasons.
What Schultzy will likely be remembered for best was his time as football analyst on TSN. Standing at 6'8", his gentle giant persona, intricate knowledge and deep passion for the game endeared him to fans. RIP.
🏒
🏊‍♀️
⛳
🏆
The GIST's Quick Hits: March 8
March 08, 2021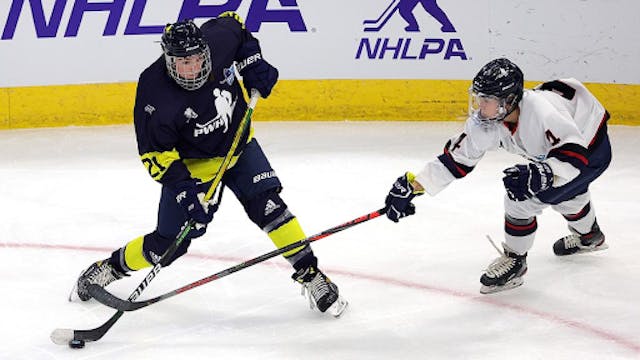 Source: NHL.com
🏊‍♀️Swimming: Katie Ledecky is back on the podium. After a year out of the pool (because of COVID-19), Ledecky returned for the TYR Pro Swim Series and won four titles in four days. Fellow Team USA swimmer and founding member, Simone Manuel, also won her event. Our Olympic fever is heating up.
🏒Hockey: The PWHPA's Dream Gap Tour had another successful weekend, with Team Minnesota winning both games over Team New Hampshire. No future stops on the Tour have been announced yet, but we're sure we'll get some good news soon.
⛳️Golf: Bryson DeChambeau won this weekend's Arnold Palmer Invitational. Cool. But what really impressed us was his monstrous , following up to his 370-yard drive on Saturday (for reference, the in the PGA is 295 yards). He officially entered #BeastMode.
🥊 Boxing: Claressa Shields made history this weekend as the first boxer (male or female) to become the undisputed world champion in two different weight classes. The historic moment came after Shields, of Flint, Michigan, handed Canadian Marie-Ève Dicaire her first-ever loss. Sting like a bee.
🤼‍♀️ MMA: Speaking of two-class champs, Amanda Nunes (pronounced NOON-EZ) continued her reign as queen of the octagon on Saturday with a submission win over Megan Anderson. With the win, Nunes defended her featherweight title and still holds her bantamweight championship belt.