🏒

The Gist on Miller and the Coyotes

November 02, 2020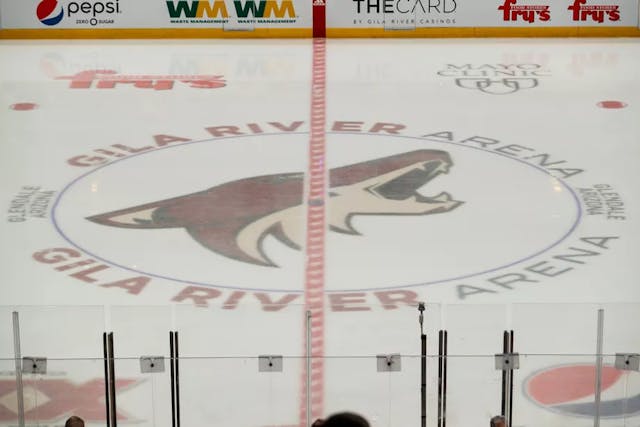 SOURCE: KEVIN ABELE/ICON SPORTSWIRE VIA GETTY IMAGES
The GIST: We normally would be watching a fresh new NHL season right now, but 2020 is still 2020, so we're stuck dealing with offseason, off-ice drama instead. Here's #thegist on the Mitchell Miller and Arizona Coyotes situation.
Tell me about it: Mitch Miller (not to be confused with the Toronto Maple Leafs' Mitch Marner) is an 18-year-old from Ohio, currently playing in his first year at the University of North Dakota. In October, Miller was selected in the NHL Entry Draft by the Arizona Coyotes.
Four years ago, Miller and a friend were charged with assault and violation of the Ohio Safe Schools Act for bullying a Black classmate with developmental disabilities. Their actions are disturbing and disgusting, but for more details, you can read the Arizona Republic investigative report.
Did the NHL know about this?: Yup. Before the Draft, Miller informed all teams of his history, and while some teams took him off their prospect list, the Arizona Coyotes drafted him in the fourth round.
When asked about the pick, the Coyotes CEO said that instead of dismissing Miller, "we felt it was our responsibility to be a part of the solution in a real way — not just saying and doing the right things ourselves but ensuring that others are too."
What happened next?: Turns out the Coyotes didn't have all the heinous details. On Thursday, after further investigation and a ton of public backlash, they went back on their offer to give Miller a "second chance" and instead renounced their rights to him. The University of North Dakota followed suit the next day, cutting him from the hockey team but allowing him to remain a student.
While the Coyotes made the right decision in the end, it's incredibly disappointing that the NHL allowed things to go this far. The league has been under fire recently for its "old school" culture, and this incident proves exactly how much the league has been "listening and learning."
⚽
🎾
🏀
Bev Priestman is New Coach For Canadian Women's National Soccer Team
October 29, 2020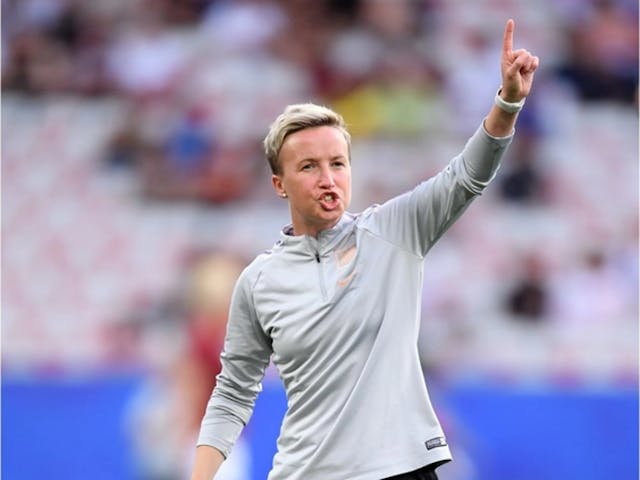 SOURCE: LAURENCE GRIFFITHS/GETTY IMAGES
⚽️Soccer: The Canadian women's national soccer team (CANWNT) have picked a familiar face as their new head coach. Bev Priestman, who will take on the leading role as of Sunday, previously served as an assistant under former head coach (and national treasure) John Herdman. She also coached Canada's junior team in two FIFA U-17 World Cups and was the national director of Canada Soccer's developmental EXCEL program.
Priestman will become the third female coach for the women's team, filling the gap left in June by Kenneth Heiner-Møller, who had taken over the role from Herdman in 2018. Fun fact: Priestman and Herdman both hail from the same small town, Consett, in northern England. There must be something in the water.
🎾Tennis: Don't you just hate when Canadians have to play each other? It was a classic Canadian clash yesterday at the Vienna Open, with world No. 21 Félix Auger-Aliassime upset in the first round by underdog and fellow countryman Vasek Pospisil, who's ranked 81. Pospisil faces world No. 6 Daniil Medvedev today.
🏀Basketball: We hate reporting this news. Toronto Raptors rookie Terence Davis was arrested in New York City on Tuesday night after reportedly assaulting his girlfriend. The 23-year-old from Mississippi has been accused of striking his girlfriend in the face before destroying her phone. The Raps are "seeking more information" before making any public statements. Disgusting.
On a brighter Raptors note, Kansas City is rolling out the red carpet for the dinos. Missouri's largest city is offering their T-Mobile Center to the team, should the Canada-US border remain closed when the new NBA season starts. KC Chiefs stars Patrick Mahomes and Canadian Laurent Duvernay-Tardif are on board, and Kansas City's mayor has already started bilingual tweeting.
⚽
🏈
🏀
Bits & Bites: This Week in the MLS, NFL, NBA
October 29, 2020
SOURCE: MLS/TWITTER
⚽️Soccer: Already missing major league playoffs? Same. Luckily, the MLS is coming to our rescue. With four match days remaining in the regular season, 12 teams have clinched playoff spots out of the available 18. What's more surprising is that no team has been officially eliminated from contention yet, meaning every game counts. Follow all the excitement here.
🏈Football: Imagine how odd a Super Bowl without fans would be? The NFL can't imagine it, so they're hoping to allow spectators into football's biggest event. Super Bowl LV (Roman numeral speak for 55) is set for February 7th, and the league is aiming for 20% capacity at Raymond James Stadium in Tampa, Florida (though who knows if that will actually work out, because...well, it's Florida).
🏀Basketball: After a successful season in the bubble, we wouldn't be surprised if the NBA tries a limited capacity audience, too, if only to recoup some lost revenue. The league reported a 10% revenue drop during the 2019–20 season, including $800 million from ticket sales. They still made around $8.3 billion, though, so we can't feel too bad for them.
And speaking of next season, turns out the previously proposed mid-December start was poorly received by teams, so a new collective of players is pushing for a January 18th start date. Not only would this allow for a more feasible preseason, but it would also have the season tip off on Martin Luther King Jr. Day. Love that for you, NBA.
⚾

Dodgers Win World Series

October 29, 2020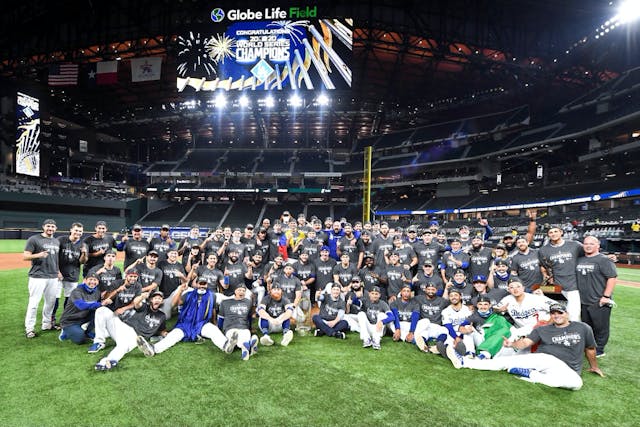 SOURCE: ENRIQUE HERNANDEZ/TWITTER
The GIST: The LA Dodgers are your undisputed 2020 World Series champions...but what would 2020 be without a bit lot of drama?
Spill!: The Dodgers led the series 3-2 heading into Tuesday's Game 6 against the Tampa Bay Rays. By the top of the eighth inning, the Dodgers were up 2–1 but down a player, as third baseman Justin Turner was pulled from the game after his Monday COVID-19 test came back positive...a little too late.
Turner was told to immediately isolate while his team went on to score another run and win the game — and the World freaking Series — 3–1. Not wanting to miss out on the fun, Turner took to the field to celebrate with his teammates and their families.
No way!: Yes way, and the MLB is not too pleased. Turner refused to leave the field when MLB officials asked him to during the postgame celebrations and at moments he even took off his mask, so the league has started a full investigation into the matter. We understand that Turner wanted to celebrate his first career World Series win with his team, but c'mon man, it's a pandemic!
Yikes. Back to the good news?: Let's do it. This World Series win was a long time coming for the Dodgers — their first since 1988 — so allow us to nerd out over some fun facts, will you?
With this win and the Lakers' NBA Championship, the city of Los Angeles has once again won multiple titles in a single year. Ten cities have had multiple major league clubs win titles in the same year, but LA has now matched New York's record, having each done it six times.
Tennis legend, gender equality activist and Dodgers minority owner Billie Jean King now has 39 Grand Slam trophies and one World Series ring. Get it, BJK (and by "it," we mean a bigger trophy case)!

All 18 of the Dodgers' postseason games were started by pitchers, including superstar Clayton Kershaw, who have spent their entire careers in the Dodgers organization. The sports family that pitches together, wins together.
🏈

Podcast Episode 41: Why Antonio Brown playing shows the NFL doesn't care about women

October 28, 2020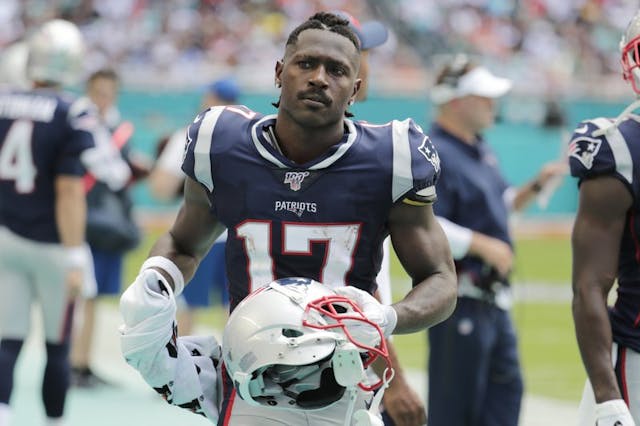 AP Photo/Lynne Sladky
Listen to this episode of The GIST of IT here.
Ellen: What is up GISTers? Welcome to The GIST of It, I'm Ellen Hyslop.
Steph: And I'm Steph Rotz,
Ellen: And we're just two old pals and we're two gals and we're here to give you the gist of what's going on in the sports world. Let's get right to it. Stephanie, today is a happy day because the L.A. Dodgers have finally won the World Series.
Steph: Finally, you are rooting for them this whole time. Ellen, I remember this.
Ellen: Yes, I was rooting for them from start to finish. I really enjoy watching pitcher Clayton Kershaw and I absolutely love outfielder Mookie Betts. And I think that is so cool that he was traded from the Boston Red Sox earlier this season and landed with L.A. Dodgers. Got a World Series right away. It's awesome. And also, the Dodgers have been a perennial team for the last few years. They've made World Series appearances in 2017, 2018 and now in 2020. It was just about time that they finally won the World Series.
Steph: I love that use of the word perennial. Thank you, Ellen. I'm going to get that one in the back of my mind.
Ellen: Yes. Thank you. Language queen over here. And you know what I was thinking in addition to the World Series, obviously love the Dodgers also have to tip our hats to the Tampa Bay Rays. They've done a great job. They're a really good team. They battled through Florida. And Florida has been dealing with all of this covid-19, Steph. And I also think we have to say as much as we harped on the MLB at the beginning of the season for having their regionalized travel plan and not having a bubble. Again, they pivoted in the playoffs to have those neutral sites. And this just goes to show that that was the right thing to do, because throughout the playoffs, they had no covid-19 cases. So I think that's pretty cool. And the MLB did an awesome job of literally running their entire season throughout this pandemic.
Steph: Huge hats off, major tip to this series. It was an exciting series and there's certainly no asterisks to this when. So I'm happy that everything, for the most part in the end, went smoothly. So good on you, MLB for pivoting. But today, Ellen, we're not here to talk about baseball. Today, we're going to dove deep into football player Antonio Brown, also known as AB. He's been in the news a lot over this past week or so as the Tampa Bay Buccaneers will reportedly sign him to a one year max, 2.5 million dollar deal. This episode does come with a content warning. So we we will be discussing violence as well as sexual violence and sexual assault. So we wanted to give you that heads up right now. Our issue with Antonio Brown or with AB is he comes with such a long laundry list of terrible, off-field behavior, including an ongoing sexual assault lawsuit. So before he makes his return to the field, we want to give you the gist on his background, his behavior, while also spotlighting the NFL's constant inaction towards violent off-field behavior.
Ellen: All right, so Antonio Brown, truly, where do we begin, where do we begin? I think we should start by giving some context to our conversation. So Steph, as you mentioned, Antonio Brown is about to return to the NFL with a one year max, 2.5 million dollar deal that would reunite him with his old quarterback and New England Patriots teammate who he played with only for a hot second, Tom Brady, who is now, of course, the quarterback in Tampa. So we're currently heading into week eight in the NFL. And Antonio Brown won't be available until week nine once he's done serving the remainder of his eight game suspension for violating the NFL's personal conduct policy.
Steph: Which will get into a little bit more detail later. But Ellen, what's happening right now with Antonio Brown? That's what's happening right now. But I want to go back to the beginning and better understand why AB is such a big name and why he's such a big deal in the NFL.
Ellen: Yeah, yeah. Let's go back to the beginning. So AB is widely known to be one of the best wide receivers of all time. He was drafted by the Pittsburgh Steelers in 2010 and since then has had more receptions than any other player in the league between 2010 to 2018. More catches than anyone in the NFL between that time, which is wild. In 2013, specifically, he became the only receiver in NFL history to record five receptions and at least 50 yards in every single NFL game. That's super hard to do. And so this is why he is considered one of the all time greats. My dad is also a massive Pittsburgh Steelers fan. And so the Steelers were always on in our household growing up. And AB was a pretty big name. And I would say that for the first handful of years that Brown was in the NFL, he was kind of like any other star player. He was cheeky, confident, arguably arrogant in his case, but nothing really out of the norm for a kind of a show stopper male athlete. But despite all of his success, in 2018, that's when things basically went to shit. The Pittsburgh Steelers and AB's relationship went sour, especially the relationship between AB as well as his quarterback at the time, Ben Roethlisberger, whose nickname I love Big Ben. Big Ben Roethlisberger gotta love it. And because of that relationship between him and Big Ben and also between AB and his head coach, Mike Tomlinson, AB ended up asking for a trade from the Steelers despite all of the success that he had with the franchise.
Steph: Ok, so to get some background on this whole Big Ben and AB feud, because this is what it is right now, we're just talking about, quote unquote, drama right now. And it really started because Big Ben or Roethlisberger didn't throw AB the ball one game when he was wide open, which turned into a big blow up on the sideline. So Big Ben later went on a radio show and said, "He got upset because he was open, which I can understand sometimes that happens. I was disappointed because it's not like I intentionally missed him. It's not like I intentionally didn't throw to him. It's unfortunate that he reacted that way." I probably had some different inflections than he did, but that's what he said. So to me right now, if this is where the story ended, we'd be talking about AB as a good player that's a bit of a diva and not necessarily a good teammate. If this is where the story ended.
Ellen: Totally. If this is where the story ended, totally nailed it. So picking up to where Antonio Brown has asked for a trade from the Pittsburgh Steelers, he gets traded in 2019 to the Oakland Raiders, who are now called the Las Vegas Raiders. And this is where things get even more weird and dicey for Antonio Brown. So despite landing the largest contract for a receiver and the entire league, his stint in Oakland was short lived and he actually never played a regular season game. So during training camp slash the preseason, Brown posted a photo on his Instagram. We should mention at this point that Antonio Brown loves to stir shit up on Twitter and Instagram. And it's like, get off your socials, buddy, but whatever. This is his outlet. So anyway, he posts a photo on Instagram of his heavily blistered feet and apparently he didn't wear proper footwear during a cryotherapy session. And so he got severe frostbite.
Steph: And for those of you that did not know what cryotherapy is, it literally means cold therapy. And it's a technique where the body's exposed to extreme cold temperatures for several minutes. The theory is that from that exposure, your body is going to receive a number of health benefits. I don't really know anything about this. All I know is as someone with Raynaud's in my toes, my fingers, this just does not appeal to me.
Ellen: It would be so cold. Like also super interesting therapy. I don't know. Anyway, and also I don't want to see your blistered feet on Instagram, but because of this and the drama from this cryotherapy and that he was forced to miss 10 out of 11 training camp practices because of his blistered feet, which is not good. So that's one thing that's happening in this pre-season timeline. Also, before the 2019 season started, the NFL made some upgrades to their helmets based on research for concussion prevention and CTE and everything like that, and basically mandated that all teams and players upgrade their helmets. For whatever reason, Brown and there were some other players too, but Brown took offense to this. And about a week after he posted about his blistered feet, he also filed a grievance to continue to wear his old helmet, even though it was banned. And when the NFL said that he couldn't do that, he threatened to retire from football.
Steph: Why are men like this?
Ellen: It's literally like, OK, yeah, we get it. You're used to something. You have to change. That's just what it is at the end of the day.
Steph: I have no words, Ellen, I'm so sorry. There's no words.
Ellen: So ultimately, after some back and forth, he agreed to wear the new helmet but still somehow things with AB didn't end there. So we have blistered feet, helmet drama. Then at the beginning of September in 2019, he was fined a combined 54 thousand dollars by the team due to unexcused absences and missing two team practices. From that fine, AB was given a letter which he also posted on Instagram, which is why everybody knew everything about the fines, which again, we must say to AB, get off socials, man. So the day after he was fined, Antonio Brown had a verbal altercation with his general manager, Mike Mayock. And Brown reportedly threatened to hit Mayock. And Brown had to be held back by several of his teammates so that he didn't get into a fight with him. He had this teary eyed apology to the media about a day later after this altercation with Mayock and was basically like, I'm sorry, I want to be a big part of the Raiders, yada, yada, yada. And then the next day, literally flipped the script and was released by the Raiders because he asked to be released by the Raiders. And this was just hours before his salary, his biggest contract salary for a receiver would have been guaranteed.
Steph: It sounds like an episode of Riverdale, that's how crazy it is.
Ellen: Those plots are getting sketchy. So that's saying a lot.
Steph: I can't follow it. That door closes on AB Oakland Raiders drama. To recap, he was sent to the Raiders from the Steelers. And before the season even began, he had not one but three dramatic instances slash violations. And all of this, which I cannot get over, happened before the season even began.
Ellen: I also have to stop and think like, why do teams want this guy on their team so bad? I get that at this point he is the best wide receiver in the game. But is he really worth all of the drama and all of the locker room drama? And Steph, we've talked about this in a lot of podcasts on The GIST of It, but I just can't help but think of the double standard we see with men and women here. Like just imagine a woman, athlete or otherwise, being able to get away with this type of behavior regardless of if she is the goat or not. Like, could you actually imagine Sue Bird getting away with this behavior? Absolutely not.
Steph: Absolutely not. It's so ridiculous to even think about a woman ever acting like this or being in the position to even act like this. Being so close to that guaranteed salary and throwing it away. Would a woman in sports even have that opportunity?
Ellen: No! There's already the privilege of him making millions of dollars, getting to play his favorite sport. Come on, man. This is such a privilege. I'm sure he worked hard for it and he was in the league for nine years, but whatever. Anyway, so Steph, let's get back to AB and let's get back to 2019. So everything is done with the Raiders. The same day that he is released from the Raiders, he agrees to a one year contract with the New England Patriots worth up to 15 million dollars and a nine million dollar signing bonus. So in September 2019, I guess quarterback Tom Brady and Patriots head coach Bill Belichick thought that they could coach the drama or something like that out of him. And turns out they were absolutely wrong. Shortly after landing with the Patriots, Browns former trainer accused him of raping her. And this was in a federal lawsuit. Her name is Brittney Taylor. And she said that Brown sexually assaulted her on three separate occasions in 2017 and 2018. And what's really alarming to us is that still, despite these allegations from Britney Taylor coming forward before the game, Antonio Brown still played in week two against the Miami Dolphins as a New England Patriot. The good thing is that he was fortunately cut shortly after that game because of the validity of these allegations. Another set of allegations coming out and also some damning text messages that came out.
Steph: Let's go in a little bit further on this personal and sexual misconduct and sexual violence. On September 10th in 2019, Brown's former trainer, Brittany Taylor, filed a federal lawsuit stating that he assaulted her on three separate occasions, one of those being rape. And so these text messages and other allegations that Ellen is talking about is that another woman came forward accusing him of sexual misconduct while she was working in his home as a painter with Brown, then sending her threatening text messages after that happened. These messages are available online. Screenshots of those texts are available online on Sports Illustrated and are heavy and are extremely disgusting, to say the least. If you're interested in learning more about it, by all means, check that out online. It's just one after the other things are coming out about this man.
Ellen: Yeah, it's alarming and it's so not OK. And it's quickly gone from being a diva, asking for a trade to being a horrible person who shouldn't be acting this way and doing these types of things. And what's scary is that, with everything that happened to Britney Taylor, that was in 2017 and 2018 when he was still in the good graces of a lot of people's books at that point. Still playing for the Pittsburgh Steelers is not a lot of people really knowing all of this about Antonio Brown either. So these lawsuits, Steph, that you mentioned were also followed up by more off field drama in 2020 when a viral video was released of his interactions with the police after a domestic violence dispute at his home. An arrest warrant was issued for Brown for burglary and battery charges, which he paid his own bond for.
Steph: There's a report from police in Hollywood saying that they made at least four calls to Brown's home over the course of a month, each over a domestic disturbance. Brown also attacked a delivery driver in this period of time.
Ellen: Yes, all all within this period of time, all coming out in 2020. So fast forward to July of this year and the NFL decides to hand down an eight game suspension to Antonio Brown for the personal misconduct following their investigation into the truck driver, not into anything that has happened in this domestic violence dispute, not to anything that happened with Brittany Taylor, not to anything that happened with the painter in this case, but honestly to what happened with this truck driver. I can't believe it. Obviously, they should be looking into that, but they should be looking into absolutely everything.
Steph: It shows you exactly what matters to them. It's the thing that has been charged or has traces of that, where it's like it's infuriating to know that you you hear a game suspension and you automatically assume that the sexual violence has something to do with this. And it didn't.
Ellen: That had nothing to do with it. And we totally agree, he should be suspended for eight games for what he did to that truck driver, but he should be suspended indefinitely for everything that's been going on here. And what's unfortunate is that this is a little bit of foreshadowing to why we think the NFL is absolute trash when dealing with this type of stuff. So we know that AB gets suspended for eight games. But throughout this time, there's a lot of videos surfacing here and there of him working out of him, getting in reps with other pro quarterbacks from the league. And I'm thinking to myself like, he's not actually coming back, is he? And obviously I was wrong. As we mentioned, Brown signing with the Bucs is imminent. And here's the thing that really bugged me as, Steph you and I were kind of doing our research and getting our ducks in a row for this podcast episode, is that so many folks in the media were so focusing on the football story of this timeline of maybe it was like watch out to the secondaries, which is another word for defense in the NFL, but watch out for the secondaries in the NFC South everywhere. And that's the division that Tampa's in. So I'm sorry. After all of this, after everything that you know about AB, what you are focusing on is how good Tom Brady is and how good AB is and how good they're going to be together. Are you messed up? What is going on here?
Steph: Yeah, someone was like, oh, make sure he's not late to practice and then kick them off the team, if he is. That's really what you're focusing on right now, sir?
Ellen: Yeah. Like, get it together. And, you know, the story here is why is he still playing football? Why did Tampa sign him? Why did Tom Brady want him? And why did head coach Bruce Arians, after this summer, quashing all the rumors that they were going to sign him, saying that he wasn't a good fit for their locker room, end up hiring him and paying him millions of dollars to play? Another thing about Bruce Arians is that he did receive the 2020 Champion of Equality award from the Women's Sports Foundation. So this is just completely contradictory to an award that he just won. And he has at least three female coaches and staff on his Tampa Bay team. And if I was one of those women on that staff and I knew that someone like Antonio Brown, who was coming on the team who had previously sexually assaulted his trainer, was coming on, that's not creating a safe work environment for me.
Steph: No, it's completely contradictory to this award that he just won. I don't understand how no one's putting this together in the NFL. That's ridiculous. Yeah, I wish I was surprised, but given the track record in the NFL, I'm not. If we look at the recent history in twenty eighteen, then Kansas City Chiefs Star running back, Kareem Hunt, was caught on camera kicking and shoving a woman and he went on that whole apology tour and Kansas City reluctantly released him. And the NFL, well, they only suspended him for another eight games, their favorite number. And he's now playing for the Cleveland Browns, recently signing a two year, 13.25 million dollar contract extension. Unfortunately, there are so many- at least seven other serious examples like this that we don't even have time to go through in this podcast. We'll link to them in the show notes. But the receipts are there.
Ellen: They're so there.
Steph: These actions or really these inactions from the NFL says so many things. I'll keep it to three. The first is that players off field conduct towards women is less important than the profit in the dollars that these players bring in, that winning is more important than safety and the well-being of women and the advancement of women in the NFL. And their safety is second to winning. Like that's a huge number one red flag of this. The second is that if you're good enough, you can get away with whatever you want. The NFL is endorsing the impunity of powerful men that we are seeing. I'm sure if you didn't before the Me Too movement hopefully brought that to the forefront as well. But this is not a new concept. And then lastly, it's like their personal conduct policy that they keep referring back to and using that as a means to suspend players is a load of crap because clearly it's not working and you're not suspending players robustly and holistically and you're not treating them like the leaders they are through this this conduct policy are the leaders that they should be. It's a little ignorant to me.
Ellen: Yeah, those are three really great points, Steph. And I also think that when you're looking at some of these other serious examples outside of Kareem Hunt, so many of those men were repeat offenders. And maybe if the NFL did something better to quash them the first time and to show how serious they were and not allowing them to come back into the NFL and keep their stardom and keep their millions, that maybe they would have stopped, maybe something else could have could have forced them to stop this behavior. I'm not sure. The other thing, Steph, that we had briefly chatted about before this podcast that I do want to bring up is throughout all of this. If the NFL is going to keep people like this in the NFL, they need to be part of helping them be better people. What can they do from, like a mental health perspective? What can they do to be looking at different things with even CTE in these situations? We've all seen the Aaron Hernandez documentary on Netflix. Could this be something with this situation? What is the NFL doing if they're only going to suspend these players for eight games? What are they doing for the remainder of years that they're going to be in the NFL to say, hey, what you're doing is not OK and this is how we're going to stop it. And this is the way that you're going to be basically policed while you're within the NFL. I just don't understand this lack of action altogether.
Steph: There's no clear plan. There's no clear path to improvement here.
Ellen: Yeah. No clear path to improvement. It's unfortunate. Tampa Bay is a really good team this year. And there's a lot of people that are stoked about Antonio Brown coming back to the NFL. But I think that it's super important that we're having conversations like this and that it's really good to try to keep these leagues and teams and players accountable, especially as they are role models for a lot of people. And if other people are seeing their role models get away with things like this, we know the message that that's sending to people.
Steph: Loud and clear.
Ellen: Ok, Steph, so we're going to take a breather here and to close out our podcast, we're going to feature a WTF moment that was submitted by you, one of our GISTers. And this week's submission comes from John in England. And as much as you know, you're probably looking for something lighthearted and fun after all of these AB WTF moments. You're not getting it. It's a WTF moment from the hockey world.
Steph: You are correct, Ellen. This is not a fun story. It's more along the lines of holding leagues accountable like we did with the NFL. And this one, again, comes from the NHL team, Arizona Coyotes, who recently drafted Mitchell Miller, who was charged in juvenile court in 2016 for bullying and assaulting a disabled black classmate. A full recount of the things that Miller said and the things that he did is available online. It's truly atrocious. We will not get into the details here. The Coyotes, the team, did respond to this story and to the things that he has done in the past. Coming out and saying "when we first learned of Mitchell's story, it would have been easy for us to dismiss him. Many teams did. Instead, we felt it was our responsibility to be a part of the solution in a real way." But it's important to note that this statement only came out after the bullying and assault charges were published by the Arizona Republic, not prior to it. So they weren't necessarily proactive with being a leader in the sports world. And Miller, the player, has issued an apology to all NHL teams and has posted something in the republic, but has yet to contact the family of the person that he bullied as a kid. And I understand giving a kid a second chance, but the way that this was handled by the NHL is a big WTF moment and is not going to do, and nor should it do much to gain the trust of the BIPOC hockey community. And it's not really showing much of a move in terms of their commitment to, "changing hockey culture."
Ellen: Absolutely not. My question to the Arizona Coyotes is, if all of those other teams were staying away from this kid, why did you, Arizona, think that you were going to be the right team to change this guy's way? Don't bullshit us. You took him because he was a good hockey player and you thought that you could get a deal from him because of this story and what he's done, regardless of his age, no matter your age, you should not be bullying people. You learn that from day one in preschool. There's absolutely no excuse for what he was doing and for it to go all the way to court. Are you kidding me? It's just another blow to hockey, especially after the Hockey Diversity Alliance just separated themselves from the NHL. It's another reason, and it's another point on the NHL's really shitty resume of how they're dealing with diversity.
Steph: Yeah, by dealing with it not at all. By not being proactive at all. Just doing the same old crap they've done their whole X amount of years of existence.
Ellen: It's ridiculous. And I think that's a great WTF moment. And John, thank you so much for sending this in. And for anyone who's listening, we would love to hear your WTF moment. Of course, it could be from the pro sports world. It could be from the amateur sports world. It could even be a WTF moment that you've had in your own life now or previously. So over the next week or so, email Steph and I at pod@thegistsports.com or tweet at us @thegistpod with your WTF moment and you may be featured on next week's podcast.
Steph: All right, that was the gist of it from Ellen and I. Thanks so much for joining us this week. If you want to help us get the word out. Go ahead, write the pod, leave us a review and please tell your sport pals to subscribe to The GIST of It on Apple Podcasts, Spotify, Google Play or Stitcher. And if you like what you heard today, you have to sign up for our free twice weekly newsletter where every Monday and Thursday morning we give you the gist of what's going on in the sports world. Go subscribe at thegistsports.com snd it's also linked in our show notes. Otherwise, as we already mentioned, Steph and I want to hear from you. You can get in touch with us over email pod@thegistsports.com, or follow us on our new Twitter account @thegistpod. Again, I'm Ellen Hyslop.
Steph: And I'm Steph Rotz.
Ellen: And this has been the gist of it. Take care of yourselves and we'll chat with you next Wednesday.