🏆
⚽
⛳
Bits & Bites: Three Teams Part of Dunn Trade to Portland
October 26, 2020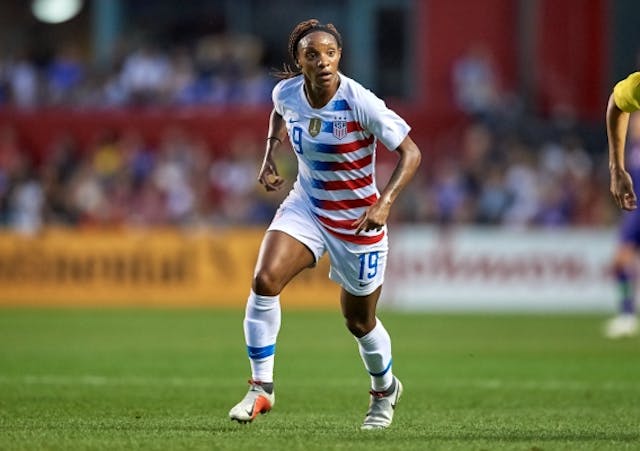 SOURCE: ROBIN ALAM/ISI PHOTOS
🏎Formula One: As if there was ever any doubt, Lewis Hamilton has now firmly cemented his status as the greatest race car driver of all time (sorry, Ricky Bobby!). Hamilton won his 92nd career Grand Prix in Portugal yesterday, beating Michael Schumacher's record of 91 career wins. Drive fast, sing, use his international platform to call for social equality...what can't this man do?
⛳️LPGA: Danielle Kang almost had matching Drive On Championship trophies this year, but fellow American Ally McDonald spoiled that dream. After leading the whole weekend, McDonald notched her first ever LPGA title yesterday, finishing with a 16 under par score, just one stroke ahead of Kang. Not a bad 28th birthday for the champ!
⚽️Soccer: The NWSL offseason is proving eventful. The league announced a blockbuster trade on Thursday that saw U.S. women's national soccer team (USWNT) star Crystal Dunn traded from the North Carolina Courage to OL Reign and finally to the Portland Thorns, where Dunn will join her World Cup–winning teammates Lindsey Horan and Becky Sauerbrunn and international goals leader, Canadian Christine Sinclair.
Meanwhile, across the pond, women's league soccer is taking a break while national teams qualify for 2022's UEFA Women's Euro Cup (talk about getting an early start). The qualifying round continues tomorrow, so pick a European country to support and follow along here.
And some bad news for Canadian soccer fans. Bayern Munich's Alphonso Davies tore some ligaments in a nasty ankle injury this weekend and will now miss up to eight weeks. On the bright side, this means more time for TikTok during his recovery.
🏈

NFL Week 7 Woes: Antonio Brown, COVID-19

October 26, 2020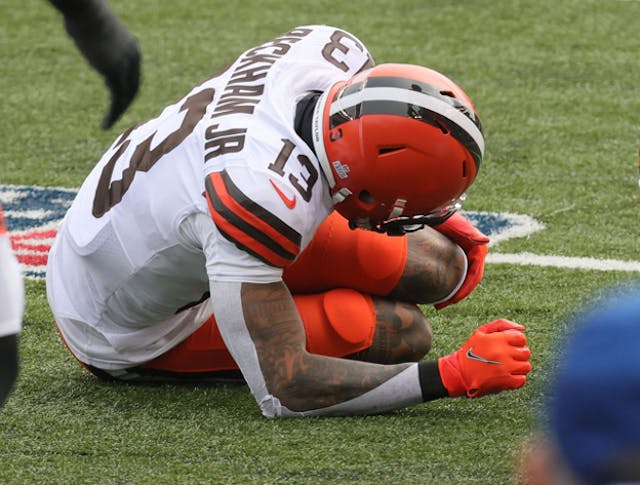 SOURCE: JOHN KUNTZ/CLEVELAND.COM
The GIST: If 2020 were an NFL week, Week 7 would be it.
Care to explain?: To start, Antonio Brown is about to return to the NFL. We can only scratch the surface on his long list of off-field drama, but suffice it to say, he's had a troublesome few years. His history — which includes an ongoing sexual assault lawsuit — apparently isn't bad enough for the Tampa Bay Buccaneers, however.
The Bucs will reportedly sign AB to a one-year, max $2.5 million deal that would reunite him with his old New England Patriots teammate, quarterback (QB) Tom Brady. Brown will be eligible to start for the Bucs in Week 9, once he's done serving the remainder of his eight-game suspension for violating the NFL's Personal Conduct Policy. Ugh.
What else?: COVID-19 continues to rear its ugly head. Jacksonville Jaguars running back (RB) Ryquell Armstead is out for the rest of the season due to COVID-19 complications. The second-year RB has been hospitalized twice since his diagnosis in August. Just awful.
Four Buffalo Bills tight ends (TE) had to sit out during yesterday's win after TE Dawson Knox tested positive, and the Las Vegas Raiders had to send their offensive line home from practice on Wednesday after tackle Trent Brown tested positive. Meanwhile the Tennessee Titans have been fined $350,000 for COVID-19 protocol violations.
Wow. Any on-field news?: You bet. Here are a few of Week 7's lowlights from the gridiron:
Dallas Cowboys QB Andy Dalton suffered a terrible head injury following an illegal helmet-to-helmet hit in a 25–3 loss to the Washington Football Team. Rattling.
The New England Patriots' 33–6 loss to the San Francisco 49ers saw three interceptions from QB Cam Newton and was the worst home defeat of Bill Belichick's Pats coaching career.
And king of the one-handed catch Odell Beckham Jr. suffered a nasty knee injury during his Cleveland Browns' close win over the Cincinnati Bengals. We're ready for Week 8 now, please.
⚾

Dodgers One Win Away From World Series Title

October 26, 2020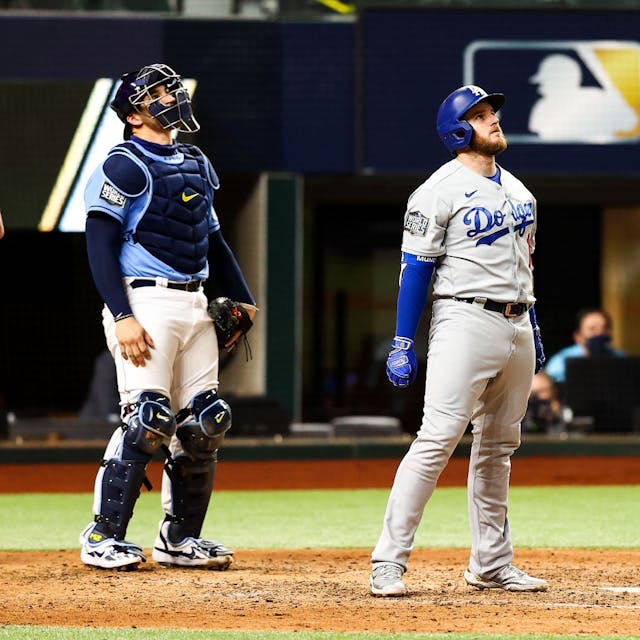 SOURCE: MLB/TWITTER
The GIST: The LA Dodgers are just one game away from winning the World Series. But based on what we've seen so far, we're not sure the Tampa Bay Rays will let them off that easy.
Tell me everything!: Down 2-1 in baseball's biggest series, the Rays ended Saturday night's Game 4 with a stunning walk-off run from Brett Phillips to win 8–7 and even up the series. But in keeping with the back and forth wins of the series so far, Game 5 was all Dodgers.
The SoCal boys started with a 3–0 lead and never gave it up, even after a third inning push from the Rays. Pitcher Clayton Kershaw was not only instrumental in the 4–2 win, but he had himself a night, passing Justin Verlander to become the MLB's leader in postseason strikeouts with 207. Sheesh.
What now?: Tomorrow night's Game 6 could really go either way. But it's not the only matchup we're looking forward to: the race to the most homers in a single postseason is a nail-biter, too.
Rays outfielder Randy Arozarena and Dodgers shortstop Corey Seager have been trading the top spot over the past few games, with Arozarena currently leading the all-time list with nine. Tune in to Game 6 at 8:08 p.m. ET tomorrow to see if Seager can take back the lead — and maybe win the World Series, too.
🏆

Russian Military Hackers Target Tokyo Olympics

October 22, 2020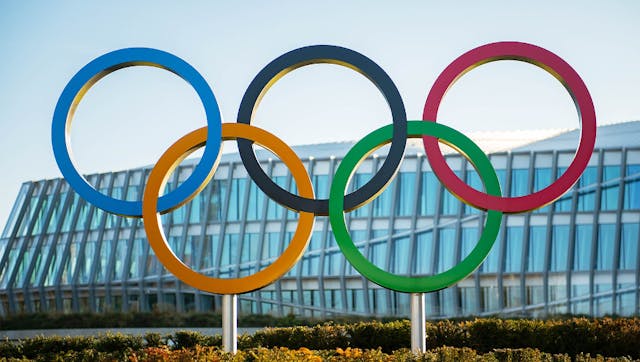 SOURCE: DAVID RAMOS/GETTY IMAGES
The GIST: We weren't happy when we learned that Russian hackers are actively sabotaging the Presidential election. And get this: word is they're going after the 2020 Olympics, too. GTFO.
What happened?: Earlier this week, U.K. security officials broke the news that Russia's military intelligence service, GRU (how fitting), had been planning cyber attacks on the organizers and sponsors of the Tokyo 2020 Summer Olympics. Reminder: Russia is banned from all major international sporting events until 2023 due to widespread doping offenses.
This news came just a day after U.S. authorities outed GRU for its cyber attacks on the PyeongChang 2018 Winter Olympics. The malicious attacks wiped computer data and disabled networks in an effort to sabotage the Games. Confidential medical records of over 250 athletes were also stolen and published online. Just horrible.
What happens now?: Six Russian military officers have been charged by the FBI for their involvement in the PyeongChang attacks, which were said to have been done in retaliation of the doping ban and to further Russia's geopolitical standing. We're not sure sabotaging the beloved Olympics is gaining you any brownie points, Russia.
The 2020 Games are still a go for next summer, and Japan's chief cabinet secretary, Katsunobu Katō, has assured Olympic organizers and participants that Japan will do everything it can to prevent cyberattacks. Anyway, off to watch Icarus...
⛳
⚽
🏆
This Week in Golf, Soccer, Lacrosse
October 22, 2020
SOURCE: LPGA/TWITTER
⛳️Golf: The LPGA should have teed off today in South Korea, but COVID-19 nixed those plans. Instead, the Drive On Championship at Reynolds Lake Oconee — a brand new stateside tournament — will fill our golf-loving hearts.
Danielle Kang won the OG Drive On Championship back in August, and she's back this weekend to try to win a matching trophy. Major winner and ultimate underdog Sophia Popov, American Lexi Thompson and World No. 2 Nelly Korda's sister Jessica (sorry, Nelly's sitting this one out) will try to make sure that doesn't happen. Follow the leaderboard here.
⚽️Soccer: We have a name! The NWSL's highly anticipated new team, based in Los Angeles, will be called Angel City FC (FC stands for Football Club). The league's 11th team, which will start competing in 2022, also named additional investors to the already star-studded ownership group: WNBA star Candace Parker (and her daughter Lailaa, so cute), Olympic skier Lindsey Vonn (and her fiancé P.K. Subban) and tennis legend Billie Jean King (and her partner Ilana Kloss). Sounds like heaven.
🥍Lacrosse: Athletes Unlimited, a collection of new pro sports leagues that highlights women's sports and works to put the athletes first, is introducing lacrosse as its newest undertaking. Joining the already successful softball and volleyball leagues, the lax league will feature some of the top American lacrosse stars.
Superstar Kayla Treanor and her U.S. national team teammates Megan Douty, Michelle Tumolo and Emily Parros have all committed to the month-long series, which starts July 19th, 2021. Mark your calendar!