⛳

Patty Tavatanakit is the 2021 ANA Inspiration champion

April 05, 2021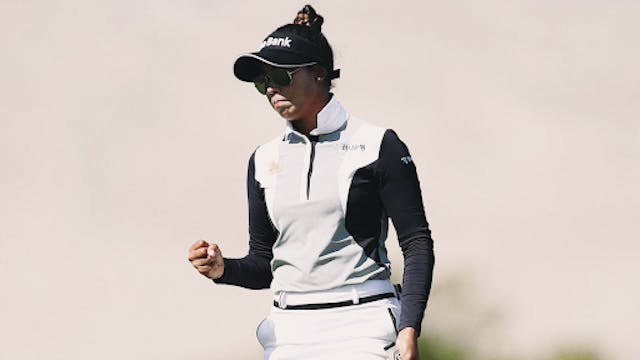 Source: ANA Inspiration/Twitter
The champ: The 21-year-old rookie led the tournament from day one. With her 18-under final score, she was just one stroke off the all-time record for the lowest score on this course, and managed to hold off former world No. 1 Lydia Ko's .
With the win, Tavatanakit became just the second golfer (of any gender) from Thailand to win a major. Something special.
The future stars: While the pros were playing in California, some pretty amazing amateurs made their mark in Georgia ahead of this week's Masters PGA tournament. Japan's Tsubasa Kajitani won the on Saturday in a .
And in the Drive, Chip & Putt Championship, two Canadian kids proved they're stars in the making, too. Alexis Card won the 7-9 age group and Anna Wu — who — came in second. Love to see it.
🏀

Take a bow

April 05, 2021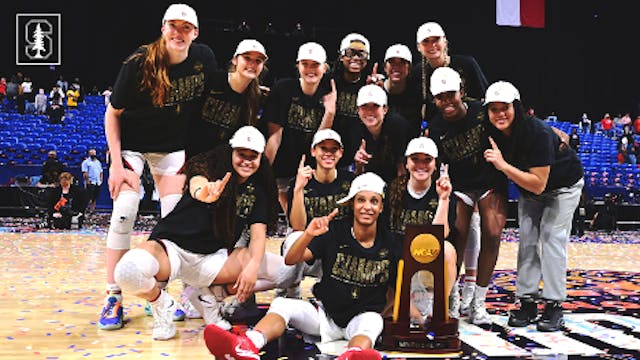 Source: Stanford Women's Basketball/Twitter
The GIST: After two jaw-dropping, record-breaking, game-changing weeks (and incredibly difficult COVID-19-ravaged regular seasons), the Stanford Cardinal won the NCAA women's March Madness tournament last night.
The game: The pairing of steadfast No. 1 Stanford and feisty No. 3 Arizona in the final was nothing short of thrilling. Stanford started strong in their first final since 2010, and led underdog Arizona for the majority of the game, mostly due to their stifling defense on Arizona star Aari McDonald.
Despite McDonald only going 5 for 21 from the field, Arizona's defense kept them in the mix the entire game. But, it was Stanford who came out on top, hanging on to a 54–53 lead and winning their first championship since 1992.
With the win, coach Tara VanDerveer locked in her third title in 35 seasons and Stanford sophomore guard Haley Jones was named the tournament's Most Outstanding Player after scoring a team-leading 17 points last night.
The impact: Let's take a step back for a minute and process the impact of this year's tournament. From Oregon Duck Sedona Prince's viral videos calling out disparity and leading real change to record increases in viewership in a time of declining TV ratings, the women's tournament was a literal gamechanger.
It felt like everyone was tuned in, including some of sports' biggest stars: tennis legend Billie Jean King, NFLer JJ Watt and NBA icon Magic Johnson were dazzled by the tournament, while former POTUS Barack Obama filled out a bracket.
Social media engagement hit new highs, female athletes racked up huge numbers of followers and new fans were born everywhere. March Madness has been a joyous ode to women's basketball, and we can't wait for the next one. Only 355 days to go.
🏀

And then there were two

April 04, 2021
Source: NCAA Championships, GIPHY
QUOTE OF THE DAY
"Honestly, Coach Barnes hates when I take threes on the first possession. But, I mean, she's not going to tell me to stop shooting when I'm feeling it from downtown."
— Arizona senior guard Aari McDonald (pronounced AIR-EE), who sunk a three on their first possession in Friday's Final Four win. Something tells us head coach Adia Barnes would love to see it again today.
🏀 Flashback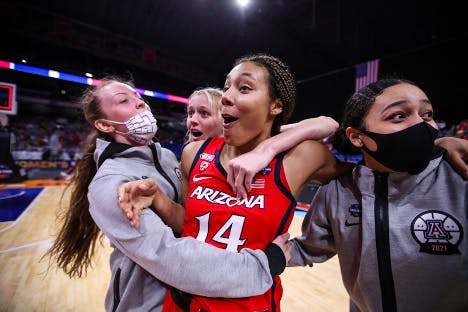 Before we get to today's game, let's look back at Friday's epic semis. As a heavy favorite to win the whole shebang, Stanford's ticket to the final seemed like a lock...until they lost their lead to South Carolina with 41 seconds remaining.
In the second semi, Paige Bueckers (pronounced BECKERS) and UConn were heavily favored to win the matchup, but underdog Arizona — making their first-ever Final Four appearance — had other plans. Arizona won 69–59, stunning UConn and basketball fans everywhere.
⛹️‍♀️ The finalists
The favorites: Following a 25-2 regular season record, many fans and analysts said March Madness was Stanford's to lose. Three weeks later, those predictions still ring true.
The underdogscats: After a 16-5 regular season, the Arizona Wildcats entered the tournament as the No. 3 seed in the Mercado region. They blew past a stacked No. 2 Texas A&M team in the Sweet Sixteen and spunky No. 4 Indiana in the Elite Eight, before Friday's Final Four rout of UConn.
⭐️ The difference makers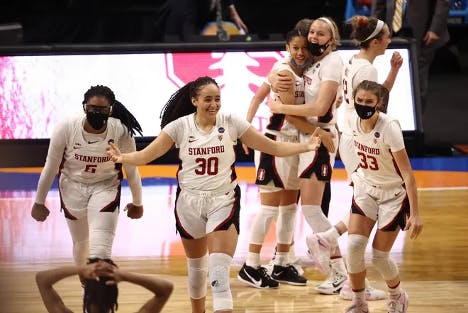 Haley Jones, Stanford: The Cardinal are in the championship because of Jones. Not just thanks to the last-minute points she scored in the semifinal game, but because of her dominant play throughout the tournament. She scored 24 points on just 14 shots on Friday night — her shooting percentage was nearly twice as good as her team's.
Aari McDonald, Arizona: The Pac-12 Player of the Year and two-time Pac-12 Defensive Player of the Year is also the top scorer of the tournament. In her attention-grabbing Final Four performance, she racked up 26 points and seven rebounds.
Coach Tara VanDerveer, Stanford: The winningest coach in women's Division I basketball, VanDerveer is wrapping up her 35th season leading the Cardinal. A steadfast figure in the fight for equality, Coach V is looking for her third championship win and first since 1992.
Coach Adia Barnes, Arizona: The fifth-year coach is looking for her full circle moment. After playing for Arizona in the mid-90s, setting 22 school records and going on to win the 2004 WNBA championship with the Seattle Storm, Barnes returned to her alma mater to do what she couldn't as a player: win the NCAA tournament.
🔑 The keys to winning
Stanford: The Cardinal need to score three-pointers. It's as simple — and difficult — as that. They've already set the record for most three-pointers in a single tournament and, with Arizona's tight defense around the rim, Stanford will be forced to pull back and shoot from downtown.
Arizona: The Wildcats' defense stifled some of the tournament's best offensive players in UConn's Bueckers and Christyn Williams. They'll need to repeat that performance to hold off Jones et al. and give themselves chances to score on the rebound.
🎉 The final
West-coasters, rejoice: Today's game marks the first time two Pac-12 teams have met in the final. This is Stanford's first championship game appearance since 2010, which isn't terribly long considering this is Arizona's first appearance period.
The game tips off at 6 p.m. ET on TSN5 in Canada and ESPN in the US (because heaven forbid a women's national championship makes it to network television). Grab your #BetOnWomen apparel and tune in.
🏀
🎾
🏈
The GIST's Quick Hits - CA (April 1, 2021)
April 01, 2021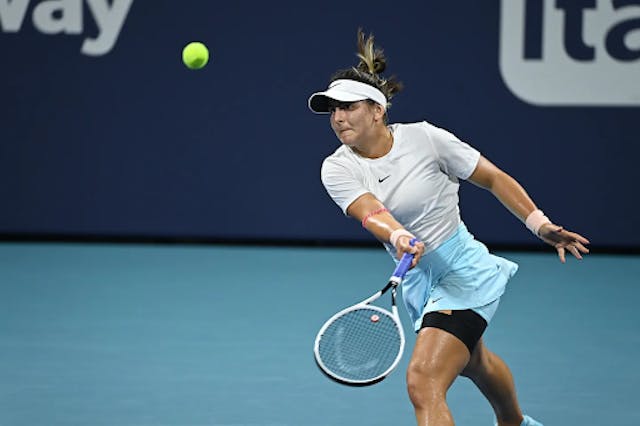 Source: Peter Staples/Miami Open
🎾Tennis: Bianca Andreescu is back. In her strongest showing since returning from a 15-month injury leave in January, the 2019 U.S. Open winner won her quarterfinal match to Sara Sorribes Tormo at the Miami Open last night. World-ranked No. 9 Andreescu will now play No. 25 Maria Sakkari (who just beat No. 2 Naomi Osaka...) in today's semifinal scheduled for 8:30 p.m. ET. C'mon!
🏈NFL: The league has officially agreed to a . Good. Now that that's settled, we have bigger fish to fry: Houston Texans quarterback Deshaun Watson now faces for sexual assault and innappropriate behavior, while 18 women have . Solid chance Deshaun sees zero games this season. Boy bye.
🏀NBA: The Toronto Raptors are the happiest group of people to see April arrive because March was truly miserable. They lost Norman Powell (who wrote a to the entire country), Kyle Lowry is out for a week with hurt feelings a foot infection, and the Raptors won one game...in the entire month. Good riddance, March.
🏀

March Madness: Men's Final Four

April 01, 2021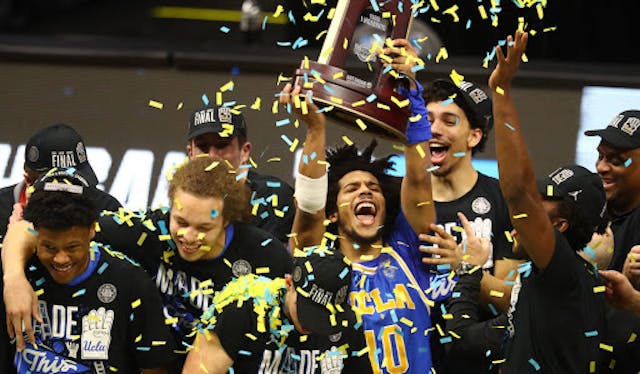 Source: UCLA MBB/Twitter
No. 2 Houston vs. No. 1 Baylor, 5:14 p.m. ET: Led by "" Davion Mitchell and Big 12 Player of the Year Jared Butler, the Baylor Bears lead the nation in three-point shooting percentage. But Baylor's high-powered offense must contend with Houston's second-best-in-the-nation defense.
Houston is the first team to ever advance to the Final Four by defeating only double-digit seeds, so surging No. 1 Baylor will certainly be a test for the Cougars. Let's see if defense really does win championships.
No. 11 UCLA vs. No. 1 Gonzaga, 8:34 p.m. ET: With feisty play from Johnny Juzang, the UCLA Bruins have scrapped their way to the Final Four by pulling off three upsets. On the other hand, behind Jalen Suggs and Drew Timme's (pronounced TIMMY) mustache sharp shooting, the 'Zags have bulldozed through the tourney, winning every game by double digits.
UCLA is just the second team to ever reach the Final Four after playing in the "" play-in round while undefeated Gonzaga have been the favorites from the start. This matchup is truly what March, er, April is all about.