🏈

Can you smell what The Rock is cooking?

March 11, 2021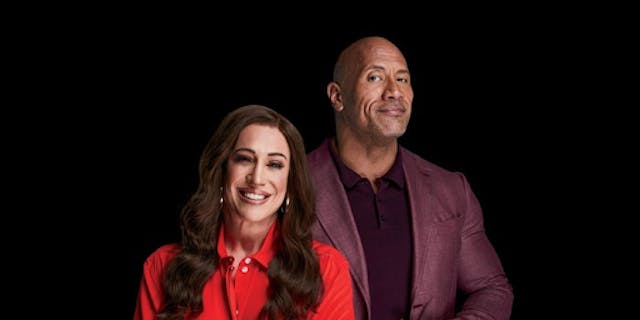 Source: Nigel Parry
The news: In a joint statement yesterday, the CFL and Xtreme Football League () — owned by Johnson and his business partner (and ex-wife, how nice) Dany Garcia — announced they "have agreed to work together to identify opportunities for the leagues to collaborate, innovate, and grow the game of football." Cool cool cool.
This new relationship shouldn't affect the CFL's 2021 season, which is still first priority. Players are set to report to training camp in May.
But the XFL's relaunch is on the line. The inaugural season was scheduled to start in spring 2022, but that's been put on hold pending further discussions with the CFL. Interesting...
The future: So, what does this partnership actually mean? With the CFL dealing with increasing financial issues, initial thoughts include the two leagues playing against each other like conferences, but the leagues haven't given us any concrete plans or timelines just yet.
That said, there are some pretty big differences between the two. Canadian football is played on a bigger field, with bigger balls, from June to November.
The XFL, on the other hand, is a February to April league that mostly follows American rules. And in classic Canadian fashion, our lil old league may have to conform to the American way if it wants to survive.
🏀

NBA All-Star Game in Review

March 08, 2021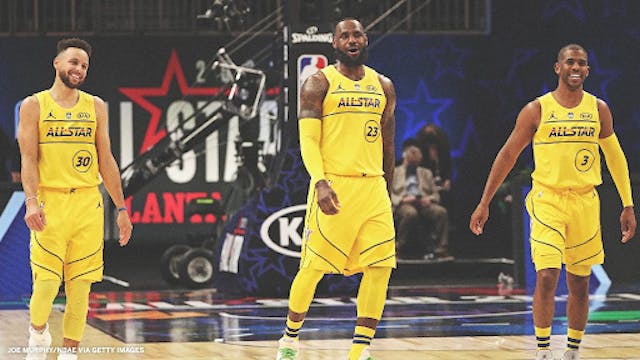 Source: Sportscenter/Twitter
Pre-game drama: Many players (and us) about an ASG in the middle of a pandemic, and what happened on Sunday shows exactly why. Just hours before the event began, All-Stars Joel Embiid and Ben Simmons were due to COVID-19 contact tracing, which may also affect their eligibility to play for their team, the Philadelphia 76ers, in the coming days.
On top of that, the NBA also sent out over 200 cease-and-desist orders to organizers around Atlanta for using NBA and ASG logos for unsanctioned parties planned over the weekend.
The festivities: Instead of a full weekend, like usual, the NBA condensed all the fun into a few hours yesterday. They started with the — won by Indiana Pacer Domantas Sabonis — then moved to the always-exciting three-point contest, where Golden State Warrior Steph Curry .
Team LeBron won the ASG itself, 170–150, over Team Durant, and Portland Trail Blazer Anfernee Simons took home the . Fun times , but let's get back to the real stuff now, shall we?
🏒
🏊‍♀️
⛳
🏆
The GIST's Quick Hits: March 8
March 08, 2021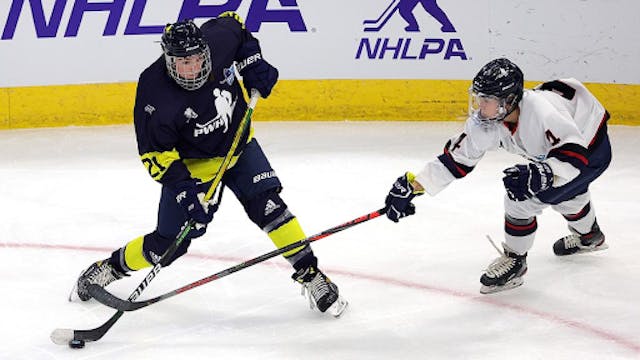 Source: NHL.com
🏊‍♀️Swimming: Katie Ledecky is back on the podium. After a year out of the pool (because of COVID-19), Ledecky returned for the TYR Pro Swim Series and won four titles in four days. Fellow Team USA swimmer and founding member, Simone Manuel, also won her event. Our Olympic fever is heating up.
🏒Hockey: The PWHPA's Dream Gap Tour had another successful weekend, with Team Minnesota winning both games over Team New Hampshire. No future stops on the Tour have been announced yet, but we're sure we'll get some good news soon.
⛳️Golf: Bryson DeChambeau won this weekend's Arnold Palmer Invitational. Cool. But what really impressed us was his monstrous , following up to his 370-yard drive on Saturday (for reference, the in the PGA is 295 yards). He officially entered #BeastMode.
🥊 Boxing: Claressa Shields made history this weekend as the first boxer (male or female) to become the undisputed world champion in two different weight classes. The historic moment came after Shields, of Flint, Michigan, handed Canadian Marie-Ève Dicaire her first-ever loss. Sting like a bee.
🤼‍♀️ MMA: Speaking of two-class champs, Amanda Nunes (pronounced NOON-EZ) continued her reign as queen of the octagon on Saturday with a submission win over Megan Anderson. With the win, Nunes defended her featherweight title and still holds her bantamweight championship belt.
🏒
🏈
Remembering Walter Gretzky and Chris Schultz
March 08, 2021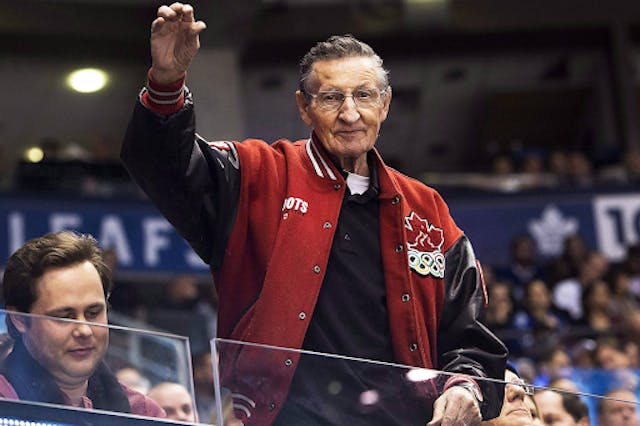 Source: Nathan Denette/Canadian Press
🏒Walter Gretzky: Affectionately known as "Canada's hockey dad," Walter was the father of the great Wayne Gretzky and the single most influential figure in Wayne's hockey career. Introducing Wayne to the game at age three, Walter also coached minor league teams in Brantford, ON and had a significant role in the development of minor hockey in Canada.
🏈Chris Schultz: News emerged of NFL and CFL star Chris Schultz's sudden death early Friday. Schultzy spent three seasons in the NFL, as one of just a handful of Canadians drafted into the league in the '80s, before returning to Canada to play for the Toronto Argonauts for nine seasons.
What Schultzy will likely be remembered for best was his time as football analyst on TSN. Standing at 6'8", his gentle giant persona, intricate knowledge and deep passion for the game endeared him to fans. RIP.
Women's sports progress report
March 07, 2021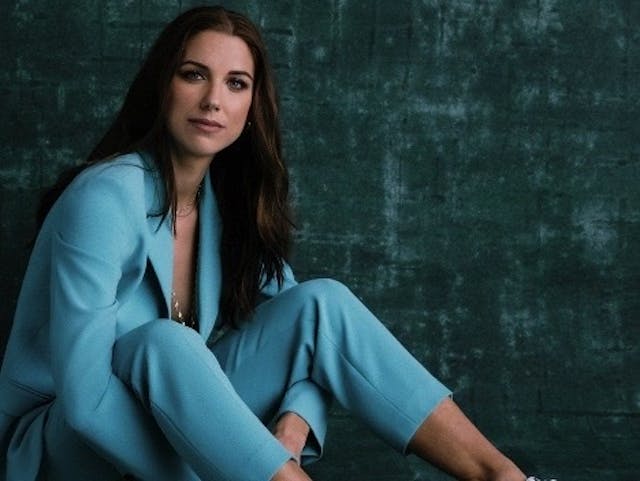 Source: Togethxr/ Twitter
QUOTE OF THE DAY
"I always think about what kind of future I want for her in terms of feeling like she belongs, whether that's in the sports community or not."
– USWNT star Alex Morgan, on her daughter being her motivation behind Togethxr, a new female-focused sports media and commerce company created by Morgan and fellow Olympic gold medalists: swimmer Simone Manuel, snowboarder Chloe Kim and WNBA guard Sue Bird. Welcome to the fam, Togethxr! Now let's level that playing field, shall we?
💪 Showing up and showing out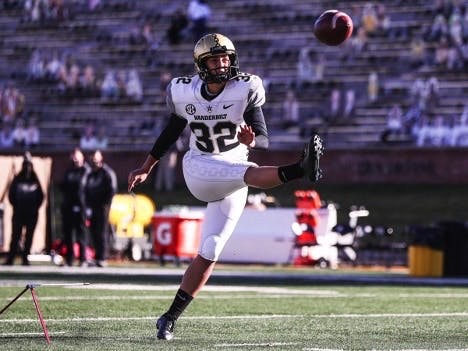 From football firsts to social justice leadership, the women who sweat it out on the court, on the field and even on top of a mountain said, "Watch us work," — and boy, did we enjoy the show.
🏈Just six days after leading Vanderbilt to an SEC championship in soccer, Sarah Fuller took her fútbol talents to the gridiron and became the first woman to play in a Power Five conference college football game.
Two weeks after that, Fuller also became the first woman to score in a Power Five conference game, notching an extra point against Tennessee. We're here for all of the football herstory.
🏀Players of the WNBA made this past year count beyond the box score. From trendsetting to inspiring social justice and political leadership, the players of the W continued to set an unparalleled example of what a pro league should be.
After several instances of police brutality against Black individuals came to light last summer, the W led strong efforts for awareness and dedicated their seasonto Breonna Taylor and the #SayHerName campaign.
Several players from the league, including Natasha Cloud and Renee Montgomery, even opted out of the season to focus on social justice efforts in their communities. Walking that talk.
👚And we can't talk about the WNBA's year without mentioning fashion. First, orange became the new black with the viral #OrangeHoodie. And later — after the W helped flip the U.S. Senate — the "Vote Warnock" shirts became another must-have item. We love a good sports and politics crossover.
🧗‍♀️And to top it all off, professional rock climber Emily Harrington made more herstory by becoming the first woman to free-climb (!!!) the Golden Gate route of El Capitan in less than a day. Ain't no mountain high enough for women in sports.
🏈🏀⚾️ Shot callers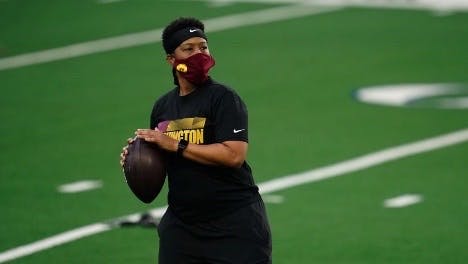 Women also called more shots this past year, creating several firsts and new records on the sidelines and in the boardroom, spanning several sports.
🏈Football: In January, Jennifer King was promoted to be a full-time assistant coach with the Washington Football Team, making her the first Black woman to hold a full-time coaching gig in the NFL.

Earlier in the season, King joined Cleveland Browns chief of staff Callie Brownson and NFL official Sarah Thomas for a #FootballIsFemale moment, marking the first NFL game that featured a female coach for both teams and a female official.
The 2020 playoffs saw six of the league's eight female coaches on the sidelines. And Tampa Bay Buccaneers coaches Lori Locust and Maral Javadifar became the first female coaches to win a Super Bowl. All they do is win.
🏀Basketball: In December, Becky Hammon became the first woman to serve as an NBA head coach after San Antonio's Gregg Popovich got ejected in the first half of the Spurs' battle with the Los Angeles Lakers.
And earlier that month, Stanford head coach Tara VanDerveer surpassed Pat Summitt to become the winningest head coach in DI women's basketball history with 1,099 (!!!) career wins.
⚾️Baseball: Women made more strides in the dugout this past year, too. In November, the Miami Marlins hired Kim Ng as the first female (and first person of East Asian descent) to serve as general manager in MLB history.
In January, Bianca Smith became the first Black female coach in pro baseball after she was hired by the Boston Red Sox. Keep swinging for those fences.
✍️ Pull up a chair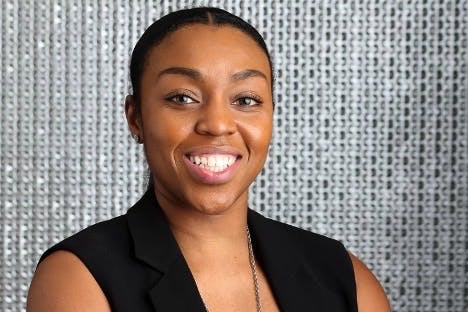 Ownership also saw more women at the table. From getting in on team ownership to building their own companies, women of the sports world shook things up in this male-dominated industry. As they say, if there are no seats at the table for you, make your own chairs.
⚽️In the NWSL, high-profile names like tennis legend Billie Jean King, WNBA star Candace Parker and actress Natalie Portman jumped in on ownership opportunities for the 2022 expansion team Angel City FC last year.
And others in the sports, politics and pop culture worlds saw potential in the league too, feeling the Chicago Red Stars and Washington Spirit were hot ticket franchises to invest in. Are you sick of us saying "bet on women" yet?
🏀It was out with the old and in with the new for ownership in the WNBA. After former Georgia senator Kelly Loeffler sold her share of the Atlanta Dream amid pressure from players and fans, an investment group swooped in that included former Dream star Renee Montgomery.
With the purchase, Montgomery made history as the first former player to become an owner and an executive of a franchise in the W...and of her own former team, no less. It's the circle of life.
🤝We're in this Togethxr. Just in time for IWD, sports media and commerce company Togethxr was created by the kick-ass group of female Olympians we mentioned earlier as a response to the underrepresentation and lack of coverage of women's sports.
💵 Show her the money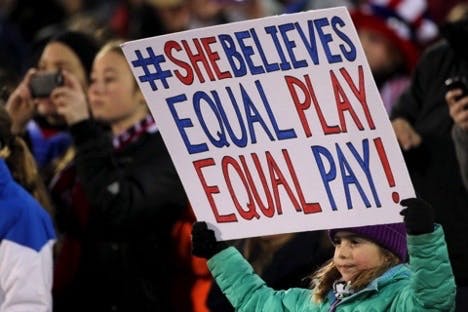 While we have recently celebrated wins in the fight for equality in women's sports, there is still a long way to go before true equity is achieved across the board.
⚽️One group that continues to lead the charge in the fight for equal pay is the USWNT. Unfortunately, in May 2020, a federal judge sided with the US Soccer Federation (USSF) in the wage discrimination lawsuit filed by several members of the team, citing the USSF did not violate the Equal Pay Act and dismissed the case...for now.
The team did, however, see some action go their way regarding working conditions after reaching a settlement with the Federation in December.

If we know one thing about this team, it's that they rarely lose. Expect to see more efforts in the months to come.
🏀And players in the WNBA made money moves history with a groundbreaking collective bargaining agreement (CBA) that guarantees increased salaries, better travel conditions, paid maternity leave and mental health resources. Part of the agreement also included revenue sharing.
NBA players receive about 50% of their league's revenue, while WNBAers only saw 20%, so the W agreed to a 50-50 split, provided the league achieves its target revenue in 2021.

After their success in increasing viewership during 2020 in the "Wubble," we'd say there's a pretty good chance that they're on their way to meeting those goals.
↗️ The road ahead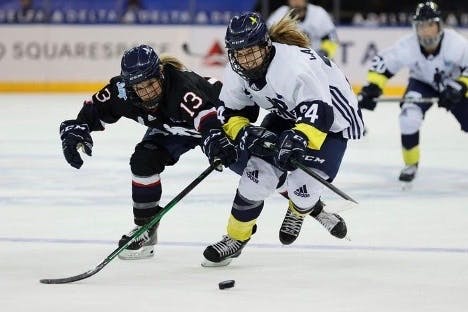 In 2020, only 4% of sports media coverage went to women's sports. Unfortunately, this stat has not seen a real change in quite some time, perhaps due in part to the lack of women covering sports, with only 14% of sports journalists being women.
📺Getting women's sports on more screens and in more headlines is a much-needed change in order for women's leagues and athletes to earn more money, and for young girls to see sports as a viable, well-paying career.
👥Women continue to do it all. Not only do we create opportunities for ourselves, but women continue to fight for better circumstances for the next generation of athletes. But substantial change will only come when the men get on board, too.
In an industry that has continuously proven to have an influence on society, it's important that we hold the sports world to a high standard of equity and inclusion.

After all, equality in sports will only make the industry and the competition better for everyone.