🏀

Trading places

February 06, 2020
The GIST: It's trading season! And no, we're not talking about trading stocks. The NBA trade deadline is today at 3 p.m. ET.
Remind me, what's a trade deadline?: It's the last time in a season that teams are able to trade players. That said, teams are still allowed to sign free agents.
And why does it exist?: To encourage competition and keep competitive balance among teams before playoffs start in April. By February teams kind of know which teams will likely be in the playoffs (like the Milwaukee Bucks), which teams are on the cusp (like the Memphis Grizzlies), and which teams won't make it (like the Cleveland Cavaliers). So today, expect some trade activity as playoff-contending teams try to add some top talent for their playoff push.
Got it. Who's been traded already?: After days of speculation, on Tuesday, the Houston Rockets pulled off a mega-deal involving four (!!!) different teams. Houston moved starter Clint Capela and Nene Hilario to the Atlanta Hawks and Gerald Green to the Denver Nuggets. In return, the Rockets received Robert Covington and Jordan Bell from the Minnesota Timberwolves.
The Nuggets also received three other players and the Wolves acquired four, bringing the number of total players traded to 12. Talk about dizzying.
Anyone else?: Former Golden State Warrior turned Memphis Grizzly Andre Iguodala (pronounced EE-GOO-DA-LA) is officially heading to Miami to play with the Heat, with Memphis getting Justise Winslow in exchange. Iguodala hadn't played for the Grizz all season as he was holding out to be moved to another team.
Actually though. The 36-year-old veteran has been living in California (not close to Memphis) and was willing to miss the entire season if he wasn't traded, which obviously rubbed his teammates (especially star rookie Ja Morant) the wrong way. Drama.
Wow. So what can we expect today?: A new-look NY Knicks squad. Sitting at 13th in the Eastern Conference, look for them to send a couple of players packing in return for some future prospects.
🏈

Comeback Kings

February 03, 2020
The GIST: For the first time in 50 years, the Kansas City Chiefs are Super Bowl champions after defeating the San Francisco 49ers 31–20 last night in Miami!
Quick, fill me in: It was a pretty close, nail-biting, back-and-forth game that came down to the wire. The San Francisco 49ers held a 10-point, 20–10 lead heading into the fourth quarter (thanks to star running back Raheem Mostert's touchdown) and looked like they had the win within their grasp. But, as we know, no lead is ever safe.
After throwing his first two career postseason interceptions, Kansas City quarterback Patrick Mahomes bounced back and led his team to 21 unanswered points in the fourth quarter to get the win. In every postseason game this season, Kansas City came from behind to win, solidifying Patty as the ultimate comeback kid. There's truly no give up in this guy.
So, was he the best player last night?: We think so. Mahomes' heroics made him the youngest quarterback to win a Super Bowl and the NFL MVP award (which he won last season). If that's not a reason to go to Disney World, then we don't know what is.
Wow! Anything else?: The real MVP should go to KC's head coach Andy Reid, who ended the streak of most career wins without a Super Bowl title (at 221, wild) and finally got a well-deserved Gatorade bath after 21 years as an NFL head coach. Doesn't get any better than that, baby!
🏆

Best of the rest

February 03, 2020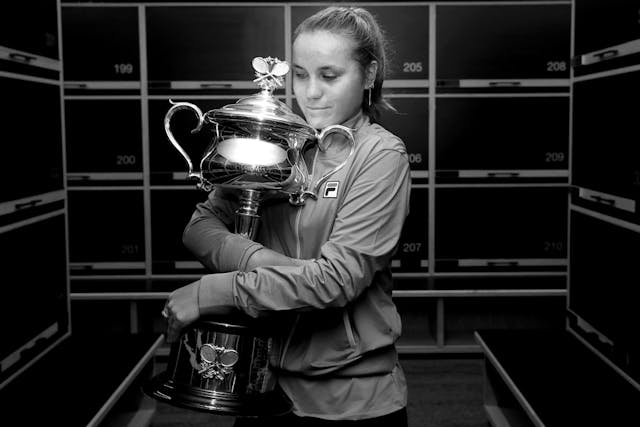 Australian Open: The Super Bowl wasn't the only championship match played this weekend. The Australian Open, the first Grand Slam event of the tennis season (the others being the French Open, Wimbledon and the US Open), officially came to a close with two monster matches. In the women's final on Saturday, 21-year-old American Sofia Kenin beat Spaniard Garbiñe Muguruza to win her first-ever Grand Slam title. And get this: it was also the first time Kenin had ever played in a Grand Slam final! From what we saw, it definitely won't be her last.
In yesterday's men's final, living legend Novak Djokovic (pronounced JOKE-OH-VITCH) held off the young gun Dominic Thiem (pronounced TEAM) in a five-set nailbiter to win his record eighth Aussie Open title and 17th (!!!) career Grand Slam. With the come-from-behind win, Djokovic is now World No. 1 and the first man to win a Grand Slam title in three different decades. Cool, no?
Soccer: Our Canadian women continue to LIGHT. IT. UP in the CONCACAF Women's Olympic Qualifying tournament. Team Canada put on another showcase this weekend, beating Jamaica 9–0 in the second of three group-stage matches. Jordyn Huitema (pronounced HEIGHT-AH-MAH), the teenage phenom from BC, scored five goals (like, how?!) and Janine Beckie recorded a hat trick.
Captain Canada Christine Sinclair sat this one out, but she'll have another chance to extend her lead as the world's top goal-scorer of all time (yasss queen!) when they take on Mexico tomorrow night at 6:30 p.m. ET in the final group-stage match. The semifinals (which Team Canada will definitely be playing in) are set for Friday.
Rugby: Apparently team sports are, like, our thing? On top of soccer, Canada had a wild weekend at the women's HSBC World Rugby Sevens Series tournament in Sydney, winning their third silver medal of the season. Team Canada has medalled in four of the five events this season, putting them in third place in the standings with just three events left. Oozing with pride!!
Basketball: The Toronto Raptors have straight up forgotten how to lose. With the help of NBA All-Stars Pascal Siakam, Kyle Lowry and head coach Nick Nurse, the boys from the #6ix won their 11th straight game yesterday, defeating the Chicago Bulls 129–102 and tying the franchise record for longest win streak. About that 2020 energy, baby!
🏈

Whenever, Wherever

February 03, 2020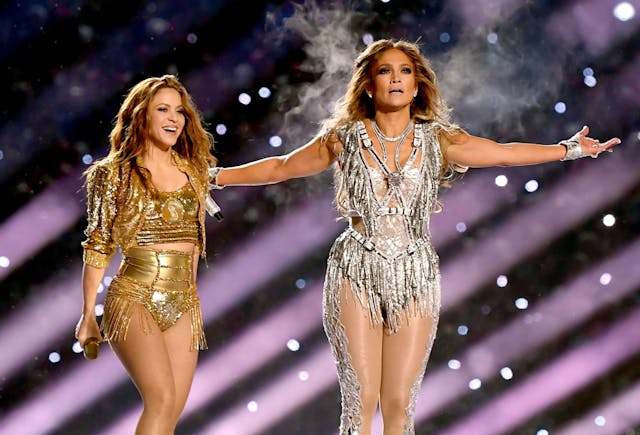 The GIST: After last year's unmemorable Super Bowl halftime show, Shakira and Jennifer Lopez were under big pressure to bring us a good show. And hot damn, did they deliver!
Shakira, Shakira: The Colombian queen kicked off the show in some v. practical footwear with "She Wolf," before giving us a medley of her biggest hits, including "Whenever, Wherever" and "Hips Don't Lie" (which ended in an epic stage dive!). Yesterday was Shakira's 43rd birthday and she belly-danced her way around that stage like she was 23. We're still gagging over it.
Jenny from the Block: JLo, who is FIFTY YEARS OLD (ahem, can we please have their skin-care routine?), picked up right where Shakira left off, with a Hustlers-inspired performance, and our jaws are literally still on the floor (seriously, how is she 50?!). While she was pumping out bangers like "Love Don't Cost a Thing" and "Waiting for Tonight," we were googling "JLo hair inspo."
Collab of the century: These two together were legen — wait for it — dary. Seeing them shake it to "Waka Waka," channel Cheer and rock out to "Born In The USA" with Shakira on drums and JLo and her daughter, Emme, on vocals was the most Girl Power performance we've seen in a while. Lucky for us, we can relive it over and over again.
Our take: We need these two every year. EVERY. YEAR. Surprisingly, we're actually fine that they didn't really perform together. Each gave us totally different vibes but paid homage to their Latina roots and kept us dancing the whole time. This is the halftime show that people will be talking about for years and one that they will compare all future halftime shows to. Good luck to whoever has to follow up on this act next year.
Oh, and a quick shoutout!: To one of our faves, Demi Lovato. She killed the pregame national anthem. She's had a rough go the past few years, and we're so happy to see her looking and sounding amazing. The girl's got pipes!
🎾

Crikey, that's good tennis!

January 30, 2020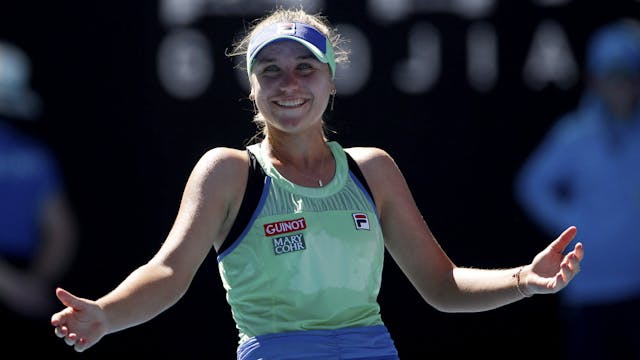 The GIST: Believe it or not, we're almost down to the final matches of the Australian Open — the first grand slam tennis tournament of the season!
What's up with the women?: The stage is set for Saturday's finals with Sofia Kenin taking on Garbiñe Murguruza. How'd this happen? Well, last night, or we guess early this morning, World No. 1 and Aussie-standout Ashleigh Barty took on No. 14 American Sofia Kenin, with Kenin upsetting Barty in straight sets. Meanwhile, Simona Halep was also upset by Garbiñe Murguruza in straight sets. TBH, we didn't see these two upsets coming, but you have to love an underdog story.
And how about the men?: Two of the biggest names in tennis history, Roger Federer and Novak Djokovic (pronounced JOKE-OH-VITCH), played their semi in the wee hours of this morning with Djokovic completely dominating Fed also in straight sets. We guess straight-set energy was in the air last night?
As for the other semifinal, Alexander Zverev (pronounced SVAIR-EV) and Dominic Thiem (pronounced TEAM) take the court on Friday at 3:30 a.m. ET. And this match could get interesting — Zverev has quietly beasted the competition on the way to his first Grand Slam semifinal, but Thiem upset Spanish legend Rafael Nadal in the quarter-finals. Tricky, tricky.
Who will win it all?: You can never be too sure in sports, but our bet would be on young-gun 21-year-old Sofia Kenin to win her first Grand Slam title and that Djokovic will walk away with his second-straight, and record eighth, Aussie Open.