🏈

Nacho average football game

January 30, 2020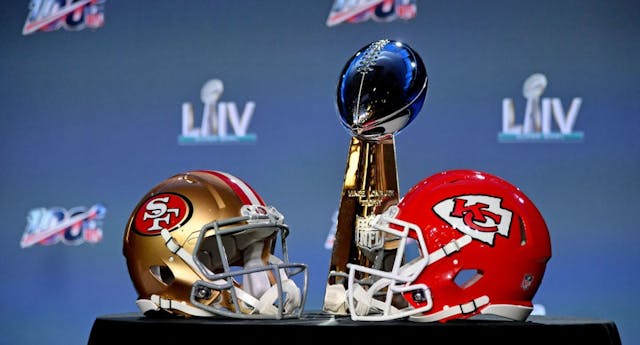 The GIST: The Big Game is right around the corner! Here's #thegist of Super Bowl LIV (that's fancy-speak for 54).
First, tell me when the game is: Action kicks off on Sunday, February 2nd, at 6:30 p.m. ET. And if you're not lucky enough to be at the Hard Rock Stadium in Miami, Florida, you can find out where to watch here.
Great! Now who's playing?: The high-flying Kansas City Chiefs (who won the American Football Conference, aka AFC, and are heading to their first SB in 50 years) will play against the top-ranked defense of the San Francisco 49ers (who ran away with the National Football Conference, aka NFC).
Even though San Fran is basking in their reclaimed dominance, KC really wants this one for their head coach's legacy. KC's Andy Reid is one of the most accomplished head coaches in NFL history, but he's missing a Super Bowl win. It's also been 15 years since his last chance at a title, so we're guessing the boys will be pretty motivated to get Reid his celebratory cheeseburger.
So, who will win?: These two teams can't be a closer match, with San Fran finishing the season at 13-3 and KC at 12-4. KC is just a one-point favorite to win, which basically means even the oddsmakers have no clue who TF is going to take this one. The one thing we can guarantee? Quarterbacks Patrick Mahomes (KC) and Jimmy Garoppolo (San Fran) will both have to bring their A-games if either one wants to pull out a victory.
What about the halftime show?: Who would be more perfect headliners in the American capital of Latin music than Jennifer Lopez and Shakira? Nobody. And our hips words don't lie when we say their performance might be what we're anticipating most.
Anything else?: Don't forget that herstory will also be made when 49ers offensive assistant coach Katie Sowers becomes the first openly LGBTQ+ and female full-time coach to get to the NFL's biggest stage. Cheers to shattering not one, but two glass ceilings!
Want more?: We thought you would. Our special edition launch podcast is all about the Super Bowl. Click here to get The GIST of It.
⚽

Just kickin' it

January 30, 2020
The GIST: The CONCACAF (Confederation of North, Central American and Caribbean Association Football) Women's Olympic Qualifying tournament is underway in Texas. Yes, you read that right: this tournament, which runs until February 9th, decides the Olympic fate of each squad. Not, not anxiety-inducing.
How it works: The teams are split into two groups of four: Groups A and B. After each team plays every team in their group, the top two from each group advance to the semifinals, which are played in California.
And winning the semifinal is a BFD, as the top two teams from the tournament clinch a spot in this summer's Olympic Games in Tokyo! No pressure.
What's happened so far: Our Canadian Women's National Team (CANWNT) is off to a fire start in Group B, beating Saint Kitts and Nevis 11–0 (no, really) in their opener. But the real story is that our Captain Canada, Christine Sinclair, scored her 185th international goal to break Abby Wombach's all-time international scoring record for both women and men.
Yes, the world's greatest goal-scorer, in the world's most played and most popular sport, is CANADIAN and we are so goddamn proud. What's next? Saturday's tilt with Jamaica at 5:30 p.m. ET. Click here to find out where to watch.
🏆

Bits and pieces

January 20, 2020

NBA: On Wednesday, , the most anticipated No. 1 draft pick in years, will finally step onto the court. The and now New Orleans Pelican was supposed to miss only six to eight weeks after having knee surgery the day before the season began, but like most things in life, his recovery took a little longer than anticipated. Let the games begin!

NHL: Snow is in the air and so is winning, apparently. Most of our Canadian teams picked up v. impressive wins over the weekend: the Edmonton Oilers beat the Arizona Coyotes 7–3 thanks to two goals from superstar , the Ottawa Senators ended the Calgary Flames' six-game win streak with a 5–2 victory, the Montreal Canadiens edged out the Vegas Golden Knights 5–4 in a shootout and the Vancouver Canucks move to first place in the with a 4–1 win over the San Jose Sharks.

Figure skating: The 2020 Canadian Tire National Skating Championships took place over the weekend and there were definitely some shake-ups: and (who could be Canada's next ) reached new heights, winning their first national pairs ice dancing title, and 20-year-old upset two veterans (including the men's defending champ ), but it was a in the women's event that stole the spotlight.
🎾

A land down under

January 20, 2020

The GIST: The season's first Grand Slam tennis tournament, the Australian Open, has officially begun. Aussie, Aussie, Aussie, Oi, Oi, Oi!

Remind me how this works: Not a problem. The Australian Open is the first of four Grand Slam events — the others being the French Open, Wimbledon and the US Open — and unofficially kicks off the tennis season. The Aussie Open began January 19th (January 20th in Australia, because they live in the future) and will run until February 2nd with the men's and women's singles champions taking home $4.12 million each. Talk about a pay day.

Got it. So who won last year?: Young Japanese-American phenom and Serbian legend (pronounced JOKE-OH-VITCH). And both are returning in good form to defend their titles — Osaka has won 14 of her last 15 matches, while "" is coming off six straight wins at the and is looking to win his record eighth Australian Open. Now, that's no laughing matter.

Who else should I be watching?: On the women's side, French Open and Finals champ Ashleigh Barty is Australia's best chance for a . And then, of course, there's the Queen, . Serena won the Aussie Open in 2017 while she was pregnant (!!!), is working towards a record-tying 24th Grand Slam singles title and is coming off her first WTA win (the Auckland Open) since having her daughter.
And speaking of the Williamses: 15-year-old standout beat again, in two straight sets, six months after defeating the seven-time Grand Slam champ at Wimbledon. The youngest woman in the tournament could now face Osaka in the third round, or Queen Serena herself in the quarterfinals. This is going to get good!
And on the men's side?: You always have to keep an eye out for Spaniard and extraordinaire (who's won 19 Grand Slams) and all-time great Swiss (who's won a men's record of 20 Grand Slams).
Osaka, Barty, Serena, and Federer all won their first-round matchups, while Djoković is currently playing and Nadal's first-round match is tonight.
And what about our Canadians?: Our girl is out and didn't qualify. BUT we're so excited to announce a new Canadian to watch: 17-year-old . The 213th world-ranked Montreal native will play in her Grand Slam tonight, so be sure to tune in!
🏈

The final countdown

January 20, 2020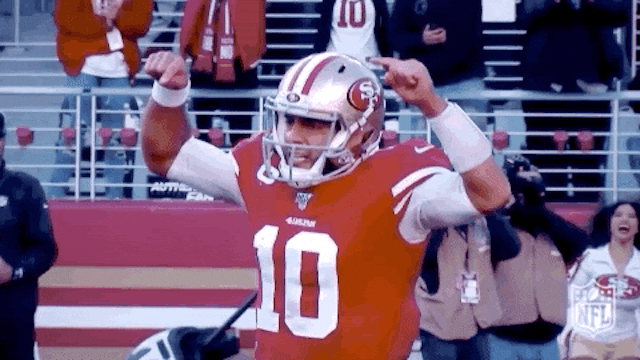 The GIST: The stage is set for Super Bowl LIV (that's 54), with American Football Conference (AFC) champs Kansas City Chiefs and National Football Conference (NFC) champs San Francisco 49ers going to the Big Game!

Exciting! What went down in the AFC Championship?: The Chiefs topped the Tennessee Titans to qualify for their first Super Bowl in 50 years! This game went back and forth for a while (and, fun fact, included the to ever catch a playoff touchdown pass), but thanks in part to the of quarterback (QB) , Kansas City ran away with it in the second half.
And how about the NFC?: The 49ers absolutely dominated on their way to a win over QB Aaron Rodgers and the Green Bay Packers. The Packers tried to mount a fourth-quarter comeback, but San Fran's defence (led by a Richard Sherman) was just too difficult to crack.
So what's next?: The Super Bowl, of course! The Chiefs and 49ers will face off in two weeks on February 2nd in Miami, Florida (Cue Will Smith's ""), for all the marbles, aka the Trophy.