🎾

Guide to Tennis

May 26, 2021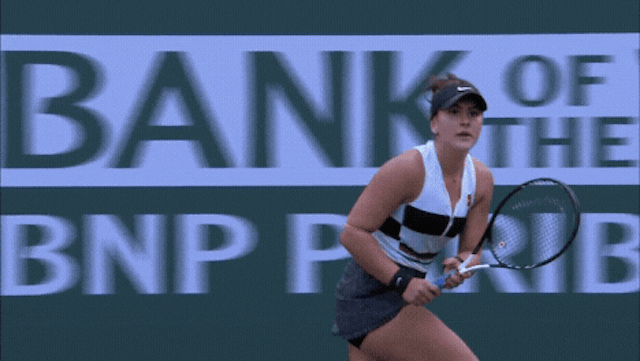 The GIST
Today, tennis is a racquet sport that is played individually or in doubles. Tennis is played on a court — grass, clay or hard surface. The point of the game is to hit the tennis ball over the net so that the opponent can't return the ball. Points are awarded when one player isn't able to get the ball back over the net.
Scoring tennis is a bit weird and wacky. Each match is made up of sets made up of games. That's where the phrase 'Game, Set, Match' comes from! The score of each game goes from zero (called love), to 15, 30 and finally 40. If the game is tied 40-40, that's called deuce, and players have to win two straight points (the first is called advantage) in order to win the game. Get full details on scoring here.
How is it organized?
Men play under the ATP (Association of Tennis Professional) and women play under the WTA (Women's Tennis Association). Each league hosts tournaments throughout the world and throughout the year, but the most important are the 'grand slam' events, also called majors, which are the Australian Open, French Open, Wimbledon and US Open. These events get the most media attention, have the highest payouts, attract the best players and offer the most ranking points (i.e. are the most important to becoming No. 1 in the world).
The most prominent of the majors is Wimbledon which is played in London, England every July. Wimbledon started more than 125 years ago and is played on a grass surface, which makes the game move a lot faster. Wimbledon also has a strict dress code where players must wear only white, a tradition dating back to the 1800s when players were concerned with inappropriate sweat stains showing on clothing. Yup, you read that right.
The best of the best
Although tennis might be old school at heart, it is the only mainstream sport that pays out women and men equal prize money in grand slam tournaments and, for the most part, gives males and females the same airtime on TV. The U.S. Open was the first of the majors to award equal prize money in 1973, while the oldest tennis tournament in the sport's history, Wimbledon, didn't reach that milestone until 2007.
Some of the best in the world on the women's circuit include Romania's Simona Halep, Japan's Naomi Osaka, Australia's Ashleigh Barty and our very own Canadian star Bianca Andreescu! However, the number one in our hearts is superstar American Serena Williams, who blew us away by climbing back into the Top 10 of the WTA rankings after being OOO while she was pregnant with her first baby, Alexis Olympia Ohanian Jr.
Prior to giving birth, Serena dominated the courts as the world record holder for the most Grand Slam wins across female singles and doubles play! You may also recall Serena absolutely slaying in Beyonce's "Sorry" music video. And did we mention that she was pregnant when she won the Australian Open in 2017? Like WHAT!?
On the men's side, being the best in the world continues to be a three-way battle between Switzerland's Roger Federer, Spain's Rafael Nadal and Serbia's Novak Djokovic (pronounced JOKE-OH-VITCH). But Federer is often touted as the best male tennis player of all time with 20 Grand Slam titles. Off the court, he's a total gentleman and remarkably has two sets of twins!
What about Canadians?
We have to give it up to our girl Bianca Andreescu, who took the tennis world (and our hearts) by storm in 2019. She became the first Canadian to win the Rogers Cup (a tournament held in Toronto and Montreal) since 1969 and then became the first Canadian EVER to win a grand slam, beating Serena Williams (!!!) in the U.S. Open final in September. This helped her skyrocket to a career-high ranking of No.4 in the world. Get. It. Girl.
On the men's side, our best men's competitor is Milos Raonic (pronounced RAU-NITCH), who's highest career ranking was No. 3 in the world. Recently, he's found himself in injury trouble and hasn't been in top form. Also, look out for young stars Denis Shapovalov and Felix Auger-Aliassime who continue to impress.

Don't get The GIST's twice-weekly newsletter yet? Let's make it email official.
🏎
⛳
🎾
Sports Quick Hits: Monday May 24th, 2021
May 25, 2021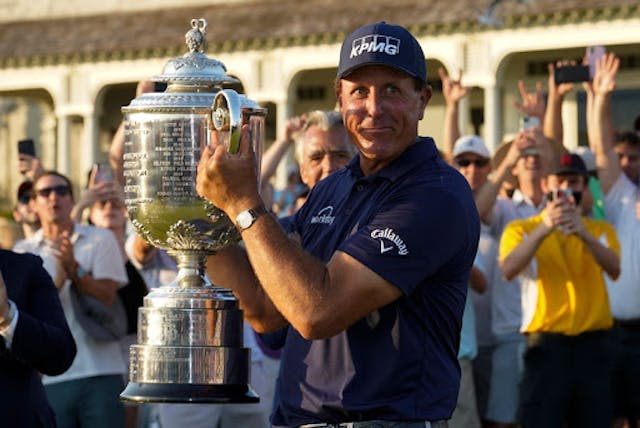 Source: Matt York/Associated Press
⛳️Golf: As we mentioned at the top, Phil Mickelson proved age is just a number yesterday with his second-career PGA Championship win. Not only is he the oldest player to win a major, he's just the fourth to win one in four separate decades. Congrats, Lefty! Now let's get you some .
🏎️F1: Red Bull's Max Verstappen won yesterday's Monaco Grand Prix to take his first-ever lead in the . Meanwhile, seven-time world champ Mercedes' Lewis Hamilton wasn't feeling it in Monaco, finishing in a disappointing seventh as he and Verstappen continue their for the title.
🎾Tennis: wasn't the only one showing out for Gen Z this weekend. On Saturday, 17-year-old Coco Gauff notched her first career singles title on clay while . Perfect timing before next week's French Open. Très bien.
What's not très bien? Fellow Gen Z Denis Shapovalov dropping out of Roland Garros (aka the French Open) with a . C'est dommage.
⚽
🏀
🎾
Quick Hits Canada - May 17th
May 17, 2021
Source: Jimmie48/WTA
🎾Tennis: After entering the event as substitutes when another duo pulled out, Canadian Sharon Fichman yesterday with her doubles partner Giuliana Olmos of Mexico. Molto bene!
🏀Basketball: Back to the Basketball HOF, so we can wax poetic about . The two-time NBA champ and 11-time All-Star is a Toronto Raptors legend after being drafted to the 6ix in 2003. And even though he in 2010, he still has a special place in Raps fans hearts.
⚽️NWSL: And while we're talking GOATs, let's revisit that stellar Portland Thorns win last night. Before it became wildly one-sided, Canadian legend Christine Sinclair of the game...and 50th NWSL goal of her career.
With that, she's now tied at second for all-time goals in the league with North Carolina Courage's Lynn Williams, and trails Sam Kerr by 17 goals. If anyone can top that, it's Sincy.
🎾
🏆
Quick Hits
May 13, 2021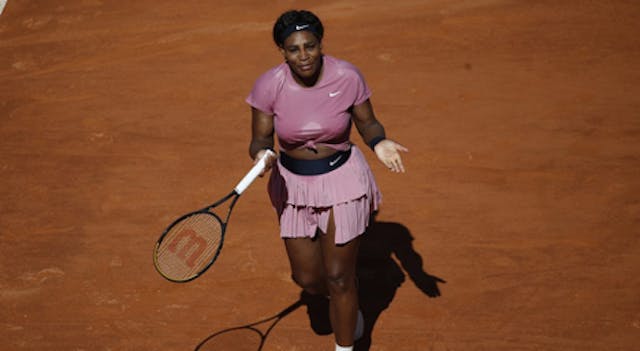 Source: Alessandra Tarantino/AP
🎾Tennis: Serena Williams has hit a new high. Yesterday's second round Italian Open appearance marked her 1,000th tour-level match, though the milestone didn't come with a win as she unfortunately lost to Nadia Podoroska.
Naomi Osaka also lost her second-round match, and defending champ Simona Halep retired in the second set of hers with an injury. Time for some gelato.
🏇Horse racing: Medina Spirit will run once more. The Kentucky Derby-winning, drug test-failing horse was given the all-clear to race in this Saturday's Preakness Stakes, the second race of the Triple Crown, but will undergo additional testing and monitoring throughout the weekend.
Meanwhile, trainer Bob Baffert has claimed that Medina Spirit's failed test was due to a steroid found in an antifungal cream used to treat the horse's dermatitis. We sincerely hope we never have to write that combination of words ever again.
💸Money: Forbes released their annual top 10 highest-paid athletes list, and unsurprisingly but still immensely frustratingly, there were no women included. At a heartstopping $180 million, MMA fighter Conor McGregor topped the list, which also included NBA star LeBron James, NFL quarterbacks Tom Brady and Dak Prescott and F1 driver Sir Lewis Hamilton.
The most interesting inclusion on the list is tennis star Roger Federer, who made less than $30,000 from playing tennis last year (he's been injured since early 2020), but around $90 million in endorsements. Money pwease.
🎾
🏀
🏒
🏆
Let's get down to business
April 29, 2021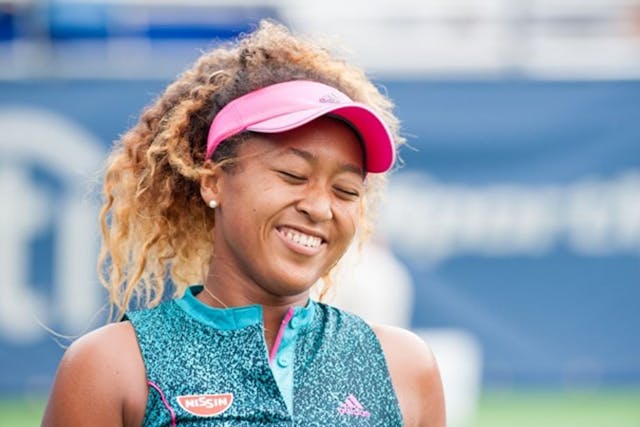 Source: Rena Schild/Shutterstock
🎾Naomi Osaka: The four-time grand slam champion is expanding her empire. Osaka announced yesterday that she's collaborating with Frankies Bikinis on a brand new bathing suit line set to launch in May, and she is also launching a new SPF-loaded skincare line for melanated skin tones. #StayGolden
🐊Gatorade: Sports drink companies are picking up what we've been laying down for years: Bet. On. Women. Gatorade recently created a (very stacked) women's advisory board to help deepen their connection with female athletes, while also holding them accountable in delivering against their guiding pillars. HYFR.
🏀NBA: TIME revealed their first-ever TIME100 list of the most influential companies on Tuesday, and the NBA was named as the top "Leaders" brand, thanks to their global growth. Eight sports-related brands made the list, but only one other sports league was featured: the English Premier League, highlighted for its exemplary broadcasting rights. Jolly good!
🏒NHL: They might not be NBA-level yet, but the NHL is working on growth, too, starting with broadcasting. After 16 years, they've cut ties with NBC to triple their revenue in a new seven-year deal with Turner Sports, and have already signed a deal with ESPN. It'll mark the first time since 1999 that the NHL has two American broadcast partners. Double rainbow.