⛳

NIL: Rose Zhang inks deal with Adidas

June 01, 2022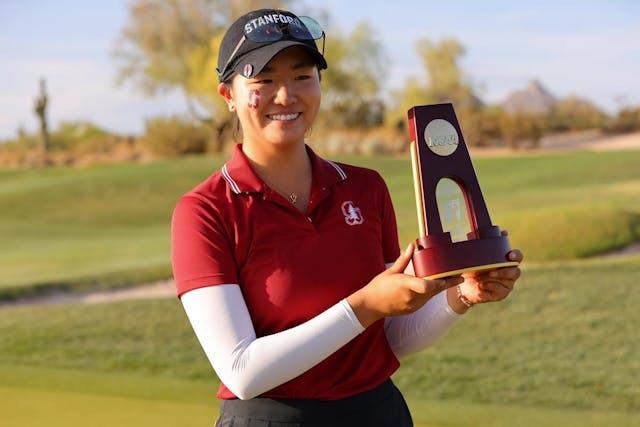 SOURCE: C. MORGAN ENGEL/NCAA PHOTOS VIA GETTY IMAGES
The GIST: Fresh off winning last week's NCAA championship, Stanford's Rose Zhang has another reason to celebrate. The golfer inked a name, image and likeness (NIL) deal with Adidas yesterday, making her the first student-athlete on the sportswear giant's roster. Hole in one.
The details: Given Stanford's agreement with Nike, Zhang's deal with Adidas only exists outside of school events. That said, Adidas won't have to wait for the world's No. 1 amateur golfer to sport its iconic three stripes — she tees off tomorrow in the U.S. Women's Open.
Zooming out: While endorsement dollars for LPGA Tour players are on the rise, women's college golf rakes in just 0.2% of overall NIL compensation. However, Adidas' and Nike's recent moves in the space demonstrate the collegiate-level opportunities, even for brands with broader appeal (as opposed to companies that court wealthy audiences).
Adidas' decision to work with Zhang also spotlights how golf is growing. Girls made up 35% of junior golfers last year — up from just 15% in 2000 — and more than a quarter of them come from BIPOC communities. Inclusion for the win.
⛳

LPGA: U.S. Women's Open tees off

June 01, 2022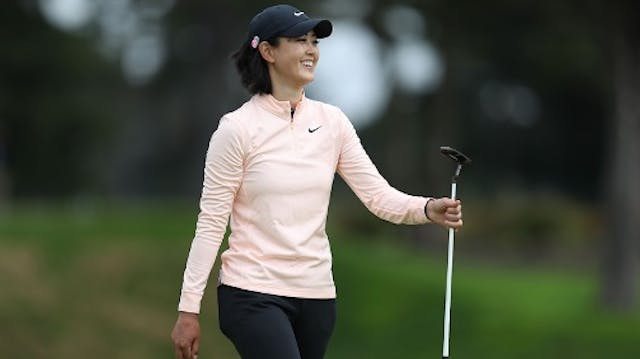 SOURCE: GOLF CENTRAL/TWITTER
The GIST: Forget The Match, the U.S. Women's Open — the LPGA's second major of the year — tees off tomorrow from Southern Pines, North Carolina, with a record-setting $10 million purse on the line. Cha-ching.
The top storylines: A return to the tour and an imminent farewell are dominating the headlines ahead of tomorrow's tourney start. American and world No. 2 Nelly Korda will play her first event since February after taking time off due to a scary blood clot.
The top contenders: With a different winner at each LPGA event this season, the field is wide open at Southern Pines. World No. 1 Jin Young Ko is the favorite and will be looking for her first major win since 2019.
Other golfers to watch include world No. 4 Minjee Lee, who is fresh off a victory at last month's Founders Cup, and defending U.S. Open champ, world No. 15 Yuka Saso.
An up-and-comer to keep an eye on? Rose Zhang, who just wrapped up her freshman year at Stanford by winning the NCAA individual title, a team national title and inking Adidas' first-ever NIL deal. Impossible really is nothing.
⛳

LPGA: Amundi Evian Championship increases purse by $2 million

May 18, 2022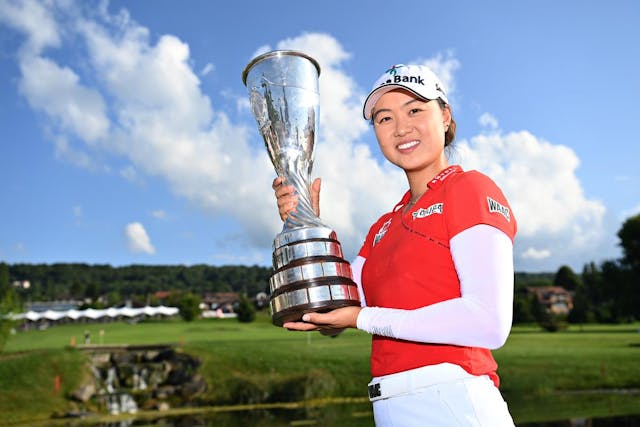 SOURCE: STUART FRANKLIN/GETTY IMAGES
The GIST: LPGA golfers are about to get paid. Adding to the cash influx flowing into women's golf, the (recently renamed) Amundi Evian Championship — one of five LPGA majors — announced Tuesday it is increasing the July tourney's purse.
The context: Overall 2022 tour prize money stands at $90 million, up from $67 million in 2019. High-level sponsors have been stepping up — most recently, health care company ProMedica pitched in a $4.5 million increase to June's U.S. Women's Open prize pool, topping out the purse at a cool $10 million.
European asset management company Amundi became the title sponsor of France's Evian Championship last year. It doubled down in April on its support of women's golf by partnering with three athletes — Rose Zhang, Kaitlyn Papp and Agathe Laisné.
The details: The major's kitty is increasing by a formidable $2 million, bringing the overall prize money to $6.5 million. The champion's share will be $1 million, up from the $675K Minjee Lee took home after winning last year's edition.
Zooming out: Brands like Amundi and accounting firm KPMG, the title sponsor of the Women's PGA Championship, are reflective of the Tour's usual partners, in that they target high-net-worth individuals. Per sponsorship intelligence platform SponsorPulse,* 39% of those who engage with the LPGA earn over $100K a year.
⛳

PGA Championship: Woods vs. Mickelson rivalry intensifies

May 18, 2022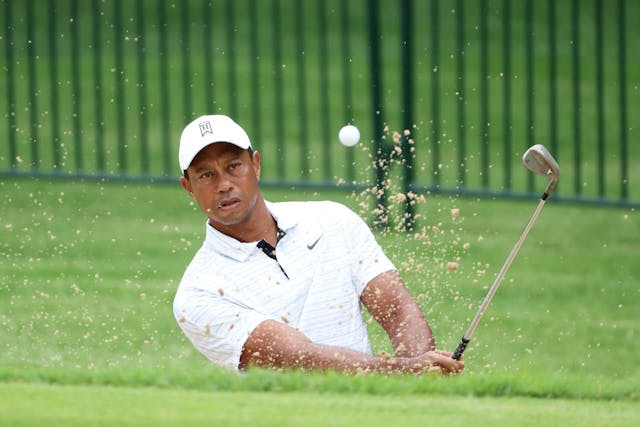 SOURCE: CHRISTIAN PETERSEN/GETTY IMAGES
The GIST: The PGA Championship — one of four majors in men's golf — tees off tomorrow, but the biggest story is the shots being taken off the course. And they say golf is boring.
The context: There won't be a repeat winner this year, after defending champ Phil Mickelson withdrew from the tourney last Friday. The reason? His fall from grace over the last year, lowlighted by his boneheaded comments about the Saudi Arabian–backed Super Golf League, an (attempted) league to rival the PGA.
Tiger Woods — whose comeback will continue tomorrow when he competes in his second major of the season — denounced Mickelson's actions yesterday, only intensifying the duo's long-standing rivalry.
The field: As for the on-course action, Jon Rahm, fresh off his Mexico Open win earlier this month, and Masters champ Scottie Scheffler are the favorites to hoist the Wanamaker Trophy. Other top contenders include a handful of previous PGA Championship winners in Rory McIlroy, Justin Thomas and Collin Morikawa.
Also in contention? Woods — surprising, but he's only become stronger since his triumphant return at last month's Masters. Watch out.
⛳

2022 Masters results

April 11, 2022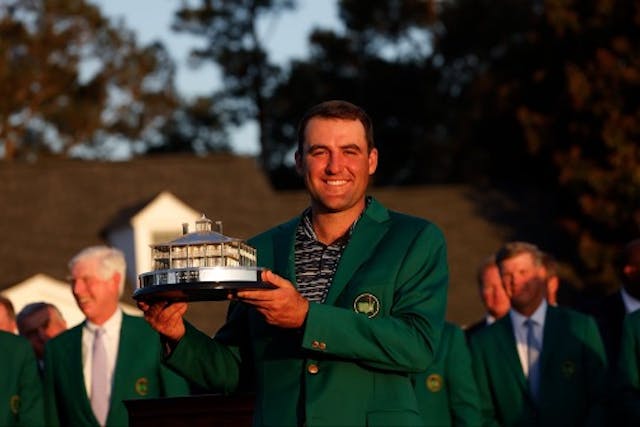 THE MASTERS/TWITTER
The GIST: Come for Tiger's return, stay for the first-time winner. World No. 1, 25-year-old Scottie Scheffler is your 2022 Masters champion — his first-ever major title.
How Scottie did it: The 2020 PGA Tour Rookie of the Year, Scheffler already had the golf world on notice after rattling off three wins in his last five starts. And that dominance continued at the Masters as Scheffler fought off a late push by second-place finisher Rory McIlroy to win by three strokes, his fourth tour win in 57 days. Green looks good on you, Scottie.
As for our Canadian contenders, Corey Conners finished tied for sixth, the best finish for a Canadian at the Masters since Mike Weir finished fifth in 2005. Proud.
Zooming out: Though he finished in 47th place, this 86th edition of the Masters will undoubtedly be remembered for Tiger Woods' miraculous comeback. Less than 14 months after shattering his leg in a life-threatening car accident, Woods returned to one of the most challenging tournaments on the PGA Tour, made the cut and played all 72 holes.
Yes, his legacy is a complicated one, but Woods' impact on the sport is indisputable. The youngest-ever Masters winner, this latest accomplishment is yet another in Tiger's inspiring career. The best part? He's not done yet.