⛳
🏀
World No. 304 Wins AIG Women's Open, Taurasi Receives Foul for Inappropriate Language
August 24, 2020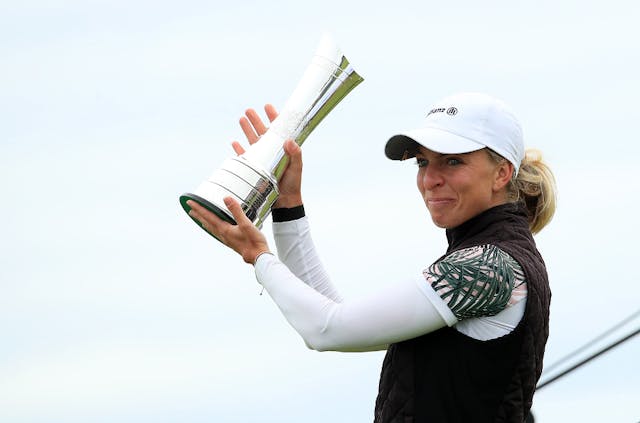 AIG WOMEN'S OPEN/TWITTER
LPGA: You should always expect the unexpected in golf...but we did not expect this. Yesterday, No. 304 world-ranked Sophia Popov made history herstory when she won the first LPGA major of the season, the AIG Women's Open (aka the British Open), making her the first female golfer (and second ever) to win a major from outside of the top 300.
Not only was it Popov's first major title, but it was her first ever Tour win too. And it gets better: she entered the tournament on a special-event qualifying pass, and just three weeks ago, Popov caddied in an LPGA event. Now, she's winning them. Maybe there's hope for our golf game too.
WNBA: Things are getting heated in the Wubble. WNBA GOAT Phoenix Mercury star Diana Taurasi has been caught using some unsavory language on the court lately, but she may have crossed a line on Friday.
After a particularly bad call in the Mercury's loss to the Minnesota Lynx, Taurasi was caught saying, "I'll see you in the lobby later," to an official. Not the best look. Of course, she picked up a technical foul for the threat.
⛳
🏀
🏆
Women's British Open Begins Today, Seattle Storm en Route to League Record, Athletes Unlimited to Introduce Women's Lacrosse
August 20, 2020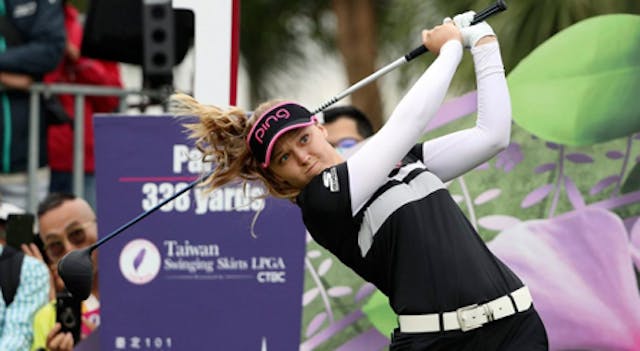 CHIANG YING-YING/AP
LPGA: This weekend belongs to women's golf, as the first major of the season gets underway today. The Women's British Open teed off early this morning at the legendary Royal Troon in Scotland, where most of the top golfers in the world are facing off once again.
While Americans Danielle Kang and Stacy Lewis have already notched wins in this stunted new season, this will be the first LPGA tournament since January for the Canadian phenom Brooke Henderson, a top contender who's looking to win her second major.

Unfortunately, world No. 1 Jin Young Ko and No. 3 Sung Hyun Park, both South Korean superstars, have opted out of the major, so it won't truly be the battle of the best we've been waiting for.
WNBA: Don't look now, but the league-leading Seattle Storm have won nine games in a row in the Wubble. Led not only by the legend that is Sue Bird, but also 2018 WNBA MVP Breanna Stewart, the Storm are halfway to setting a new league record.
The Storm can beat the 2001 Los Angeles Sparks' record of 18 consecutive wins if they win their next nine games, which actually seems feasible. Their 10th win should come tonight against the ho-hum Indiana Fever, but the real test will be the No. 2 Las Vegas Aces on Saturday. Follow their run here.
Lacrosse: We have some good news and some bad news. The bad news? The Women's Professional Lacrosse League (WPLL) has folded after just two seasons. The league, which also acted as a national development program, had to cancel its 2020 season due to the COVID-19 pandemic and wasn't able to recover. Sad.
The good news? Athletes Unlimited, a new organization of underrepresented sports leagues, is planning to introduce women's lacrosse as its latest venture (adding to softball and volleyball, which are already on the way), giving the WPLL players a chance to continue their careers on a national stage.
⛳
🎾
🏀
Lewis Wins Ladies Scottish Open, Andreescu Pulls Out of U.S. Open, The GIST Predicts a Western Conference Team to Win WNBA Championships
August 17, 2020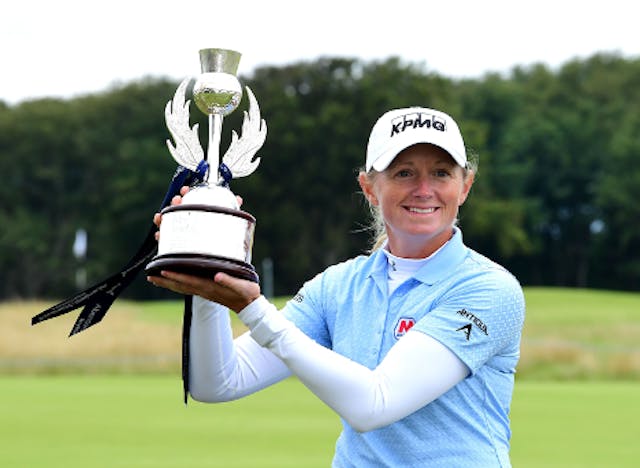 STACY LEWIS/TWITTER
LPGA: Yesterday's Ladies Scottish Open was decided by a four-way playoff (on brand for this overtime obsessed August) that saw new mom Stacy Lewis win her first LPGA tournament since giving birth to her daughter, Chesnee, in 2018. What a badass momma.
Tennis: Another player dropped out of the U.S. Open, and this one really broke our hearts. Last year's winner, Bianca Andreescu, has pulled out of the Grand Slam, which starts August 31st, meaning that neither of the 2019 champs will be there to defend their title this year. Classic 2020.
Last year's runner-up, the GOAT Serena Williams, is still in contention though, and we're desperately hoping it stays that way. She'll be looking for some sort of redemption after a super unexpected loss to world No. 116 Shelby Rogers in the Top Seed Open's quarter-final on Friday. Shake off the rust, queen!
WNBA: We're coming up to the midway point of the WNBA season (yes, already!) so we'd like to make a bold prediction right now: a Western Conference team will win the WNBA Championship.
You want proof? Of the six teams in the West, five have winning records, and the top four, led by the Seattle Storm, are also the top four teams in the league. The Storm are probably the top contenders, having lost just one game in 11, and also have the legendary Sue Bird leading them.

By contrast, only one of six Eastern Conference teams, the Chicago Sky — currently ranked 5th overall — have a winning record (7-4). Looks like the West Coast really is the best coast.
🏈
⚽
⛳
Danielle Kang Wins Two LPGA Tournaments, MLS is Back Tournament Heads to Final, Mid-American Conference Postpones Fall Football Season
August 10, 2020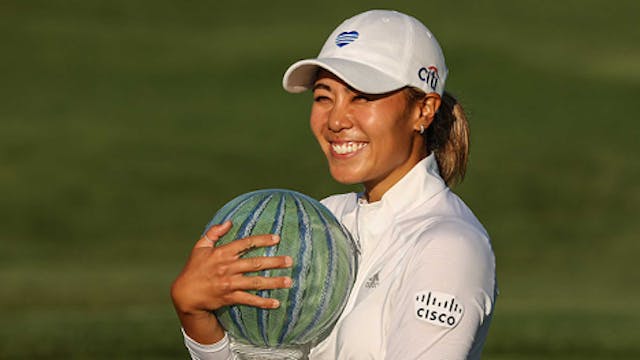 LPGA/GETTY IMAGES
Golf: Danielle Kang is a freaking powerhouse. The world No. 2 has won both tournaments since the LPGA's season restart: last weekend's Drive On Championship and yesterday's Marathon Classic. The LPGA's first major of the season, the AIG Women's British Open, is set for August 20–23rd, and all bets are on Kang.
Speaking of majors, yesterday, the first major of the PGA season, aptly called the PGA Championship, was won by 23-year-old Collin Morikawa. It was Morikawa's first major win in his second major appearance and his third Tour win in his v. short career. Kid's got game!
Soccer: With the MLS is Back Tournament's early COVID-19 issues, we had our doubts that this day would ever come, but here we are: just one day away from the final, between the Portland Timbers and Orlando City SC (SC stands for Soccer Club). There's no way we could've predicted these two as the finalists, but we're totally here for it.
And soccer's not going anywhere. The MLS has decided that the regular season, which will incorporate the results from the kickstart tournament into the season's standings, will — because there's not enough sports on right now — begin on Wednesday.
College Football: On Saturday, the Mid-American Conference (MAC) became the first FBS (Football Bowl Subdivision) conference to postpone its fall sports season. More players have also opted out of the 2020 season, either due to COVID-19 concerns or to focus on prepping for the next NFL Draft. What does this mean for the other conferences and the end-of-season bowl games? TBH, not sure.
Only time will tell if other conferences will follow the lead of the MAC. The Power Five conferences are moving forward with adjusted schedules for now, but that could change following a meeting of Pac-12 presidents tomorrow. Spoiler alert: This might be the most dramatic college football non-season yet.
🏒
⛳
🏀
🤸
NHL and LPGA Release Restart Dates, Duke University Hires New Basketball Coach, Gymnasts Speak Out on Abuse in the Sport
July 13, 2020
GETTY IMAGES
NHL: It's officially official: the NHL's restart will take place in Canada starting on August 1st, with the Eastern Conference playing in Toronto and the Western Conference in Edmonton. Now we just need to know which players are in and which are out.
Players have until 5 p.m. ET today to opt out of the season restart, and at least seven players have already taken that route. The Montreal Canadiens, however, are giving forward Max Domi — who has Type 1 diabetes, which increases the risks associated with COVID-19 — an extra 10 days to make his decision. Fair play, especially since three of his teammates tested positive in recent days.
Golf: The first LPGA major of the season is a go! The AIG Women's British Open is scheduled for August 20–23rd, albeit without fans, at the Royal Troon Golf Club in Scotland. Heid doon arse up!
Basketball: One of college basketball's highest-profile teams has a new coach. After Joanne McCallie announced that she would not be returning to coach Duke University's women's basketball team next season, the Blue Devils hired Kara Lawson, who's currently an assistant coach for the NBA's Boston Celtics, as her replacement.
Lawson is a 12 season WNBA vet, a WNBA champion and All-Star and an Olympic gold medalist. Lawson also played four seasons of college ball under legend Pat Summitt, so it's safe to say the Blue Devils are in great hands.
Gymnastics: Unfortunately, two very disturbing stories came out from the world of gymnastics this week. After the release of Athlete A, a Netflix documentary that highlights the USA Gymnastics (USAG) sex abuse scandal involving Larry Nassar, gymnasts in the UK have begun speaking out on the abuse they've encountered across the pond.
On Thursday, two of Britain's most decorated gymnasts, sisters Becky and Ellie Downie, released a joint statement on their sport's toxic culture, calling it "abusive" and "dangerous," and showing that what happened with USAG is not isolated, but a pervasive issue in the sport. As a result, British Gymnastics has launched an independent investigation.
And speaking of USAG, former USAG coach Terry Gray — who was suspended for two years by USAG and the US Center for SafeSport back in October — was arrested in Las Vegas on Friday and now faces up to 14 counts of lewdness with a child under age 14. Just disgusting. This has to stop.