🏀
🏒
⛳
Sports Quick Hits: June 17th, 2021
June 17, 2021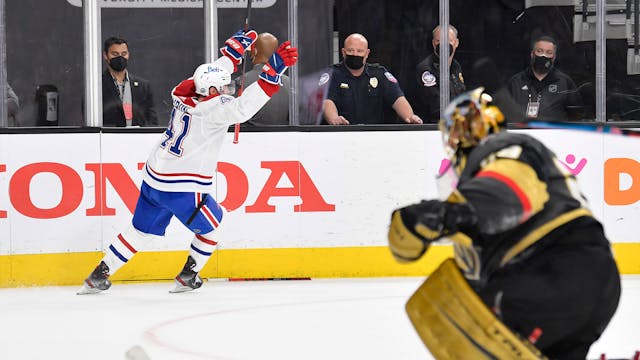 Source: Montreal Canadiens/Twitter
🏒NHL: Thanks to a perfect combo of and , the Montreal Canadiens are back in it. Last night's 3–2 win over the Vegas Golden Knights tied up the series 1-1, and the Habs have a chance to take the lead in Game 3, tomorrow night at 8 p.m. ET.
🏀WNBA: Not only has the W been off the court, the on-court action's just heating up. On Tuesday, Sue Bird on the all-time three-pointers list. Meanwhile, the race is still tight with under a month remaining. And, lucky for us, 10 of the league's 12 teams play tonight. and tune in.
⛳️Golf: Oh, you want more drama? We got you. Check out yesterday's , including all the tea on the spiciest golf feud since . And then tune in to today's live coverage on TSN to watch Canadians Corey Conners, Adam Hadwin, Mackenzie Hughes and Taylor Pendrith vie for their first majors.
⛳

Men's U.S. Open Preview

June 16, 2021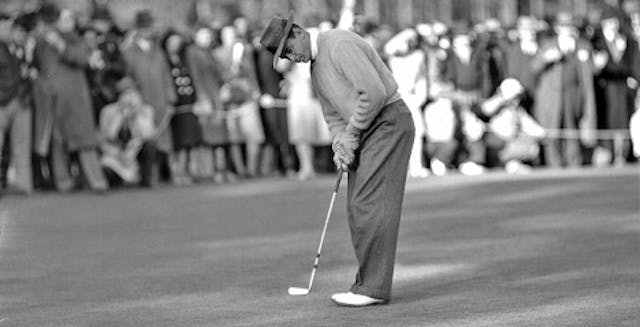 SOURCE: CAROL W. MARTIN/GREENSBORO HISTORICAL MUSEUM
QUOTE OF THE DAY
You not only have to be good, but you also have to have two horseshoes up your rear end. You've got to be lucky to win the U.S. Open.
—Seven-time major winner and four-time U.S. Open runner-up Sam Snead, who apparently was always horseshoe-less.
⛳️ The set-up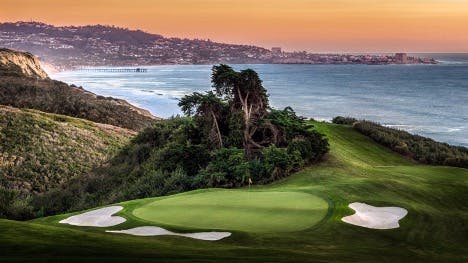 The U.S. Open is the third of four majors in men's golf, held annually on Father's Day weekend in June. This is the 121st edition of the event, and unlike the Masters, which is hosted every year at the same course (Augusta National in Georgia), the U.S. Open travels from sea to shining sea, showcasing the most challenging courses in the country.
This year's tournament will see 156 golfers — including seven amateurs and nine previous winners — vying for a piece of the $12.5-million prize pool, a $2.25-million winner's check and a shiny trophy.
All golfers will tee off in groups of three today and tomorrow, and the top 60ish who make the cut will continue on to the weekend rounds before the champion is crowned on Sunday.
🥊 The reigning champ...and his biggest rival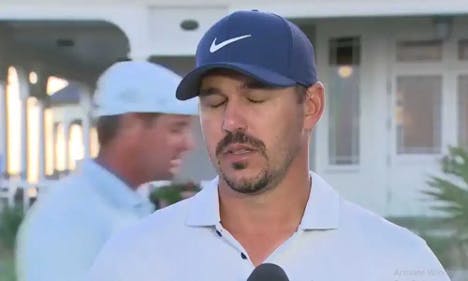 🇺🇸Bryson DeChambeau: Usually known for his flat cap and nerdy scientific approach to the game, the 2020 winner is making news lately for his un-golf-like public feud with Brooks Koepka (pronounced KEP-kah), which seems to stem from Koepka's annoyance at DeChambeau's methodical slow play on the course.
DeChambeau already has a PGA TOUR win under his belt this year — the Arnold Palmer Invitational — but since then, he's been hanging out in the middle of the leaderboard and living rent-free in Koepka's head.
🇺🇸Brooks Koepka: The 2017 and 2018 U.S. Open winner has ridden the press train these days, soaking up the meme-fueled media attention, but has also played pretty well on the course too. He won the Phoenix Open in February and came second at the PGA Championship (also a major) in May.
🏆 The other major winners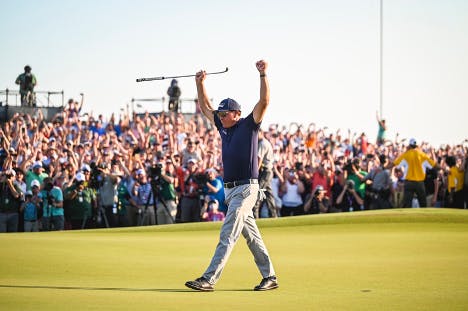 🇺🇸Phil Mickelson: The 50-year-old known as "Lefty" shocked the sports world when he won the PGA Championship last month, becoming the oldest major winner in history. The U.S. Open is the only major missing from Mickelson's trophy case, and having finished as the runner-up six times, it's very possible he'll win his first ever this weekend to finally complete the career Grand Slam.
🇯🇵Hideki Matsuyama: The man from Japan inspired a nation earlier this year at the Masters when he became the first Japanese golfer to win a men's major. Like Phil, the U.S. Open has remained elusive for Matsuyama, and his best finish was second place in 2017. Maybe having a green jacket on his shoulders will help propel him this time?
🇮🇪Shane Lowry: Technically, he's the reigning British Open (also known simply as The Open) champ, but he actually won in 2019 given last year's event was canceled. Still, the world's 40th ranked golfer has been playing great lately, tying for fourth at the PGA Championship and sixth at the Memorial Tournament.
🏌️‍♂️ The contenders
🇪🇸Jon Rahm: The golf gods giveth, and the golf gods taketh away. The Spaniard was on fire at the recent Memorial Tournament, with a six-stroke lead after three rounds. Then, he was told on the 18th green that he had COVID-19 and was forced to withdraw. It was heartbreaking to watch the new dad cry on the course, so we're hoping this will be a better weekend.
🇺🇸Jordan Spieth: After winning three majors early in his career, Spieth spent the last few years in a lull, but after "reverse engineering" his swing (whatever that means) he broke his drought with a Valero Open win in April and has notched seven top 10 finishes already this season.
🇺🇸Collin Morikawa: With a season to rival Spieth's, Morikawa has six top 10 finishes this year, including a win at the World Golf Championships, and a runner-up position at the Memorial Tournament. He's also not new to winning majors, having won last year's PGA Championship, despite only turning pro just two years ago.
🇬🇧Rory McIlroy: Despite being a four-time major winner (including the 2011 U.S. Open), it's been an up-and-down few years for the Northern Irishman. He missed the cut at the unofficial fifth major, the Players Championship, in March and at the Masters in April, but won May's tough Wells Fargo Championship.
🙈 The no-shows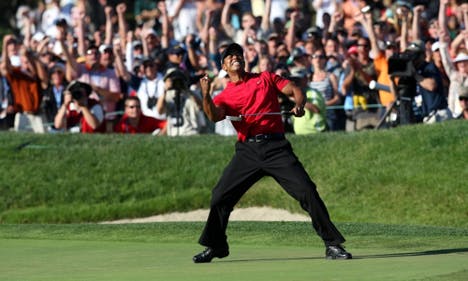 If you can't find your favorite golfer on this week's leaderboard, it might be because he's not actually playing. To make the field, the U.S. Open requires players outside of the top 60 to play in qualifiers, and this year, big names like Rickie Fowler and Jason Day didn't qualify. Better luck next year.
And of course, Tiger Woods is still out of contention as he recovers from his car accident injuries. NBC tried to get him in the broadcast booth for the event, but he "didn't want to do it." Fair.
👀 How to watch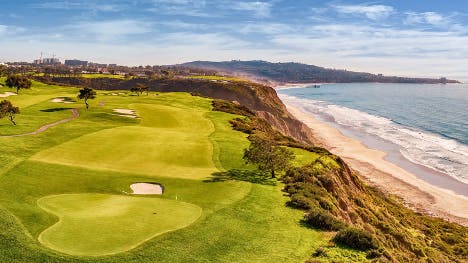 Because it's a biggie, all the action over the next four days will be broadcast live. Coverage will air on Peacock, NBC and Golf Channel in the U.S. and TSN and Golf Channel in Canada. Tee times will be released today, so check them out here and enjoy the 121st U.S. Open!
⚽
🤸
⛳
🎾
Sports Quick Hits: June 7th, 2021
June 08, 2021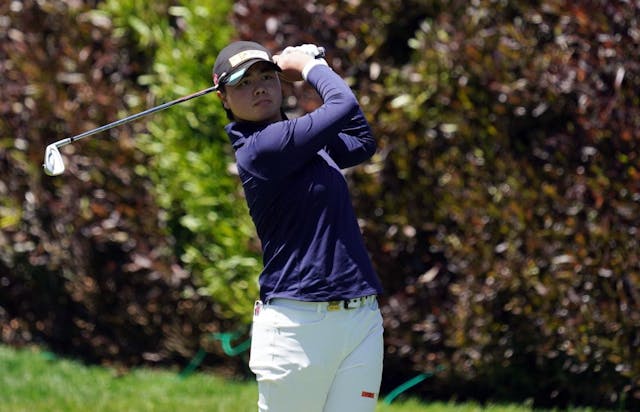 Source: Kyle Terada/USA TODAY Sports
⛳️Golf: With a and a , we definitely thought the U.S. Women's Open winner was going to be a ...but instead, it was Yuka Saso of the Philippines — at the ripe old age of 19 — who won it all in a three-hole , in tournament history. The kids are alright.
🎾Tennis: There go the greats. Serena Williams lost her fourth round match at the French Open yesterday, and Roger Federer, who just came back from a knee injury, after a grueling third round, four-set winner on Saturday. We weren't ready for goodbyes.
🤸‍♀️Gymnastics: The GOAT . Last night, Simone Biles won her , the most all-time by a female gymnast. No surprise here.
⚽️NWSL: The Orlando Pride celebrated the start of Pride Month by continuing their undefeated season yesterday, with a 1–1 draw against the Washington Spirit. The zero-to-hero Pride also continue to , after spending the last two seasons near the bottom. The whole league now gets and will return to the pitch June 19th.
🎾
⛳
🏒
Sports Quick Hits: Thursday June 3rd, 2021
June 03, 2021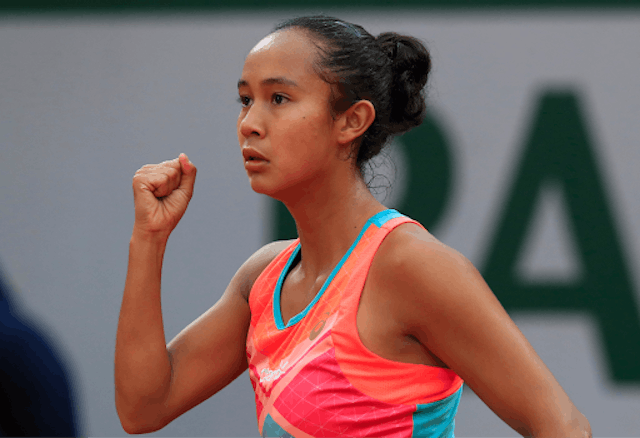 Source: Michel Euler/AP
🎾Tennis: As excited as we were for the French Open to start, we're not as psyched five days in. , Bianca Andreescu and Felix Auger-Aliasime lost their first round matches, and Leylah Annie Fernandez dropped her second round match yesterday.
Luckily, Fernandez and Gaby Dabrowski, as well as recent Italian Open winner Sharon Fichman (alongside partner Giuliana Olmos of Mexico) are still alive in the doubles contest.
⛳️Golf: Let's hope things are better for our Canadians in this weekend's U.S. Women's Open. Brooke Henderson leads the pack of four Canucks looking to win the season's second . Get and then check out their tee times .
🏒Hockey: Calgary has gotten a head start on its hot girl summer. Not only is the city hosting Team Canada's women's hockey Olympic training camp, but yesterday, it was announced as the host of August's IIHF Women's World Hockey Championships. Bring. It. On.
⛳

U.S. Women's Open Preview

June 02, 2021
SOURCE: ROBERT WALKER/USGA
QUOTE OF THE DAY
It's a wonderful feeling to win this championship. Once was wonderful. To win it twice was more than wonderful.
—Annika Sörenstam, the third-winningest golfer in LPGA history, who won the U.S. Women's Open three straight times. Wonder how wonderful that third win was?
⛳️ The set-up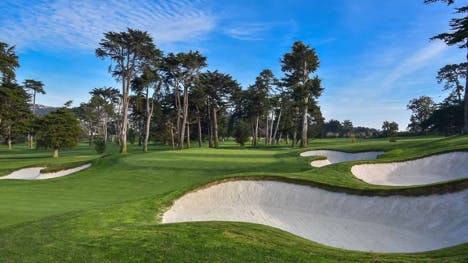 After last year's event was postponed from its usual date in June to December due to COVID-19, the 2021 tournament is now back in its rightful summer spot. Can you feel that Gemini energy?
Established in 1946, the U.S. Women's Open is the oldest of the five LPGA majors, and the second of the season, after April's ANA Inspiration. LPGA tournaments are usually four-day competitions, meaning the U.S. Women's Open winner will be crowned Sunday.
This year's field is made up of 156 of the world's best golfers who will tee off at the Olympic Club in San Francisco, California, all in the hunt for the Harton S. Semple Trophy...and a cool $1 million.
And while we'd love to predict a winner now (betting on women is kind of our thing), if the LPGA has taught us anything, it's to expect the unexpected...
🏆 The reigning champ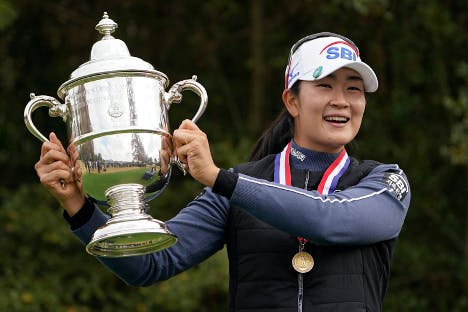 Kim A-lim, South Korea: The Korean rookie came from behind to win the 2020 U.S. Women's Open, largely thanks to three straight birdies to end her final round. Not only was it her first major win, but it was her first pro win ever on the LPGA Tour.
Since that December win, she's entered six tournaments and made the cut in just three, though her top 10 finish in April's Lotte Championship was pretty impressive.
🥇 The other major winners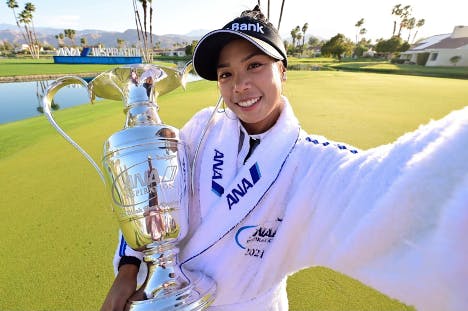 Patty Tavatanakit, Thailand: The only major played between this U.S. Women's Open and last year's was the ANA Inspiration in April, won impressively by Tavatanakit. Not only was it her first major win, but it was her first pro win ever on the LPGA Tour...wait, didn't we just say that?
Sophia Popov, Germany: The reigning Women's British Open champion has the ultimate underdog story. She entered the 2020 event ranked 304th in the world. Not only was it her first major win, but it was her first pro win ever on the LPGA Tour...okay, now it's just getting weird.
Kim Sei-young, South Korea: Since the 2020 Evian Championship cancelation, the only other reigning major champ from 2020 is Women's PGA Championship winner Sei-young. Although that was her first major win, she had already won 10 LPGA events before, so we'll stop with the déjà vu now.
💪 The contenders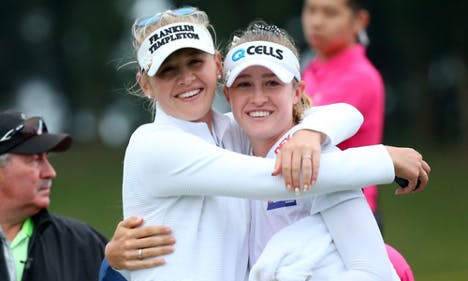 The Korda sisters, USA: We can't pick just one — both world No. 11 Jessica and No. 4 Nelly Korda are winners in our eyes and in the 2021 record books, having both won LPGA tournaments earlier this year.
Add to that eight other top 10 finishes between them this year and a healthy dose of sibling rivalry, and these two could be the most competitive golfers on the course this weekend.
Brooke Henderson, Canada: Henderson broke her two-year winless drought with a HUGEL-Air Premia LA Open win in April. She already has a major title on her résumé, the 2016 Women's PGA Championship, and we think it's time she doubles the tally.
Lydia Ko, New Zealand: After dominating the 2015 and 2016 seasons, the former world No. 1 and two-time major winner found herself in a lull for a few years...until now. The Kiwi won the LOTTE Championship in April while also recording four top 10 finishes since February. Can we call it a comeback?
🔢 By the numbers
Minus 16: The lowest recorded U.S. Women's Open score, set in 1999 by Juli Inkster in the first of her two victories.
4: The record for most career U.S. Women's Open wins, shared by Mickey Wright and Betsy Rawls.
19: Age of the youngest champ in tournament history, Inbee Park of South Korea, when she won in 2008.
39: The size of the field in the first U.S. Women's Open in 1946.
1,595: The number of entries (from eligible golfers who want to qualify) the USGA received for the 2021 event.
$5.5 million: The total prize purse for 2021, to be split amongst all players who make it past Friday's cut. Just for reference, the men's U.S. Open purse is $12.5 million. We've come far, but still have a ways to go.
🥰 Memorable moments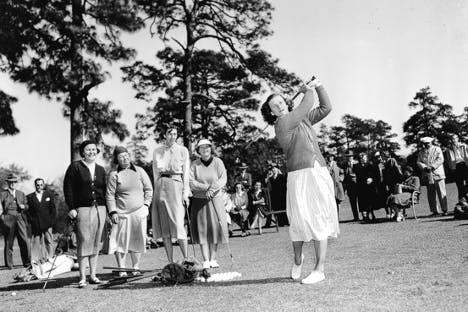 With every major, there comes the opportunity for another herstoric moment. Here are a few of our favorites over the last 75 Opens:
1954: At the age of 43, and just one year after battling cancer, Babe Zaharias became the oldest major winner. Sadly, she wasn't able to defend her title in 1955 when her cancer returned, and though she passed in 1956, her name will live on forever in U.S. Women's Open lore.
1998: They call it the win that inspired a nation. A relatively unknown 20-year-old from South Korea named Se Ri Pak won the title after three playoff holes, and her victory sparked a golf boom in her homeland. Deservedly, Pak became the first (and so far, only) Korean to be inducted into the World Golf Hall of Fame.
2014: Michelle Wie West had already set a wild number of records by the time she turned pro in 2005 at the age of 15, but it wasn't until 2014 that she finally won her most elusive victory: her first (and only, to date) major title.
👀 How to watch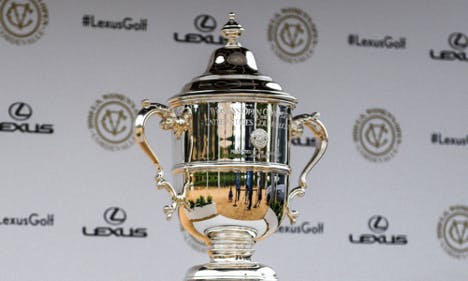 Before the action begins tomorrow, check out the full field and tee times here. Then set yourself up in front of a screen for the next four days, because the U.S. Women's Open will air live on Peacock and NBC in the U.S., TSN in Canada and the Golf Channel in both nations. Enjoy!