🏆
🏅
What you need to know about Olympic Skateboarding
July 21, 2021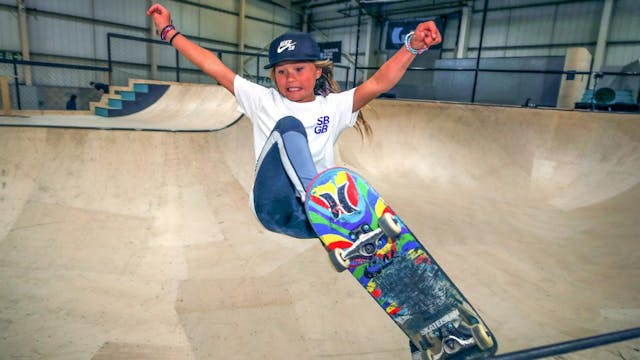 Source: Peter Byrne/PA WIRE
⚙️How it works: There are two disciplines in Olympic skateboarding: street and park. And while each has its own set-up, both are scored by a five-judge panel. The street course mimics an urban setting with steps, railings, curbs and benches, while the park course looks like a skate park, with slopes and walls (think empty swimming pool vibes).
Street boarding: In each round, 20 skaters will attempt five tricks and two runs before the top eight skaters advance to the final. The finalists will then take another two runs to prove their charisma, uniqueness, nerve and talent originality, ability and skill.
Park skating: Each of the 20 skaters has three, 45-second runs to show off as many tricks as they can, and will be judged on their maneuvers, flow and use of the course. And like street boarding, the top eight move on to the final round.
👀Who to watch: Thirteen-year-old skateboarding phenom will set a record as the youngest British Olympian ever when she competes in the women's park event. Just a year removed from a while training, Brown is ranked third in the world before her Olympic debut.
As for our Canadians, three B.C. natives will compete for the red and white: world No. 30 Andy Anderson in the men's park event, and world No. 10 Matt Berger and world No. 21 Micky Papa in men's street.
As for Team USA, 12 Americans will compete, including world No. 6 women's street skater Mariah Duran, and one of the highest paid skaters in the world and men's street 6-time world champion Nyjah Huston.
⏰When to watch:
⛳
🏀
🏎
🏆
Sports Quick Hits: Winners Edition - June 19th, 2021
July 19, 2021
Source: Keyur Khamar/PGA TOUR
⛳️Golf: Collin Morikawa made his Open Championship debut on Thursday and won the whole darn thing by Sunday. The oldest of the , and last of the men's golf season, the Open is challenging for North American golfers because of the , but the 24-year-old, who won the 2020 PGA Championship, won handily with a 15-under-par final score.
🏎F1: Less than a lap into yesterday's British Grand Prix, a between eventual race winner Lewis Hamilton (who recorded his 99th grand prix title) and rival Max Verstappen, who crashed into a tire wall and after a brief hospitalization. Hamilton was dealt a penalty and suffered following the race.
🏀NBA: The Milwaukee Bucks are one win away from their first NBA title since 1971. They beat the Phoenix Suns 123–119 on Saturday night to put them up 3-2 in the series. Game 6 is tomorrow at 9 p.m. ET and a possible Game 7 Thursday, just in time for Suns' Devin Booker and Bucks' Jrue Holiday and Khris Middleton to hop on a plane .
🚲Tour de France: The most grueling race in men's cycling is complete, and for the second straight year, 22-year-old Slovenian claimed the . The youngest two-time winner in Tour de France's 118-year history, Pogacar is also headed to Tokyo and is obviously a gold medal favorite in the men's road race.
🏆

No "sticking to sports" here

July 18, 2021
SOURCE: HUFFPOST/GIPHY
HELLO!
The official start of the 2020 Olympics is just five (!!!) days away. More on what we have up our sleeves for that tomorrow, but today we're breaking down the International Olympic Committee's (IOC) recent policy changes on athlete protests and how Olympians have made their voices heard in the past. Spoiler alert: No, "Shut up and dribble," here.
QUOTE OF THE DAY
I think things will happen. I don't know. No one could have told me what I was going to do in 1968 that day until a few moments before it happened.
— Gold medalist Tommie Smith, talking about athletes potentially protesting at the Tokyo Olympics. Smith, along with bronze medalist John Carlos, raised a fist at the 1968 Games — one of the most impactful protests in Olympic history. A true trailblazer.
📖 The background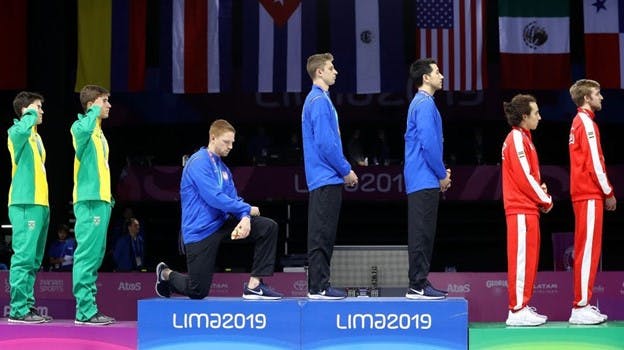 From wildcat strikes to rocking the vote, athletes have made their voices heard in unprecedented ways over the past year that will forever shape sports and social justice.
But in January 2020, prior to those movements and the COVID-19-induced postponement of the Tokyo Olympics, the IOC published guidelines specifying the forms of protest that would not be allowed at the Games.
The list of banned actions included taking a knee, hand gestures with political meaning, and "disrespect" at medal ceremonies, with a warning of punishment for any athlete who breaks the rules. Ugh.
Those guidelines reinforced Rule 50 in the Olympic Charter, which states: "No kind of demonstration or political, religious or racial propaganda is permitted in any Olympic sites, venues or other areas."
In a surprising move, the United States Olympic & Paralympic Committee (USOPC) pushed back against the IOC in a December 2020 announcement, calling for changes to Rule 50 and expressing support for peaceful protest.
A year after reprimanding athletes who protested at the 2019 Pan American Games, the USOPC shook-up the landscape with their change in stance. Is that hope we feel?
📝 The latest
Amid the global social justice movement in June 2020, many athletes, including the aforementioned Carlos, signed a letter asking the IOC to abolish Rule 50 altogether. Instead, on July 2nd, 2021 — three weeks ahead of opening ceremonies — the IOC issued Rule 50.2, relaxing the guidelines enforced under Rule 50.
Rule 50.2 now allows athletes to express their views in some places, such as in interviews and on social media. On the field of play, however, they can only do so "prior to the start of competition," meaning on-podium protests like Smith's are still banned.
Any protest deemed "targeted, directly or indirectly, against people, countries, organizations and/or their dignity," will be subject to disciplinary action, but it remains unclear what exactly that disciplinary action will be.
And while the IOC claims Rule 50.2"provides for the protection of the neutrality of sport at the Olympic Games and the neutrality of the Games themselves," we know sports and the Olympics have always been political.
✊ Politics and protest in the past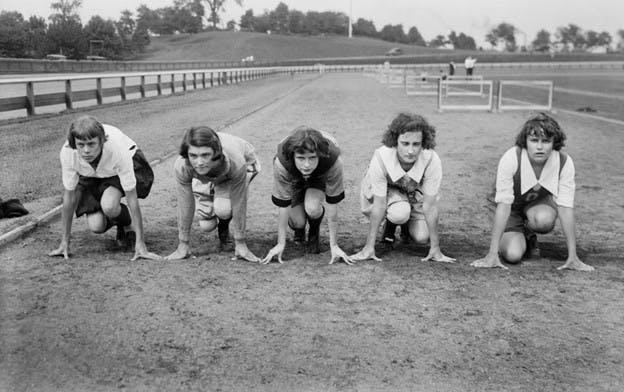 As we prepare for the Games to officially begin on Friday, it's important to remember the long history of protests at the Olympics. From entire nations boycotting to singular athletes taking a stand, let's take a look back at politics and protest on the international stage from years past.
Paris 1922: Angered that women were only permitted to compete in Olympic events deemed suitable for their "femininity and fragility," French rower Alice Milliat founded the International Women's Sports Federation in 1921, and by 1922, the first Women's Olympic Games was held in Paris. Milliat even has her own statue. Très bien.
Berlin 1936: Hosted in Hitler's Germany, the "Nazi Olympics" were a troubling example of the IOC's repeated complacency. After overcoming a nearly successful boycott, Hitler used the Olympics to spew Nazi propaganda. From swastikas adorning flags to athletes and spectators giving the Nazi salute, racist expressions and gestures were rampant.
U.S. track & field athlete Jesse Owens, a Black man, held his protest on the field of play, crushing Hitler's superior Aryan race theory by winning four gold medals in Berlin. Incredible.
Mexico City 1968: As we mentioned above, amid a year of turmoil in the U.S., American sprinters Smith and Carlos each raised a black-gloved fist on the podium following the 200m race. Both were expelled from the Olympics, but their protest inspired countless athletes afterwards.
Czech gymnast Věra Čáslavská made a statement of her own in Mexico City. Prior to the Olympics, Čáslavská spoke out in opposition to the Soviet invasion of Czechoslovakia and was forced into hiding as a result, unable to train in her normal gym.
She was granted last-minute permission to travel to the Games, but controversial judgingled her to share gold on floor and earn a silver on beam, losing out to Soviet gymnasts. In protest, Čáslavská turned her head during the Soviet national anthem. Powerful.
Moscow 1980: The Cold War made its way to the Olympics when U.S. President Jimmy Carter called for a boycott in response to the Soviet Union's invasion of Afghanistan, and the U.S. led a 65-nation boycott of the 1980 Moscow games.
Joined by other global powers, including Canada and Japan, the boycott was the largest in Olympic history.
➡️ What's next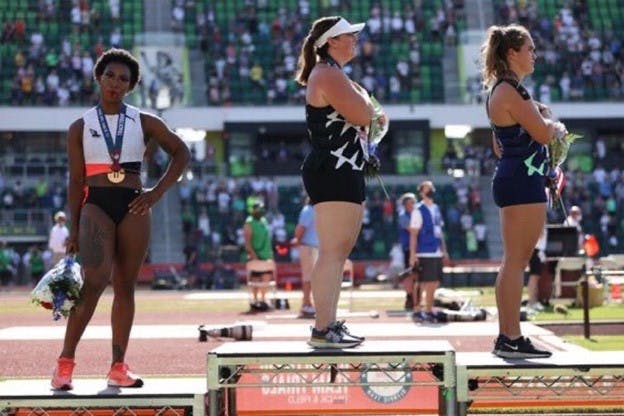 With the IOC's relaxed guidelines, national squads like England's soccer team taking a kneebefore matches, and the Games coming after a year that will forever be associated with international social justice, we can certainly expect athletes to make their voices heard in Tokyo.
Case in point, the head of Athletics Canada recently said that Canadian track & field athletes raised the topic of free speech leading up to the Games and that he wouldn't be surprised to see Canadian athletes protest in some way.
On the U.S. side, after qualifying for her second Olympics last month, American hammer thrower Gwen Berry — who was reprimanded for raising a fist following her gold medal win at the 2019 Pan American Games — turned away from the flag while on the podium.
Fellow Team USA member and sprinter Noah Lyles, paid homage to Smith and Carlos' 1968 protest by raising a black-gloved first of his own ahead of the 100m race, also at the trials.
As Lyles said after the powerful moment, "Now that we're able to go out there and say, 'Yes, we love our country but we still are suffering,'... I felt like I couldn't have all this influence and not use that to something I felt passionate about." Expect more of this in the coming days.
That's what the Olympics is all about: Seeing athletes at the top of their game, doing what they're passionate about on the world stage. We can't wait to watch them compete and make their voices heard over the next few weeks. Let the Games begin!
⚾
🏀
🏆
Sports Quick Hits: July 12th, 2021
July 12, 2021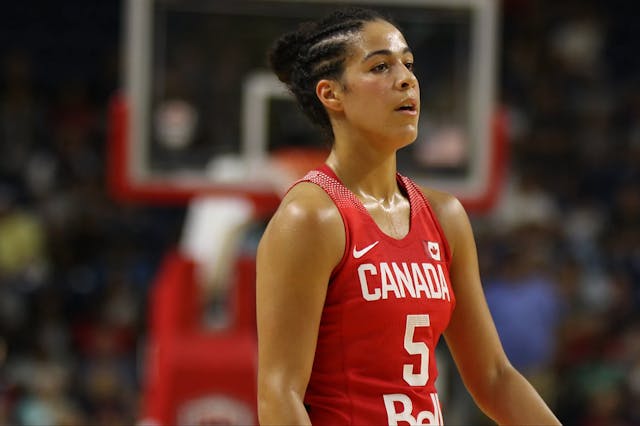 Source: Ian Bethune/The UConn Blog
🏀Basketball: Team Canada's Kia Nurse is getting ready for the upcoming Olympics the best way she knows how: by . Last night, the Phoenix Mercury star recorded 28 points and a career-high seven 3-pointers. Unfortunately it wasn't enough for a win, with the Mercury falling 82–75 to the Seattle Storm.
The Mercury's NBA counterpart, the Phoenix Suns, didn't fare any better either, losing last night's Game 3 of the NBA Finals 120–100 to the Milwaukee Bucks.
⚾️MLB: While the FBI for a safe All-Star Game, the Toronto Blue Jays are sending their four All-Stars off in style. Bo Bichette and Teoscar Hernandez each recorded a hit in yesterday's 3–1 win over the Tampa Bay Rays, which was a until the seventh inning.
Most of the Jays are on a break until Friday, with Bichette, Hernandez, Vladimir Guerrero Jr. and Marcus Semien playing in tomorrow night's All-Star Game. But first, don't miss tonight's Home Run Derby at 8 p.m. ET on Sportsnet.
🚵‍♂️Tour de France: Movin' on up! Ottawa native Mike Woods earned his first-ever honor and the chance to don the prestigious (and fashionable) polka dot jersey after Stage 14 of the Tour de France on Saturday. With seven stages left in cycling's biggest event, Woods sits second in the . Keep climbing, Mike.
🏆

Indigenous Athletes You Need to Know

July 04, 2021
SOURCE: NHL/GIPHY
QUOTE OF THE DAY
And I would really like to encourage First Nations youth to be leaders in their communities. Be proud of your heritage, and don't be discouraged from the improbable.
—Montreal Canadiens goalie Carey Price, proud Indigenous Canadian and son of Chief Lynda Price of the Ulkatcho First Nation.
🤽‍♀️ Waneek Horn-Miller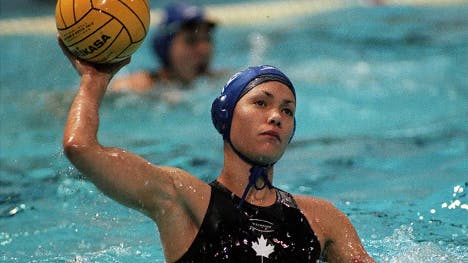 Perhaps no other athlete's story juxtaposes athleticism and talent with the Indigenous experience quite like that of Waneek Horn-Miller. In 1990, a violent land dispute broke out between the Mohawk people of Kanehsatà:ke and the municipal (and later federal) government of the town of Oka, Quebec, in what most know as the Oka Crisis or the Siege of Kanehsatà:ke.
As the Mohawk women decided to walk out peacefully and surrender to the armed Canadian military on the 78th, and final, day of the siege, chaos erupted and Horn-Miller was stabbed in the chest by a Canadian soldier's bayonet.
Horn-Miller was just 14 at the time, and already a star water polo player. Doctors told her that the blade came within a centimeter of her heart and an almost sure death.
But Horn-Miller lived, and continued her athletic journey. She represented Canada in the 1999 Pan American Games, where she won gold. She was also co-captain of Canada's first ever women's Olympic water polo team in 2000.
Horn-Miller was inducted into Canada's Sports Hall of Fame in 2019 and continues to work as an ambassador for Indigenous youth and rights in Canada and the U.S.
🏈 Jim Thorpe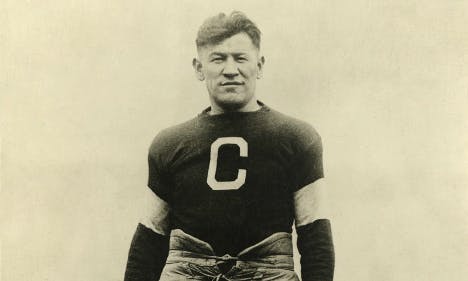 Known as the greatest athlete of all time, Jim Thorpe was a member of the Sac and Fox Nation: a tribe of Sauk and Meskwaki peoples who were forcibly removed from their land near Lake Michigan and Lake Huron and relocated to Oklahoma in the 1870s, not long before Thorpe was born in 1887.
At the 1912 Stockholm Olympics, he became the first Olympic gold medal-winning Indigenous American in both the pentathlonand the decathlon.
A versatile athlete, Thorpe was also a pro baseball and football player (which caused some Olympic controversy), and was the first president of the American Professional Football Association, which eventually became the NFL. No wonder he's the GOAT.
🏃‍♂️ Tom Longboat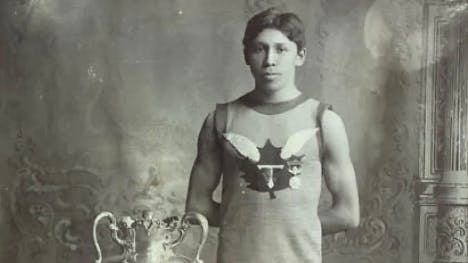 A contemporary of Thorpe, Tom Longboat was a distance runner from the Six Nations Reserve near Brantford, Ontario. At the age of 12, he was sent to a residential school where he experienced unimaginable horrors before successfully escaping from the school and hiding from authorities at his uncle's home.
Longboat became a marathoner, and although he never won an Olympic medal, he did set a record for the then-fastest Boston Marathon win in 1907.
Longboat even maintained his pro running career while serving as a soldier for the Canadian army in World War I.
A member of Canada's Sports Hall of Fame,Longboat is also the namesake for two prestigious awards — the Tom Longboat Awards — given annually to the top female and male Indigenous athletes in Canada.
🚣‍♂️ Alwyn Morris
Also a two-time Longboat Award winner, Alwyn Morris is a member of the Mohawk Nation in Kahnawá:ke and as a kayaker, is the only Indigenous Canadian athlete to win a gold at the Summer Olympics.
Morris is best remembered for his eagle feather salute at the 1984 Games in Los Angeles, when he accepted his gold medal on the podium by raising an eagle feather, echoing the Black Power salute of Tommie Smith and John Carlos at the 1968 Olympics.
The eagle feather, Morris later divulged, was a symbol not only to pay tribute to his Indigenous grandparents, but to also remind the world, and especially Canadians that cheered him on, that he was an Indigenous person.
⛷ Sharon and Shirley Firth
Twin sisters from the Gwich'in First Nation, the Firths were first introduced to cross-country skiing in the 1960s through a Canadian federal government program called Territorial Experimental Ski Training (TEST), established to help Indigenous youth in Northern Canada participate in physical activity.
The sisters were members of the first Canadian women's cross-country Olympic team, which debuted at the 1972 Sapporo Games, and were the first Indigenous females to compete for Canada in the Olympics.

Together, they won 79 (!!!) national medals in cross-country skiing, competed in four Olympic games and continued to advocate for Indigenous youth sports programs like TEST following their retirement.
➡️ The next generation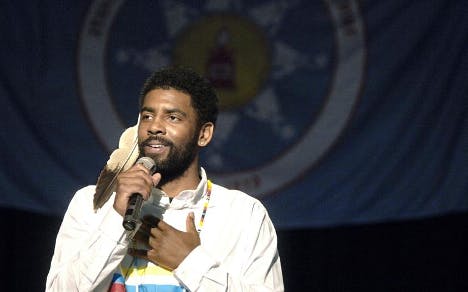 Thanks to incredible organizations like Olympian Beckie Scott's Spirit North and Nike's N7 Fund, Indigenous youth have more opportunities to participate in sport. And with an ever-growing list of talented, outspoken Indigenous athletes, the next generation has bright stars to follow.
Indigenous youth are now represented in almost every major sport, with the likes of Kyrie Irving in the NBA, Brigette Lacquette of the PWHPA, Carey Price and Ethan Bear in the NHL and Madison Hammond in the NWSL. Let's support.