⚽

Let's get ready to rumble

November 20, 2020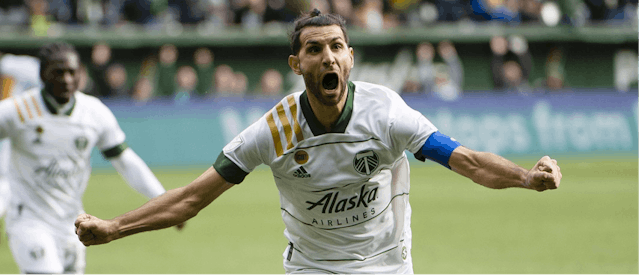 SOURCE: USA TODAY SPORTS
The GIST: After giving us a nice big break to fully enjoy FA WSL action and USWNT roster announcements, the MLS is back for playoffs.
Sweet. What's the format?: Ten teams from the Eastern Conference and eight from the Western Conference have made it to the postseason. Tomorrow's play-in tournament, featuring the seventh to 10th seeded teams in the East, will even it up at eight teams a side.
Based on the regular season standings, the No. 8 New England Revolution will play the No. 9 Montreal Impact tomorrow at 6:30 p.m. ET, and the No. 7 Nashville SC and No. 10 Inter Miami CF will face off at 9 p.m. ET. The winner of each match will fill the empty slots on this bracket and move on to the official first round, which starts Saturday.
And how's that shaping up?: The league-leading Philadelphia Union will face the lower seeded play-in winner, while the super-close runners-up Toronto FC will play the higher. Each playoff round is single-game elimination, so the play-in teams will have their work cut out for them.
In the Western Conference, Sporting Kansas City have the top spot and easiest first round match-up against the San Jose Earthquakes, while the No. 2 Seattle Sounders could face an upset from LAFC.

Although the December 12th final is far away, we'll be shocked if the Union don't make it all the way in the East. In the West, we're taking whichever team wins the LAFC/Sounders tilt to win the whole conference. Follow all the footy fun here.
🏀

Stranger things have happened

November 20, 2020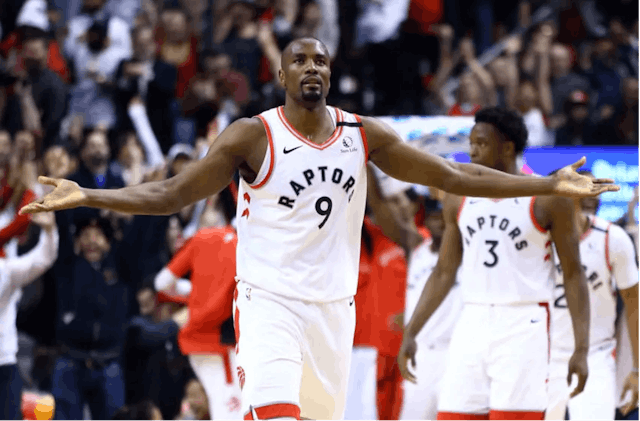 SOURCE: VAUGHN RIDLEY/GETTY IMAGES
The GIST: An NBA draft in November. Are we living in the Upside Down?
Tell me more: The two-round 2020 NBA Draft, usually held in June, took place virtually last night. Unlike most drafts, there wasn't a super clear favorite for the top pick, but the Minnesota Timberwolves' first overall selection of Anthony "Not really into it" Edwards wasn't much of a surprise.
What else is going on in the NBA?: Lots of Selena Gomez and Jimmy Butler dating trade rumors floating around...and a few actual trades. Since the trade moratorium was lifted on Monday, players like Danny Green, Al Horford and Chris Paul have found new teams, but even bigger names like James Harden and Russell Westbrook are still on the trading block.
Free agency begins tomorrow, which opens up a whole new can of worms. Stars like Toronto Raptor Fred VanVleet and Brooklyn Net Joe Harris are likely to re-sign with their teams, but given the unpredictability of the Upside Down, we really can't say.
Wait, what does this mean for the Raptors?: Along with VanVleet, the Raptors could also look to re-sign Serge Ibaka and Marc Gasol. There's a chance they all stay, but an even bigger chance that we lose one of the three integral members of the 2019 championship team. Ugh. Cue the #KawhiWatch flashbacks.
🏆

Caster Semenya is taking her legal battle to the European Court of Human Rights

November 19, 2020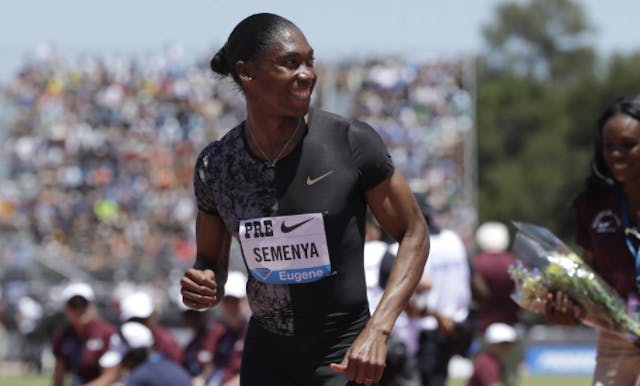 Source: Jeff Ciu/AP Photo
The GIST: Caster Semenya is not giving up. The 29-year-old middle-distance runner from South Africa is taking her long-suffering legal battle to the .
What's the deal?: Semenya, a two-time Olympic gold medalist, has a medical condition called , meaning her body produces higher than normal levels of testosterone. Due to her classification as and resulting perceived biological advantage, her eligibility to compete amongst her female peers has frequently been challenged.
Horrible. So what now?: Although Semenya and her team have successfully blocked multiple attempts to prevent her from competing, in 2019 they lost their fight against the new regulations in front of the Court of Arbitration for Sport and, most recently, their . Taking the case to the European Court of Human Rights is likely in this ongoing battle.
In the meantime, Semenya has found something of a loophole: she's switching to the 200m event in hopes of qualifying for next summer's Olympics. Run, baby, run!
🏈
⚽
Just touched down in London town
November 16, 2020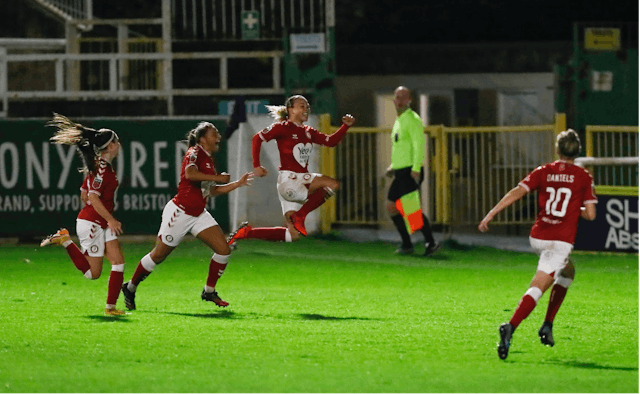 SOURCE: BARCLAY'S FA WOMEN'S SUPER LEAGUE/TWITTER
The GIST: Whether you prefer high tea or TDs (or both!), we're spoiling you with FA Women's Super League and NFL Week 10 highlights.
⚽️Teamwork makes the dream work: Arsenal striker and WSL top all-time scorer Vivianne Miedema set up her teammate Beth Mead with a beautiful assist. Arsenal's London derby matchup versus Chelsea ended 1–1.
Bend it like Tobin: Manchester United midfielder (and newly drafted member of the NWSL's Racing Louisville FC) Tobin Heath defied physics with this rocket of a goal in the Manchester derby, which finished in a 2–2 draw.
🏈Fancy footwork: Perhaps inspired by Heath's rocket, Seattle Seahawks kicker Jason Myers set a franchise record when he delivered this incredible 61-yard field goal. Myers' kick just cleared the goal posts, but it wasn't enough to lift the Seahawks, who lost 23–16 to the LA Rams.
Livin' on a prayer: Arizona Cardinals quarterback (QB) Kyler Murray threw a jaw-dropping Hail Mary TD pass to wide receiver DeAndre Hopkins, who made the catch through not one, not two, but three (!!!) defenders. The miraculous catch sealed the Cardinals' 32–30 victory over the Buffalo Bills.
🏀
🏆
Oops, he did it again
November 16, 2020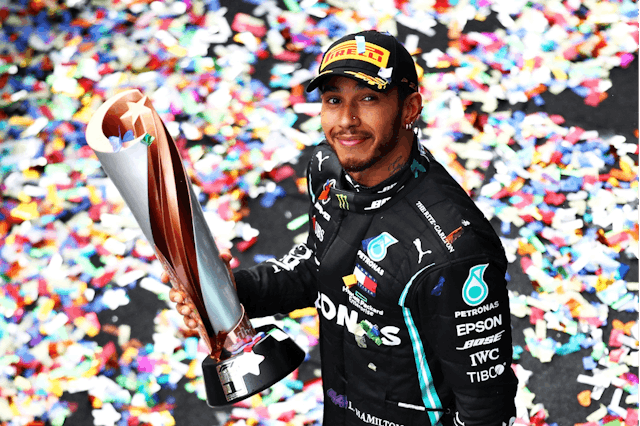 SOURCE: LEWIS HAMILTON/TWITTER
🏎Formula One: Another weekend, another win for Lewis Hamilton...and this time, it was a biggie. Not only was yesterday's wet-and-wild Turkish Grand Prix the 94th win of his career and 10th of this F1 season, but it also meant that Hamilton clinched the F1 Drivers' Championship for a historic seventh time, tying him with Michael Schumacher for the all-time record. #GOAT.
With just three races left in the season, Hamilton still hasn't signed a contract with his long-time team Mercedes for next year. Rumor has it that Lewis might retire from F1 to focus on activism and his new Extreme E team. That said, after yesterday's win, Lewis stated, "I feel like I'm only just getting started," so your guess is as good as ours.
🏀NBA: It's beginning to look a lot like...basketball season! Yesterday the NBA announced a tentative schedule, giving us — and the players, of course — just about five weeks to get into game shape. The regular season is set to tip off December 22nd and run until May 16th, with the postseason (which includes the fan-favorite play-in tournament!) running May 17th to mid-July.
Other changes include playing a 72-game season (instead of the regular 82) and no All-Star Game. The super-soon start date also means the trading window will start today at noon ET, so follow our Twitter and Instagram for all the big-name signings.