🏒

Stanley Cup Semifinals Series Tied on Both Ends

June 21, 2021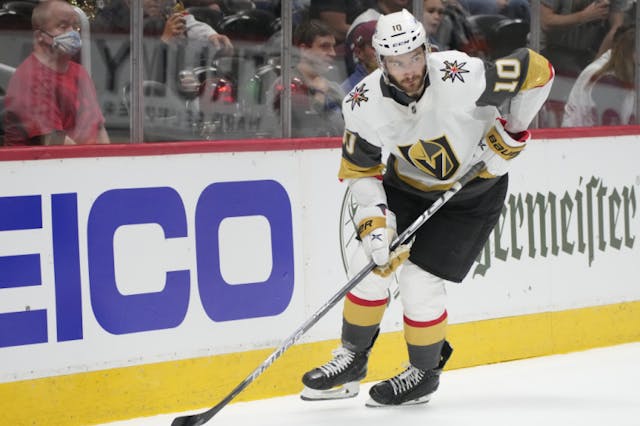 AP PHOTO/DAVID ZALUBOWSKI
The series: The Golden Knights tied the series 2-2 with a 2–1 overtime (OT) win last night, proving that their decision to replace starting goalie Marc-Andre Fleury, after on Friday, with backup Robin Lehner was worth it.
Though Montreal opened the scoring with , it was Vegas who had the last laugh, with Quebec-native Nicolas Roy just 1 minute and 18 seconds into OT. Tough. Game 5's back in Vegas tomorrow at 9 p.m. ET.
The other series: Meanwhile, the reigning Stanley Cup champs, the Tampa Bay Lightning, are facing their own pesky challenge in the New York Islanders. After the Isles won Game 4 on Saturday, the series is tied 2-2 heading into Game 5 tonight at 8 p.m. ET.
⛳
🏎
🏅
🏀
Sports Quick Hits: June 21st, 2021
June 21, 2021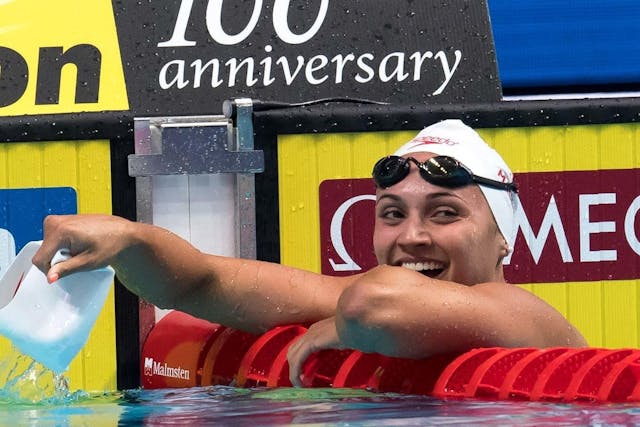 Source: Mike Lewis/Ola Vista Photography
🥇Olympics: With only a month before the first Olympic events begin, some athletes are still qualifying. The Canadian Olympic Swimming Trials began over the weekend — where current 100m backstroke world champion and mermaid, Kylie Masse, broke her own Canadian record — and .
⛳️Golf: It wasn't meant to be for Canadian and Mackenzie Hughes this weekend. He finished tied for 15th in the U.S. Open yesterday, 7 strokes behind winner, Spaniard Jon Rahm. Turns out, getting isn't great for your final score.
🏀NBA: Canada's basketball GOAT is out. Even though Kevin Durant , head coach Steve Nash and his Brooklyn Nets lost Game 7 to the Milwaukee Bucks in overtime on Saturday. The Bucks will now face the Atlanta Hawks in the Eastern Conference Finals while the Phoenix Suns lead the LA Clippers 1-0 in the west.
🏎F1: Red Bull Racing's Max Verstappen found his wings during the second-last lap of yesterday's French Grand Prix, when he passed reigning champ Lewis Hamilton and won his third race of the season. Next up is a double-header in Austria, where the W Series season is also set to start (more about that Saturday *wink wink*).
⚾

The MLB has a problem

June 20, 2021
SOURCE: ASSOCIATED PRESS
QUOTE OF THE DAY
I reckon I tried everything on the old apple, but salt and pepper and chocolate sauce topping.
— Hall of Fame pitcher Gaylord Perry, who was notorious for doctoring baseballs and throwing a spitball. Appetizing.
🚨 History of cheating
Before we dive into baseball's latest scandal, which involves pitchers using sticky substances to improve their game, here's a little background on some of the sport's biggest controversies over the years:
Black Sox scandal: The 1919 Black Sox scandal was one of the first controversies to rock the baseball world. Eight members of the Chicago White Sox conspired to throw (no pun intended) the 1919 World Series in exchange for money from a gambling syndicate.
The players were indicted for conspiracy in October 1920, but were ultimately found not guilty after the paper records of the case mysteriously disappeared. Drama.
Baseball's newly appointed commissioner, Judge Kenesaw Mountain Landis, had the final say, and permanently banned the eight involved players from the sport in August 1921.
Steroids: Today's scandal has drawn comparisons to the steroid era of the '90s and early 2000s, and for good reason. Now-retired baseball star Jose Canseco, who admits to having used performance-enhancing drugs (PED) himself, estimated that as many as 80% of playersused steroids.
Many notable records were set during the steroid era, including Barry Bonds' record for most career home runs, which will forever be tainted by an asterisk.
We could (and probably will) write a whole newsletter on the impact of PEDs in sports. The MLB's steroid era left many fans frustrated and resulted in a huge drop in viewership. It's a stain the league is still trying to wipe clean.
Sign-stealing: The act of observing and relaying the opposing team's non-verbal gestures (aka signs) is frowned upon by baseball purists, though some instances of sign-stealing, such as when a player on base relays pitch locations to the batter, are technically legal.
⚾️ Today's controversy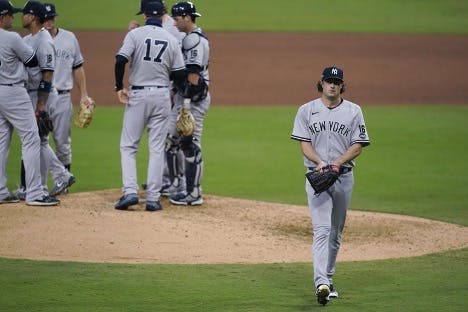 The 2021 pitching scandal revolves around pitchers using "foreign substances" to improve their grip on the ball. The enhanced grip enables pitchers to increase the spin and movement on their throw, making the ball harder to hit. Trouble is, those foreign substances are banned from baseball, and have been for over 100 years.
Baseball first implemented a foreign substances ban in 1920 in response to pitchers throwing a spitball. Yes, it's as gross as it sounds.
But there were loopholes even back then, as 17 pitchers who relied on the spitball were "grandfathered" in, and could still use the pitch despite the ban. Rules are meant to be broken...except when they're not?
Fast-forward to today, and spit has been swapped for everything from sunscreen and Vaseline to more advanced products like the super sticky Spider Tack, a chemical product developed to help weightlifters improve their grip on lifting stones.
To be fair, some hitters are actually okay with pitchers using certain grip enhancers, such as the commonly used (and not illegal) rosin. The improved grip helps ensure pitchers won't lose control and hit a batter with a 95 mph+ pitch.
But most believe the advanced products have gone too far. Combine that with dismal batting averages this season, cameras capturing pitchers' every move and unprecedented increases in spin rate, and this mess is impossible to ignore.
💔 The breaking point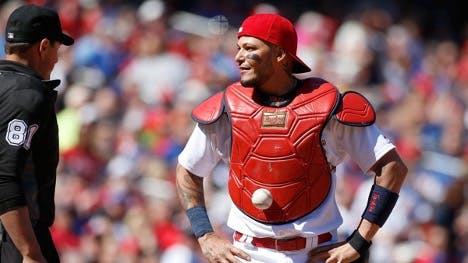 As we mentioned, the foreign substances rule has been around since 1920, but has rarely been enforced. Previously, umpires would wait for a manager to ask that an opposing pitcher be checked. But managers wouldn't flag their opponents since their pitchers would also be checked and likely caught cheating too.
Last month, four minor leaguers were ejected and suspended for 10 games after being caught using foreign substances, but the last time major leaguers were penalized was back in 2015.
The use of foreign substances notably garnered attention in 2017 when a ball mysteriously stuck to St. Louis Cardinal Yadier Molina's chest protector. It came up again in 2018 when then-Cincinnati Reds pitcher Trevor Bauer called out the Astros (we've since learned Bauer may need to take a look in the mirror). However, nothing changed...until now.
The MLB has been investigating the use of foreign substances since the season began in April. Following talks of a crackdown at a June 3rd owners' meeting, Yankees pitcher and three-time All Star Gerrit Cole stammered through an answer when asked if he had ever used Spider Tack. Aca-awkward.
The impending consequences immediately translated on the field. There's been a dramatic reduction in spin rate and an increase in batting average since that June 3rd meeting. Hmm...
🔎 The enforcement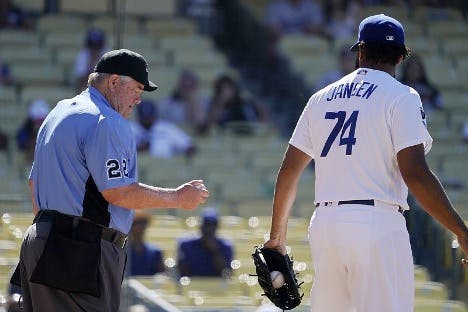 Enforcement of the MLB's longtime foreign substance rule begins in earnest tomorrow. Umpires will inspect players as they come off the field ahead of TV commercial breaks. Starting pitchers will be checked multiple times per game while relievers will be inspected at least once.
But hurlers aren't the only ones who will be investigated. Catchers will be regularly inspected while other position players will be subjected to random checks.
As for punishment, pitchers caught using foreign substances will be ejected from the game and suspended for 10 days…with pay. *eye roll* Position players will only be ejected if they're caught using a substance to help a pitcher, and the pitcher will also be held responsible. And there'll be increasingly harsher punishments for repeat offenders.
➡️ What's next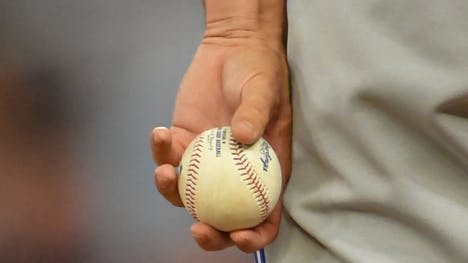 Cracking down on foreign substances is a small stepin tackling the many problems in the MLB, but, as seen recently with Tampa Bay Rays pitcher Tyler Glasnow, the midseason implementation of this change will likely lead to other unforeseen issues, like pitcher injury.
It serves as a reminder that the MLB has a history of responding far too late and ignoring players when it comes to making necessary changes to the game.
Tomorrow marks the beginning of a new era in baseball, and with the sport's Collective Bargaining Agreement (CBA) set to expire at the end of this year, this conversation is far from over.
Motherhood and Maternity Leave in Sports
June 17, 2021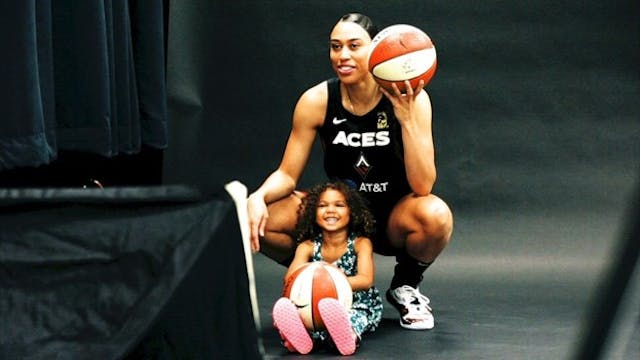 Quote of the Day:
"I'm like, 'Wow, there's a lot of hats.' It's the former WNBA [player], it's the Black woman, it's the mom. But it's a privilege for me. You can be great at all these things. You can be someone representing, and doing it with class, and professionalism, and doing well at your job. You can be a mom; you don't have to stop coaching."
— Arizona women's basketball coach Adia Barnes, who led her Wildcats to the NCAA title game six months after giving birth to her daughter Capri...and graciously handled () sh!t along the way. Can you say super mom?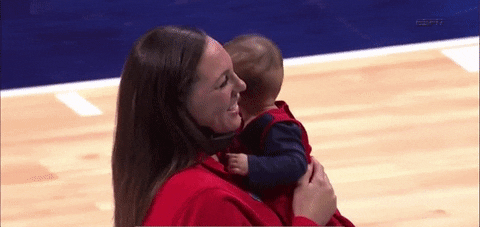 Queen of the court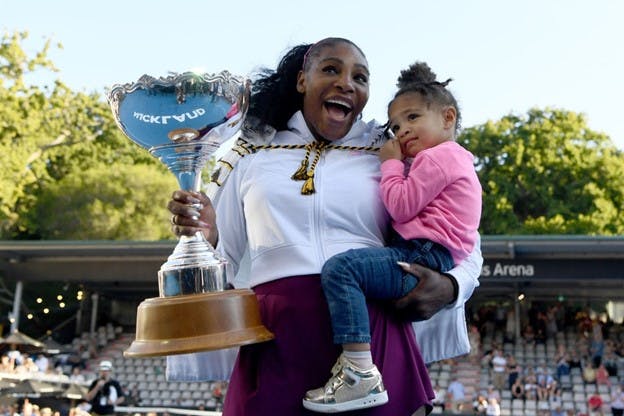 When it comes to moms changing the game, we have to start with tennis legend Serena Williams. After winning the 2017 Australian Open while eight weeks pregnant (imagine?), Serena faced life-threatening health complications soon after the birth of her daughter in September 2017.
Serena, who has a history of blood clots, her emergency C-section delivery and subsequent postpartum depression just months later.
Williams also led the way on the court. Prior to taking mat leave in April 2017, she was ranked No. 1 in the world. But upon returning to competition in February 2018, the Women's Tennis Association (WTA) ranked Williams No. 453. Sorry, WTF?
Along with the rankings rule change, the WTA also made dress code-related policy changes in 2019. After Williams received backlash for wearing her during the 2018 French Open (to help with her blood clots), the WTA updated their policy, lifting their backwards restrictions on what players wear. .
Racing toward change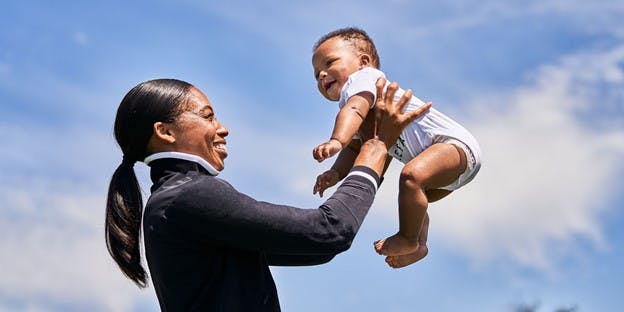 Back in 2018, six-time Olympic track & field gold medalist Allyson Felix was negotiating a new contract with Nike when she announced her pregnancy. And when Felix asked for pay protection surrounding maternity leave, Nike declined, instead planning to reduce her salary by 70%. Once again, WTF?
And once Felix was done with Nike, she in May 2019 on the maternal mortality crisis. Felix also discussed with her daughter Camryn via emergency C-section.
Progress to praise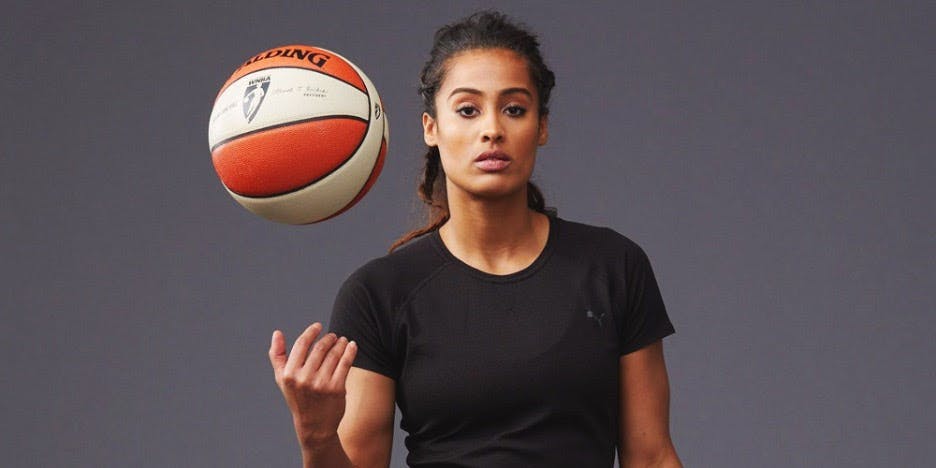 Even with Williams and Felix leading the way, the fight for sufficient maternity leave policies in sports is ongoing. We've already covered the WTA's progress, so now it's time to talk about how mat leave policies have changed (or haven't...) across the other major women's organizations. First, the good:
WNBA: The W leads the way (of course) when it comes to maternity leave, but even their progress is only recent. Storytime: In 2018, WNBA star Skylar Diggins-Smith played while pregnant and "." And Diggins-Smith didn't just play, she averaged 17.9 points per game for the Dallas Wings and was named an All-Star. What can't moms do?
Part of the reason Diggins-Smith kept her pregnancy a secret is that under the WNBA's old collective bargaining agreement (CBA), players were only guaranteed half of their (already small) salary if they took mat leave.
LPGA: Prior to 2019, any player who left the tour for maternity leave was restricted to play only 10 events during their leave year. But, because women can make their own decisions (what a concept!), players are now allowed to compete in an unlimited number of tourneys.
NCAA: In 2001, former Sacred Heart basketball player Tara Brady had her scholarship revoked after informing the school of her pregnancy. The heck? Brady's case went to the U.S. federal court, where lawyers argued that her pregnancy should have been protected under .
Looking for change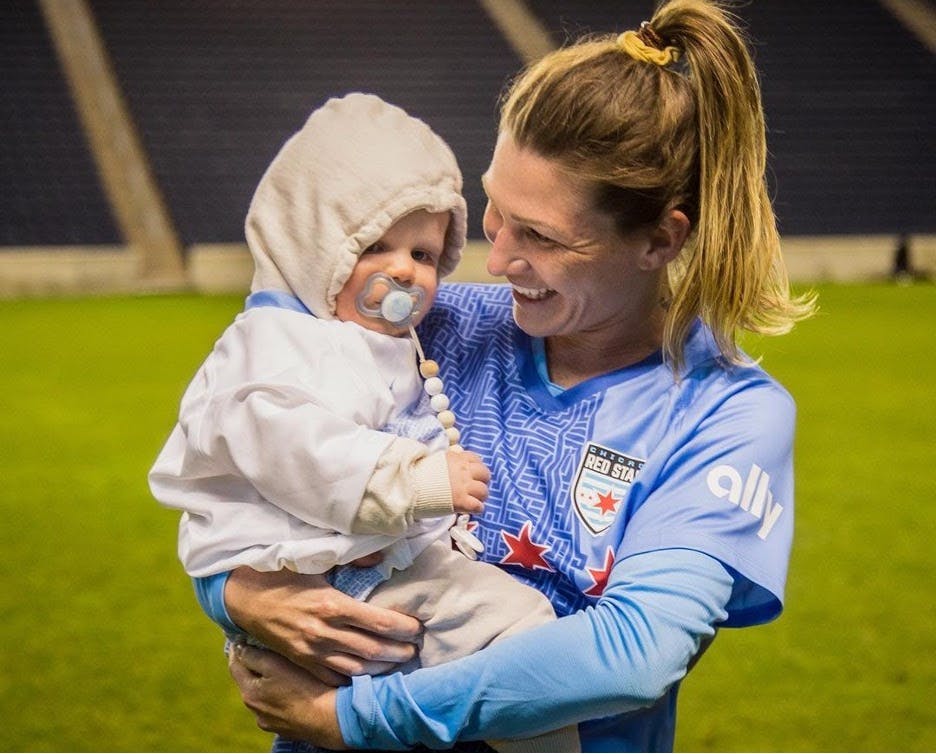 We know progress can take time, but what better time than the present? Here are the organizations that still have some work to do when it comes to mat leave policies and supporting moms in their sports. Change would be the perfect Mother's Day gift.
NCAA: Player progress aside, the NCAA has to do better at supporting coaches who are parents. We already know the NCAA , but this goes beyond weights. Under the tournament's COVID-19 guidelines, teams were only granted a 34-person travel party and despite young kids not needing a plane ticket to travel, they did count against group.
That means coaches were between bringing their kids into the bubble or bringing along a trainer or coach who had been with the team all season. Ugh.
NWSL: The NWSL doesn't have a CBA, so maternity leave is handled on a case-by-case basis. Chicago Red Stars defender Arin Wright recently returned to the league after giving birth to her son in April 2020, and is on the NWSL's lack of support. And finally, for the league's first-ever CBA are underway.
NWHL: When the U.S. women's hockey team boycotted the International Ice Hockey Federation () world championships in 2017 to protest unequal pay and treatment, maternity leave and child care were on their . And while a deal was reached in that situation, it's not clear their fight impacted how things operate over in the NWHL.
The future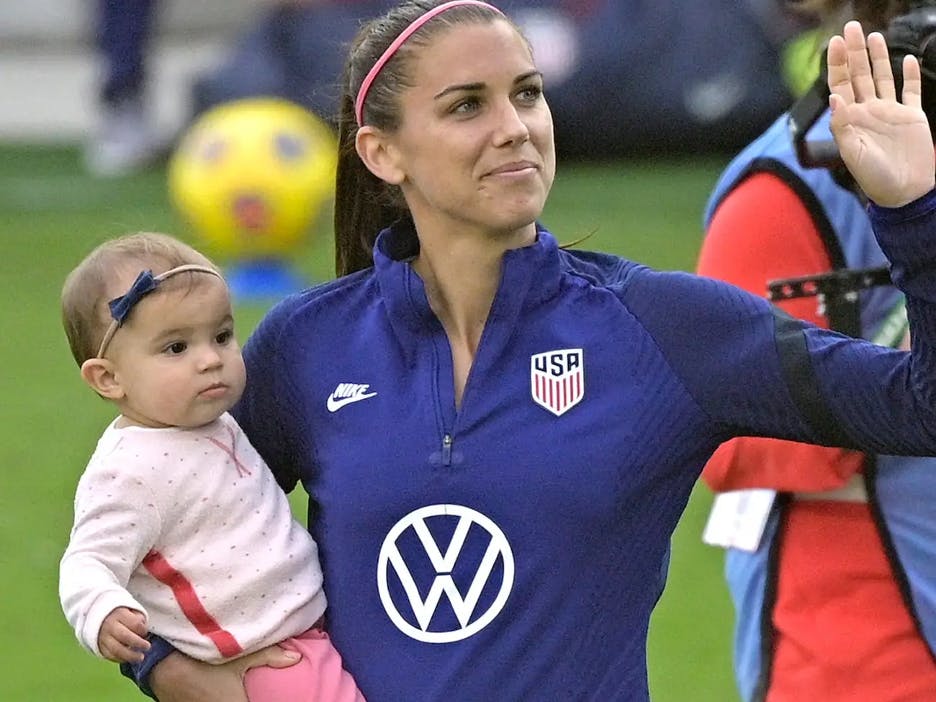 As we know, there's still a long way to go to achieve gender equity in sports, and motherhood and maternity leave must be considered in this fight. Athletes should not feel like they need to put their career "on hold" to become a mother, nor be punished for choosing to become a parent.
In the words of sports journalist Holly Rowe, "" including athlete mothers. And let's make sure their leagues, sponsors and fans support them along the way.
⚽

CanWNT Scoreless in Latest Set of Friendlies

June 17, 2021
Source: Canada Soccer/Twitter
Euros: It's been a wild few days in Europe. Tuesday's matches saw a into Germany's stadium, injuring fans during Germany's 1–0 loss to France, and Portugal's 3–0 win over Hungary made Cristiano Ronaldo (who we , BTW) the Euros' .
Yesterday was a touch tamer, with wins for Wales, Italy and Russia, and three more matches are on deck today. Check out all the results and the full schedule .
CanWNT: Both of CanWNT's latest friendlies ended in scoreless draws, and though we're a bit nervous about their offense, the games proved the team's defense is solid as a rock. Let's hope in futbol too.
Speaking of, stay tuned for head coach Bev Priestman's Olympic roster announcement, expected over the next couple of weeks.
CanMNT: The guys can hang, too. They're riding a six-game winning streak, including , and for the first time in forever 24 years, they made it to the final round of World Cup qualifiers ahead of the Qatar 2022 World Cup.