🏒

Tampa Bay Lightning are Stanley Cup champions

July 08, 2021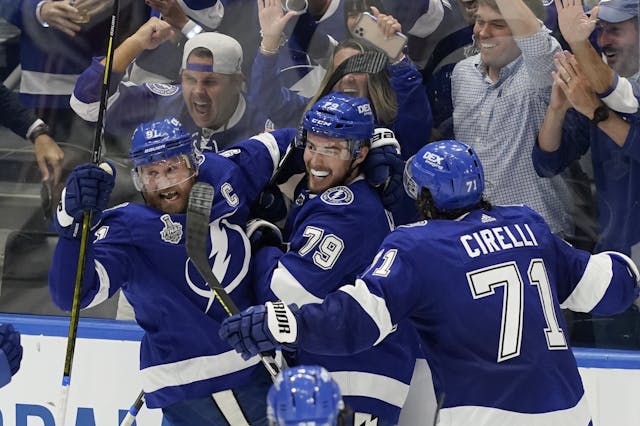 Source: Sportsnet Stats/Twitter
How it happened: With a 1–0 win over the Montreal Canadiens in last night's Game 5, the reigning champs went back-to-back to earn the franchise's third Stanley Cup and second in less than 10 months. And this time, they got to do it at home, in front of their fans, just like .
Looking back: , but we have to tip our hats to the NHL. This year's shortened 56-game season featured four new divisions, reinvigorated rivalries and was one of the most fun seasons yet.
What's next: After an unbelievable run, the Canadiens will return to Montreal without a Stanley Cup, extending the Canadian championship drought to 28 years (more pain). The 2021 NHL Draft is set for July 23rd and the new season should return as usual in October.
One thing to keep an eye on? We're still NHLers will be allowed to compete in the 2022 Beijing Winter Olympics. Stay tuned.
🎾

Canadian Players Achieve Record at Wimbledon Quarterfinals

July 08, 2021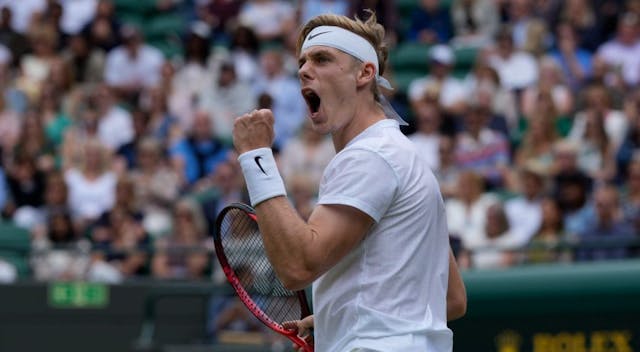 Source: Ash Barty/Twitter
Men's singles: For the first time ever, more than one Canadian played in the quarter-finals at a Grand Slam event, with world No. 12 Denis Shapovalov and No. 19 Felix Auger-Alliassime both taking to the grass.
"El Shapo" was up first, winning a against Russian Karen Khachanov and setting himself up for his first-ever Grand Slam semifinal. It'll be a tough one: he'll face world No. 1 Novak Djokovic tomorrow.
Women's singles: No Canadians on the women's side, but still oh-so-exciting. Starting today at 8:30 a.m. ET (quick, turn on your TV now), world No. 1 Ash Barty, who's on the hunt for her first Wimbledon title and second Grand Slam, is facing 2018 Wimbledon champ Angelique Kerber.
When that's over, former world No. 1 Karolína Plíšková (pronounced PLISH-koh-vah) faces two-time doubles Grand Slam champ Aryna Sabalenka, as they both play for their first singles major title. The winners of each match will move on to Saturday's final.
🏀
🏈
⚽
Sports Quick Hits: July 8th, 2021
July 08, 2021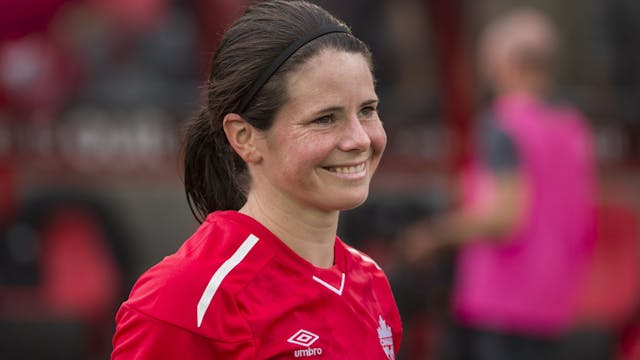 Source: Steve Kingsman/Canada Soccer
⚽️Soccer: As Team Canada gets ready to say hello to Tokyo, living legend Diana Matheson is saying goodbye. After 18 years and 206 international games, the three-time Olympian, best known for her during the London 2012 Games, yesterday. So long, Diana, and thank you.
🏀Basketball: Although Giannis Antetokounmpo (pronounced YAHN-iss ah-dedo-KOON-bo) from injury for Game 1 of the NBA Finals, the Phoenix Suns led the way.
Phoenix set an NBA Finals record with 25 consecutive made free throws and Chris Paul became the first player since Michael Jordan to notch 30 points and eight assists in a finals debut. Decent company.
🏈CFL: False alarm, folks. After scaring diehard fans with talks of a possible merger with the Dwayne Johnson–led XFL, the CFL has announced they've . It's cool, we were kind of confused by it anyway. Onwards and upwards: after a year off, the new season starts August 5th.
🏀

Everything you need to know about the NBA Finals

July 06, 2021
SOURCE: NBA/GIPHY
QUOTE OF THE DAY
I dream about winning a championship, where everybody is hooting and hollering for you. The whole world is drawn to the NBA Finals.
—Former NBA star and Hall of Famer Ray Allen, who knows a thing or two about the NBA Finals: he won two NBA Championships in his 18-season career.
🏆 The NBA Finals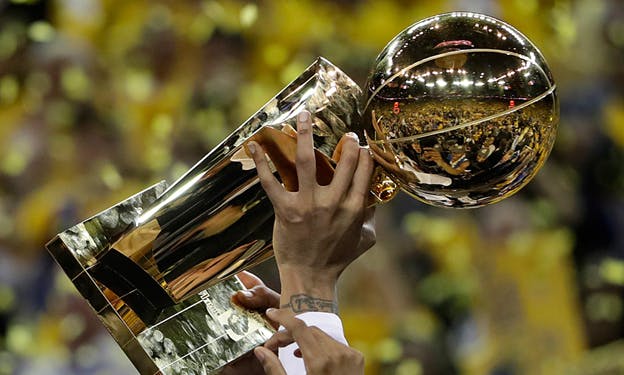 At this time last year, the 2019–20 postseason hadn't even started, and it wasn't until October before the LA Lakers hoisted the Larry O'Brien Championship Trophy. Now we're on the verge of crowning a second NBA champion in nine months, with the Milwaukee Bucks and Phoenix Suns emerging from the pandemic-shortened 2020–21 season as the final two contenders.
The Eastern Conference champion Bucks and Western Conference champion Suns will begin their best-of-seven series tonight, with Phoenix hosting the first two games.
The Suns are looking to become the 21st franchise in NBA history to win an NBA Championship, having lost in the Finals twice before. The Bucks, on the other hand, are trying to regain their former glory and end a 50-year drought after last winning in 1971.
This unexpected Finals pairing features future Hall of Famers, soon-to-be Olympians, dangerous X factors and the best defenses in the league, and while we can't say either team has the clear advantage, we do know we're in for an exciting two weeks.
☀️ Phoenix Suns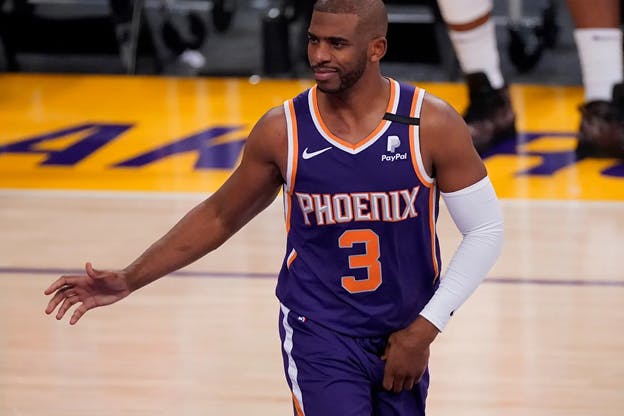 Looking back: Three years ago, the Suns went 21-61 in the regular season. Two years ago, they went 19-63. They were bad. But interestingly, not much of the roster has changed since then. Instead, the Suns spent the past couple of seasons focusing on their defense and improving their team chemistry...and clearly, it's working.
They went 51-21 in the regular season, winning the Pacific Division for the first time since 2007 and finishing second in the Western Conference.
In the postseason, they defeated the No. 7 seeded and defending NBA champion LA Lakers, the No. 3 seeded Denver Nuggets and the No. 4 seeded LA Clippers to reach their first NBA Finals appearance in 28 years.
Who to watch: Ten-time All-Star Chris Paul is no stranger to the playoffs, but this marks his first finals appearance in his 16-season career. Alongside Devin Booker, who'll hop on a plane to Tokyo as soon as the finals are over, the Suns stars will duke it out for the series MVP title as they try to lead their team to glory.
The X factor: In a series so evenly matched, Deandre Ayton can be the difference maker. As the de facto No. 3, he's averaging 16.2 points and 11.8 rebounds per game, and has already shut down Lakers Anthony Davis, Andre Drummond and current league MVP Nugget Nikola Jokic in the postseason.
🦌 Milwaukee Bucks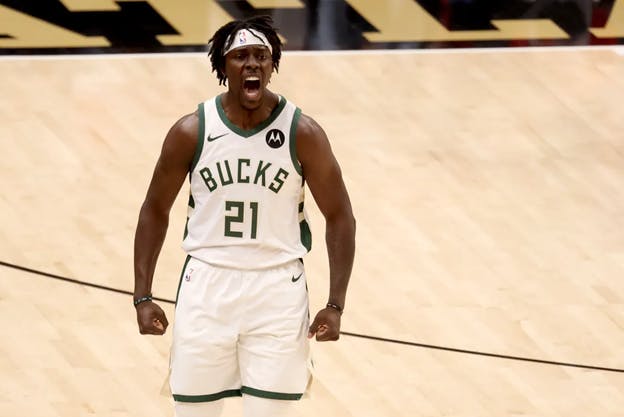 Looking back: Finally, the Bucks have arrived. In stark contrast to Phoenix, the Bucks recorded the best regular-season records in 2019 and 2020, but were ousted from both postseasons before the Finals.
Like the Suns, the Bucks were divisional champs this regular season, clinching the Central Division and coming third in the Eastern Conference, thanks to a solid 46-26 record.
To make it to their first Finals since 1974, they swept the Miami Heat, took the heavily favored Brooklyn Nets to seven games and beat the Atlanta Hawks, losing just one home game in three rounds.
Who to watch: This NBA postseason has been pockmarked by bad injuries to big stars, and the Bucks aren't exempt. They'll start the series without top star, leading scorer and 2020 league MVP, Giannis Antetokounmpo (pronounced YAHN-iss ah-dedo-KOON-bo), after he hyperextended his knee in Game 4 against the Hawks.
The Bucks have no shortage of star power though, with Team USA stars Jrue Holiday and Khris Middleton filling in the gap. And, of course, Giannis' big brother, Thanasis, will make sure the Antetokounmpo name is well represented.
The X factor: Honestly, it's Giannis' knee. With no structural damage, he'll likely be back in the lineup soon, but without the main driver of the Bucks' shutdown defense on the court, the Suns could take control of the series before he's able to return. Never before has an NBA Championship rested so heavily on one hyperextended joint.
🏀 The matchup
No player on either team has ever won an NBA Championship, so regardless of what each team brings to the table, Finals experience isn't a factor.
Head-to-head records don't count for much either. They met each other twice during the regular season, and though Phoenix won both games, it was by a single point each time, and game two went to overtime.
Instead, both the Bucks and Suns will rely on strong defense, star power, roster depth and veteran coaching from Mike Budenholzer and Monty Williams, respectively, to get ahead.
But with all this said, there is one player who's a winner no matter what: Torrey Craig started the season with the Bucks before being traded to the Suns in March, so he'll get a championship ring regardless. Winner, winner, chicken dinner.
👀 How to watch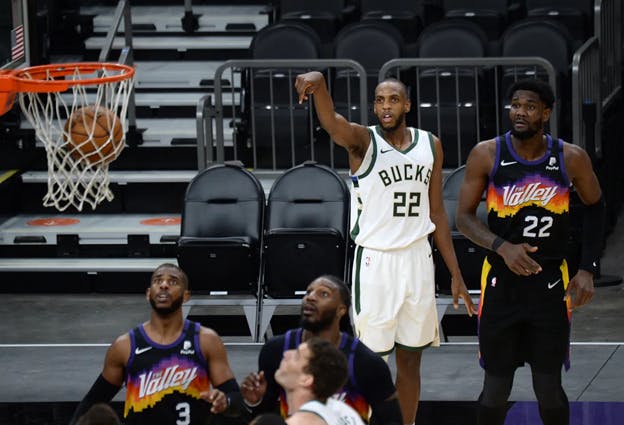 Except for Sunday's Game 3 at 8 p.m. ET, every other game is set for 9 p.m. ET, starting tonight. Tune in to TSN1 or TSN4 in Canada, and ABC or ESPN3 in the U.S. Don't miss a minute.
🏆

Indigenous Athletes You Need to Know

July 04, 2021
SOURCE: NHL/GIPHY
QUOTE OF THE DAY
And I would really like to encourage First Nations youth to be leaders in their communities. Be proud of your heritage, and don't be discouraged from the improbable.
—Montreal Canadiens goalie Carey Price, proud Indigenous Canadian and son of Chief Lynda Price of the Ulkatcho First Nation.
🤽‍♀️ Waneek Horn-Miller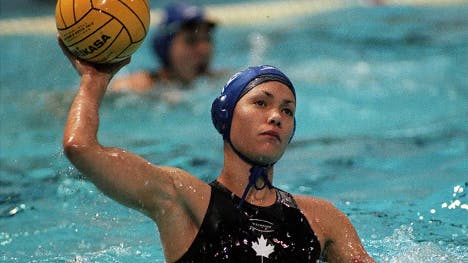 Perhaps no other athlete's story juxtaposes athleticism and talent with the Indigenous experience quite like that of Waneek Horn-Miller. In 1990, a violent land dispute broke out between the Mohawk people of Kanehsatà:ke and the municipal (and later federal) government of the town of Oka, Quebec, in what most know as the Oka Crisis or the Siege of Kanehsatà:ke.
As the Mohawk women decided to walk out peacefully and surrender to the armed Canadian military on the 78th, and final, day of the siege, chaos erupted and Horn-Miller was stabbed in the chest by a Canadian soldier's bayonet.
Horn-Miller was just 14 at the time, and already a star water polo player. Doctors told her that the blade came within a centimeter of her heart and an almost sure death.
But Horn-Miller lived, and continued her athletic journey. She represented Canada in the 1999 Pan American Games, where she won gold. She was also co-captain of Canada's first ever women's Olympic water polo team in 2000.
Horn-Miller was inducted into Canada's Sports Hall of Fame in 2019 and continues to work as an ambassador for Indigenous youth and rights in Canada and the U.S.
🏈 Jim Thorpe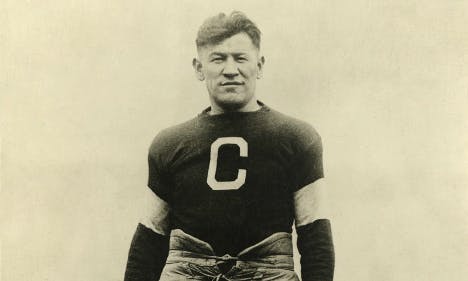 Known as the greatest athlete of all time, Jim Thorpe was a member of the Sac and Fox Nation: a tribe of Sauk and Meskwaki peoples who were forcibly removed from their land near Lake Michigan and Lake Huron and relocated to Oklahoma in the 1870s, not long before Thorpe was born in 1887.
At the 1912 Stockholm Olympics, he became the first Olympic gold medal-winning Indigenous American in both the pentathlonand the decathlon.
A versatile athlete, Thorpe was also a pro baseball and football player (which caused some Olympic controversy), and was the first president of the American Professional Football Association, which eventually became the NFL. No wonder he's the GOAT.
🏃‍♂️ Tom Longboat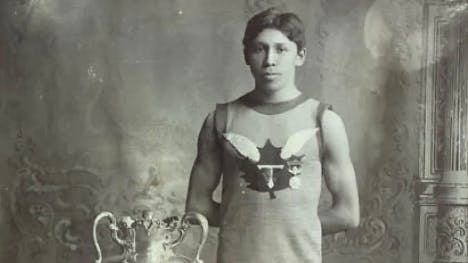 A contemporary of Thorpe, Tom Longboat was a distance runner from the Six Nations Reserve near Brantford, Ontario. At the age of 12, he was sent to a residential school where he experienced unimaginable horrors before successfully escaping from the school and hiding from authorities at his uncle's home.
Longboat became a marathoner, and although he never won an Olympic medal, he did set a record for the then-fastest Boston Marathon win in 1907.
Longboat even maintained his pro running career while serving as a soldier for the Canadian army in World War I.
A member of Canada's Sports Hall of Fame,Longboat is also the namesake for two prestigious awards — the Tom Longboat Awards — given annually to the top female and male Indigenous athletes in Canada.
🚣‍♂️ Alwyn Morris
Also a two-time Longboat Award winner, Alwyn Morris is a member of the Mohawk Nation in Kahnawá:ke and as a kayaker, is the only Indigenous Canadian athlete to win a gold at the Summer Olympics.
Morris is best remembered for his eagle feather salute at the 1984 Games in Los Angeles, when he accepted his gold medal on the podium by raising an eagle feather, echoing the Black Power salute of Tommie Smith and John Carlos at the 1968 Olympics.
The eagle feather, Morris later divulged, was a symbol not only to pay tribute to his Indigenous grandparents, but to also remind the world, and especially Canadians that cheered him on, that he was an Indigenous person.
⛷ Sharon and Shirley Firth
Twin sisters from the Gwich'in First Nation, the Firths were first introduced to cross-country skiing in the 1960s through a Canadian federal government program called Territorial Experimental Ski Training (TEST), established to help Indigenous youth in Northern Canada participate in physical activity.
The sisters were members of the first Canadian women's cross-country Olympic team, which debuted at the 1972 Sapporo Games, and were the first Indigenous females to compete for Canada in the Olympics.

Together, they won 79 (!!!) national medals in cross-country skiing, competed in four Olympic games and continued to advocate for Indigenous youth sports programs like TEST following their retirement.
➡️ The next generation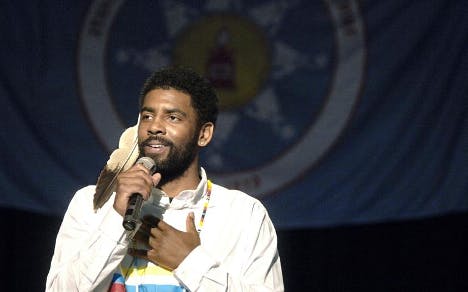 Thanks to incredible organizations like Olympian Beckie Scott's Spirit North and Nike's N7 Fund, Indigenous youth have more opportunities to participate in sport. And with an ever-growing list of talented, outspoken Indigenous athletes, the next generation has bright stars to follow.
Indigenous youth are now represented in almost every major sport, with the likes of Kyrie Irving in the NBA, Brigette Lacquette of the PWHPA, Carey Price and Ethan Bear in the NHL and Madison Hammond in the NWSL. Let's support.