🏈
⚽
🏆
Be the change
June 04, 2020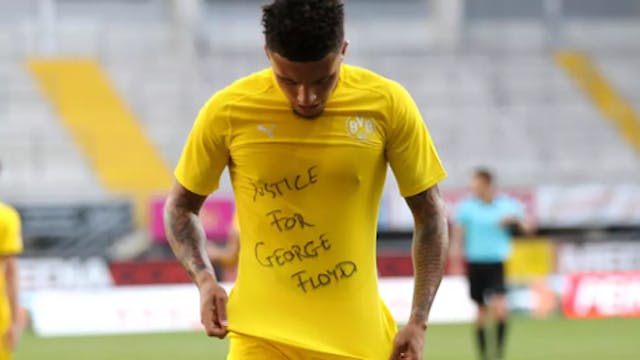 LARS BARON/AFP
The GIST: While athletes' voices are powerful on their own, backing from teams and strong action taken throughout organizations are imperative if we want to see real and necessary change driven by sports.
What soccer is doing: Germany's Bundesliga, one of the only major leagues currently playing, saw four players publicly show their support during matches last weekend. One of the players, Borussia Dortmund star Jadon Sancho, received a yellow card after taking off his jersey (a no-no) to reveal a handwritten "Justice for George Floyd" message on his undershirt.
FIFA (soccer's highest governing body), thankfully, was having none of that. In a unique official statement, the president of FIFA, Gianni Infantino, called for Sancho to be praised instead of punished.

On-pitch activism is usually discouraged in soccer, but Infantino's statement is a powerful door-opener in a sport that battles longstanding racism. Progress, people!
How the NCAA is helping: Kevin Warren, the commissioner of the Big Ten Conference (the oldest Division I sports conference in the NCAA) has created the Big Ten Conference Anti-Hate and Anti-Racism Coalition. The coalition will partner with existing diversity councils on school campuses in an effort to empower and educate students.
Warren, who is the first and only Black commissioner of a Power Five conference (the top five conferences in the NCAA Division I), said in the official coalition announcement that "George Floyd's death cannot be in vain."
The Philly Special: While many (not all) NFL teams have made official statements regarding the Black Lives Matter movement, the Philadelphia Eagles took it a step further: Eagles chairman and CEO Jeffrey Lurie, who rarely participates in team meetings, joined a closed meeting with players and coaches for a discussion on race relations.
Lurie encouraged an open and honest dialogue between the Eagles team, which compelled players like Jason Kelce to speak out on social media.

And, Lurie also pledged to dedicate more resources to work on reform within the organization, and the team will continue to raise money for the Eagles Social Justice Fund.
🏀
⚽
⚾
Step by step
June 04, 2020
SCOTT TAETSCH/GETTY IMAGES
The GIST: Little by little, some of our favorite sports are returning to action. Unfortunately, some of them are heading in the other direction, too.
What's coming back?: Basketball is oh so close. The NBA Board of Governors is voting on the league's return-to-play plan today, and, great news, it's looking really good! The plan will have the top 22 teams (based on their shortened regular season records) play eight games to determine playoff seeding before starting the postseason.
The NBA is aiming for a July 31st start date, but with a mini-seeding tournament ahead of full playoffs, it's likely the season will head well into the fall. The league's proposed timeline shows the latest possible date of the NBA's final game as October 12th. For reference, the season started on October 22nd last year.
Sweet! Anything else?: The WNBA is continuing their work on a localized return-to-play plan by scouting "hub" venues. On the shortlist are the MGM Resorts in Las Vegas and the IMG Academy in Florida. We like the progress, but we'd really like a start date.
That's it?: Nope. The MLS is headed back too! Yesterday the league reached a new labor deal with the players association, so with money issues out of the way, the league can get to work on their plan: a five-week tournament for all 26 teams at ESPN's Wide World of Sports in Orlando's Disney World (which they'll share with the NBA because that place is ginormous) that would likely mirror the NWSL's tournament.
What's not coming back?: Oh, MLB. These guys cannot agree on a return-to-play plan. The league owners rejected the players' counter proposal for a 114-game regular season and told the players union they don't plan to counter (enough counters or what?). Now, the league's Fourth of July start date is looking like a pipe dream.
Over in Japan, the Nippon Professional Baseball league is in jeopardy after two players from the Yomiuri Giants tested positive for COVID-19. The league, which is the second-biggest baseball league in the world, canceled an exhibition game due to the positive cases, which came just two weeks ahead of June 19th's Opening Day. Not good.
🏆

#BLM

June 01, 2020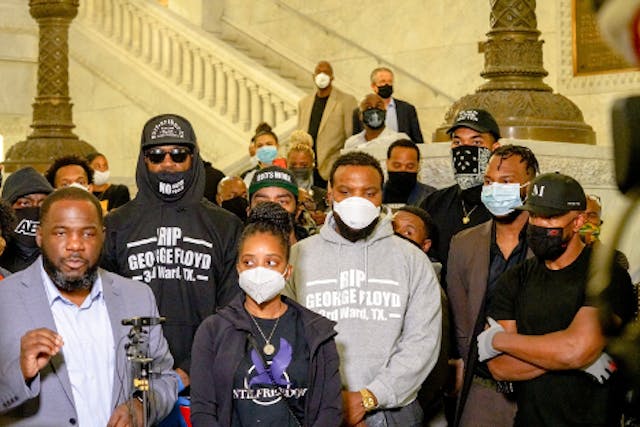 MINNESOTA TIMBERWOLVES/TWITTER
The GIST: The death of George Floyd has caused civil unrest in America — in the days since his murder on May 25th in Minneapolis, Minnesota, we have seen protests, ongoing police brutality, and a complete lack of leadership from the White House. In its absence, athletes, teams and leagues have been using their voices to call for justice and reform.
The athletes: With Minneapolis as the epicenter of protests, this weekend, Minnesota Timberwolves players like Karl-Anthony Towns (who, BTW, also recently lost his mother to COVID-19) and Josh Okogie joined others inside City Hall to stand for George Floyd. Elsewhere in Minneapolis, former NBA player Royce White and former Green Bay Packer Darrell Thompson organized a march.
The teams: Many teams across North America, including all Minnesota teams — Vikings (NFL), Timberwolves (NBA), Lynx (WNBA), Wild (NHL) and Twins (MLB) — have commented publicly on George Floyd's death, with the Lynx and Timberwolves saying their "community is grieving."
The University of Minnesota has taken it a step further, condemning the Minneapolis Police Department (MPD) and announcing that they will no longer hire MPD officers as security for their football games.
The leagues: The NFL — a league that has ostracized quarterback Colin Kaepernick for taking a knee during the national anthem in peaceful protest — has now recognized an "urgent need for action" (and Kaepernick has started a legal defense fund for arrested protesters).
The WNBA and CFL also tweeted statements, along with the NHLPA, while the NHL and NBA shared many of its players' and teams' reactions and statements. The MLB has remained silent. As WNBA player Natasha Cloud pointed out in her powerful op-ed, staying silent speaks volumes.
The GIST team: We are heartbroken. We are angry. We are desperate for change. We are part of a sports community that we know feels the same, and we are so proud of those who have used their platforms to demand action, accountability and justice. We stand with them and for them. For more on how you can support click here.
🎾
⚾
🏀
Will they or won't they?
June 01, 2020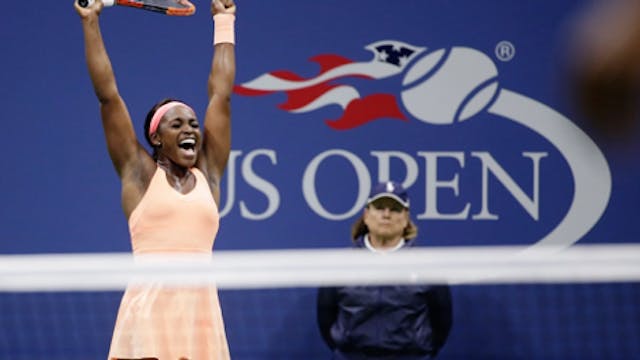 SETH WENIG/AP
The GIST: As the COVID-19 pandemic rages on, we're still dealing with a lot of ifs, buts, and maybes about sports that should be starting up again soon.
Tennis: We're about two months away from the projected August 3rd restart of the official WTA and ATP seasons, but the first scheduled Grand Slam event — the US Open, which is set to start on August 31st — is still a big question mark, with the US Tennis Association (USTA) hoping to make a yay or nay call by the end of June.
If the US Open does get the go-ahead, they have a plan! The USTA is looking at chartering flights from hub cities around the world, using fewer on-court officials, and limiting players' entourages. Also, the ball kids will be adults (and yes, we have thought of applying) and there may even be some fans.
MLB: What a mess. After the MLB presented a pretty disgraceful proposal to the MLB Players' Association (MLBPA) last week, the MLBPA is now looking to submit a counterproposal that would suggest 114 games (the league proposed 82, while a "normal" regular season generally has 162) and prorated salaries. It's highly unlikely that the MLB will go for it, so we're still quite a few steps away from mediation.
Time is running short, though. The league has been planning to start the season over the Fourth of July weekend, with the original hope that a deal would be met by today (LOL not happening). With all the unknowns, some team owners are now saying they're willing to call off the entire season. Now that's glass-half-empty talk.
Basketball: The WNBA still hasn't made any official statement on the 2020 season since it was indefinitely postponed on April 3rd (we're getting so impatient!), but rumor has it they might be considering a bubble scenario similar to the NBA. Just tell us something...anything...already!
Speaking of the NBA, their bubble plan is on the bubble. The Board of Governors is set to vote this week on the format of the Disney World plan, which should *knock on wood* start July 31st. Commissioner Adam Silver is apparently proposing a 22-team scenario (with a 20-team return also on the table), but it's pretty certain that not all 30 teams will return to play.
🏆

Something good

June 01, 2020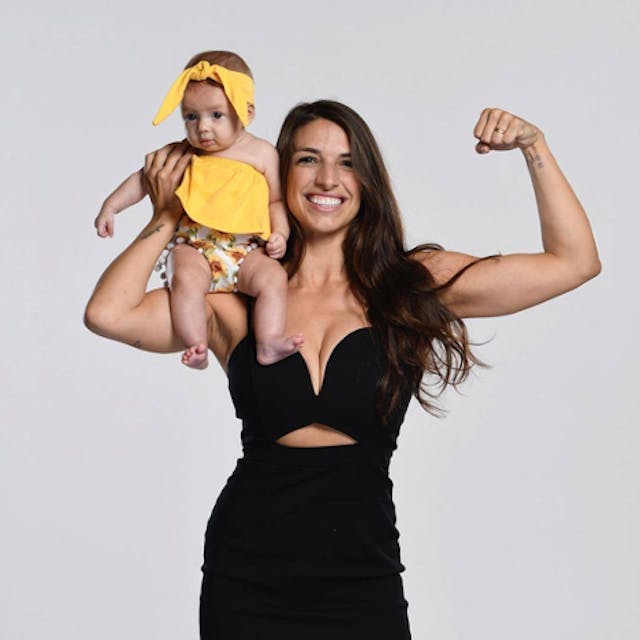 MACKENZIE DERN/FACEBOOK
Show me the money: Things are tough right now, so maybe it wasn't the best time for Forbes to take a break from their Kylie Jenner investigation to release their annual "Highest-Paid Athletes in the World" list. But they did, so here's "the gist" of the important bits:
Roger Federer topped the list after making $106.3 million over the past year, becoming the first tennis player to ever do so. The only women on the list were fellow tennis superstars, Naomi Osaka and Serena Williams, who came in at 29th and 33rd, respectively.

Thirty-five NBA players made the list, earning a combined eye-watering total of nearly $1.2 billion. Interestingly, not a single hockey player broke the top 100. But somehow, we don't feel that bad.
Oh mama: Saturday night was fight night for the Ultimate Fighting Championship (UFC) — because, you know, Elton said it was alright — and new mom Mackenzie Dern kicked ass. Dern performed the first-ever leglock submission in women's UFC history herstory, winning her match in the first round, and is now looking ahead to make herstory again as the first mom to win a UFC championship.
Blue jean baby: One of the few glorious things about being in quarantine is that we can wear comfy clothes all the time. Unless you're Johnny Gregorek, that is. The middle-distance runner and US Olympic hopeful decided to set a world record and run the fastest mile while wearing blue jeans, running it in 4:06.25, beating the previous record by more than five seconds.
We know what you're thinking: "why TF is he running in jeans?" Gregorek was running in honor of May's Mental Health Awareness month, raising over $31,000 for the National Alliance on Mental Illness in honor of his brother Patrick, who had long struggled with mental health before his death last year at the age of 21. A great run for a great cause.