And the beat keeps running running
April 06, 2020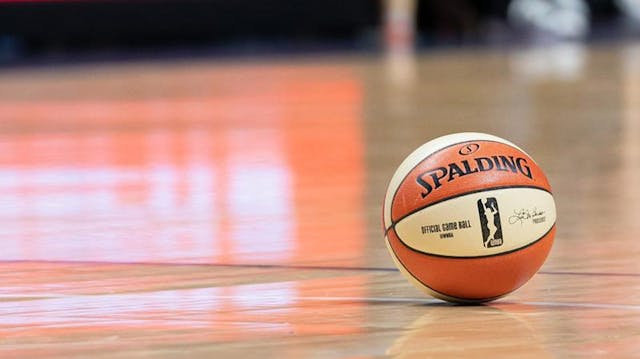 SOURCE: NESN/TWITTER
The GIST: And so it continues. With no real end in sight to the COVID-19 pandemic (sorry to be downers about it!), the sports world is faced with ongoing postponements and more cancelations. On the bright side, it's also brought on a new opportunity for creativity.
What's postponed now?: A few things. WNBA training camps were set to start on April 26th, but with new social distancing guidelines imposed until at least April 30th, they've suspended those and delayed the original May 15th season tip-off indefinitely.
The NWSL has also put a hold on team training until at least May 5th, with no word on when the season will begin (it was originally slated for April 18th), and the LPGA's US Open has been moved from June to December. Honestly, worth the wait.
And cancelations?: The Belgian Pro League will become the first European soccer league to completely cancel the remainder of their season. The board of directors made the decision to skip all remaining regular season games and the playoffs, and will name Club Bruges the champion based on their regular season performance.
With most European soccer leagues and the NBA and NHL approaching what would have been the postseason, we're thinking we'll probably see more of this. Bummer.
And what's this about creativity?: With almost all leagues (we're side-eyeing you, Belarus) around the world respecting social distancing rules, the sports world is getting creative with fan engagement. The NBA is currently working with ESPN on a televised game of HORSE (you know, the classic playground game) that would include some of the top players from the league. No word on who's in, but we're pretty pumped for this...if it actually happens.
But, how?!: Through technology. And a lot of other leagues are relying heavily on it right now, too. The NFL is preparing for a completely virtual 2020 Draft, from April 23rd to 25th. Meanwhile, the NBA 2K Player Tournament, which features the NBA's top talent playing the video game NBA 2K20 against each other, is underway, and NASCAR and Formula 1 are regularly broadcasting virtual races featuring current and past drivers. Kids and their technology.
So fun! Any more good news?: Sure thing! In an Instagram post with his wife, model Kate Upton, Houston Astros star pitcher Justin Verlander announced they'll be donating his weekly paycheck to COVID-19 relief.
And with the 2020 Summer Olympics pushed back a year, the governor of Tokyo, Yuriko Koike, is looking to repurpose the Athletes Village. The 24-building complex is still under construction, but the Japanese government is considering using the hotel-style rooms as self-isolation rooms and hospital wards for COVID-19 patients. You love to see it.
I pity the fool
April 02, 2020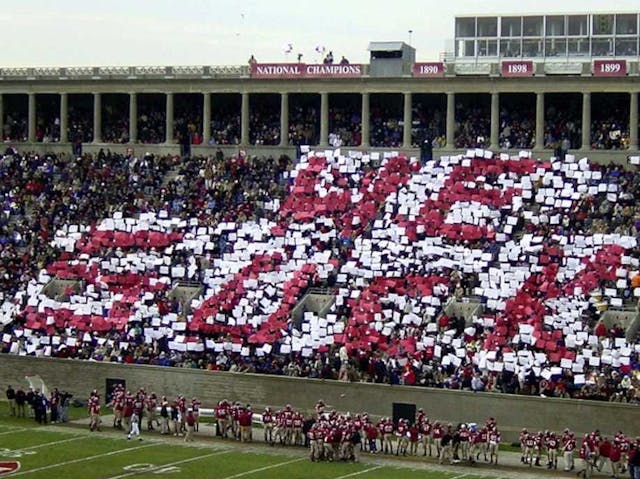 MIKE KAI VIA BUSINESS INSIDER
The GIST: TBH, we're rattled that this sick joke of a year isn't a big April Fools' joke from Mother Nature. But, to honor the spirit of the day, we're highlighting the top five pranks from the sports world.
5. For this one, we're going all the way back to 2004, when all was right in the world and "Yeah!" by Usher, Lil Jon and Ludacris topped the charts. At the annual Harvard-Yale football game, 26 Yale students dressed up as a "Harvard Pep Squad" and handed out over 1,800 colored paper signs (you know, those big cards that fans in stands raise above their heads at sports games) to the unsuspecting Harvard crowd.
The "Pep Squad" then had all of these fans raise their cards at the same time, with the words spelling out "WE SUCK." This stunt, inspired by the Rose Bowl prank in the 1960s, has gone down in the history books as one of the best college pranks ever.
4. Rookies always face some sort of hazing, but this one had it coming. During the 2004–05 NBA season, movie-star Lucy Liu attended a LA Lakers game. And after the game, rookie Tony Bobbitt apparently told everyone that she was staring at him the whole time (he wishes).
In response, a few of the veteran Lakers had a ball boy bring Bobbitt a piece of paper with a phone number on it, saying that it was from Liu, but the number actually belonged to Lakers center Vlade Divac (pronounced VLAH-DAY DEE-VAHTZ).

Bobbitt texted back and forth with "Lucy Liu" (it was actually his teammates), and ultimately set up a dinner date. But, of course, when Bobbitt showed up at the restaurant, it wasn't the Charlie's Angels star waiting for him, it was his teammates. Serves him right.
3. Let's take it back to the 2014 Sochi Winter Olympics. To refresh your memory, there was a lot of, um, #SochiProblems, including stray dogs roaming the streets of Russia. So when US Olympic luger Kate Hansen tweeted a video of a wolf wandering the hallways of her dorm in Sochi, no one questioned it and it was picked up by news and sports outlets in minutes.
However, this was all a big prank beautifully orchestrated by Kate and talk show host Jimmy Kimmel. Watch it all go down here.
2. On April Fools' Day in 2008, cycling magazine VeloNews announced that US cycling Olympians Connie Carpenter and Davis Phinney had created a company in which they would sell their eggs or sperm for $250k each (or both for $1 million!) so that families could create the "ideal champion baby."
Of course, this was an April Fools' joke and the company was fictional; however, many readers took the words at face value and tried to reach out to the company — a new meaning of doing anything to win.
1. We have another Jimmy — this time The Tonight Show host Jimmy Fallon — to thank for this prank. At last year's US Open Grand Slam, Fallon had tennis superstars like Naomi Osaka, Madison Keys, Ashleigh Barty and Novak Djokovic (pronounced JOKE-OH-VITCH) help him prank fans and media by dropping some, shall we say, unusual phrases during their press conferences. You have to see it to believe it.
🏀

Ch-ch-ch-changes

April 02, 2020

The GIST: While some of us are using this self-isolation time to learn new skills, connect with old friends (virtually, of course) or binge-watch The Office again, sports leagues are using it to shake things up.

NFL: The NFL has officially adopted some of its new collective bargaining agreement, leading to an interesting change for the 2020 football season: the playoffs are getting a facelift.
The league is moving from a 12-team postseason to 14, which means one extra wild card team in each of the two conferences (the American Football Conference, AFC, and the National Football Conference, NFC). As a result, only the No. 1 seed in each conference will receive a bye instead of the top two seeds in each conference (fun fact: since 2012, no team has made it to the Super Bowl without a bye).
NBA: The NBA is making changes too, but these ones are all COVID-19-related. The league is currently looking at options to finish out the season (which was abruptly paused on March 11th) and one of the front-running options is to have all teams play just five to seven games to reach a total of 70 regular-season games (normally 82 games) in a neutral location (i.e., Las Vegas) without fans in attendance.
Ideally, they would play a full 16-team playoff, but we could see a super-shortened best-of-three series in the postseason instead of the regular best-of-seven. All weird, but at this point, we'll take anything.
NCAA: The NCAA had to make the tough decision this week to not make any changes. They won't reschedule any sporting event that was set to take place during the coronavirus shutdown, including the famed March Madness basketball tournament, or give any competing winter athletes an extra chance to participate next year.
Sadly, that means college basketball stars who were denied the chance to play for a national crown won't get an extra year of eligibility, and we won't get to see our faves, like the iconic Sabrina Ionescu, get a proper senior sendoff. The good news? Spring sport athletes will be getting another year of eligibility. So, that's something.
🎾

Goodbye yellow brick road

April 02, 2020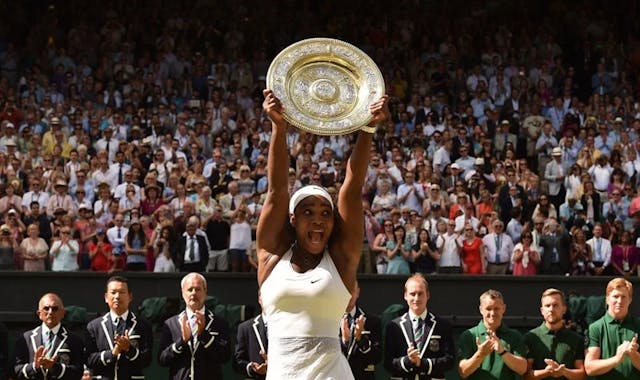 SOURCE: LEON NEAL/GETTY IMAGES
The GIST: The Brits have broken our hearts. Around the same time we learned that social distancing measures may last until summer (welp), we got the news that Wimbledon, the most prestigious tennis tournament in the world, has been officially cancelled for the first time since World War II (double welp).
Say it ain't so!: Oh, but it is so. With the extension of government mandated stay-at-home orders, organizers of the two-week Grand Slam tournament realized that there just wouldn't be enough planning and preparation time before the June 29th start date.
Because Wimbledon is a grass-court tournament, it's very weather dependent. Add that to the fact that there was no room to reschedule the tournament, as the French Open was already pushed from May to September, there was no choice but to cancel.
Jeez. So when could tennis be back again?: With the cancellation, the ATP and WTA jointly decided to extend the season's suspension from June 7th to July 13th, meaning a total of 20 men and women's tournaments have been canceled this year. Ugh.
What a bummer: Tell us about it. Wimbledon is one of those classic steadfasts in the sports world. Like the Masters in golf or the Kentucky Derby in horse racing, it's steeped in history and tradition, and it consistently brings the best of the best together. And it's the only sporting event that the Queen frequents, so you know it's classy.
We're going to miss some great tennis, aren't we?: We sure are. Wimbledon constantly spoils us with epic tennis. It gave us the single greatest match of all time — between Rafael Nadal and Roger Federer — and the longest match in history (three days long!).
It gave us seven singles wins for Serena, five for Venus, and six shared doubles for the sisters. And it gave us our favorite bad-ass press conference answer ever from Johanna Konta. Oh Wimbledon, summer 2020 just won't be the same without you.
🏆

Hey sister, soul sister

March 30, 2020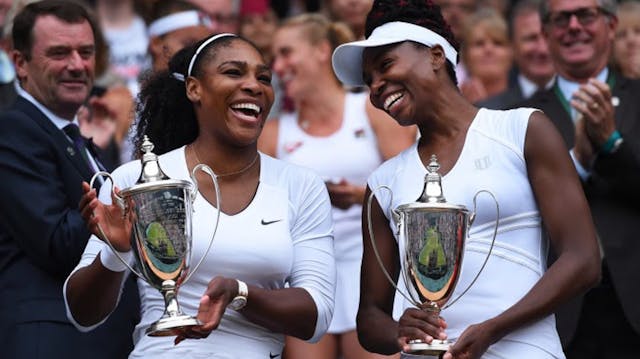 The GIST: Siblings. They're your loyal lifelong best friends and your most formidable foes wrapped up in one. And today we're celebrating that, shall we say, "special" relationship by giving #thegist of the top three sister acts in sports right now.
The Ogwumike (pronounced OH-GWOO-MIH-KAY) sisters: The Ogwumikes are the OG basketball family. The leader of this four-sister pack is big sis (no surprise there, right?) Nneka. At 6'2", Nneka is a force to be reckoned with: she was drafted No. 1 overall in the 2012 WNBA Draft, was named 2016 WNBA MVP and won the WNBA Championships in 2016. Sheesh. She currently plays for the Los Angeles Sparks where she packs a v. nice one-two punch with her little sister (although, at 6'3" she's not that little), Chiney, who is also a basketball analyst for ESPN.
The Lamoureux (LAMB-AH-ROW) twins: Americans love 'em, and Canadians...well, as much as they're too nice to admit it, don't. Team USA hockey stars Jocelyne and Monique Lamoureux have it all: speed, agility, grittiness and, most importantly, that eerie twin sixth sense that tells them exactly where the other one is on the ice at all times.
The pair have each won two silver Olympic medals, one Olympic gold and six world championships. Talk about #twingoals. And speaking of twins and sports, why not add Switching Goals to your isolation watch list?
The Williams sisters: These two need no introduction. Hands down, Venus and Serena are the most celebrated and popular sisters in the sports world. And rightfully so. Venus has racked up seven singles grand slams while little sister Serena has won 23, the most of any woman or man in the Open Era. And they've done so all while facing racism in a traditionally white sport.
Venus and Serena have the classic "you are my best friend I love you so much" but also "you are my biggest competitor" sister mentality. One day they'll be squaring off in a fierce singles match, and the next they'll be winning doubles matches together. We've been lucky to watch Venus and Serena play for over 25 years and can't wait for more.