🏒
⚾
Does that make me crazy?
May 04, 2020
BILL SMITH/NHL VIA GETTY IMAGES
The GIST: The COVID-19 pandemic is making the hockey world do some crazy things. San Jose Shark Joe Thornton shaved off his iconic beard. Montreal Canadien Brendan Gallagher is speaking French. And now the league wants to go ahead with the 2020 Draft before the regular season is even over. Weird.
How does the draft normally work?: The NHL Draft, which allows the league's teams to select from a pool of eligible players to add to their rosters, is usually held in late June, not long after the Stanley Cup is awarded.
The selection order is based on a combination of regular and postseason records, as well as a draft lottery. So in theory, the 2019–20 season would need to end before the draft order can be set.
But the regular season isn't over…: Exactly. The NHL suspended the season on March 12th and has yet to decide if it will resume the season this summer (yes, we hate to be the bearer of bad news, but cancelation is still on the table), meaning draft order can't really be determined yet.
But in an attempt to "execute a major fan-friendly hockey event during a time where there is likely to be no (or very limited) live sports competition," the league sent out a memo on Friday to outline how the unusual draft would work, ranking teams by points percentage.
Is this a good idea?: Just like most team general managers, we're on the fence. While this could really make things wonky, we appreciate the NHL trying to give us the sports fix we so desperately need.
Any other COVID-19 news?: Unfortunately, yes. The Little League World Series, which brings together youth baseball teams from around the world to compete for ultimate glory, has been canceled for the first time in its 73-year history. Guess we'll just have to watch reruns of Big Al's dingers to get us through.
🏆

Lawyer up

May 04, 2020
AARON M. SPRECHER/AP
The GIST: With the NCAA finally tackling the issue of allowing its players to make endorsement money, they're now being reminded of another major issue plaguing the organization: sexual assault amongst their student athletes.
Oh no, what happened?: Seven women are suing the NCAA for failing to protect them from alleged sexual assaults by male student athletes. The lawsuit, which says that the alleged assaults occurred at Michigan State, Nebraska and an unnamed Division I university, argues that the NCAA had a duty to protect the women and minimize the potential risk of sexual assault among its players.
The lawsuit also states that the NCAA failed to monitor its student athletes in accordance to the league's sexual violence prevention guidelines. The women, three of whom are student athletes themselves, all claim to have reported the sexual assaults after they occurred.
Can the NCAA be held accountable?: According to its sexual violence prevention guidelines, "NCAA member schools have a responsibility to address this issue appropriately and effectively to make campuses safe for all students," so there's a good chance the NCAA will deflect this to the schools involved.
Regardless, someone needs to be on the hook for this. We're so sick of the holier-than-thou student athlete culture that can propagate these assaults and we're so sick of reading these stories. We're proud of these women for stepping forward and making a difference.
⚽

Money, money, money

May 04, 2020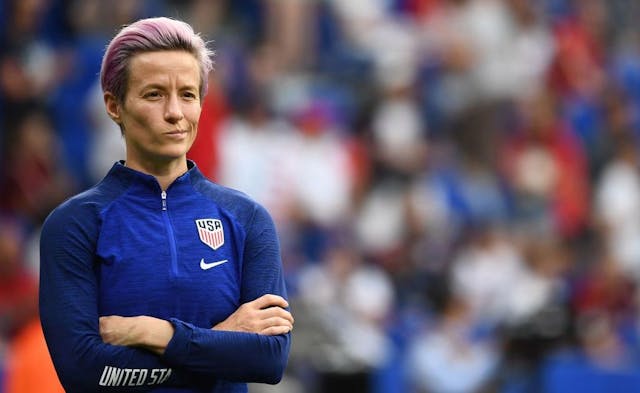 FRANCK FIFE/GETTY IMAGES
The GIST: In case you needed another reason to call 2020 a dumpster fire, the US women's national soccer team (USWNT) was dealt a major blow on Friday when part of their gender equality lawsuit was dismissed. Ugh.
Remind me, what's the backstory?: Last year, the USWNT filed a lawsuit against the US Soccer Federation (USSF), the sport's national governing body, on the grounds of gender discrimination. The lawsuit argues that the women's team was (and continues to be) paid significantly less than the men's national team (USMNT), despite the women generating more revenue.
The USWNT also argues that they've been given unequal resources, including worse training and travel conditions, and less promotion, support and development of their games and players.
Got it. So what happened on Friday?: A federal judge ruled against the USWNT equal pay suit, dismissing the claim on the grounds that they were actually paid more than the men's team during the period of 2015 to 2019 (in which the women's team won two FIFA World Cups while the men failed to qualify for one).
The women's team was so good, they earned a bunch of performance bonuses from winning so much. And because the men's team was, well, not good during this period, the USSF did end up paying the women more. That said, had the men simply qualified for the 2018 FIFA World Cup, they would've been paid much more than the women who won. *rolls eyes*
What happens now?: The USWNT will file an appeal against this latest ruling and will still work through the other part (i.e., unequal resources, etc.) of the lawsuit. A court date is set for June 16th (moved from May 5th because of COVID-19), but there's a good chance they'll settle out of court before then. In the meantime, Uncle Joe wants them to keep fighting for equality. And we do too.
🏒

Walk it like I talk it

April 30, 2020
CHRISTIAN PETERSEN/GETTY IMAGES
The GIST: As much as we all really, really, REALLY want live sports back, some players are speaking out against the proposed process for resuming play. Because players are human too.
What are they saying?: Over in the NHL, the league is proposing each team play games in one of four cities, based on their division, and that the playoffs be held in a figurative bubble, a la Bubble Boy. Heavily restricting the players' movements could see some players apart from their families for up to four months.
Montreal Canadiens' Phillip Danault said that if the NHL put it to a vote, he's not sure it would be positive for the league. It can't be easy knowing the further your team goes in the playoffs, the longer you'd be away from your loved ones.
What about other players from other leagues?: Turns out EPL soccer players might not be so stoked about their June 8th targeted return date either. A source told ESPN that a lot of players are "uncomfortable" with coming back and the league will only take things seriously if someone in the league dies. Um, let's not have it come to that, shall we?
🏆

Are you there sports? It's me, Margaret

April 30, 2020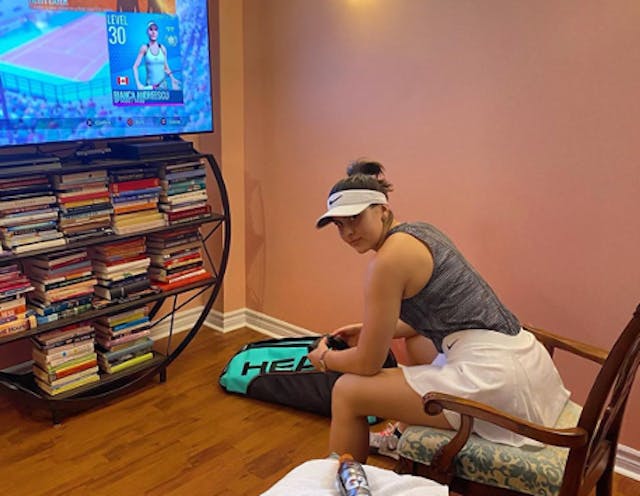 BIANCA ANDREESCU/INSTAGRAM
The GIST: Although COVID-19 is still wreaking havoc on most of our sports hopes and dreams, this week has blessed us with some good news.
What do you mean? Are sports coming back soon?: In soccer-crazed Europe, yes. The English Premier League (EPL) hopes to return by June 8th and finish the season by late July. Talk about a quickie. Over in Italy, Serie A has set May 18th as a target date to resume training, though many aren't optimistic that full games are around the corner. Meanwhile, France and the Netherlands have taken the opposite route, canceling their country's soccer seasons completely. You win some, you lose some.
Closer to home, the LPGA is looking to restart in mid-July, with tournaments in Michigan and Ohio. And the MLB is planning a massive birthday party for America on the Fourth of July by bringing back baseball. We'll get our party hats ready.
But what can I watch right now?: There's tennis! Well, kind of. The Madrid Open went virtual this week, bringing together top talent from the WTA (women's circuit) and ATP (men's circuit), including stars Belinda Bencic (pronounced BEN-CHITCH), Bianca Andreescu, Andy Murray and Rafael Nadal. The tournament wraps up today, and though it's been fun, we think it would have been way more interesting if they were playing Wii Tennis, but beggars can't be choosers.
And over in South Korea, where the pandemic is a little more contained, the Korea Baseball Organization is playing preseason games and intends to open the regular season, granted without fans in the stands, on May 5th. Rumor has it they're even nearing a broadcast deal with ESPN.
Anything to cheer me up while I wait?: Glad you asked! We fell head over heels for the NFL's Kansas City Chiefs hunk lineman and Super Bowl champ Laurent Duvernay-Tardif this week. As the only active NFL player who's also a doctor, the Canadian is now working on the COVID-19 frontlines in a long-term care facility in Quebec. Move over McDreamy.