⚽

MLS Is Back Tournament Forced to Rejig Schedule

July 09, 2020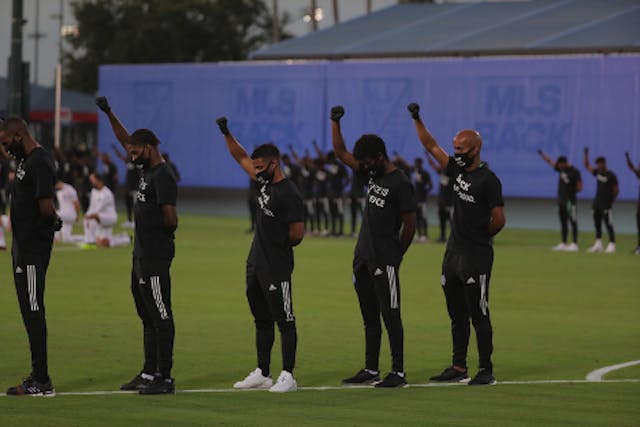 MLS TWITTER
The GIST: The MLS Is Back Tournament (the most snoozy and literal name ever, we know) kicked off last night, meaning that, along with the NWSL's Challenge Cup that's already underway, it's soccer's time to shine. But unfortunately, it's not all sunshine and rainbows for the world's most popular game.
Why not?: Put simply, COVID-19. On Tuesday, FC Dallas (FC stands for Football Club) pulled out of the tournament after 10 players and a coach tested positive for COVID-19. Shortly thereafter, Nashville SC (SC stands for Soccer Club) announced five players tested positive and four players had inconclusive tests, leading many to wonder if they'll be the next team to drop out.
With FC Dallas dropping out and Nashville SC delaying games, the league had to rejig its schedule just two days before last night's kickoff. We don't envy that job.
This gives us wild déjà vu. Two weeks ago, the NWSL found themselves in a similar situation after the Orlando Pride pulled out of the Challenge Cup due to multiple players and staff testing positive for COVID-19. We've said it before and we'll say it again: maybe it's still too soon?
What does the MLS schedule look like now?: With FC Dallas dropping out, the schedule has been adjusted to accommodate 25 teams instead of 26, but the format of the tournament — a group stage followed by a knockout stage — is staying the same (v. similar to the World Cup).
In the group stage, Eastern Conference teams are split into groups A, C and E and Western Conference teams into B, D and F, with each team playing three group stage matches.
After that, the top two teams in groups B to F, the top three teams from group A and the next best three teams overall will move on to the 16-team knockout round, which starts on July 25th.
Got it. So how was opening night?: Awesome. And it was made even better by every player showing solidarity with the Black Lives Matter movement.
And how's the Challenge Cup going?: Swimmingly. After two exciting games yesterday, there's just four more left in the group stage. North Carolina Courage currently hold the top spot, with the Houston Dash, Washington Spirit, OL Reign and the hostesses with the mostesses, Utah Royals FC, all in a battle for the second seed.
🏆

Ivy League Postpones Fall Collegiate Sports to Spring 2021

July 09, 2020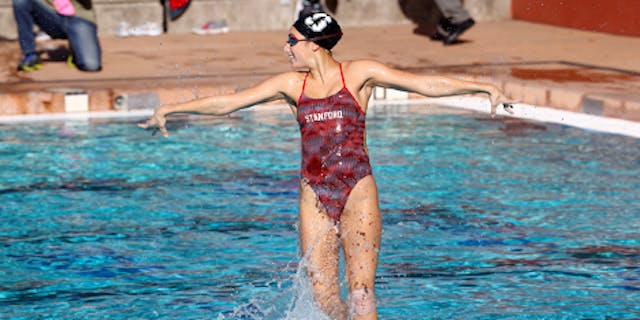 HECTOR GARCIA-MOLINA/ISIPHOTOS.COM
The GIST: As we anticipate the return of so many pro sports, the college sports world is not looking great: it seems like a few sports won't be coming back this year...or ever.
The big picture: Earlier this week, most Ivy League schools announced they're going online for the fall semester and because of that they're also postponing fall collegiate sports until the spring. And yes, that includes football.
This is a BFD not only because people are obsessed with college football, but also because football represents a huge part of most colleges' revenue, which is then used to help fund less financially lucrative sports (think: fencing, wrestling, rowing).
An example: Yesterday, Stanford University — which has produced numerous Olympians and national champions, and counts golfer Tiger Woods and soccer star Julie Foudy as alums — announced they will be cutting 11 of their 36 varsity teams. Without the cuts, the school has said they would lose an estimated $70 million from the effects of the COVID-19 pandemic and the loss of the football season. Whoa.
The good news? The school will honor any athletic scholarships for affected students. And, if pandemic measures allow it, the school will let the 11 sports continue during the 2020–21 school year, but they will have to transition the teams to club sports (which means no funding) by the start of the 2021 academic year.
🏆

Podcast Episode 25: Everything you need to know about the return of sports

July 08, 2020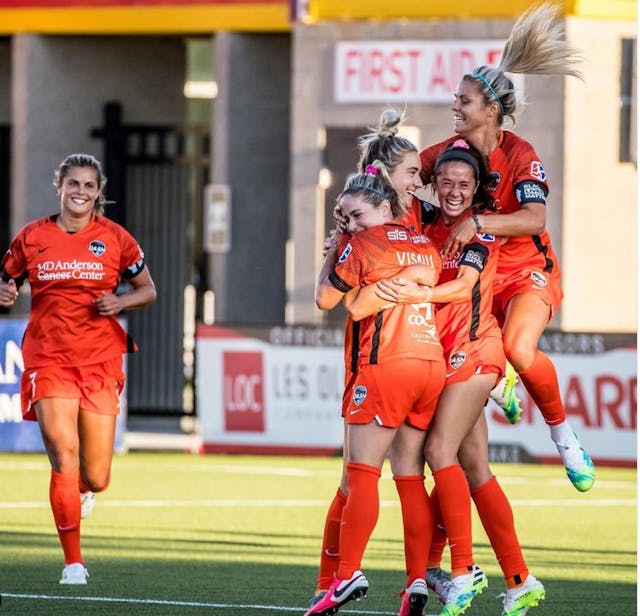 NWSL/INSTAGRAM
Listen to this episode of The GIST of IT here.
(Edited for clarity)
Ellen: What's up, GISTers? Welcome to The GIST of It, the podcast where two gals and two pals give you the gist of what's going on in the sports world. I'm Ellen Hyslop.
Steph: And I'm Steph Rotz.
Ellen: Thanks for tuning in.
Steph, it has been a minute since chatting with you.
Steph: I know I've been seeing your face on social media more than I have on Slack or on the the SquadCast app that we use.
Ellen: I know, I miss seeing your face after, what was it, basically a week and a half off between podcasts. Also I miss all of our listeners. It's been a while.
Steph: Yeah, it feels a lot longer than a week and a half.
Ellen: Totally. It seems like time is moving super slow, but also fast at the same time, because really since we last spoke, so much has happened in the sports world, like leagues are returning now, but also so is Covid-19. The pandemic is very much here and what's also been really cool to see is that the Black Lives Matter movement, even throughout all of this, is still super strong and so much so creating really great change right now.
Steph: I unplugged from the news for a couple days and then when I plugged back in I felt like every league was back and cases were up, it's a very weird time and I'm very conflicted in how I feel about sports returning and leagues returning, which we'll get into. So this episode is going to be a mix of where Covid-19 has placed all of the sports leagues, and also we want to talk about what leagues, teams, athletes are doing to help support and to sustain the Black Lives Matter movement as we shift towards this return to play.
Ellen: All right, so, Steph, as you mentioned, let's get into where the fuck the sports world is at in relation to the Covid-19 pandemic. And I'm really excited because the first thing we get to talk about is the NWSL Challenge Cup tournament. And that tournament is going on right now in Salt Lake City, Utah. And all of the players, as well as their families and kids, are quarantining together in Salt Lake City, Utah. Only eight teams in the NWSL are playing as the Orlando Pride had to pull out because Florida is obviously just such a gong show with the coronavirus right now.
Unfortunately, they had a bunch of players as well as a bunch of staff test positive and they had to pull out of the tournament, which I think was such a smart decision for them and also so selfless of them when you think about it, they train for so long, they really wanted to be part of the tournament and then they couldn't be, for the sake of themselves, but also for the sake of all the other players and all the other staff and family there. So kudos to them for pulling out of the tournament.
And altogether though, this tournament has been so much fun to watch, you can watch it on CBS All Access, and also, if you don't have that, go and follow NWSL on Twitter as well as on Instagram, because the highlights from the games are so much fun, so unreal. My favorite highlights have definitely been the header goals they are just a much watch.
Steph: Whenever I see a someone head the ball, especially multiple header goals, I get so nervous. Is that good for your brain?
Ellen: Totally concussion central. And it's actually interesting that you brought that up because of everything that's happened with CTE in the NFL. So CTE is a little bit different than getting concussions. CTE is tied back to consistent hits on the brain, and so that's why it's around in the NFL in particular.
But now they're thinking that it could be happening in soccer players, especially women soccer players, because we tend to head the ball more randomly in comparison to male soccer players. And so some of the prior U.S. women's national team players like Brandi Chastain, who's just such a boss and is such an unreal player, she has actually dedicated her brain to science to see if she has any CTE. So it's interesting that you bring that up.
Steph: I've heard a couple women's hockey players saying that they're dedicating their brain to science too, which I find it interesting. Anyhow, so eight out of the nine teams are playing in the tournament, which you mentioned there, and I'm curious, Ellen, like, what's up with men's soccer? Where are we at with that?
Ellen: It is in a curious spot right now. So Major League Soccer, MLS, they have a tournament called the MLS is Back Tournament, which I don't know about you, Steph, but that has to be inspired by the Backstreet Boys.
Steph: I love the Backstreet Boys. I've been playing them...their most recent album that came out last year is actually a bop.
Ellen: I don't think I've listened to one song from that.
Steph: Oh I'll send you a curated list.
Ellen: Please send it to me because they, fun fact for actually my very first concert, I think in grade four, Paige Feere took me for my birthday to go to the concert and grade four. And I was like, oh my God, this is so exciting. They're great.
Steph: Do you remember what album that was for?
Ellen: It must have been...
Steph: Would it have been millennium or…
Ellen: It was black and blue.
Steph: Oh, my God. Because my first concert, Ellen, and I'm not lying was the Backstreet Boys.
Ellen: No.
Steph: Yes, I was in grade two, I think, and it was the Millennium Tour, and they came in on like flying skateboard or snowboard type things. It was so cool, time of my life.
Ellen: Such amazing dancers, that is something that I still remember about that concert was those boys were tight on their dance moves. They had it all down. Amazing. Anyway, but back to, I guess arguably more important things. I don't know if it is more important or not, considering our love for the Backstreet Boys. But anyway, the Major League Soccer is Back Tournament is supposed to start today in Orlando, Florida, taking place specifically at Disney World. All teams were supposed to compete, so all 26 teams were supposed to compete.
But here's the issue. FC Dallas and by the way, FC stands for Football Club whenever we're talking about soccer, dropped out yesterday after 10 players tested positive for Covid-19, 13 players in MLS have tested positive altogether. And so because the majority are from Dallas, they made what I think is a really smart decision to pull out of the tournament. And so now they'll have to rearrange their full tournament for the 25 other teams, which is just an absolute mess. And I don't envy the job of whoever is doing the scheduling right now, because that's just going to be a little bit of a nightmare.
And the majority of MLS clubs are based in Florida or sorry, not Florida, they're based in the U.S. and Toronto FC, as well as the Vancouver Whitecaps, were kind of stalling going down and they were actually in the air when the news dropped about Dallas opting out of the tournament.
Steph: I hear that they're leaving and I'm like, my head is screaming like, please stay, stay boys, stay don't go there. So this one team has already dropped out and they've had to rearrange the tournament. To me, it seems inevitable that more teams are going to have to drop out throughout the tournament. Or players are going to get benched. I just feel like this is gonna be so malleable throughout the entire time. It's going to be a lot to keep up with.
Ellen: Yeah, it's totally going to be a lot. And I think that one thing that we have to remember is that everyone, every league, every player, every health official is completely new to this and everybody's learning on the fly. So I think that we do have to be fair and expect some bumps and bruises along the road as we're starting to come back in sports.
Steph: Love that on the fly reference there. So the NBA is also supposed to be playing at Disney, too, right?
Ellen: Yes. So they're also at Disney. And Disney has this super cool ESPN kind of complex of sports, and that's where they're all going to be playing for the NBA. So the format is that the top 22 teams out of the regular 30 after the regular season are set to play in Florida at Disney. And unlike soccer, both NWSL and MLS, no teams have dropped out yet. And it looks like all teams will fully participate.
What's interesting with MLS as well as with the NBA, is that they have a crazy kind of boujee setup they're bringing in everything that these NBA players could ever want from Mani-Pedis, huge TV screens, video games, all of that sort of stuff. But they also have an incredibly exhaustive list of safety protocols that they have to go through. So the way that the return to play format is working is that there's going to be eight regular season games for each of the 22 teams to determine seeding for the playoffs. So seeding is really just putting teams in ranking from one to eight on both the Eastern Conference and the Western Conference to determine the playoffs. And in the playoffs, the first place team plays the eighth place team.
So that's really what seeding means there. And only 16 teams will be part of that playoff field. The other teams who don't make it, so quick math, six teams, the other six teams that don't make it are just done. So this season is starting on July 30th, as we mentioned, and what's crazy is that it will actually go to about mid-October, which is when the season would normally be starting. And as far as players dropping out, the majority of their stars are going to be there and a handful have opted out of the tournament or sorry, of the return to play league because of Covid-19 concerns. And we'll link that in the show notes so that anyone listening can have a look at that.
Steph: I know that some NBA players have said on Social that they would opt out to fight for social justice, too, like L.A. Laker Dwight Howard, though, we're still waiting on complete confirmation there. And in terms of the Black Lives Matter movement and its relationship with the NBA, they're doing some really great things at the center of each of the courts they're going to paint the phrase Black Lives Matter on the actual court itself and on their jerseys, players are gonna have the options to put a list of messages in replacement of their last name. Some of the approved messages, so it's coming from an approved list from the NBA include: Black Lives Matter, Say her name, How many more? and Listen To Us. So there are others, those are just a couple. And considering how, you know, progressive the NBA has been, especially in comparison to a couple other leagues, you can expect that most of the players, and we're hoping that most of the players, are going to continue to use their voice, whether that's on social media or whether that's taking a knee during the national anthem. So interesting to see how that plays out throughout the duration of this.
Ellen: Definitely. I think that it's a really cool thing that they're doing. And I think that it's great that, you know, the league is supporting them through that. And I think to really dive into that and also to stay on the basketball train, we should talk about the WNBA as well. So with the WNBA, unlike the NBA, their season never got started at all. So they'll be starting from scratch. So their season starts up on July 23-24, and it's a shortened 22 game season. It was originally supposed to be 36 games this year. They'll also be playing in Florida. But again, unlike MLS and the NBA, they're playing at a stadium in Bradenton, Florida. And similar to the NWSL, families and children are allowed to bubble there. Unfortunately, and we just posted this on our Instagram, @thegistnews.ca and @thegistusa, a video that was recently leaked about where the players are staying, and it does not look like it's up to a professional player standard, especially in comparison to what we see of where the men are staying. It looks like there's some pest infested laundry rooms and some insect infested rooms where they're staying and the food does not look up to par. So I really hope that that changes now that there's been some athletes that have shared that.
Steph: It's pretty jarring when you describe the boujee conditions of the NBA in comparison to the video that was circulating or the videos that have been circulating.
Ellen: Exactly. It's just another kind of, I don't know, punch in the stomach almost of what it's like to be a professional female athlete in comparison to what it's like to be a professional male athlete.
Steph: Mm hmm. And I am so curious, too, in terms of how it's going to play out with the WNBA happening kind of at the same time as the NBA, because historically, as you mentioned, the NBA would end and then the WNBA would start. So I'm really interested to see how that all plays out, too, in this overall context, in conversation about women's sports and men's sports.
Ellen: Yeah, hopefully people are still tuning in. I think that they did it for a reason beforehand. And I mean, when we look at the NWSL, they've had record viewings for being the first sport back, which is just amazing for exposure. But I also think, too, like, why not watch basketball every other night and then you can watch WNBA and NBA. So I am really interested to see what the ratings are like, and hopefully they are still sky high because we've all been waiting for the league to come back for so long.
Steph: Oh, yeah. I'm really ready. I'm ready. I'm hungry. And I think the WNBA obviously does a lot of really great stuff. And they're amazing athletes. And women often take charge and are leaders in social justice and to kind of use a phrase that's been circulating in our consciousness lately, no one is free until we're all free, right. Black women often take charge and are leaders in social change. And there have been so many superstars from the WNBA who have been completely selfless and opted out of this season in order to continue on with that fight, including Washington Mystics star Natasha Cloud, who we've talked about before, and Atlanta dreams, Renee Montgomery, among many others. So there's a lot to think about here too, just outside of viewing numbers, and so many players are still going to make a difference on the court itself too. The WNBA players have the option of wearing jerseys with the names of women who have been killed in connection with police brutality or racial violence and this decision does come with the support of Breonna Taylor's mom. And the proceeds from the sales of those jerseys will go to the Breonna Taylor Foundation. I think that it's important to mention that as well. And the league also formed a justice movement which will create community conversations, virtual round-tables, player produced podcasts, which is amazing, to address inequality and the implicit bias and systemic racism that has targeted black and brown communities. I mean, my eyes are going to be on the WNBA wholeheartedly here for sure.
Ellen: It's so amazing to see them lead the way consistently and all the time. I think a player that really put them on the forefront of this is Maya Moore. I think we have to give her a huge shout out this week, if you're not familiar with Maya Moore, at the peak of her WNBA career a few years ago, and when I say peak, I mean multiple WNBA titles, multiple MVP awards, kind of peak. She's arguably, I think, the best winner in basketball, period. It just seems like that's what she did, is win. She decided to opt out of playing in the W to become a social activist, mostly helping Jonathan Irons, who was an innocent man who spent 22 years in prison for a crime that he didn't commit when he was a teenager be released. And over the weekend he was released. And a huge part of that is because of what Maya Moore did to help him successfully overturn his 50 year sentence. So if that's not inspiring and if that's not showing what type of a league the WNBA is and what type of players make it up, I don't know what does.
Steph: Yeah, it's phenomenal. Phenomenal women.
Ellen: For sure. And, you know, Steph, I think transitioning off the court a little bit, should we get to your beloved sport of hockey?
Steph: Oh, always. Please let's. It's going to be a little bit of a different tone I would say, but let's talk hockey.
Ellen: It definitely and always is a different tone, especially from basketball. It's like night and day. So the NHL has finally confirmed that they will be returning to play on August 1st and that the hub cities will be Toronto and Edmonton. So up here in Canada, as opposed to in Florida. And for a while, I know that we or maybe just me could have been both of us, I don't know, kind of chirped the NHL being like, come on, make a decision, when are you coming back? And this was a part of the time when the NBA decided WNBA decided MLB was still trying to figure things out. But they are actually way smarter than us. And also way smarter than everybody when it came to this coronavirus pandemic because they took their time, they assessed the situation and they made the very smart decision to end up having both hub cities in Canada, where the coronavirus cases are less than a fraction of what they are in the US. So, you know, big kudos to the NHL there for actually listening to health authorities and being slow. So for the NHL's plan, it's a 24 team playoff format. And within that, there's going to be a qualifying round for seeding that will be in a round robin format. And then once that qualifying round is done, only 16 teams, so eight will be out. Only 16 teams will move on to the standard best of seven playoffs. That will end up ending in the Stanley Cup final. And all of the Stanley Cup finals will be played in Edmonton. All Eastern Conference teams will play in Toronto and all Western Conference teams will play in Edmonton. And so far, unlike many of the other leagues, there's been no players that have opted out due to coronavirus concerns. But that's just right now. I wouldn't be surprised as we ramp up to training camp on July 10th or when players arrive in Edmonton or Toronto on July 26, that that starts to change.
Steph: Yeah, we haven't heard anything officially from the NHL in terms of actions that they're going to be taking when the league resumes to continue on with advocating for racial justice and for the Black Lives Matter movement, which is something important to point out here. Last week, because we weren't on the pod, so last week while we were away, the Hockey Diversity Alliance met for their first public meeting, which as a recap, the Hockey Diversity Alliance is an independent org so independent from the NHL. And they discussed the necessity of the existence of that group and of their advocacy on UNINTERRUPTED. And then when it comes to the league itself, Kim Davis was interviewed on SportsNet's Top of Her Game on Monday and the interview with Tara briefly touched on in-game protest. So they talked a little bit about not necessarily encouraging or allowing it just culturally, not necessarily officially in past, and suggested that the NHL will be open to a player expressing themselves in, quote unquote, appropriate ways. So it's a little vague. A lot of vague, nothing concrete, nothing like jerseys being changed or being painted that I've been seeing.
Ellen: I'm excited to see what will happen there.
Steph: Yeah, I mean, it's the NHL. Calling out racism was a huge step. I mean, that's a really frickin low bar to say, but that's kind of the discourse. I would say that's online. It's like, oh, we've already come so far.
Ellen: Right. I see. OK, so moving along, we basically have two leagues left. So stick with us. So looking at the MLB, speaking of mess, a bit of a mess here. So they're set to start on July 23-24 weekend, and the 23rd being the opening day with a shortened 60 game season. And they're set up a little bit differently than the other leagues, and it makes us a little bit nervous.
So they actually have no hub cities or one spot where all the teams are playing. Each team will train at their home field and home stadium and play games out of their home stadium, as well as traveling regionally between the other teams. So there's still travel. There's just less of it. So you're not going to see Toronto travel all the way to L.A. for example, as much as they would have in a regular season.
So, I mean, I'm concerned, of course they're going to have private buses and planes and all of that sort of stuff. But there is way too much room for error there, in my opinion. And so it seems like a lot of people kind of agree, including L.A. Dodgers pitcher David Price, who was previously a pitcher for the Boston Red Sox and Toronto Blue Jays and also former Cy Young Award winner, which is an award given to the pitcher, best pitcher in each conference. Atlanta Braves Felix Hernandez is also opting out. So those are two really big names that have opted out.
And Mike Trout, who's a Los Angeles Angel, he's the best player in the game, also the highest paid player in the game, is expecting a baby in August, and he doesn't want to put his wife or his baby at risk, and he might be opting out. And so if those three are out, who knows what else could happen here.
Steph: Mike Trout has also been wearing a mask at practice. And his mom made a really great meme that went a little viral. Oh, gosh. Using the word viral here feels weird, but she she used the text, "If Mike Trout can wear a mask while running bases, you can wear a mask going out in public." So. Right. Listen to the moms, ladies and gents and friends beyond the binary. Come on. Like that is such a golden message for everybody, I would say.
So then Toronto is going to be crossing the border then, Ellen?
Ellen: Yes.
Steph: OK. Yes. And as we know it's closed.
Ellen: Yes. As we know it's closed, but as we also know, sports get special treatment.
Steph: I'm so iffy about this no hub city stuff. But let's let's see how it plays out.
Ellen: Yeah. It sketches me out, too. And there's so many people that are on a baseball team. You know, it's not like it's a basketball team. It worries me for sure. And so finally, getting into the last thing that we want to talk about, PGA, the LPGA tournaments and tennis, those are set to be gearing up closer to the end of the month, again, with no fans. The PGA has been going on right now and there has been some major players, as well as caddies that have tested positive for the coronavirus, even in this bubble. And even with no fans and all that, which is really, I think, showing the risk of it. But they are still continuing with tournaments. But today, I really wanted to focus on the NFL because there's so much going on with that league. And it really is America's favorite game at the moment. The NFL season is set to start in September, so there's really no changes there. But what they've finally come to terms with is the fact that they're only going to have two preseason games and likely have no fans for the majority of the regular season. But they're still very TBD for the playoffs because the playoffs aren't going to happen until 2021. So we'll see what happens there.
Steph: Talking about the MLB and the NFL, let's get into the concept of changing some of these teams' names finally. A number of teams are considering changing their names, including Cleveland's MLB team, Chicago's NHL team, Edmonton's CFL team and the Washington NFL team. It's really about time, like we've been saying this on the podcast for a while, we don't and many fans don't say the full names of these teams out loud. People, indigenous communities, Native Americans have been asking for these names to be changed for so many years. Like this isn't new. And while, yes, change is change, we're all for change, I can't help but be a little bit annoyed that it took major corporations like Nike and FedEx, etc., to put pressure on these various teams and specifically the NFL, Washington teams, they put a lot of financial pressure on. So Nike, who is the official apparel partner of the NFL removed Washington merchandise from its online store and then Wal-Mart and Target followed suit. So some great leadership happening there from Nike. And according to Adweek, three separate letters were signed by 87 investment firms and shareholders worth a collective six hundred and twenty billion dollars, asking Nike, FedEx and PepsiCo to terminate their business relationships with the Washington NFL team unless the team agrees to change its name. So there is some mobilization happening. This is definitely a part of the movement, the civil rights movement that we're kind of in here. Jesse Wente, who I love listening to on many podcasts in my feed, tweeted something out that I bookmarked immediately and I want to read out. He said, "Money. It's always money. The Washington NFL team was always going to change its name. It just took a moment where it became too costly to keep it or more profitable to change it. But that's fine. Racism serves profit. A great way to combat it is to make it unprofitable."
But ringing in my ears, what a great quote. It's so great to see that these teams are taking these initiatives and are listening and are saying that they're going to review the name. But to use Jessie's phrasing here, we the fans, have to make racism unprofitable. And that's just something I want to sit with.
Ellen: Totally. You're so right. Like, we do have so so much power, even though sometimes it feels like what is one person going to do to change, no, as a collective, we can spark change and make it happen.
Ellen: So, you know, there you have it. That's kind of a coronavirus return to play slash starting play and a Black Lives Matter cheat sheet, all mixed up in about 25 minutes.
Ok, so that was a lot of information, and so to end our podcast and to kind of lighten the mood a little bit. We thought we'd bring back our "Wow, that was fun" segment to help end the podcast on that light note and help put a smile on your face during this still weird and still challenging time that we're living in.
Steph: Whenever you say, "wow, that was fun," I do like a shoulder shimmie and a shake for the people who can't see my shoulders.
Ellen: Yeah it's really encouraging.
Steph: So this past week we missed, I was wanted to talk so badly about Queer Eye's linkup with Philadelphia's mascot, Gritty. If you need a pick me up and you want like a mashing of like your pop culture love and world with the sports world, check that out on YouTube. And it led me to learn that there's this really fun Instagram account called Gritty Guards, where people like follow around and post photos of the security guards that stick with Gritty. It was really fun, really lighthearted. I'm a fan.
Ellen: That's great. Gritty is awesome and fun fact. Actually, one of our GISTers works directly with Gritty.
Steph: Stop. Really?
Ellen: So we're a Kevin Bacon number away from Gritty. Maybe you could meet Gritty one day Steph.
Steph: I love Gritty so much, I follow him on Twitter.
Ellen: Too bad about the Flyers, sorry as a Leafs fan for anyone listening from Philly, don't like them. Anyway, the fun thing that I thought was fun this week but also makes me thinking like holy... why do we pay athletes so much money? Is that NFL MVP quarterback, Kansas City Chiefs quarterback Patrick Mahomes, signed the largest NFL contract ever. And as per ESPN, it's a 10 year contract worth 450 million dollars and even more when you add bonuses and injury guarantees. And so obviously, this number by itself is a huge number that does not need explanation. But the fact that it's 10 years is also a huge deal and almost unheard of in the NFL because injuries are just so pervasive and even Mahomes has had some injuries himself. So I was shocked at this 10 year number. And he still has two years existing on his current contract with Kansas City. So that means that he's going to be with them for another 12 years. And so I think that Paddy Mahomes is so entertaining. He is one of the best quarterbacks I've ever seen, like he could be the greatest quarterback of all time and surpass Tom Brady in terms of Super Bowls. I also love that he's a black quarterback because quarterbacks we know historically tend to be white. I love that he is the one that's getting paid this 450 million dollars. But it also makes me be like 450 million dollars, are you kidding me? That's so much money for one person, and I get it, that over 10 years that's 40 million dollars a year, to play the sport that you freakin love for 16 plus games if you're lucky. And just like it's kind of alarming that that's how much money is given to a specific player, especially in the times that we are in right now. So that's it's so fun. It's great that people are getting paid. But I'm also like, let's spread the wealth.
Steph: Yeah, I'm sure he's going to buy some more shoes.
All right. That's The GIST of It from Ellen and I. Thanks for tuning in. If you liked what you heard, tell all your friends and subscribe to The GIST of IT on Apple podcasts, Spotify, Google player, Stitcher. And while you're there, rate us five stars and leave a review.
Ellen: And in case you missed it, The GIST creates sports content experiences and community that's by women and for all sports fans, if you like what you heard today, you have to check out our free twice weekly newsletter where every Monday and Thursday morning we give you the gist of what's going on in the sports world. If you haven't yet subscribe at thegistsports.com. If you have a question or if you want to get in touch with Steph and I, email us at pod@thegistsports.com or DM us on Instagram @thegistnews.ca or @thegistusa. I'm Ellen Hyslop.
Steph: And I'm Steph Rotz.
Ellen: And this has been The GIST of It. See you next Wednesday.
🏆

History has its eyes on you

July 06, 2020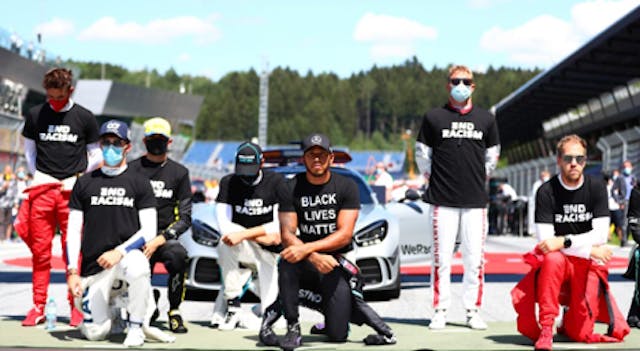 DAN ISTITENE/POOL VIA AP
The GIST: As the musical version of Alexander Hamilton said (by way of Lin-Manuel Miranda, because yes, we're obsessed), "This is not a moment; it's a movement." And he was totally right. Ongoing protests and calls for equality and diversity are leading to great change in the sports world.
What's changing?: Terribly offensive team names, for one. The Washington NFL team is finally looking to change their name, with team owner Dan Snyder and head coach Ron Rivera working to have a new name and brand before the start of the season.
Seriously. What else is going on?: This weekend wasn't just about Alexander Hamilton; it was about Lewis Hamilton, too. Six-time Formula One (F1) World Champion Hamilton is the first and only Black driver in F1 history, and he's been calling on his sport to support the movement to end racism.
In response, F1 adopted a new initiative, #WeRaceAsOne, which mandates inclusion and equality in the sport, and at this weekend's Grand Prix in Austria the message was loud and clear. F1 has also pledged 1 million euros to improving diversity in motorsport.

Ahead of yesterday's wild first race of the season (which was postponed from March), all 20 drivers gathered at the start line, wearing "End Racism" shirts (while Hamilton himself wore a "Black Lives Matter" shirt) and took a moment of silence. Fourteen of the drivers also took a knee.
Awesome. What about the majors?: For the upcoming season restart, the NBA has confirmed a list of messages that players can put on their jersey in place of their last name. Among the approved messages are "Black Lives Matter," "Say Her Name," "How Many More" and "Listen To Us."
And the NFL announced they will play "Lift Every Voice and Sing," known as the Black national anthem, alongside "The Star-Spangled Banner" during the first week of regular season games.
Not everyone is stoked about this one though, with Golden State Warriors star Steph Curry asking, "Can someone please explain to me how this solves anything???" While this one may miss the mark, we're all for these positive changes.
🏆

Decisions, decisions

July 06, 2020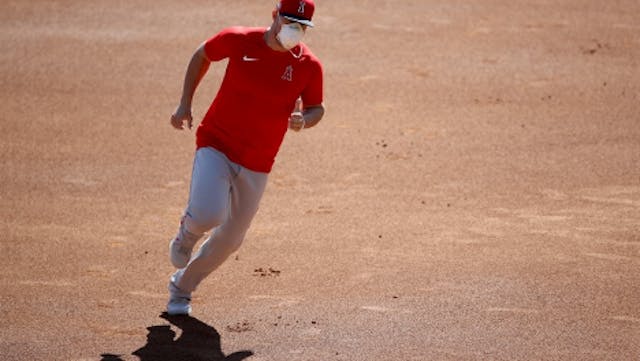 SEAN M. HAFFEY/GETTY IMAGES
The GIST: To play or not to play: that is the question many athletes are currently asking themselves as several leagues gear up to start (or restart) their seasons.
Which athletes?: Some of the MLB's biggest stars, for starters. Los Angeles Angel Mike Trout, who is the highest paid player in the league and a BFD, is considering opting out of the upcoming season set to start on July 23rd. His wife is pregnant and due in August, and Trout isn't stoked about putting his family at risk. Very fair.
Trout says he doesn't "feel comfortable" with the idea of playing, and he's not the only one. San Francisco Giants catcher Buster Posey and Washington Nationals top tweeter and pitcher Sean Doolittle have voiced their concerns as well, with Doolittle assuring fans that he wants to play, but drew attention to major changes that need to happen first (like PPE for high-risk players and staff and faster test results).
Is anyone definitely opting out?: Pitcher David Price, who was set to make his debut with the LA Dodgers after he was traded in a blockbuster deal from the Boston Red Sox, and Atlanta Brave Felix Hernandez will not play this season, both citing health concerns as their reason for opting out.
Yikes. Any other athletes?: WNBA star Liz Cambage will probably sit out the upcoming season too, due to her being high-risk for serious illness, and Brooklyn Net DeAndre Jordan will miss the NBA season after testing positive for COVID-19 last week.
In NASCAR, Jimmie Johnson is out indefinitely after becoming the first driver to test positive for the virus. The NHL's St. Louis Blues had to cancel practice after multiple players tested positive and the NBA's Milwaukee Bucks and four other teams have closed their practice facilities due to positive cases.
And yes, despite this laundry list of players opting out and testing positive for COVID-19, leagues are somehow still forging ahead with their plans. Risky business.