🏒

Podcast Episode 24: NHL legend Darcy Tucker on the teams he hates, his stance on fighting in hockey and his TikTok debut

June 24, 2020
DARCY TUCKER/INSTAGRAM
(Edited for clarity)
Ellen: What's up, GISTers? Welcome to The GIST of IT, the podcast where two gals and two pals give you the gist of what's going on in the sports world. I'm Ellen Hyslop.
Steph: And I'm Steph Rotz.
Ellen: And this week we're joined by 14 year NHL veteran and fan favorite. Darcy Tucker, thanks for tuning in.
Ellen: Steph today we have our first NHLer joining the podcast, Darcy Tucker.
Steph: And our first boy, Ellen.
Ellen: He is our first boy. What a big deal.
Ellen: So funny. And I have to say growing up, I was and I still am a devout Toronto Maple Leafs fan. And Darcy Tucker, as a 10 year old, was really my guy. So this is really making little Ellen's dreams come true by interviewing him. It was so fun.
Steph: It was an honor to be a part of that experience for you. I could tell how much joy was lighting across your face. And I was really honored to be a part of that moment for you.
Ellen: Thanks, Steph.
Steph: So, yeah, he was amazing. Darcy Tucker was so awesome to talk to. And for those of you who might not be familiar with who Darcy Tucker is, here's a little bit of background info. He's a retired NHL winger who played in the league for 14 years as Ellen mentioned and the majority of which he spent with our team, the Toronto Maple Leafs until his retirement in 2010.
He's a pretty big deal in the hockey scene, especially obviously if you're a Leafs fan, but also if you're an Ottawa Senators fan, which we'll get to in a bit for very different reasons. Overall, Tucker is known as a very fiery guy, really fiery player. He's definitely talented, but also, you know, a little bit of a pest and agitator, something that we got to ask him about. And I'm really excited for you all to listen to that. He's now all about being a hockey dad, a dog dad, and he coaches minor hockey.
Ellen: Yeah. It's kind of cool to chat with him about his transition from the NHL to what he's doing now and beer league hockey, but also being a classic hockey dad, which is fun. And, you know, as you mentioned, super fun guy, really easy to chat to.
And side note, that also is something that I was super happy about, is that he remembered us playing shinny hockey together, probably because I was the only figure skater on the ice and the only person with, like, a massive knee brace on. So that also pumped my tires a little bit before we had the chance to interview him.
Steph: That giant knee brace is like Ellen's brand to me.
Ellen: It's too big. I hate it so much. I really wish I didn't have to wear this thing, but it's what allows me to play sports so I do it.
Steph: Awesome. It was a truly awesome interview. So let's get to it.
Ellen: Darcy, thanks so much for coming on the podcast today. Both Steph and I are massive Toronto Maple Leafs fans. So you're in good hands here and we're excited to chat with you.
Darcy Tucker: Perfect.
Steph: So on that note, we would love to start by talking about your career in the NHL. So you played 14 seasons in the NHL with a majority of them being for the Toronto Maple Leafs. And Leafs fans and players all obviously despise the Habs. But did you have some extra hatred for them, considering that they drafted you and then traded you to the Tampa Bay Lightning right away?
Darcy Tucker: Yeah, I don't know if I would say hatred, [the hatred was] more so for the Ottawa Senators in my time. Montreal, to me, was a fun place to visit and play because I'd been there before and I was drafted by them and had some friends that I had made over the course of my time playing there. So it was more of a friendly visit when we went to Montreal as opposed to heading into Ottawa where they didn't like me very much at all.
Ellen: So speaking of the Ottawa senators, with our friends at Molson Canadian, for the past month, we've been talking about the top Canadian hockey battles. And of course, we talked about the Battle of Ontario and the main Battle of Ontario that has stood out to us was back in 2002, game five of the Eastern Conference semifinals. The series is tied at two, the game is tied at two, it's the final minutes of the game and Senators Captain Daniel Alfredsson just comes up and hits you from behind, somehow doesn't get a penalty and then goes on to win the game winning goal. So can you take us back to that moment and how you were feeling after Alfie scored that goal?
Darcy Tucker: Well, I guess two's my unlucky number, if it was tied at two and the series was tied at two, so it wasn't great. You know, it's one of those things that happens in hockey where, you know, emotions probably got the best of him. You got me in a bad position. And fortunately for them, they didn't get a penalty on the play. And then he got lucky enough to score the game winning goal. But you know, what I remember most of what that series is how our teammates picked us up. I was out of the next game. So was Mats Sundin, I think there was a couple other guys that we had lost throughout that series. And those guys went in there and beat the Senators in their own building to take it back to Toronto for game seven. So that's what teammates are for, to pick you up when you're down. And we had such a great group of guys in Toronto at that time. It was amazing to watch them just gut that one out. And I'll never forget Joe Bowen's call in game six: "God bless you boys" at the end of the game when Shayne Corson and Travis Green blocked shots with their faces. It was amazing to see.
Ellen: So cool. I love how you brought it back to the team and I can't even imagine blocking a shot with your face. That is wild. And so how good did that feel that the Leafs ended up winning that series?
Darcy Tucker: Yeah, I'll never forget it as long as I live. I remember after we won game seven at home to come out of Air Canada Centre, but now Scotiabank Arena, and see the amount of people on the street and how excited they were that we put ourselves in a position to move on in the playoffs, it was actually mind boggling. There were people jumping on our car. I had my young children in the car that night because I wasn't playing. So it was scary at times, but it took us about forty five minutes to get around the arena and over to Front Street, so you can imagine what Leafs fans were feeling at that moment.
Ellen: So cool.
Steph: There is also that notable time when you took on pretty much the entire Ottawa senators bench, basically by yourself. Just wanted to slide that one in there as well. And I'm curious, once you finish playing in the NHL, what has your hockey life been like? Do post NHLers play in a rec league or in a beer league?
Darcy Tucker: Yeah, it wasn't the smartest thing I've ever done in my career, let's put it that way, but it's going to go down in history as one of the craziest moments in my career against the Senators and then probably, the robbery that we had. So people still ask me about that and what I was thinking. I don't think I was. But it happened and things go on. But I mean, I've actually had times with Chris Neil and Chris Phillips working with Scotiabank when we do Scotiabank Hockey in Canada across the country. To sit down and have a Molson Canadian with the boys and chat about our times playing against each other and, you know, Chris is amazing. Both Chris's are amazing guys. But Chris Neil, I never really got to know him until after my career and what a cool dude. He used to chase me around the ice and scare the crap out of me, and now he's protecting me if we're on the same team in the beer league, so it's not bad.
Steph: I love that. The game has changed quite a bit over the years, including less fighting. And I'm really, really curious what your thoughts are on fighting in hockey, especially given what we're starting to learn about concussions and how fast paced the game continues to be.
Yeah, people actually thought I liked fighting. They're crazy, no one wants to get punched in the nose. So I'm not a big fan of fighting to begin with. I think sometimes in hockey, when you're a young kid, you do what you have to do to make a mark and leave a mark on the game. So for me, I had to add that to my game and adapt a little bit. But what I ask for my kids, would I want them to be in a similar situation to that, no, I want them to be enjoying the game and love it for the skill and the fast pace and the scoring of the goals and getting the points. I see it always being a bit of a part of the game, but I don't see it [as a big part] anymore and that's fine with me as well.
Ellen: Yeah, it is really interesting to see how the game has changed. And speaking of the current day game, what hockey player would you compare yourself to now that's playing either male or female? Can't be Sidney Crosby. But if there was someone today that you'd compare yourself to, who would it be?
Darcy Tucker: I would never put myself in that category with Sidney in the first place. But I think there's a lot of guys out there that still have that passion for the game. There's one guy that plays in Washington. He's obviously bigger than me. But Tom Wilson plays the game very similar to the way I played the game. He has the same sort of thought processes, that you've got to be physical and you've got to play hard and you can play up and down the lineup. I was a guy that could play in the third and fourth line, but I was also a guy that could move up and play with Mats Sundin if needed, if Pat (Pat Burns, Leafs Coach 1992-96) wanted me in that situation. I think you got to be versatile, and if you look at [Tom's] career so far, it's been amazing. He's won the Stanley Cup and obviously to get the opportunity to play with Ovechkin, he's doing an amazing job on the other side of the wing with Alex. So there's one guy that I definitely wouldn't mind people comparing me to.
Steph: Speaking and thinking of the current day NHL, they're looking to restart at the end of July, early August after being paused due to Covid-19. You still work pretty closely with the players in the Leafs organization, how are the players feeling about coming back generally at this point?
Darcy Tucker: I'll put into my own context, I won't speak for anybody else. I know if I was in the situation, I'd want my family with me. Any time you get the opportunity to chase down a Stanley Cup, you want your people that you trust and the people that you love the most to be along your side. So I'd want my family with me. So that would be a very difficult decision based on what I've seen so far. If guys didn't take their family, being away from them for all that extended period of time is tough. It's going to be one of those situations that hopefully you can bring your family into the bubble and have them along for the ride.
Steph: I love that you talked about that family connection, too, because my brain has been so focused on that fan aspect and what it would be like to play without fans. So it's so interesting to kind of humanize it a little bit. I'm curious, you're probably someone who really fed off of that energy in the stadium, what do you think it will be like to play without fans?
Darcy Tucker: Well, my motor ran pretty good even if there weren't people in the building. I played in Tampa Bay for a bunch of years when we weren't all that good and I still found a way to be effective out there. So I don't necessarily think you need that building very full, but it sure as heck helps when you're in game seven in the playoffs to have a bunch of your own fans in the building, but it doesn't look like that's going to happen. For hockey, when it does come back there's going to be days where you can watch three games in a day and not leave your couch. People are going to be extremely happy to watch that many hockey games. There's going to be a lot of Molson Canadian being drank this summer, if that's all we've got to watch.
Ellen: Definitely. For sure. Talking about the NHL coming back too, over this weekend there's been a lot of news about how the coronavirus is really increasing in the US and that there's been a lot more positive tests when it comes to NHL players, their staff, NFL, MLB, the NWSL, one of their teams just dropped out of their Challenge Cup tournament. That's supposed to start on Saturday. And so how do you think that the recent news of all of these coronavirus tests is going to impact maybe the format or the timing of how the NHL is going to come back?
Darcy Tucker: Yeah, I think maybe timing wise it might affect it a little bit based on actually having to quarantine yourself for an extended period of time if you do contract the virus. So that'll be a difficult one. And then, how do you get your mind wrapped around it if something does happen once it's all started? But I'm very hopeful and I'm sure that everybody's taking the proper precautions to make sure that they're ready to play. And hopefully we can get it back in July and have a Stanley Cup winner and then have another season start up a month or so later on. That would be the best case scenario. And wouldn't we all love that? And hopefully things get back to normal. And then the second season, people are back in the stands and watch hockey. We're all hopeful for that.
Ellen: For sure. I think all sports fans are chomping at the bit to finally get some more North American team sports going. And, you know, hockey in the summer seems a little bit weird, a little bit counter intuitive. And I remember figure skating in the summer growing up and the ice being a lot softer, which as a figure skater, I was totally fine with. But I'm wondering, as a hockey player how that would change and also how these pro rinks and arenas, especially if they're in these super hot places and in the summer, are going to have to deal with that change in ice surface?
Darcy Tucker: Yeah I guess it's all going to depend on where it's being played. They put in an amazing guide to make sure that the ice surfaces are all relatively the same around the league. So they've got that in place. And it's not like it used to be where the ice surface was crappy in one building and great in a place like Edmonton, I think it's all pretty reasonable now. And I think the players over the years complained enough to make sure that that happened and they got good ice surfaces to play on. I'm just looking forward to the opportunity to watch hockey. It's going to be thoroughly exciting to see the Stanley Cup hoisted this year and hopefully our boys in blue and white can get it done.
Steph: Thinking about the Stanley Cup, do you have any bets on who you think will win the Stanley Cup this year?
Darcy Tucker: I want my boys to win. That's the number one thing. We here in Toronto, it don't matter if it's during Covid-19 time or not, if we get the opportunity to win that Stanley Cup, I'm sure that the whole city will be extremely excited. You know, we've been waiting a long time. And I went through that phase where we went to conference finals, and things of that nature, and got close. But this organization or franchise deserves a Stanley Cup and hopefully we'll get it accomplished.
Steph: Do you think fans are going to think of it as a true Stanley Cup win, or will there be a little bit of an asterisk next to it?
Darcy Tucker: Well, I'll tell you this, if I got my family name on the Stanley Cup, it wouldn't have mattered if we played it on the moon. That's the thing that I regret most about my playing career, it's the fact that I didn't get my family's last name on that Stanley Cup. That's what is the most important thing to a young kid growing up in Canada, is to get the opportunity to hoist it above your head and hand it to your father or your mother, your brother or sister. So hopefully the Leafs can get it done and I can be around it at least to get close to it.
Ellen: We both hope that you're so right, because that would be absolutely incredible, especially to have the Raptors and then the Leafs win, this city and country would go absolutely crazy.
So you've talked a lot about your family during this conversation. And we know that you have two sons and a daughter and you've recently tweeted and also you talked in the Hockey 24 film about how much coaching has meant to you and that it's one of the most proud things that you've ever done. Can you talk a little bit to why you're so proud of coaching and why it's meant so much to you?
Darcy Tucker: For me, the coaching aspect's not because I want to be a hockey coach, it's because I want to spend time with the young individuals that are trying to further themselves in the game. I just happen to have boys that play the game. It's extra special to get that opportunity to have not only the dad time, I'm at the rink an hour before dropping them off anyway, so I might as well be on the bench trying to give my level of expertise to some of these young kids and help them through their hockey careers. I know the game has changed a lot. I'm an emotional guy when it comes to how I treat the game. So it's been a learning experience not only for me, but for the kids too, to see somebody that's actually been there and been through those different things that they're going to maybe go through as they move along.
Steph: I was really lucky to have my dad coach me a little bit growing up, too. And I always look back on those dressing room speeches and the drives to and from the games really fondly. So I'm really happy that other folks get to experience those moments with their dads as well.
The NHL as a sport, thinking about where we're going in the future with hockey, the NHL as a league has had its fair share of a kind of uncovering, as in the past year from the Mitch Marner and Babcock story to Akim Aliu's story, and Don Cherry and Brendan Leipsic, the list goes on. And from what we can tell on social media and what we know about you, you've been hugely into inclusivity in the game and in sports vocally showing your support for women's hockey players, which we're obviously all about here at The GIST. And I would love to know how you think the NHL as a league and hockey as a sport, can change to really be more inclusive and where that change needs to start. Does it need to start in minor hockey?
Darcy Tucker: Yeah, absolutely. It needs to start at the grassroots levels for sure. You know, I'm really close with Cassie Campbell-Pascall, who is now working with us at Scotiabank and working alongside girls hockey. You need to have that and you need to have it right from the start of minor hockey to make sure everybody knows that there is inclusivity in hockey and not only for males and females, but anybody who wants to play the game in general. For me, hockey has given me everything I have in my life. So I think it's the greatest sport in the world and everybody should have the opportunity to love it just as much as all of us get to.
Ellen: That's great. Love hearing that. And definitely on board with that sentiment too. Getting into some more of the fun stuff and what's going on with you lately, we notice that you have a new puppy named Ralph who you got during the coronavirus pandemic. And we really just want to know about him and hear everything about him, and what it's been like having a puppy.
Darcy Tucker: Yeah, Ralph's a treat. I'll tell you. He's added a dynamic to our family that's brought us all together during this time. We picked him up on my daughter's birthday on March 18. We drove up to a place just outside of Holland Marsh. He's a bernedoodle and he's a Goliath. He's going to be about a hundred and fifteen pounds. I don't know how much longer we're going to be able to have him as a lap dog, which he thinks he seems to be around the house but he has just a great personality, he's added so much.
I don't know if you know the backstory. We have another dog, Tilly, who is a little cockapoo, and Ralph now who is a bernedoodle. But those are my great grandparents' names, Ralph and Tilly. So that's why they're named after them, just to show our appreciation of what they meant to me growing up and helping me get to where I've gotten in my hockey career. But they were immense, my great grandfather would throw me baseball pitches after baseball pitches when I was a kid. So to have that opportunity to spend that much time with them as a young boy was great. So that's the back story on why they're named Ralph and Tilly. But Ralph's actually got my great grandfather's personality. He is very calm until he gets wound up and then watch the heck out.
Ellen: Love that, that's very sweet. So much fun to have them both around right now, I'm sure. Speaking of quarantine, you've had your fair share of hairdos over the years from your long sideburns and a chin goatee, one of my favorites. Have you been tempted to rock any of the old school dos that you used to during quarantine?
Darcy Tucker: Well, I've got the thought process, of maybe I might go to the mullet here pretty soon because my hair is out of control. My wife asked me, with everything opening up this week if I wanted to go for a haircut, I said I don't think I'm quite ready because if I've got to go for a haircut, then my two boys have got to go for a haircut. And they sure as heck don't want that right now either. So we're all going to keep growing it out until one of us caves in and has to go for a haircut. But I'm not going to be the first on.
Steph: I love that. So you mentioned your kids there too, and they're pretty young, and I'm curious as a millennial who's gotten onto TikTok during the Covid-19 pandemic, have you been co-opted or brought into any TikTok dances or videos with them?
Darcy Tucker: Yeah, me and my mother-in-law like to have a glass of wine at dinner. We might have had one too many glasses of wine at dinner and we got into the TikToks one night and somehow I ended up with her dress on and she had my jeans on. I still don't know how this works, but everybody got a kick out of it. From what I understand.
Steph: Oh, the Flip the Switch.
Darcy Tucker: Yeah the Flip the Switch. Yes, absolutely.
Steph: Oh, I will be looking for that on the Internet. Thank you.
Darcy Tucker: Yes, it's on my Instagram page and it is quite the event, let's just put it that way. And my dancing skills don't shine through like they should there, because in my mind, I'm a good dancer until I actually move.
Steph: I can relate to that. Another quick question, I just want to know the answer to how many stitches have you gotten in your life? Do you have a number?
Darcy Tucker: Well, I know that a lot of people count their stitches as hockey players, now when you're getting them every 4th game it's really tough to keep track. So I'll tell you the most I had in my face at one time was seventy five. I got it right here, it was my last year in my career, I got hit from behind in Colorado and the glass pressure cut my forehead and seventy five stitches later I figured it was time to hang up the skates.
Steph: Oh my gosh. I'm cringing at that, seventy five. Wow.
Darcy Tucker: Yeah it was. It was around Halloween too, so it was great for my kids. They wanted me to go as a unicorn because it looked like I had a horn coming out of my head. So it wasn't it wasn't the best look. Let's put it that way.
Ellen: Well, at least you had a silver lining about that. To start to wrap things up here, Darcy, you talked about playing baseball beforehand with your great grandfather. If there was another sport that you were to play professionally, what would it have been?
Darcy Tucker: One hundred percent would have been baseball. I love baseball, I played baseball growing up as a kid. You know, if you ask some of my friends growing up, they thought I was a better baseball player than a hockey player, so I could have maybe done that as a career. Now, if we're talking about today, I think I'm the best golfer in the world. My son gets mad at me because I try to take all his money on the golf course and he says I'm not that good. So we'll have to figure this thing out as we're going through here, because golf is probably the only thing that we've been able to do for an extended period of time here during this situation that we're in. So we've been playing quite a bit and they just allow guests by course. So it's game on for me and him for the next couple weeks.
Ellen: Sounds like a lot of fun. And you're also channeling a little bit Michael Jordan with a baseball, money with golf. I'm sure a lot of people got to see that for the first time watching The Last Dance.
Darcy Tucker: I thoroughly enjoyed The Last Dance. You know, I had a perception of Michael Jordan in my mind about being one of the greatest athletes of all time. And then you watch that and there's just no doubt in your mind. It's just the craziest thing that he could turn a switch when somebody made him think a certain way. And I'd like to think that I had that switch, but I watched him and I realized I didn't have any switch. He had the switch nonstop. All somebody had to do was say, oh you weren't that good, Michael. Boom, it was game on.
Ellen: That's great. Love the fire and the passion. Well, thanks so much for coming on with us today, Darcy. We thoroughly enjoyed this conversation and hopefully we get to do it again sometime soon.
Darcy Tucker: Absolutely. Reach out at any time. I really enjoyed myself today guys. Enjoy your day.
Steph: That's retired NHLer Darcy Tucker. How fun was that? He was so great to talk to.
Ellen: He was so great to talk to. So much fun. And I think, what a great last interview for us for the month of June, considering we're taking next week off because of the Canada Day and Fourth of July holidays.
Steph: Thanks for listening to The GIST of It this week. If you like what you heard, tell all your friends and subscribe to The GIST of It on Apple podcast, Spotify, Google play or Stitcher. And while you're there, please rate us five stars and leave a review.
Ellen: And in case you missed it, we also have a free twice weekly newsletter where every Monday and Thursday morning we give you the gist of what's going on in the sports world. If you haven't yet, subscribe at thegistsports.com. If you want to get in touch with us, e-mail us at pod@thegistsports.com and we'll do our best to get back to you or DM us on Instagram @thegistnews.ca or @thegistusa. I'm Ellen Hyslop.
Steph: And I'm Steph Rotz.
Ellen: And this has been The GIST of It. Enjoy your long weekend next week. And we can't wait to catch you again on July eighth.
🏆

Count 'em up

June 22, 2020
MARK THOR/ORLANDO PRIDE
The GIST: The rate of new COVID-19 cases hit a high in the US this weekend, with over 30,000 new cases reported yesterday alone. Turns out, it's not just Donald Trump's campaign staffers who are testing positive: quite a few athletes are among the count, too.
Oh no. Who?: Because leagues are bound to respect player/patient confidentiality, we're not totally sure. That said, leagues are releasing numbers. Since June 8th, 11 NHL players have tested positive, and within the last week, 40 cases in the MLB were confirmed.
Last week, ahead of this Saturday's return-to-play Challenge Cup tournament, an NWSL player tested positive, and more MLS and NFL players were confirmed positive over the weekend, too.
In NCAA football, there's been a ridiculous number of confirmed cases over the past few weeks. At least 30 players at Louisiana State University (LSU) are currently in quarantine (only some have tested positive, while the rest are awaiting test results) and 23 players at Clemson University have been confirmed positive.
Why are so many players suddenly testing positive?: A few reasons, including increased testing, lax rules and a surge in travel as players make their way back to their team's city. And this increase is going to pose another big problem: as play resumes, it will become increasingly difficult for leagues to maintain their players' medical confidentiality.
What do you mean?: Well, if someone like LeBron James, for example, tests positive in the middle of the NBA Playoffs and suddenly disappears, people are going to ask questions. We're already seeing it in action.
Take Nick Watney. The PGA golfer tested negative on Tuesday, played the first round of the PGA Tour's RBC Heritage, and then tested positive on Friday, causing him to withdraw from the tournament already in progress. He had no choice but to confirm his diagnosis publicly.
And tennis player Grigor Dimitrov pulled out of his match in an exhibition tournament in Croatia yesterday after testing positive just hours earlier. Seems like a slippery slope, no?
🏆

Rose colored glasses

June 22, 2020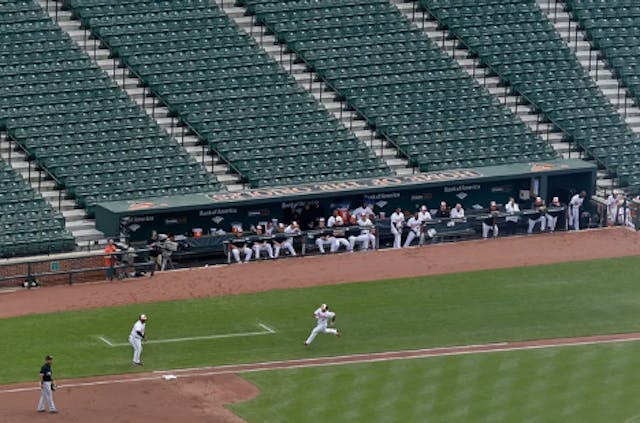 PATRICK SEMANSKY/AP
The GIST: Let's quickly flash back to March 11th: one athlete, Rudy Gobert (pronounced GOH-BEAR) of the Utah Jazz, tested positive for coronavirus, and the entire sports world shut down. Today, dozens of players have tested positive, and the leagues are somehow going full steam ahead with their return-to-play scenarios, even in COVID-19 hotspots.
Seriously?: The NBA, WNBA and MLS are all sticking to their "bubble city" plans in Florida, where more than 20,000 new cases (!!!) were confirmed in the past week. And get this: the NBA is even increasing the number of players and coaches allowed inside practice facilities this week, despite reports of "concern" from Commissioner Adam Silver. Don't love it.
Nevada, which has one of the fastest rates of new COVID-19 cases in the country, could host half of the NHL's postseason, and cases also continue to climb in Utah, home to the upcoming NWSL tournament. All of these return-to-play plans — head-scratchingly — are still a go.
Are there any leagues that are not okay with this?: The gongshow that is the MLB still hasn't decided on a plan to start their season, and with the new revelation that 40 players and staff have COVID-19, the players have decided to delay voting on any plans until the outlook is a little clearer.
The MLB has also ordered all spring training facilities to close, while the NFL Players Association is advising their players to not participate in private group workouts.
While the NCAA is still figuring out a plan too, they've left most schools to figure things out on their own. Thirty UCLA football players are calling on their school to allow an independent third-party health and safety team to oversee the wellbeing of the team, saying they don't trust the team's coaching and administrative staff to take proper care of them — another issue for another newsletter.
What are the medical professionals saying?: When it comes to the NFL, Dr. Anthony Fauci (aka everyone's favorite member of the White House Coronavirus Task Force) suggests that the only way he sees the season happening is if the league is able to maintain the strictest of "bubble" environments.
Similar to the NBA, the environment in which players live, practice and play would have to remain completely closed off from the outside world. That means all essential staff, including cooks, housekeepers and officials would have to live in the bubble, too.
So what do the leagues do now?: There's a lot to consider here — sports are a business, after all. People need to make money and the industry needs to get back on its feet. We also need to learn to adapt to this new normal. Sports are an important part of the global economy, our culture and our lives.
But it begs the ongoing, obvious questions: Is it too soon? And is it worth it? If restarting now means putting the players' and staff's health (and lives!) at risk, we can't see how it is.
🏀

They woke up like this

June 22, 2020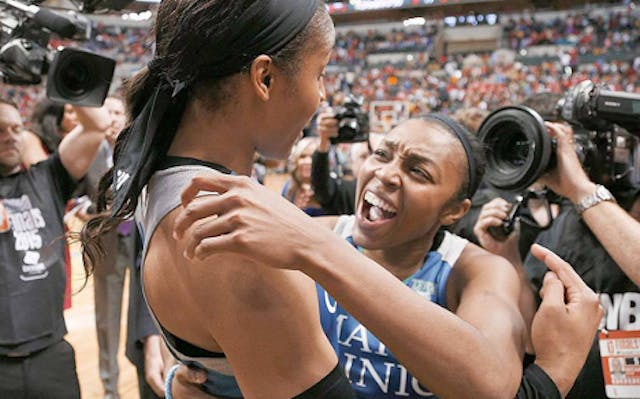 USA TODAY SPORTS
The GIST: For weeks, NBA players have been debating whether returning to play will take momentum away from the protests surrounding George Floyd's murder and the Black Lives Matter movement. Instead of simply talking about it, some WNBA players are getting sh!t done.
How so?: Last week, the Atlanta Dream's Renee Montgomery tweeted that when the WNBA returns next month, she won't be there. Why? The two-time WNBA champ is skipping the 2020 season to focus on fighting for social justice instead.
Montgomery will use her foundation, the Renee Montgomery Foundation, to help facilitate change for young Black people through sport and will host speaking engagements and events around Atlanta, her adopted hometown.
She's an inspiration: And she's not alone. Montgomery is following in the footsteps of her former teammate Maya Moore, a four-time WNBA champion (yes, she's a BFD) who took an indefinite sabbatical ahead of the 2019 season to focus on criminal justice reform.
In January, Moore informed her team (the Minnesota Lynx) that she would sit out for a second straight season, after spending 2019 advocating for the release of Jonathan Irons, a man wrongly convicted 23 years ago for burglary when he was just 16. Irons' conviction was overturned earlier this year, largely thanks to the work put in by Moore.
These women are incredible — will they still get paid?: Nope. Montgomery and Moore are not only giving up playing the game they love while in the prime of their careers, they're also giving up the paycheck that comes along with it.
So yes, they're literally giving up everything to fight for social justice and reform. Feel free to give them a round of applause — we sure are.
🏈
🎾
⛳
🏀
⚾
Around and around and around we go
June 18, 2020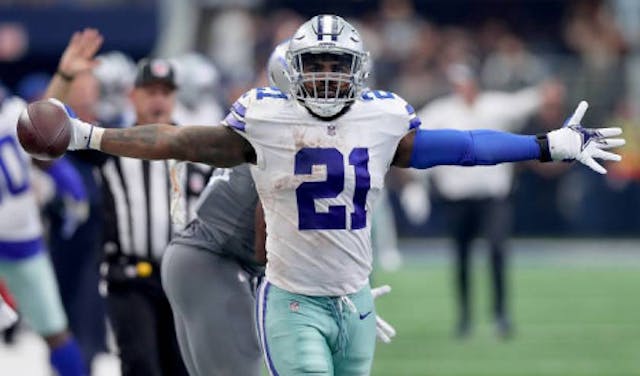 TOM PENNINGTON/GETTY IMAGES
The GIST: Sports are coming back. But, unfortunately, so are some athletes' positive COVID-19 test results.
Oh no. Who?: Most recently, several players from the Houston Texans and Dallas Cowboys have tested positive, including Cowboys star running back Ezekiel Elliott. Elliott is the third NFL player, and arguably one of the biggest stars in sports, to be publicly named.
Despite this, the NFL still seems to be planning for a normal regular season with fans (!!!) and for training camps to start in late July. Does this seem dangerously (in a literal sense) optimistic to you or is it just us?
Yikes. What about college football?: Many of the most prolific NCAA football teams — including Auburn, Mississippi State, Texas A&M and Alabama — have reported coronavirus cases among their players recently as well. Not good. Oklahoma State linebacker Amen Ogbongbemiga said he tested positive after attending a protest in Tulsa.
The NCAA is continuing to monitor the situation before making any drastic decisions, but yesterday, the Southern Heritage Classic — an annual matchup between Tennessee State and Jackson State played in Memphis in September — became the first NCAA football event to be canceled because of coronavirus. And we're thinking it won't be the last.
Wow. Can you give me some good news?: For sure! The PGA Tour tested all players, caddies and staff ahead of today's RBC Heritage tournament (the second event since the season restart), and for the second week in a row, there wasn't a single positive test. Let's polite golf clap to that.
Speaking of golf, the LPGA is returning on July 31st. The women's tour has added a new tournament called the LPGA Drive On Championship, which will kick off the season with back-to-back events in Ohio. Mark your calendars.
Amazing! Keep it rolling: Despite rumors that the WTA and ATP's US Open would be canceled, it's now officially scheduled to start on August 31st, thanks to New York governor Andrew Cuomo giving it the go ahead. Thanks, man! While not everyone is happy about the announcement, Serena Williams is stoked so we're stoked too.
And on Monday, the WNBA officially confirmed that the regular season will start in late July and will feature 22 games followed by a traditional postseason. Untraditionally, there won't be any fans, and all teams will play, practice and live at the IMG Academy in Florida. Quite the destination these days.
And...I'm afraid to ask...what's up with the MLB?: Don't be afraid — we have progress! The MLB and the players union are talking again, and they seem to have come to an agreement on a "jointly developed framework." The new plan would have the season start on July 19th with players receiving their full salaries for the amount of games played (as they wished).
The number of games is a sticking point, though. The suggested number was 60, but there seems to be some flip flopping on that. The league and union still have work to do (someone call these guys a couples' counselor), but one thing's for sure: the players are ready.