🏀

Get crazy, get wild

February 27, 2020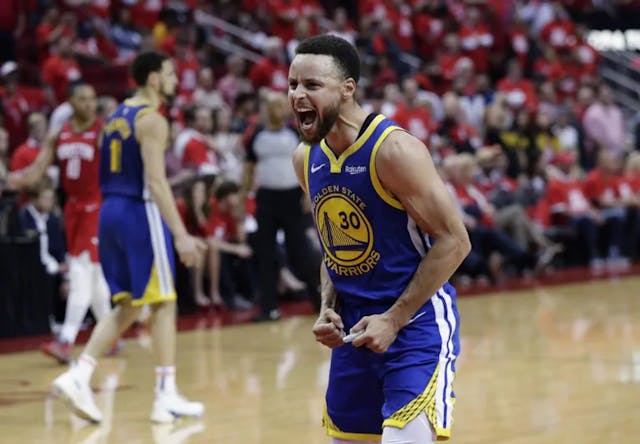 The GIST: With the All-Star Weekend behind us, we're officially in the back half of the NBA season — and to say things are really starting to heat up would be an understatement.
Like he never left: After months of rehabbing a broken left hand, Golden State Warriors star Steph Curry will return to the court on Sunday against the Washington Wizards, in his first game since October 30th. Without the popular #GirlDad or Klay Thompson (who tore his ACL in the 2019 NBA Finals), Golden State has claimed the status of worst team in the league, and Curry's return is desperately needed. And although it won't change the Warriors' postseason chances, he's a joy to watch and we're so happy to see him healthy.
Heir to the throne: The much-anticipated clash between former No. 1 overall draft picks LeBron James and 19-year-old rookie Zion Williamson lived up to all the hype and more on Tuesday. LeBron came out on fire and led the Los Angeles Lakers with a season-high 40 points on the way to a 118–109 win over the New Orleans Pelicans.
Meanwhile, Williamson bullied his way to his fifth-straight 25-point game, tied for the longest streak ever by a teenager, keeping him firmly in the Rookie of the Year race with fellow young phenom, Memphis Grizzlie Ja Morant. And it was all love between the two, with LeBron praising Zion, saying he's been "playing exceptional basketball."
Beasts in the East: We never know what to expect when the two best teams in the Eastern Conference, the Milwaukee Bucks (who somehow already secured a playoff spot) and Toronto Raptors, face off. But on Tuesday, Milwaukee put on a better show than Drake did courtside. They rallied from a 12-point deficit in the first half to beat Toronto 108–97, ending the red-hot Raptors' nine-game run at home and securing the Bucks' first win north of the border since losing in last season's Eastern finals. Sweet, sweet revenge.
🏆

With glowing hearts

February 24, 2020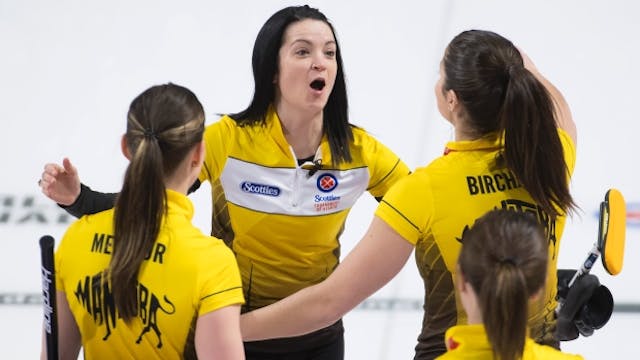 Curling: After a nail-biting finish that had to go to an extra end, skip Kerri Einarson led Team Manitoba to Scotties Tournament of Hearts victory last night. The Canadian women's curling championship is the marquee event in Canadian women's curling, and for the first time ever, offered a winning paycheque equal to that of the men's championship tournament, the Brier. We'll cheers to that!
Bobsled: Over in Germany, the International Bobsleigh and Skeleton Federation (IBSF) World Championships are underway, and our Canadians are on the medal table. Yesterday's two-women bobsleigh run saw Canadians Christine de Bruin and Kristen Bujnowski take home bronze with a v. enthusiastic celebration (and former Canadian bobsleigh star Kaillie Humphries, who now competes for USA, won gold). Get it, girls!
Tennis: One of our favourite 19-year-old Canadians is getting super comfy, and maybe a little too comfy, with second place. Felix Auger-Aliassime finished his second consecutive tournament as runner-up yesterday, losing to Stefanos Tsitsipas in the Open 13 final. Despite the loss, the Montreal native is now ranked 18th in the world. Yeah, we were totally that accomplished at 19...
🏈

Lawyer up

February 24, 2020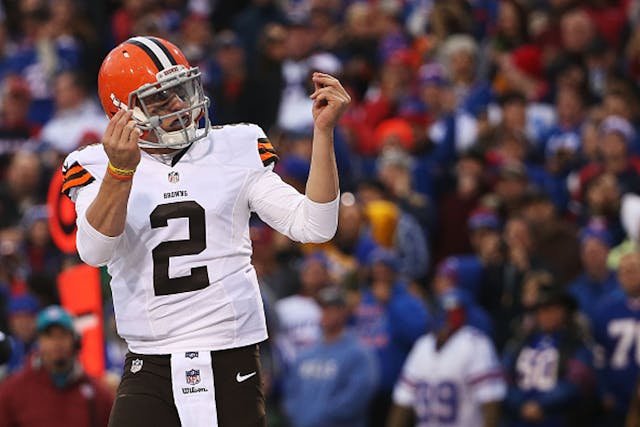 The GIST: While we still have about six months before the NFL regular season begins, off-field drama is heating up as the league and the players' union get ready to negotiate a new collective bargaining agreement (CBA).
What's a CBA?: The collective bargaining agreement is the legal contract between the NFL and the NFLPA (the players' association). The last agreement, signed in 2011, is set to expire at the end of the 2020 season, so the league and the union are currently working toward drafting a new CBA that would begin in 2021. The league began the process by laying out proposed terms.
And what is the NFL proposing?: A bit of give and take, it seems. The biggest change from the previous CBA is a 17-game schedule (right now, teams play 16 games over 17 weeks), as well as including one additional team from each conference in the postseason, a shorter preseason and larger team rosters...all of which would seemingly benefit the league and teams over the players.
In return, the league proposes to administer less marijuana drug tests, lessen disciplinary action for positive tests, enforce less padded practices and create a way for players to profit from the NFL's sports betting revenue.
Is this good or bad?: Depends on whose side you're on. The team owners have already voted to accept the proposed terms, but the players aren't happy with it. One of the main issues they have is with the proposed revenue share increase: the league is looking to boost the players' share from 48% to 48.5%, but the players want an even 50-50 split.
It's not uncommon for the owners and players to be at odds at this stage of negotiations, but if negotiations take too long or the league refuses to budge on certain terms, we could see a players' strike (aka not play) next season. No god, please no!
So what's next?: Apparently the NFLPA's executive committee is recommending that these proposed terms are not brought forward to the players (who will ultimately vote on the CBA). The committee and the NFLPA's board of player representatives (made up of 32 active NFL players) are set to meet tomorrow to discuss next steps, and we'll keep you updated on all the drama.
🏒

Back back back back it up

February 24, 2020
The GIST: Washington Capitals superstar Alexander Ovechkin scored his 700th career goal on Saturday, and he wasn't even the top NHL performer of the weekend. That award goes to 42-year-old Zamboni driver turned Carolina Hurricanes goalie David Ayres, who became the first emergency backup goalie in NHL history to record a win.
I'm sorry, who?: Exactly. Ayres is a Zamboni driver for the Toronto Marlies (the Maple Leafs' farm team), but with 29 minutes left in Saturday's game against the Leafs, the visiting Hurricanes found themselves goalie-less after starter James Reimer and backup Petr Mrazek (pronounced M-RAZ-ihk) were both injured during the game. Desperate times call for desperate measures, so the Hurricanes quickly signed Ayers to a one-day contract (for a whopping $500) and stuck him in net. Yes, this actually happened.
Ayres, who was watching from the stands with his wife, has been the Leafs' designated emergency backup goalie for three years, and while he's previously filled in during some practices, he'd never played a game. Because designated emergency backup goalies aren't signed to a team, Ayers was able to sub in for any team on the ice, not just the Leafs (even though his helmet suggested otherwise).
And how did he do?: Pretty well, actually! He saved eight of 10 shots over half a game and led the Hurricanes to a 6–3 win (which probably says more about how sh!t the Leafs played than anything else)! And while Leafs fans were pretty devastated, the rest of the sports world (including us!) is obsessed with this feel-good story that couldn't have happened to a nicer or more lovable person.
As much as the Hurricanes aren't looking to sign Ayres long-term, they will be selling "sherseys" (aka T-shirt jerseys) with Ayres' name on the back, with the proceeds split between Ayres and a kidney foundation (Ayres received a kidney transplant in 2004 — incredible). Sports, you have to love 'em.
You really do. Now what's this about Ovi?: Ovechkin became just the eighth player to score 700 career goals, during Washington's loss (because not everything can be picture perfect) to the New Jersey Devils on Saturday. Not only that, at 34 years old he's the second-youngest and second-fastest player to ever do so (behind the one and only Wayne Gretzky).
The wildest part is that he's nowhere close to done. Ovi still has a few more good seasons in him, and if he keeps up the pace, he could (though half-glass empty-ers are skeptical) set his sights on the ultimate record: Gretzky's "untouchable" 894 career goals.
Any other hockey news?: Connor McDavid is back! The Edmonton Oilers' (and league's) top player was supposed to be out seven to 10 games with a quad injury, but after missing only six games, he returned last night to play against the Los Angeles Kings.
And don't forget: the NHL trade deadline is today at 3 p.m. ET. Teams won't be able to trade until the season's over after then, so follow the NHL's Trade Tracker (and set your alarm to grab a "coffee") for all the last-minute action.
🏒

A little bit more

February 20, 2020
Hockey: We love International Women's Day. And this year, March 8th can't come soon enough. Why? Because for the first time ever, an NHL game will be broadcast and produced by an all-female crew, including former Canadian star Jennifer Botterill serving as the in-studio analyst.
This is a huge step in the right direction, but there are still rumblings online that this is a PR stunt. Is it? Maybe. But will it encourage more permanent female producers and broadcasters? You bet your bottom dollar.
Curling: The Scotties Tournament of Hearts — which decides the best women's curling team in Canada — has provided some of the most dramatic sports moments of the week. No, seriously. The most dramatic came on Monday when Team Canada coach (and father of skip Chelsea Carey) Dan Carey literally told an umpire to "shut up." Yikes.
And then there's Olympic champion Jennifer Jones, who has won more games than any other Scotties skip (aka captain) in history. She almost didn't qualify this year, but has now clinched a spot in the championship round. Don't call it a comeback. Check out the full results here.
NHL: Like viewers of The Bachelor's hometown visits this week, the Toronto Maple Leafs and Montreal Canadiens are looking for answers — and fast. At the beginning of the season, the Leafs were considered a top contender for the Stanley Cup, but they now find themselves fresh off a pair of v. ugly 5–2 losses and barely holding on to a playoff spot. Welp.
Meanwhile, the Habs (short for les Habitants) are much further back in the standings and just lost again to the league-worst Detroit Red Wings. Things are not going according to plan.