🏆

Everything you need to know about the Paralympics

August 24, 2021

Still riding the high from the Olympics? Well have we got news for you: the 2020 Tokyo Paralympics are here. Starting today and running until Sunday, September 5th, the Paralympics are another chance to cheer on our country's elite athletes as they compete on the world stage.
QUOTE OF THE DAY
In the Olympics all the bodies look the same, and in the Paralympics, none of the bodies look the same.
— Australian para swimmer Ellie Cole, in the Netflix documentary Rising Phoenix, highlighting the awe-inspiring diversity found only at the Paralympic Games.
🤔 History of the Paralympic Games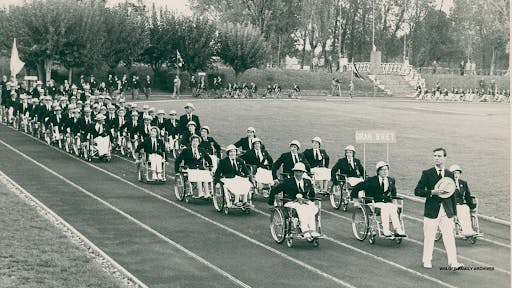 The current iteration of the Paralympics looks a lot different than its forerunner, but the spirit of the Games remains. German neurologist Sir Ludwig Guttmann organized the original event, the 1948 International Wheelchair Games (later called the Stoke Mandeville Games) in London to coincide with the 1948 London Olympics.
Only British soldiers were invited to those first Games, but Guttman's goal was to create an event for any elite athlete with a disability, and in 1952, Dutch veterans also participated, making it the first international competition.
The first official Paralympics were held in 1960 in Rome, and unlike the Stoke Mandeville Games, which had only been open to war veterans, the Paralympics were open to any high-level athlete who used a wheelchair. Over 400 athletes from 23 countries participated.
The 1976 Games in Toronto were the first to allow non-wheelchair users to compete, and the 1988 Seoul Paralympics were the first to occur in the same host city and same venues as the concurrent Olympics, setting the precedent for today's Games.
⚙️ The setup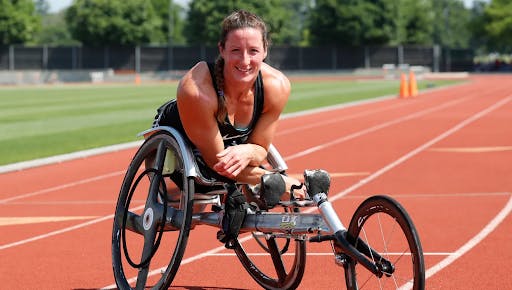 As determined by the International Paralympic Committee (IPC), there are 10 disability classifications: eight physical impairment categories (including loss of limb and impaired muscle power), one visual impairment category and one intellectual impairment category.
Within the categories, athletes are further classified by level of function, called Sport Class, to ensure that athletes with similar levels of ability compete against each other.
The Sport Classes are shown in a letter and number combo.Track events, for example, start with T, and American wheelchair racer Tatyana McFadden, who is competing in her fifth Games, has won 17 (!!!) medals in the T54 classification, for wheelchair athletes with spinal cord injuries.
There are 22 sports in the Summer Games, and many have several events within them. Not all sports are open to all disability classifications though: some are solely for athletes with physical impairments, and three are open only to those with visual impairments.
👀 Sports to watch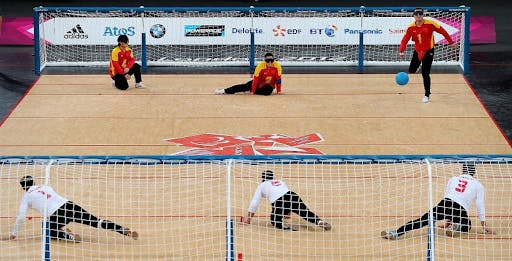 Although the Paralympics and Olympics share many sports, there are a few unique to the Paralympics. Here's the gist on a handful.
Goalball: This team sport was designed specifically for athletes with visual impairments. Goalball is based on other senses, so players are required to wear eyepatches regardless of their level of impairment.
The game relies heavily on sound, as the ball has bells inside of it, so players are also required to remain silent during play.
Three players from opposing six-person teams line up in their own goal, and to score, a player has to roll or bounce the ball across the court, past the opposing defenders, and into the opponents' goal.
Boccia: Very similar to the Italian lawn game bocce, boccia is the only other sport besides goalball without an Olympic equivalent. Originally created for athletes with muscular dystrophy, there are now four classifications to incorporate a range of abilities and three types of events: singles, pairs and team.
Football 5-a-side: This Paralympic equivalent to soccer is another sport created specifically for people with visual impairments. There is only onesport class based on level of impairment, and while rules and field of play vary for each, the podium hardly does: Brazil has won gold in every event since the sport debuted in 2004. What, like it's hard?
Wheelchair events: There are four sports solely for wheelchair users — rugby, fencing, basketball and tennis — and while these events follow similar rules to the versions we see in the Olympics, some rules and fields of play are adapted.
If you've never seen wheelchair rugby, you're in for a treat. It is not for the faint of heart.
🇨🇦 Team Canada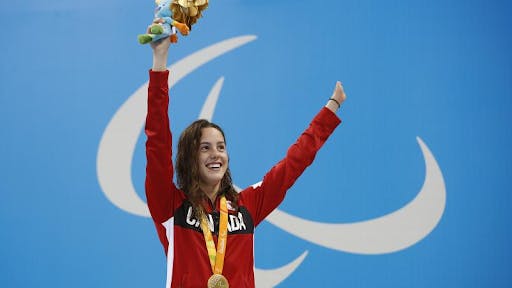 The red and white will be well-represented at the 2020 Games: 128 Canadian athletes will compete across 18 sports, looking to best the 2016 haul of 29 medals, including eight gold.
Aurélie Rivard: The swimmer won a silver in London 2012, four medals in Rio 2016 — three golds and a silver — and holds the world records in the 50m and 400m freestyle. We expect one of Canada's brightest stars to make a splash in what could be her final Games.
Brent Lakatos: The 41-year-old wheelchair racer only gets better with age. After going medalless in his first two Games, he won three silvers in London 2012 and four medals — including a gold — in Rio 2016.
In preparation for his fifth Paralympics, the short and middle distance specialist also won a little thing called the London Marathon in 2020.
Nate Riech: Another middle distance track star, Riech holds the world record in T38 800m and T38 1,500m — which was set after breaking his own record in May — and is looking to win big in his Paralympics debut.
Amy Burk & Whitney Bogart: The goalball power pair have played together for 16 years, joining Team Canada in 2005 and chasing an elusive Paralympic medal through three Games.
Tokyo will be their fourth and likely final Paralympic appearance, giving them one last chance to bring a medal back home.
👀Who to watch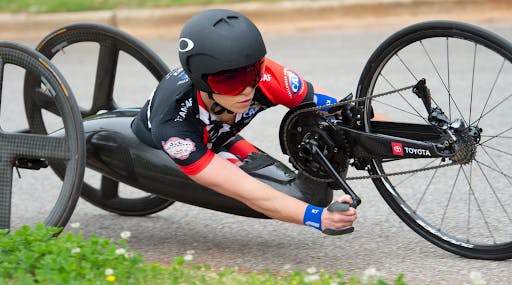 Oksana Masters, USA: Jill of all trades, master of...all trades. She won bronze in rowing in 2012, five medals — including two gold — in cross-country skiing in the 2014 and 2018 Winter Games, and she is now looking to medal in a third sport, road cycling, in Tokyo. NBD.
Hunter Woodhall, USA: One half of America's track power couple(he's dating Olympian Tara Davis), the first double amputee to earn an NCAA Division I scholarship is looking to upgrade his Rio men's 200m T4 silver and 400m T4 bronze to gold.
Men's sitting volleyball team, Iran: The reigning gold medalists from Rio are unstoppable, and they have ace Morteza Mehrzad Selakjani to thank for that. Mehrzad is the tallest Paralympian ever at 8'1" and the second tallest man in the world.
Ambra Sabatini, Italy: After losing her leg in a car accident in 2019, the 19-year-old is a relative newcomer to parathletics, making her international debut in February even more impressive.
There, she set a world record in the T63 100m, finishing in 14.59 seconds. And in her Paralympics debut, she wants to break the 14 second mark.
📺 How to watch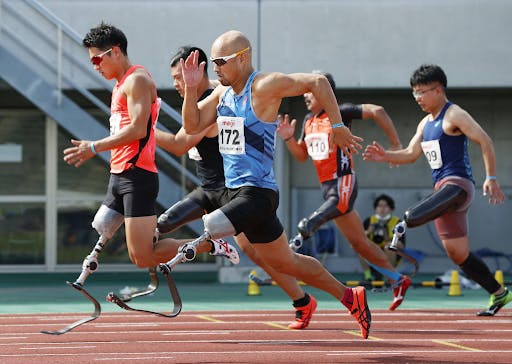 That pesky time difference between North America and Japan is still a thing, but that's not stopping NBC in the U.S. and CBC in Canada from airing all the goods live (and on demand, for those who need their sleep).
Check out the full Paralympic schedule here, and let the Games begin!
⚾
🏀
Sports Quick Hits: August 23rd, 2021
August 23, 2021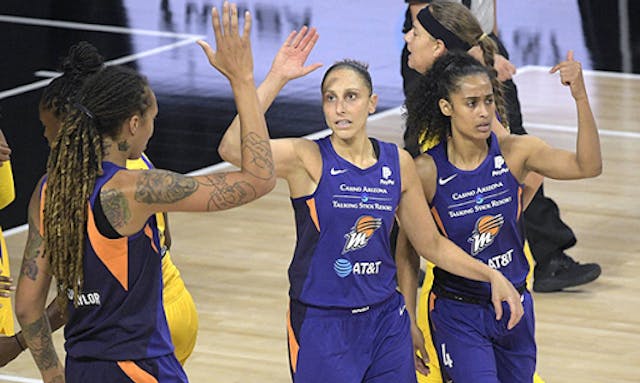 Source: Phelan M. Ebenhack/AP Photo
🏀Basketball: On Saturday, during Phoenix Mercury's 84–69 win over the Atlanta Dream, 39-year-old Diana Taurasi etched her name in the WNBA record books once again when she became the first player to net 9,000 career points and 2,000 assists.
⚾️Baseball: After Toronto Blue Jay Steven Matz gave up only one run in nine innings (which just happened to be helping Miguel Cabrera's 500th career homer), the Jays lost 5–3 in extra innings. They'll try for a W again today at 7:07 p.m. ET.
Meanwhile, in the south of the border, Texas' Ella Bruning had two hits in her squad's 6–0 win on Friday, making her just the third girl to have multiple hits at a single LLWS. The girl's got game.
🏒
⚽
⛳
🏆
Check out these newly crowned champions from over the weekend
August 23, 2021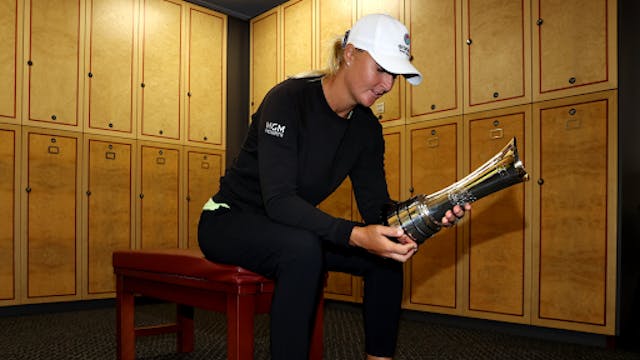 Source: AIG Women's Open/Twitter
⛳️Golf: The AIG Women's Open — the final of the season — was a thriller, and despite an early push from American Olympic gold medalist Nelly Korda, it was Sweden's Anna Nordqvist who raised the cup.
🏃‍♀️Track: Sha'Carri Richardson's return to the 100m global stage in this weekend's Prefontaine Classic didn't quite go as planned (she finished last in the final), but she assured us all — while using — that she's "not done." In the meantime, Olympic gold medalist Elaine Thompson-Herah posted the second fastest 100m time ever.
On the men's side, Canadian star Andre De Grasse won the 100m after winning bronze in Tokyo. Level up.
⚽️Soccer: North American soccer reigns supreme. Thanks to Morgan Weaver's , the NWSL's Portland Thorns beat France's Olympique Lyonnais (aka Lyon) 1–0 in Saturday's Women's International Champions Cup final, while Barcelona claimed third after beating the Houston Dash 3–2 earlier in the day.
🥍Lacrosse: The inaugural season ended with a bang last night. Team Cummings won the final 7–5 over Team Waters, giving former NCAA national champ Taylor Cummings the points she needed to win the .
🏒

Canadian Women's National Hockey Team starts off strong against ROC

August 23, 2021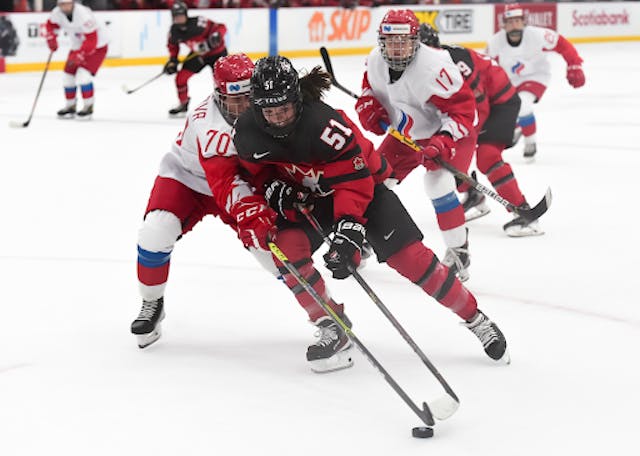 Source: Hockey Canada/Twitter
In action: The IIHF Women's World Championship (WWC) started Friday (and ICYMI, read our primer ), and the red and white superstars are atop the Group A after two wins.
Last night's 5–1 win over ROC was slow to start, but a started the scoring, and Canada never looked back. They'll meet Switzerland — who are still searching for a win — tomorrow at 6 p.m. ET.
After beating Finland 3–0 last night, Canada's archrivals, Team USA, sit in second, while the Czech Republic leads Group B.
🏆

Sports and suffrage

August 22, 2021
SOURCE: ATLANTA DREAM/GIPHY
As we look forward to Women's Equality Day on Thursday, today we're discussing the role of sports in achieving women's suffrage, female athletes leading the Get Out the Vote (GOTV) efforts and women continuing to speak out beyond the ballot box.
QUOTE OF THE DAY
People will always judge us anyway — why not make our voices heard?
— Atlanta Dream forward Elizabeth Williams, reflecting on the WNBA's crucial role in supporting GOTV efforts and helping to flip the U.S. Senate earlier this year. Damn straight.
🗳️ Why we celebrate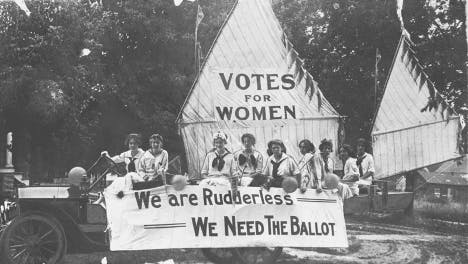 Celebrated annually on August 26th in the U.S., Women's Equality Day commemorates the adoption of the 19th Amendment to the U.S. Constitution. After a long-fought battle, the 19th Amendment was ratified in 1920, finally granting women (well, white women) the right to vote. And sports played a surprisingly significant role in the amendment's adoption.
In Canada, women from Manitoba, Saskatchewan and Alberta were granted suffrage in 1916 (albeit restricted to women of British descent only), but it took until 1940 for Quebec, the final province, to pass women's suffrage. About time.
💪 Sports and suffrage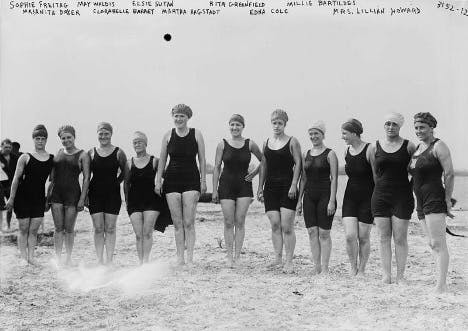 From "swimming suffragists" to circus activists, female athletes of the late 19th and early 20th centuries fought for voting rights by gaining access to the field of politics and play.
🏊‍♀️Swimming: In response to customs (and even laws!) restricting what they could wear and how they could compete, female swimmers began forming their own leagues in the 1910s, among them the National Women's Life-Saving League and the Women's Swimming Association.
These leagues created competitive races for women and allowed them to wear suits that didn't inhibit their performance.
But their advocacy went beyond just swimming. In 1917, the Life-Saving League hosted a "suffrage rescue race" in which they saved an anti-suffragist dummy from drowning: symbolic of rescuing her from political voicelessness. That's how you make a splash.
🚶‍♀️Hiking: Suffrage hikes — held from 1912 to 1914 — also helped draw attention to the cause. The hikes involved walking long distances over several days, with the first hike in the U.S. featuring approximately 200 marchers walking 170 miles from the Bronx to Albany over 12, bitterly cold, New York days.
🚴‍♀️Cycling: The popularization of the bicycle in the 1890s empowered women to move freely in an unprecedented way. Well-known suffragist Susan. B Anthony wrote of bicycling: "I think it has done more to emancipate women than anything else in the world. It gives women a feeling of freedom and self-reliance."
Increased travel by bike also resulted in women opting for shorter hemlines and pants instead of complicated, restrictive dresses. This change in dress (and mindset) paved the way for women to speed away from previous limitations.
⚾️Baseball: In the early 1900s, suffragists rallied support in the male-dominated sport of baseball by hosting "suffrage days." They sold thousands of tickets and decorated ballparks with yellow streamers and pennants, ultimately gaining the public support of many players and sports writers as a result. Now that's a home run.
🏀 Warnock the Vote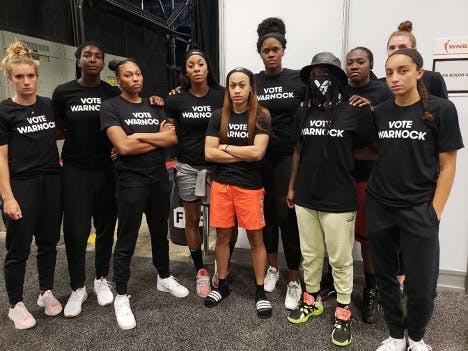 The connection between sports and voting endures today, most recently seen in the WNBA's organizing efforts during last year's U.S. elections. After then-Atlanta Dream co-owner and Georgia Senator Kelly Loeffler denounced the Black Lives Matter movement, the women of the WNBA got to work.
Rather than engaging in a public back-and-forth, players quietly consulted political leader Stacey Abrams and engaged in conversation with then-Georgia Senate candidate Rev. Raphael Warnock, vetting him on his ideas and policies.
With players aligned, the WNBA made their statement. In August 2020, ahead of a game between the Dream and the Phoenix Mercury, players from both teams wore "Vote Warnock" shirts, and players across the league followed suit.
The rest is history. Warnock (who was polling in the single digits prior to the WNBA players' endorsement) quickly rose in the polls, donations surged and the players continued their activism: supporting voter registration efforts and turning stadiums into polling places.
After forcing a runoff election with Loeffler, Warnock was elected in January 2021, helping flip the U.S. Senate to Democratic control and giving Georgia their first Black Senator. And the data shows he couldn't have done it without the W.
💰 The fight continues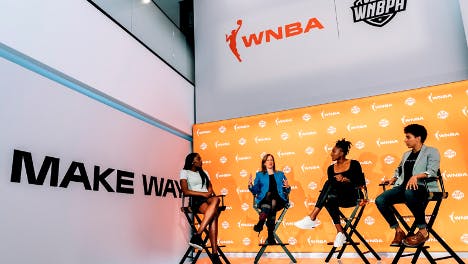 While Women's Equality Day commemorates women's suffrage, it's hard not to think of equal pay (or a lack thereof) when seeing that combination of words. It's a battle that female athletes continue to wage, making their voices heard and working to ensure front offices put their money where their mouth is.
🏀WNBA: In January 2020, WNBA players signed a historic Collective Bargaining Agreement (CBA) which raised the average cash compensation and saw the introduction of childcare, maternity and family planning benefits, among other landmark achievements. We've said it before and we'll say it again (and again and again): what would we do without the WNBA?
⚽️USWNT: While choruses of equal pay ring out at their matches, the USWNT remains embroiled in a legal dispute with the U.S. Soccer Federation. But the women of the USWNT are no strangers to speaking out, and they filed an appeal last month after a judge dismissed their equal pay lawsuit last year. Constantly raising the (cross)bar.
⚽️NWSL: As the league approaches its 10-year anniversary season in 2022, negotiations over the NWSL's first-ever CBA officially began earlier this year. The agreement is expected to include terms on player compensation, benefits, travel and more.
With the NWSL Players Association leading the charge, we're looking forward to celebrating another progressive CBA win in women's sports. Cha-ching.