🏆

Hey hey hey, goodbye

April 16, 2020
SOURCE: JOE HERMITT/AP
The GIST: It's not just cancelations and postponements these days. Nope, the sports world has now seen its first league shutdown amidst the COVID-19 pandemic. Ouch.
Yikes! Which league?: The very new XFL. The football league, which was supposed to be the younger, funnier cousin of the NFL, was halfway through its first season when play was stopped on March 12th because of the pandemic. With the second half of the season canceled, the XFL laid off all employees last week before filing for bankruptcy on Monday. You hate to see it.
On the other end of the spectrum, the National Women's Hockey League (NWHL) is apparently looking to expand to Toronto. Although this news actually has nothing to do with COVID-19, it's worth noting that a league with millions of dollars and media support is folding, while a league lacking those resources is expanding. Pretty wild.
Very. Any other postponements?: Oui. The historic Tour de France cycling race is being postponed from its late June start date to August 29th. Not a big change, but the Tour hasn't been canceled since WWII, so hopefully that will still hold true.
Does any league have a plan for returning yet?: The PGA seems pretty optimistic that they'll be able to fire up the golf season in June. That said, the first tournament will take place without spectators, and plans for the PGA Championship in August (the first major of the season) includes scenarios without them, too. Honestly, we'll still take it.
The NHL is a little more hesitant. Commissioner Gary Bettman says they're keeping their options open and won't commit to any firm timelines or plans of action, but he did say his best guess would be a summer start. Again, fine by us!
Anyone else?: Dr. Anthony Fauci (aka the voice of reason) wants to see his reigning World Series champion Washington Nationals play again, so he has an idea. The director of the National Institute of Allergy and Infectious Diseases says that if physical distancing measures continue and the curve flattens, the MLB could return, albeit in empty stadiums, by July 4th. Now that would be the best Fourth of July present...ever.
And over in the NBA, various execs are proposing a 25-day plan, in which players would go through an 11-day individualized training camp to start getting back into game shape, followed by two weeks of actual training camp with teammates. No word on when this would start, as the league says they won't make a decision until May.
🏒

Ballroom Blitz

April 09, 2020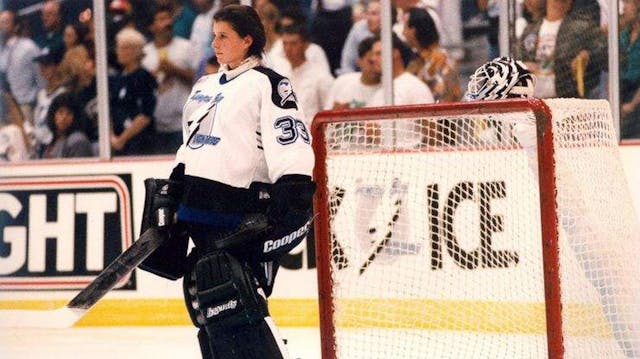 SOURCE: TAMPA BAY TIMES
The GIST: Yes. We're all distraught that the NHL playoffs didn't start yesterday. So we thought we'd help you get your fix and give you a brief history — nay, herstory — lesson on the first kickass women to have played in the NHL and in other men's professional hockey leagues.
The first woman to play in the NHL: We're taking it all the way back to a simpler time when Wayne's World topped the movies charts (party time, excellent!) and Billy Ray Cyrus had an achy breaky heart. In 1992, Canadian goaltender Manon Rhéaume (pronounced RAY-OHM) became not only the first woman to try out for an NHL team, but also to play in an NHL game, 'tending for the Tampa Bay Lightning in an exhibition game against the St. Louis Blues.
No woman has played in the NHL since, partly because the women's game has since gained more international support (women's hockey became an Olympic sport only in 1998...seriously) and now has pro leagues of its own.
The first position players to play men's professional hockey: From 2002 to 2004, Canadian forward Hayley Wickenheiser — the woman, the myth, the legend — became the first female position player (aka non-goalie) to play men's pro hockey, suiting up for HC Salamat in Finland. And, in classic Wick fashion, she killed it. In 2003, she became the first woman to score in a men's professional league game, eventually recording two goals and 10 assists in 23 games that season.
Meanwhile, in 2004, American defender and trailblazer Angela Ruggiero became the first female position player to play men's pro hockey in North America, taking the ice for the Tulsa Oilers in the now defunct Central Hockey League. Fun fact: she played alongside her brother Bill, and the pair are in the Hockey Hall of Fame as the first brother-sister duo to play pro hockey together. Cute!
⛳

Master of none

April 09, 2020
SOURCE: TIMOTHY A. CLARY/GETTY IMAGES
The GIST: Hockey playoffs aren't the only thing we're missing right now. The Masters, one of the most prestigious tournaments on the golf schedule, was supposed to begin today. But all is not lost!
Why's that?: Instead of canceling, the tournament organizers have wisely decided to postpone the Masters to November. This is the first time that the Masters has been postponed (though it was canceled from 1943 to 1945 due to WWII), and it's never not been held in the spring. The weather in Georgia is still golf-able in November, though we may miss out on the famous azaleas.
The Masters is usually the first of four majors on the PGA calendar, but it will now be the final major event (if everything goes as planned!). The PGA Championship was moved from May to August, the US Open pushed from June to September and the British Open, the oldest golf tournament in the world, was canceled outright. Welp.
What are the players up to in the meantime?: Tiger Woods, last year's Masters champion, decided to keep up an important tradition despite the postponement: the Masters Champions Dinner. Typically, on the Tuesday night of Masters Week, the previous year's champion gets to pick a meal to be served to all previous winners of the green jacket.
Tiger had already chosen his, um, "well-balanced" Masters meal back in February, which included steak, fajitas, sushi and sashimi. Along with his girlfriend, two kids (who all dressed in Masters green) and the family dogs, Tiger celebrated at home to keep the tradition alive.
🏒

What could have been

April 09, 2020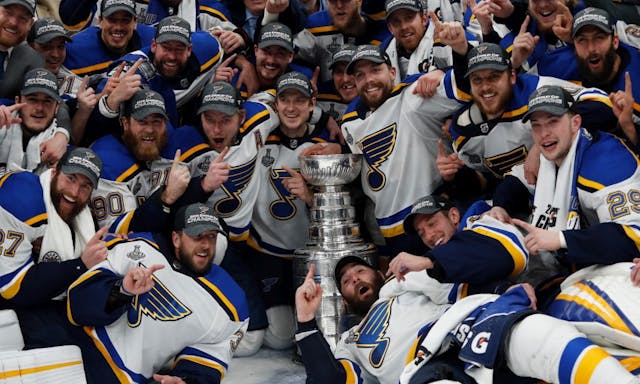 SOURCE: FORTHEW!N
The GIST: Yesterday would have been the first day of the NHL playoffs. *insert sad face with a single tear emoji* So, in the absence of a hockey postseason, here's what we think would've happened — based on how we left things — if the season hadn't been put on hold.
Eastern Conference: After inevitably netting enough goals to move him up to 6th place on the all-time career goals list, Alexander Ovechkin and his Washington Capitals would've faced the Carolina Hurricanes in the first round. The Caps would've taken the series 4-1, with the only loss coming when the 'Canes were forced to use their unstoppable emergency back-up goalie David Ayres again.
The Philadelphia Flyers and Pittsburgh Penguins would renew their Battle of Pennsylvania rivalry, and this series would've gone to seven excruciating games, with Sidney Crosby scoring the Game 7 series-winning goal in overtime to complete a Gordie Howe hat trick after fighting Gritty in the second period.
Western Conference: The Battle of Alberta would have taken center stage. The Edmonton Oilers and the Calgary Flames had a few tumultuous meetings in the regular season, and the first round of the playoffs wouldn't have been any different. The Flames would win the series in five games, but not before both teams lost at least seven players to suspensions.
And, of course, the St. Louis Blues would pump their victory song "Gloria" through the loudspeakers of their home arena with such annoying persistence that their opponents, the Nashville Predators, would elect to forfeit the entire series after Game 2 and head back home to the real Music City.
The Stanley Cup: Oh, you're wondering who would win the Cup, eh? The spirit of Laura Branigan is just too powerful. The St. Louis Blues are your back-to-back Stanley Cup champions.
What's actually happening in the NHL...: A third Colorado Avalanche player tested positive for COVID-19, though he's said to be doing well in self-isolation. And in some scary non-COVID-19 health news, Oilers' prospect Colby Cave is in a medically induced coma as he recovers from emergency surgery after a cyst caused a brain bleed. Wishing our very best to these guys.
Meanwhile, the league is still monitoring the pandemic situation and is considering North Dakota as a potential location to finish out the season. Interesting.
🏆

Tell me something good

April 09, 2020
SOURCE: HAYLEY WICKENHEISER/TWITTER
The GIST: The COVID-19 pandemic is kind of bumming us out, so let's just talk about the good news stories today, cool?
Cool! What's good?: Earlier this week, hockey legend Hayley Wickenheiser (keep scrolling for more on her) put out a call on Twitter for personal protective equipment (PPE) donations for Toronto hospitals, offering "a signed jersey, a smile and guaranteed good karma" in return. Then Blake Lively's husband, Ryan Reynolds, upped the ante.
Reynolds said that in exchange for PPE donations, he'd give autographs, signed memorabilia and even "raise your children as if they were my own." Sign us up! Wick, who's currently in medical school (is there anything she can't do?), and Reynolds have now teamed up with Conquer COVID-19 to run weekly PPE donation drives in Toronto.
Love that! What else d'you got?: Well, speaking of PPE, snowboarding company Burton and hockey equipment manufacturer CCM are each making and donating 500,000 masks to frontline workers in Canada and the US. Donna Burton Carpenter, owner of Burton, is using her own money to fund the manufacturing of the masks, while CCM's sponsored players, like superstar Sidney Crosby, are donating to the cause.
Tampa Bay's newest celebrity couple, Buccaneers quarterback Tom Brady (doesn't that sound so weird?!) and supermodel Gisele Bündchen have donated 750,000 meals to their new hometown's food banks. Way to make good with the new fans!
So amazing! Anymore?: On Monday, we told you about a potential televised game of H-O-R-S-E that would have NBA stars playing the classic playground game with a physical-distancing twist. Well, it looks like it's actually in the works and is set to feature Oklahoma City Thunder Chris Paul, Chicago Bull Zach LaVine, Atlanta Hawk and TikTok king Trae Young, and some as-of-yet unnamed WNBA stars. So freaking fun!