🏀
🏒
⚽
⛳
It's all comin' back to me now
June 08, 2020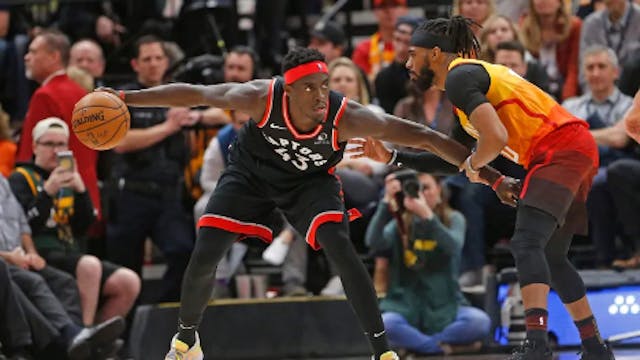 RICK BOWMER/AP
The GIST: If you made plans for the summer (audacious move), cancel them now. With the NBA finally making their return-to-play Facebook official, our summer lineup is set.
When will the NBA return?: Thanks to the NBA players association approving the NBA's restart plan, Friday, July 31st is the magic date. The final schedule is still TBD, but 22 of the league's 30 teams will take part in the restart.
To prep for the big day (TBH, not that different from a wedding day), one-week training camps will begin on June 30th at each team's home facility before everyone travels to Disney World on July 7th.

Then the 22 teams will play eight "seeding games," with postseason entry determined by winning percentage and tiebreakers. Let the 53-day countdown begin!
Any WNBA news?: Rumor has it they're hoping for a July 24th start date. The league has apparently proposed a shortened regular season with just 22 games (instead of 36), which would all likely take place in Florida (although Vegas is still an option).
Now it's up to the players union to decide if the proposal is financially and logistically feasible. Keep your ears to the ground.
What about the NHL?: They're gunning for a late July or early August start date, and to help make that possible, the league is transitioning to Phase 2 of their Return To Play plan today. This phase will allow players to return to their home facility and take part in voluntary on- and off-ice practices in groups of up to six. A stride in the right direction.
Phase 3 of the plan involves opening training camps and Phase 4 includes finishing the regular season, a seeding tournament and ensuring the Stanley Cup Playoffs go off without a hitch.

Speaking of hitches, there are two: the league and the players association still have to figure out roster sizes and pick two "hub" cities.
What else can I watch this summer?: Lots of soccer. The NWSL's month-long return-to-play tournament, the Challenge Cup, starts on June 27th in Salt Lake City, Utah. And players are praising their league for consulting with players who are also mothers to learn how to best accommodate their children while the teams live in nearby hotels. About it.
But much to the chagrin of the league, her team and her coach, there is one key player who won't be participating: superstar Megan Rapinoe. All the power to her.
Meanwhile, the MLS is looking at an early July start date, Spain's La Liga begins this Thursday and the English Premier League starts next Wednesday. The PGA Tour also returns Thursday with the Charles Schwab Challenge.
🏆
⚽
🏀
Quick hits
June 08, 2020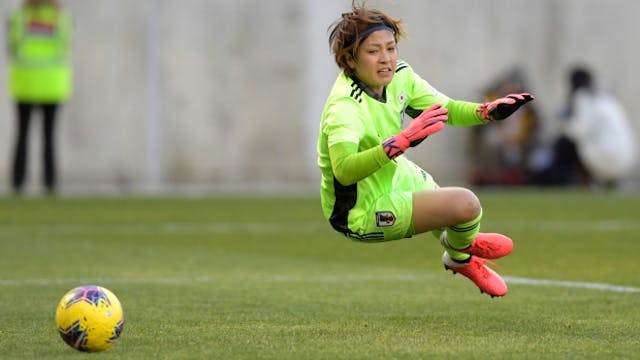 SAKIKO IKEDA, THE CANADIAN PRESS
Start the show: Japan's new women's professional soccer league has a name! Last week, the WE League, which stands for Women Empowerment (um, love), was officially approved by the country's soccer federation. They plan to begin play in 2021 and field six to 10 teams in the inaugural season.
While no teams have been announced yet, the soccer federation has decided that teams will need to have an executive suite and staff of at least 50% women to gain entry into the league. Here for it.
Stay awhile: NBA star rookie Zion Williamson has been granted a temporary stay (legal jargon for a pause in the proceedings) in his ongoing legal battle with his former agency. The agency, Prime Sports Marketing, is suing Williamson for breach of contract and has been trying to get Williamson to admit on record that his parents illegally accepted money and benefits.
The temporary stay means Williamson won't have to answer any of the agency's questions for the time being. Interesting.
Out on top: MMA and UFC star Conor McGregor has retired...for a third time. Late Saturday night, the Irishman tweeted the announcement, crediting the offers of "stupid fights" and a lack of excitement as his latest reasons for retiring.
McGregor won his last UFC match in January (almost a year after his second "retirement") in just 40 seconds and planned on fighting twice more in 2020 to prove he's still competitive in the sport that he's dominated for the past seven years. Seems a little "boy who cried wolf" to us.
🏆

Speak up

June 04, 2020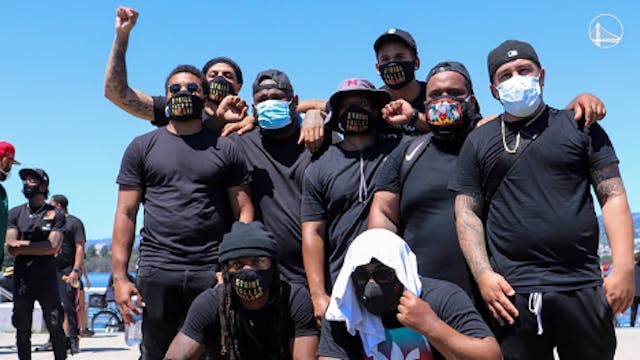 GOLDEN STATE WARRIORS/TWITTER
The GIST: As protests in major North American cities continue, most athletes here and around the world are continuing to use their voice to call for justice and change. And when there's so much misinformation spreading throughout an already divided nation, athletes' voices, actions and leadership are incredibly important.
Speaking up: Athletes of every race and every sport — from basketball, hockey, football, baseball to figure skating — have been using their giant social media platforms to spread awareness, call for justice and share resources for donations and education.
Formula One (F1) driver Lewis Hamilton made an impassioned plea, calling out literally everyone in F1 for not speaking up. Hamilton is the first and only Black driver in Formula One's 70-year history (yes, really), and his call to action saw a flood of responses from his fellow drivers and backing from his team.
Taking action: In addition to sports figures speaking out online, many are taking action. Houston Texans quarterback (QB) Deshaun Watson marched in George Floyd's hometown of Houston on Tuesday, alongside linebackers Jacob Martin and Peter Kalambayi, and yesterday Golden State Warriors superstars Steph Curry and Klay Thompson protested in Oakland.
Meanwhile, Dallas Cowboys QB Dak Prescott pledged $1 million to improve police training and education on systemic racism.

And Stephen Jackson, former NBA star and friend of George Floyd, shared a GoFundMe for Floyd's six-year-old daughter, Gianna, and has pledged to support her in her father's absence. P.K. Subban and the NHL each donated $50k to help the fund surpass its original goal of $1 million.
Missing the point: Unfortunately, not everyone has been supportive. During an interview on Tuesday, Denver Broncos head coach Vic Fangio said, "I don't see racism at all in the NFL," (he later apologized and admitted he was wrong...like, c'mon). And in an interview yesterday, New Orleans Saints QB Drew Brees said that he "will never agree with anybody disrespecting the flag of the United States of America."
Brees' completely off-the-mark comment — in reference to former NFL QB Colin Kaepernick's 2016 peaceful #TakeAKnee protest — was hit with tons of backlash, and rightfully so.

While LeBron James called Brees out directly and Green Bay QB Aaron Rodgers kept it subtle, the best response came from Brees' teammate Malcolm Jenkins. Watch for yourself.
🏈
⚽
🏆
Be the change
June 04, 2020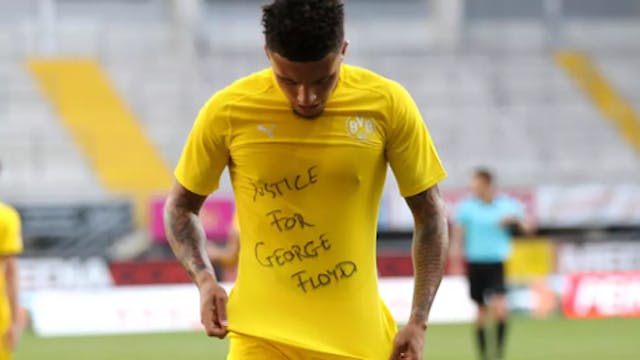 LARS BARON/AFP
The GIST: While athletes' voices are powerful on their own, backing from teams and strong action taken throughout organizations are imperative if we want to see real and necessary change driven by sports.
What soccer is doing: Germany's Bundesliga, one of the only major leagues currently playing, saw four players publicly show their support during matches last weekend. One of the players, Borussia Dortmund star Jadon Sancho, received a yellow card after taking off his jersey (a no-no) to reveal a handwritten "Justice for George Floyd" message on his undershirt.
FIFA (soccer's highest governing body), thankfully, was having none of that. In a unique official statement, the president of FIFA, Gianni Infantino, called for Sancho to be praised instead of punished.

On-pitch activism is usually discouraged in soccer, but Infantino's statement is a powerful door-opener in a sport that battles longstanding racism. Progress, people!
How the NCAA is helping: Kevin Warren, the commissioner of the Big Ten Conference (the oldest Division I sports conference in the NCAA) has created the Big Ten Conference Anti-Hate and Anti-Racism Coalition. The coalition will partner with existing diversity councils on school campuses in an effort to empower and educate students.
Warren, who is the first and only Black commissioner of a Power Five conference (the top five conferences in the NCAA Division I), said in the official coalition announcement that "George Floyd's death cannot be in vain."
The Philly Special: While many (not all) NFL teams have made official statements regarding the Black Lives Matter movement, the Philadelphia Eagles took it a step further: Eagles chairman and CEO Jeffrey Lurie, who rarely participates in team meetings, joined a closed meeting with players and coaches for a discussion on race relations.
Lurie encouraged an open and honest dialogue between the Eagles team, which compelled players like Jason Kelce to speak out on social media.

And, Lurie also pledged to dedicate more resources to work on reform within the organization, and the team will continue to raise money for the Eagles Social Justice Fund.
🏀
⚽
⚾
Step by step
June 04, 2020
SCOTT TAETSCH/GETTY IMAGES
The GIST: Little by little, some of our favorite sports are returning to action. Unfortunately, some of them are heading in the other direction, too.
What's coming back?: Basketball is oh so close. The NBA Board of Governors is voting on the league's return-to-play plan today, and, great news, it's looking really good! The plan will have the top 22 teams (based on their shortened regular season records) play eight games to determine playoff seeding before starting the postseason.
The NBA is aiming for a July 31st start date, but with a mini-seeding tournament ahead of full playoffs, it's likely the season will head well into the fall. The league's proposed timeline shows the latest possible date of the NBA's final game as October 12th. For reference, the season started on October 22nd last year.
Sweet! Anything else?: The WNBA is continuing their work on a localized return-to-play plan by scouting "hub" venues. On the shortlist are the MGM Resorts in Las Vegas and the IMG Academy in Florida. We like the progress, but we'd really like a start date.
That's it?: Nope. The MLS is headed back too! Yesterday the league reached a new labor deal with the players association, so with money issues out of the way, the league can get to work on their plan: a five-week tournament for all 26 teams at ESPN's Wide World of Sports in Orlando's Disney World (which they'll share with the NBA because that place is ginormous) that would likely mirror the NWSL's tournament.
What's not coming back?: Oh, MLB. These guys cannot agree on a return-to-play plan. The league owners rejected the players' counter proposal for a 114-game regular season and told the players union they don't plan to counter (enough counters or what?). Now, the league's Fourth of July start date is looking like a pipe dream.
Over in Japan, the Nippon Professional Baseball league is in jeopardy after two players from the Yomiuri Giants tested positive for COVID-19. The league, which is the second-biggest baseball league in the world, canceled an exhibition game due to the positive cases, which came just two weeks ahead of June 19th's Opening Day. Not good.