🏀

Becky with the good hair

April 20, 2020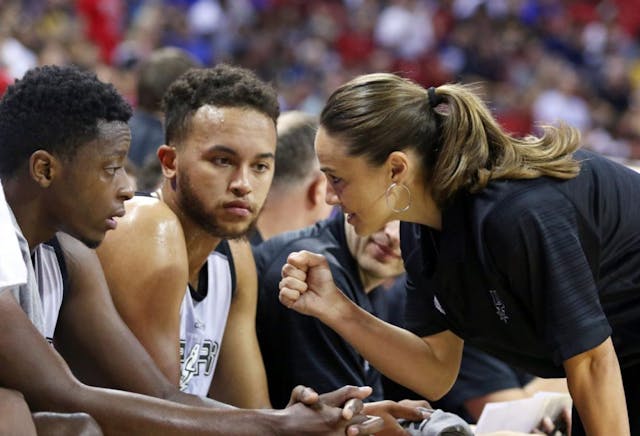 SOURCE: RONDA CHURCHILL/AP
The GIST: April was supposed to be one of the best months for sports: the MLB would have been in full swing, the MLS and NWSL would have been kicking it into high gear, the NHL would have dropped the puck on their first round of playoffs and the NBA postseason would have tipped off on Saturday. So, in honor of the NBA playoffs that would have been, we're giving #thegist on female coaches in the NBA.
The background: Without a doubt, the NBA is the most gender-inclusive pro men's sports league. Thanks to leadership that has always valued building the most diverse environments, the NBA touts: the most female majority team owners, the most women serving as team president/CEO at seven (which, BTW, is more than all other men's pro sports leagues combined) and the highest number of women serving as full-time coaches at 11.
On top of this, they promote and support the WNBA like nobody's business and Commissioner Adam Silver wants 50% of all new NBA ref and coach hires to be female. Yes, we're applauding too.
The first: Our OG ceiling smasher is the one, the only, Becky Hammon. After a 16-year WNBA career, the six-time All-Star became the first full-time assistant coach in NBA history when she was hired by the San Antonio Spurs in 2014. Over the last six years, she's climbed the coaching ladder and, on top of becoming the face of the female coaching movement, is now the lead assistant coach of the team. Heck yes, she is.
On top of that, in 2015 Hammon became the first-ever female head coach in the NBA's Summer League, and in 2016 became the first woman to be part of an All-Star coaching staff. Hey, now.
The girl gang: What might be more important is that Hammon became a role model and paved the way for several other women to become coaches in the NBA. Since Hammon began coaching with the Spurs, 10 women (!!!) have earned full-time NBA coaching jobs:
🏆

Empty spaces

April 20, 2020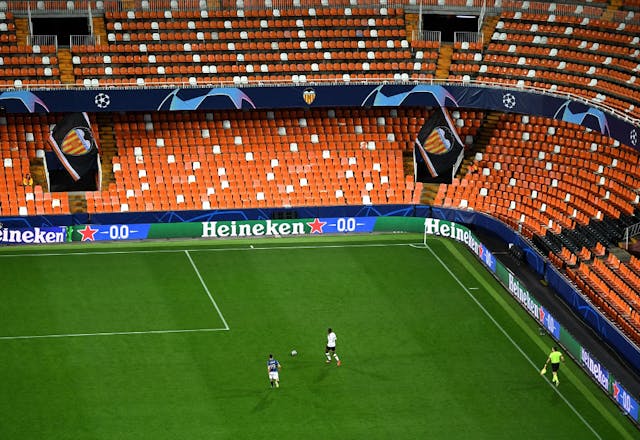 SOURCE: UEFA
The GIST: Although we're still in the thick of the COVID-19 pandemic, sports leagues around the world are seriously looking at options to start play again. The most popular plan? Games without spectators. Weird.
As long as I can watch from home…: Oh, for sure. We'll just have to wait a bit longer. As Germany eases out of lockdown, their top soccer league, Bundesliga, has already begun the process to restart the season. All teams returned to practice last Monday, with players adhering to strict physical distancing guidelines as they get back in game shape. Play is set to potentially resume in mid-May.
And over in Spain, one of the most severely impacted countries, La Liga is gearing up for its return. The Spanish pro soccer league is looking at three possible dates (the soonest being May 28th), and like the Bundesliga, all remaining matches will be played without spectators over the summer months.
Well, that's great...isn't it?: Not totally. In theory, a game without fans would cut down on tens of thousands of people gathering in one spot, which is good. On the other hand, as English professional football club West Ham CEO, Karren Brady, pointed out this weekend, it's still a dangerous option. She estimates between 300 and 500 people would need to be present for a single soccer match, including security, facilities staff, media, players and team staff.
There's also the issue of on-field injuries. If a player gets hurt in a game and needs to be taken to a hospital, medical resources could be taken away from COVID-19 patients and increase the risk for the player to contract the virus while in hospital. Not ideal.
Ah, makes sense. Is it just soccer?: Nope. Tennis, too. Serena Williams' coach Patrick Mouratoglou is starting Ultimate Tennis Showdown, an independent league where players will face off in a controlled environment (i.e., no fans) at his tennis academy in France. And tennis star Rafael Nadal is also getting in on the fun, inviting fellow pros to his academy in Spain to train for the upcoming season and compete against each other for practice (and our television viewing enjoyment!).
On top of that, Nadal is joining forces with the rest of the Big Three of men's tennis as they look to help their fellow ATP players. Nadal, Roger Federer and Novak Djokovic (pronounced JOKE-OH-VITCH) have proposed a relief fund, encouraging top ranked players to donate money to help affected lower ranked players. You love to see it!
And what's happening here in North America?: Money's a bit tight over here. The NBA and NBPA (the National Basketball Players Association) came to an agreement to reduce players' twice-monthly paychecks by 25% starting May 15th, with the funds being held until a decision about the season is made.
The NHL has decided to hold off another month on making any pay decisions, deferring the final paycheck of the year and giving themselves time to maybe (hopefully!) reschedule the remainder of the season instead of canceling outright. Crossing all our fingers and toes!
🏀

Simply the best

April 20, 2020

The GIST: The 2020 WNBA Draft took place on Friday night, and just as we (and basically everyone) predicted, Sabrina Ionescu (pronounced YOH-NESS-COO) went first overall. Get it girl.

Where's she going?: New York Liberty selected Ionescu with the first overall pick in the uniquely virtual version of the draft. The California kid was quickly welcomed by fellow WNBA and NBA New Yorkers via social media, with messages from her new Liberty teammate Kia Nurse, Brooklyn Nets star Kevin Durant and NY Knicks rookie RJ Barrett. *Taylor Swift's "Welcome to New York" plays in the background*
To add to the celebration, Ionescu's Liberty jersey sold out online within an hour (!!!) and by Saturday, she'd signed a multi-year shoe deal with Nike. Unreal.
Who else was drafted?: Ionescu's former Oregon Ducks teammates will now become her arch rivals...okay, sorry, that was dramatic — opponents. Satou Sabally (pronounced SAH-TWO SAH-BUH-LEE) went second overall to the Dallas Wings and Ruthy Hebard went to the Chicago Sky as the eighth pick.
Meanwhile, after being selected by the NY Liberty and then quickly traded to the Minnesota Lynx, Erica Ogwumike (pronounced OH-GWOO-MIH-KAY) became the third Ogwumike sister to be drafted to the WNBA — making the Ogwumikes the first family to EVER have three sisters play in the W. Talk about good genes!
And I hear there were honorary draft picks too?: Commissioner Cathy Engelbert announced three honorary selections: Gianna Bryant, Alyssa Altobelli and Payton Chester. The three teammates, all aspiring WNBA players, were killed in a helicopter crash in January along with Gianna's father and WNBA ally Kobe Bryant.
⚽

Third time's the charm

April 16, 2020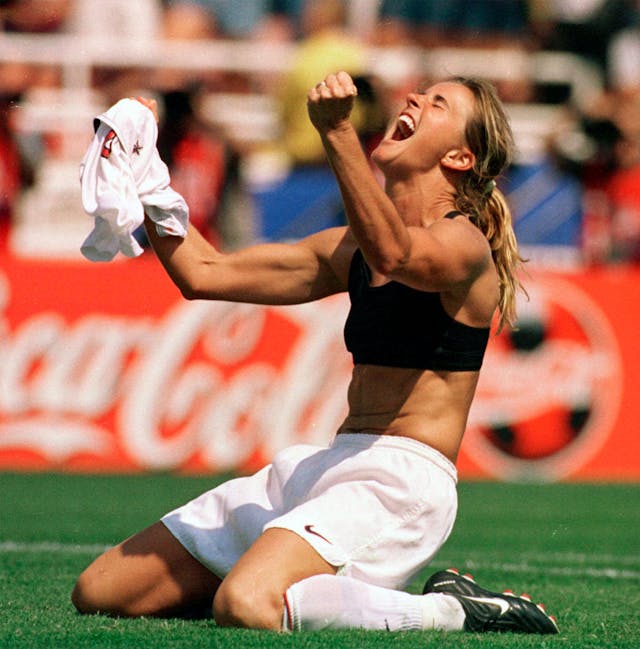 SOURCE: AP PHOTO/THE SAN FRANCISCO EXAMINER, LACY ATKINS, FILE
The GIST: The National Women's Soccer League (NWSL) was supposed to kick off (literally) this Saturday, but due to the COVID-19 pandemic, has extended their training moratorium (sounds bleak, no?) until May 5th. So to give you the soccer fix you so desperately need, we're giving you a herstory lesson — and we promise it's not the boring kind — on women's pro soccer in North America.
The 1900s: Before diving into women's pro leagues in North America, we first have to take a step back and look at what was happening internationally. While men's soccer made its Olympic debut in 1900 and had its first FIFA World Cup in 1930, the first FIFA Women's World Cup was in 1991 and women's soccer only became an Olympic sport in 1996. Let that sink in for a minute.
It was only after the US won the FIFA Women's World Cup in 1999, in front of 90,185 spectators — the largest crowd at a women's sporting event to-date — that women's soccer really began to kick (get it?) into high gear.
Early 2000s: Feeding off the momentum of the epic World Cup win, the first women's professional soccer league in the United States — the Women's United Soccer Association (WUSA) — began play in April 2001. Unfortunately, in September 2003, the league folded due to financial problems and a "lack of public interest." Translation: insufficient media coverage and endorsement support from corporations.
In 2009, the next pro league started, named the Women's Professional Soccer League (WPS). And despite a strong showing in 2009, following the 2008 US Olympic gold medal win, the league started having problems in 2010. There were internal team struggles, legal battles and, again, financial issues, which led to the league closing its doors in May 2012. Ugh.
The 2010s: At this point, the soccer world was incredibly frustrated at the tumultuous state of women's pro soccer (like, no duh) and the North American soccer federations finally recognized that to produce high-quality national players, you need to have a local pro league. So the US Soccer Federation (USSF), Canadian Soccer Association (CSA) and Mexican Football Federation (FMF) announced there would be eight teams in a new professional women's soccer league — the NWSL — that would be funded by the USSF. Ironic.
🏀

Who run the world?

April 16, 2020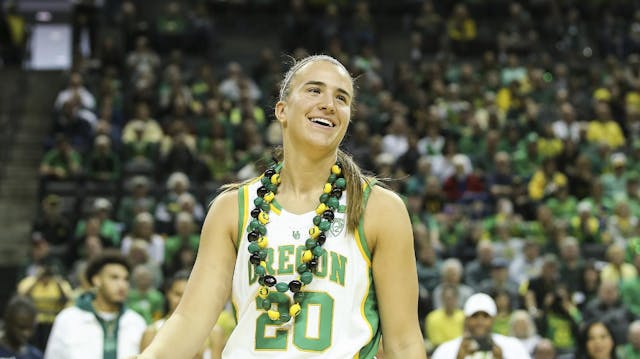 SOURCE: ERIC EVANS/GODUCKS.COM
The GIST: Thank goodness the WNBA is giving us something to look forward to. Just one more sleep 'til the WNBA Draft!
Wait...remind me what a draft is: A player draft allows a professional league's teams to select the best eligible amateur players to add to their rosters. In the WNBA Draft, all twelve teams have one pick in each of the three rounds (unless they traded them), and the eligible player pool is mostly made up of college players (there's pretty detailed criteria to be considered "eligible" though).
Got it. How's it all going to roll out?: Completely virtually. The draft, which was supposed to take place live in New York City, will be hosted remotely, with Commissioner Cathy Engelbert announcing all the draft picks, and the athletes streaming in via video chat or conference call.
And who's going to be the first pick?: That honor will, without a doubt, go to the college basketball legend, Sabrina Ionescu (pronounced YOH-NESS-COO) of the Oregon Ducks. The New York Liberty, who already have superstars like Kia Nurse on the roster, have the first overall draft pick and will definitely use it on Ionescu. She's one of those "once in a generation" players, and all eyes will be on her to lift the league to a new level.
After Ionescu, mock drafts have Lauren Cox from Baylor or Ionescu's Oregon teammate Satou Sabally (pronounced SAH-TWO SAH-BUH-LEE) going next. Many teams and scouts have said that the loss of the NCAA Championship Tournament (aka March Madness) has made their selections extra challenging, so it might be a bit of a free-for-all after that. Fun!
And what's this I hear about a Kobe tribute?: The WNBA is planning to honor not only Kobe Bryant, who was an advocate and big fan of the league, but also his daughter Gianna Bryant, and her teammates, Alyssa Altobelli and Payton Chester, who were all WNBA stars in the making. No word on just how that will look, but we can't wait to see what will surely be a beautiful tribute.
Can't wait! How can I watch?: The action starts at 7 p.m. ET on ESPN in the US (because they finally got their sh!t together) and TSN and Sportsnet in Canada. Get your quarantine snacks rea