🏒
🏅
Olympics: Preview of the women's hockey final
February 16, 2022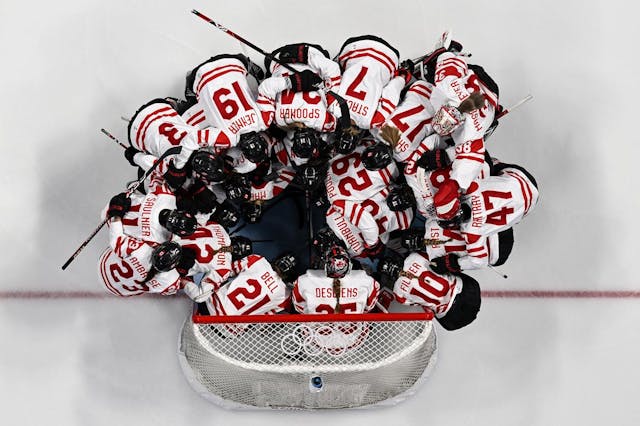 ANTHONY WALLACE/AFP VIA GETTY IMAGES
The GIST: For the sixth time in seven Olympics, Team USA will face Team Canada with women's hockey gold on the line. The rivalry, the rematch — we're ready.
The background: The two squads are, in a word, dominant, combining to win every Olympic title since the sport's debut in 1998. Team USA are the defending gold medalists, having topped the North in stunning shootout fashion at the 2018 PyeongChang Games.
But Canada claimed the 2021 World Championship (and last week's preliminary round game in Beijing). Are you not entertained?
How they got here: Team Canada has bulldozed their way through the tournament, breaking their own Olympic record (OR) with 54 goals while going undefeated and routing Sweden and Switzerland in the quarter-finals and semis, respectively. The power of Justin Bieber.
Meanwhile, the Americans have faced some challenges en route to the finals, losing alternate captain Brianna Decker to injury in their opener and posting surprisingly narrow elimination wins over Czechia and Finland.
Players to watch: As Hilary Knight goes, the U.S. goes. The four-time Olympian has notched a team-high nine points this tourney. Clutch is an understatement.
Canada boasts plenty of depth with eight (!!!) players in the top 10 scorers, but we'll have our eye on newcomer Sarah Fillier, who has scored a whopping eight goals in six games.
How to watch: As mentioned, this gold medal game is dividing the North American GIST team, so we'll spare a prediction. Tune into NBC in the U.S. and CBC in Canada to see how the showdown unfolds. Drop. that. puck.
🏅

Olympics Day 11 Recap: Team Canada

February 14, 2022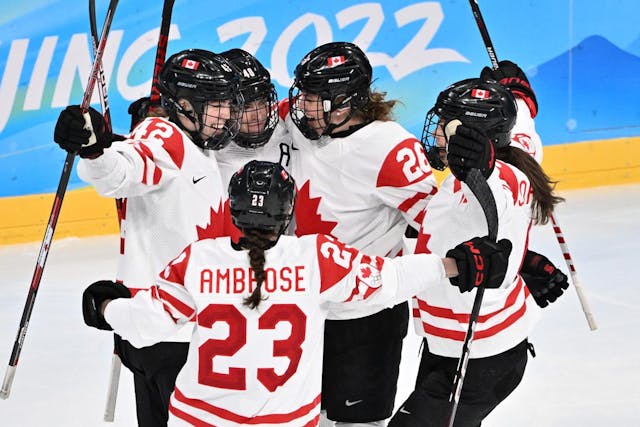 ANTHONY WALLACE/AFP VIA GETTY IMAGES
🏒 Hockey: After a 10–3 domination of Switzerland early this morning that saw Canadian Claire Thompson increase her Olympic record for most points by a defender to 12, Canada is officially moving on to the gold medal match. They're undefeated, and they're gonna dance.
Stop us if you've heard this one before, but Canada will face rival Team USA to reclaim (we don't talk about Bruno PyeongChang) the gold on Wednesday at 11:10 p.m. ET.
🛷 Bobsleigh: In a night for the history books, Christine de Bruin won bronze in the monobob's Olympic debut yesterday, notching her first Olympic medal in the process.
💨 Short track speed skating: After skating to a silver in the men's 1,500m, Steven Dubois is back on the podium in Beijing after winning bronze in yesterday's 500m event. Dubois will have a chance to hit the cycle with a gold in the men's 5,000m relay on Wednesday. It's raining medals.
🥌 Curling: Team Jones was able to knock off a much-needed 7–3 win over Great Britain this morning in women's round robin action. Next up: a chance to upset Team USA tomorrow at 8:05 p.m. ET. We're sure they can hack it.
🏅
🥌
⛸️
🏒
Olympics Day 8 Recap: Team Canada
February 11, 2022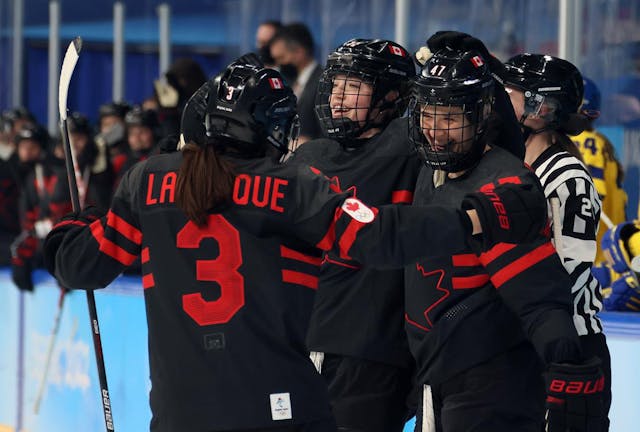 BRUCE BENNETT/GETTY IMAGES
🏒 Women's hockey: The road to redemption continues with Canada's rout of Sweden in the women's hockey quarter-finals this morning. Brianne Jenner and Sarah Fillier both notched their sixth goals of the tournament, showing why Canada's offense is ranked first overall.
Next up, Canada heads to the semifinals. Maybe hold off on that manicure until after this tourney's over.
🥌 Curling: Jennifer Jones' perfect Olympic streak came to an end with an 8–5 loss to Japan in women's round robin play this morning. Jones and her team will be hurrying hard to rebound against Sweden tonight at 8:05 p.m. ET.
Over in the men's round robin, Team Gushue was handed their first loss of the competition, falling 5–3 to Switzerland this morning. The team will also look to bounce back when they face Sweden tomorrow at 1:05 a.m. ET.
⛸ Figure skating: Put on your dancing shoes skates because the ice dance competition begins tomorrow at 6 a.m. ET. Having placed third in the free dance team event, Canadian duo Piper Gilles and Paul Poirier will be aiming for a podium finish. Tune in to see what Tessa Virtue and Scott Moir have to say about that.
🏅
⛸️
Olympics: More on Kamila Valieva - the 15-year-old ROC star figure skater
February 11, 2022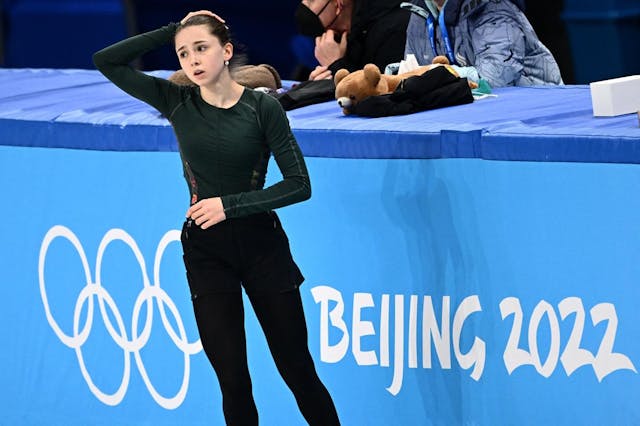 ANNE-CHRISTINE POUJOULAT/AFP VIA GETTY IMAGES
The GIST: With next week's women's singles figure skating competition looming, the story of Kamila Valieva — the 15-year-old ROC star figure skater at the center of a doping controversy — continues to accelerate.
The latest: Overnight, the International Testing Agency (or ITA, the group that manages the Olympics anti-doping programs) confirmed that Valieva tested positive for a banned heart medication that can aid performance.
The shocker? She tested positive back in December during the Russian Figure Skating Championships, but the test was only returned the day after ROC won gold in the team event. Don't be suspicious, don't be suspicious.
While Valieva was then provisionally suspended by the Russian Anti-Doping Agency on Tuesday, she quickly appealed and that suspension was lifted on Wednesday, conveniently before the singles event begins.
Now, the International Olympic Committee (IOC) is appealing to the ​​Court of Arbitration for Sport for the suspension to be reinstated. Wow.
Zooming out: This is far from the first time Russia's been involved in a doping scandal, and this latest story is yet again shining a light on the deeply troubling system these athletes train within.
Valieva's been touted as the first woman to land a quadruple jump at the Olympics, but, in reality, she's just a teenager. The adults involved also need to be held accountable.
What's next: With her suspension currently lifted, Valieva is still practicing for the singles event. Her future at these Games now rests on an urgent hearing determination. Stay tuned.
🏅
⛷️
Olympics Day 7 Recap: Team Canada
February 10, 2022
CTV YOUR MORNING/TWITTER
🎿 Alpine skiing: James "Jack" Crawford — minus the mustache — has ended Canada's eight-year alpine medal drought with a bronze in the alpine combined event. Been wondering why Crawford goes as Jack? It was how his sister pronounced his name when they were kids. S'cute.
🏂 Snowboard cross: It was a snowboard cross silver for Eliot Grondin earlier this morning after a photo finish showed him just 0.02 (!!!) seconds behind Austria's Alessandro Hämmerle. This marks Grondin's first Olympic medal following his debut in Pyeongchang at age 16. Très fantastique!
🎿 Freestyle skiing: Canada claimed the mixed team aerials bronze at the event's Olympic debut this morning. Shoutout to our American GISTer pals — Team USA made history as the inaugural winners.
💨 Speed skating: What a medal morning for the North. Speed skater Isabelle Weidemann nabbed silver — her second medal of the Games — in the women's 5,000m. Blink and you'll miss her.