🏒

The painful hit heard across the NHL

June 03, 2021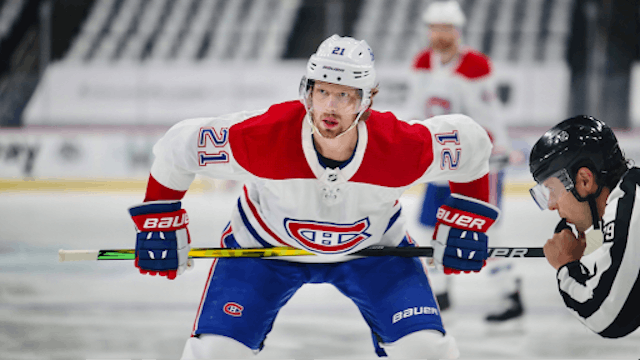 Source: Montreal Canadiens/Twitter
North Division: The Montreal Canadiens' second-round Game 1 win when birthday boy Jake Evans took a dirty hit from Winnipeg Jet Mark Scheifele (pronounced SHY-flee) a split second after scoring the game's final goal last night. Evans was brought to hospital, and Scheifele is hopefully headed for the .
South of the border: In the only other game last night, the Colorado Avalanche doubled their lead in overtime with a 3–2 win in Game 2 over the Vegas Golden Knights. The Avalanche haven't lost a game since May 5th, and if they keep , we don't expect that streak to end any time soon.
Game 3s start tonight, with the Boston Bruins and New York Islanders looking to break a tie, and the Carolina Hurricanes aiming for their first win over the Tampa Bay Lightning. Catch all the action on , of course.
🏒

Habs and Leafs square off in Game 7

May 31, 2021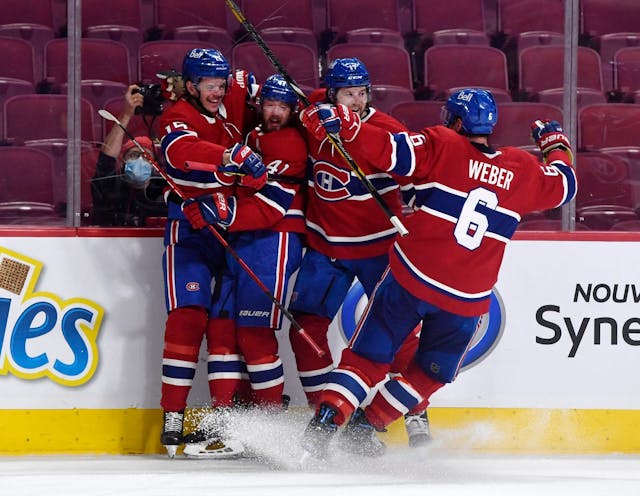 Source: Eric Bolte/USA TODAY Sports
Game 6: Before we get into tonight's game, let's look back at one of the most electric editions of Hockey Night in Canada since . Saturday night's game included something our country hasn't seen in 444 days: fans.
Montreal's Bell Centre allowed 2,500 Habs, Leafs (and for some odd reason, ) fans to attend the game and karaoke-style.
Game 7: Which brings us to 7 p.m. ET tonight. The Habs and Leafs will square off in Toronto for their first Game 7 since 1964. Toronto won that tilt (and went on to win the Cup), but will history repeat itself? TBH, we're scared to guess.
Toronto is the better team (in this series anyway), but hasn't been at their best. They'll need stars like Mitch Marner and Auston Matthews in order to win their first playoff series in 17 years.
The next round: While the North Division's first round wraps up, the rest of the league is already onto the second round. The Boston Bruins, Tampa Bay Lightning and Colorado Avalanche are each up 1-0 over the New York Islanders, Carolina Hurricanes and Vegas Golden Knights, respectively.
🏒

Competition intensifies for NHL playoffs

May 27, 2021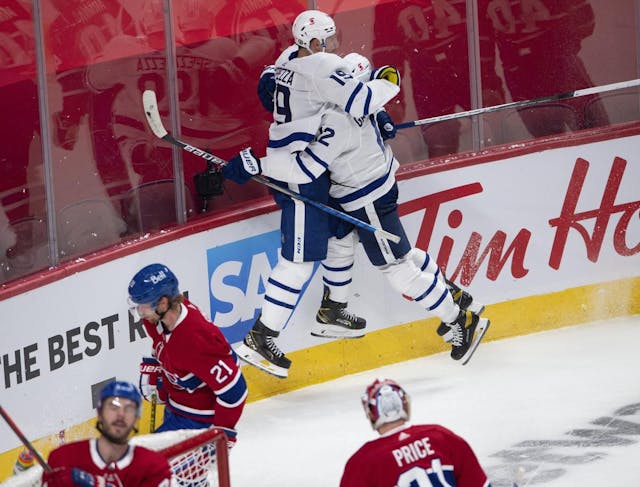 Source: Ryan Remiorz /The Canadian Press
North Division: The Montreal Canadiens and Toronto Maple Leafs are set for the second-most exciting hockey game on TV today (we'll get to the PWHPA in a second). The Leafs lead the series 3-1 after a 4–0 win in Game 4, where Leafs goalie Jack Campbell recorded his first-ever NHL playoff shutout.
The best-of-seven series could end with a Leafs' win at home tonight, which (knock on wood Leaf fans) would be their first playoff series win since 2004. Or, the Habs could win and we'd go to Game 6. Puck drops at 7 p.m. ET.
The other divisions: Three teams played for their lives last night in crucial Game 6's. Shockingly, the Pittsburgh Penguins were upset by the pesky New York Islanders, who won the series 4-2 and will now move on to play the Boston Bruins.
Not shockingly, the Tampa Bay Lightning beat the Florida Panthers to move on to round two, while the Minnesota Wild beat the Vegas Golden Knights to force an always-entertaining Game 7.
PWHPA: Okay, now the fun stuff. Today is day four of the , and so far, Montreal-based Team Bauer is killing it.
They won their first two games, and collected thanks to Marie-Philip Poulin's short handed goal in Monday's 3–2 win over Team Sonnet (Toronto) and the more than five goals scored in Tuesday's 6–1 rout over Team Scotiabank (Calgary).
They were off yesterday, when Team Sonnet took the W over Team Scotiabank, but are back in action against Sonnet today at 5 p.m. ET.
🏒

Guide to Fantasy Hockey

May 26, 2021
SOURCE: GIPHY.COM
Just Google the word "fantasy" and it'll land you right in the thick of podcasts, YouTube videos, articles and draft predictions for the four major sports leagues (that's the NHL, MLB, NBA and NFL). This fantasy stuff is a ! In fact, we also have a guide to fantasy football and a guide to fantasy basketball you can check out. But back to hockey…
WTF is fantasy hockey?
Fantasy hockey is one part real, one part fake and 100% a whole lot of fun. Your mission, should you choose to accept it, is to pick a team of players that is better than any other team in your fantasy league. The players are real, the points they score are real, but the combination of players together is what makes it fantasy. You have the opportunity to create a dream team (or the dreamiest looking team, depending on your draft strategy *swoon*) made up of your favourite players and, ideally, the players you think will do the best this season.
Okay, I'm in. How do I play?
To play, you'll need to join a league. A lot of workplaces will get groups together to do this. Or you can join a league for free online. We'd recommend taking a look at these websites:
Then it's time to do a little prep work (this is a lot more fun than homework or that powerpoint presentation your boss keeps hounding you for). You'll want to make up a list of players that you have the most interest in and want to try and get on your team. Most often, teams are made up of nine forwards, six defensemen, one utility player (forward or defence, your choice), two goalies and five to seven bench spots (these are the extra guys you'll need when someone gets hurt, goes on a cold streak or doesn't play for a few days).
Each day, as an owner, you get to set your lineup and pick which players hit the ice and which players will ride the pine. Then sit back and relax as your fantasy site calculates scores for you live, so you can watch your guys play in real life and watch your fantasy team rocket to the top of the standings at the same time.
Got it. But how do I be good?
You could pick your team based on best hockey flow (oh hey there ) but maybe go with something a little more practical if you want to compete with the best fantasy owners in your league. and have some top player lists that can help you with this.
If your league is hosted on Yahoo (which it likely is), the site will also give you a list of players the experts think will have the best season. Don't get overwhelmed by these sites. They're showing you way more information than you're probably ever going to need to know.
This sounds fun. What else do I need to know?
Here's a list of things that will definitely come up so you're ready for the big leagues.
Draft Day - This is undoubtedly the most important day of your fantasy year because this is the day that you get to build your team. The most common type of draft is a snake. Each team will have a predetermined draft number (if your league has ten teams, you'll get to draft somewhere between first and 10th). In a snake format, the 10th team to draft also gets to pick the 11th player because the order switches directions. This means that, as awesome as it is to draft first, you'll have to wait around until the 20th player to get to choose again.

Your goal is to draft the best player that's still available. And don't worry, Yahoo will give you suggested picks so you don't have to frantically flip through your research if the guy you really wanted went one draft pick ahead of yours.
ADP (Average Draft Position) - Each fantasy site will show the average draft position of players. This is the average spot that that player was taken across all of the drafts run on that website. The higher the ADP, the more in demand that player is.
Trades - Just like the real NHL, your league will give you the option to trade. This can be great news if the #1 player you really wanted on your team went to someone else, though you'll likely have to give up something big in return. Trades are a great way to shake things up and get access to players you might have thought were gone forever.
Waiver Wire - This is where you'll be able to get players that weren't chosen in the draft. Sometimes players get hurt or they underperform and you're going to want to give them the snips. (Don't worry, we won't tell them *wink*) You can replace them with players from the waiver wire. As long as no one else owns a player, they are fair game for you to add to your squad.
Sleeper Pick - These guys are not actually asleep (hopefully). A sleeper pick is a player that has the possibility of being a big breakout star, kind of like an underdog. It's not a guarantee, but if you get lucky he could be one of the best guys on your team. At one point, both and were sleeper picks — now they are two of the best guys on their respective teams.
Head-to-Head - This is the most common type of fantasy league. Say your league has 12 teams, each week you'll face off against another team. Your goal is to be better than the team you're up against in a number of categories; goals, assists, shots on goal, blocks, hits, etc — the categories will depend on your league. At the end of the week, you'll get one point per category that you won.
Rotisserie League - Wipe the drool off your face, this has nothing to do with chicken (unfortunately). This type of league might be a little easier to understand than head-to-head. Think of rotisserie like "total points." Every category is tallied from the beginning of the season to the very last game. To win, you must have the most points at the end of the year.
Each league will have categories that are a little bit different (some might include penalty minutes, others might not), so tweet us questions ( or ) if you want help with your specific league!
Some draft tips to get you started:
Get acquainted with the top ten guys in the league. It's always going to be debatable, but your first-round pick is probably the most important.
There is no right or wrong way to draft, but try to get a core group of players early (three forwards, two defense and a goalie) and then start to fill in the gaps where you think you might be lacking talent.
Don't waste a high draft pick on a goalie – sometimes they pay off, but more often than not they aren't worth reaching for. Goalies are notoriously unpredictable, and even the best in the league (like ) can have bad seasons. You're better off taking a more reliable player with that draft pick.
OUR HOTTEST TIP: Still stressed after reading all of this? You can stage a mock draft online on Yahoo . This comes with no pressure and just gets you acquainted with how the drafting process works. We cannot recommend this enough if you've never joined a fantasy league or drafted before. Practice makes perfect and all that stuff, ya feel?
Fun fact to share on draft day:
Fantasy hockey might not be the biggest fantasy format, but it was the first! Fantasy hockey launched on the web in early 1995 and it paved the way for all other fantasy formats.
Still have questions? That's what we're here for! Slide into our DMs, tweet us or hit us up with an email — we want to help you be the best fantasy hockey owner you can be.
Written By: Alexis Allison
GIST Guest Writer and Hockey Guru
Don't get The GIST's twice-weekly newsletter yet? Let's make it email official.
🏒

Guide to Hockey

May 26, 2021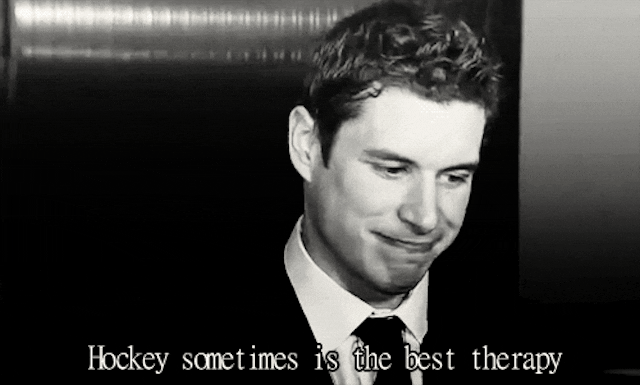 The GIST
The point of the good ol' hockey game is to have the most goals after three, 20 minute periods of play. Each team has five players (three forwards and two defence) plus one goalie on the ice at a time.
How is it organized?
The most popular hockey league in the world is the National Hockey League, aka the NHL or "chel" if you're a true "hockey beauty" *rolls eyes*. Teams are divided into the Eastern and Western Conferences and are then further divided by divisions. There are 31 teams (until Seattle's expansion team begins its franchise in 2021-22) and 82 regular season games.
At the end of the regular season, the top three teams in each division and then the remaining top two teams in the conference, regardless of the division (this playoff format is v. controversial because sometimes one division is stronger than the other, meaning that two of the best teams in the conference may have to play each other in the first round) will move on to the playoffs. This means each division will have a minimum of three and a maximum of five teams in the playoffs. The playoffs consist of four rounds of best-of-seven series (teams must win four of the possible seven games to advance) with a chance to win the coveted Stanley Cup aka "Lord Stanley" in the end.
The best of the best
The 2020 Stanley Cup Champions are the Tampa Bay Lightning! The Lightning claimed the first (and hopefully last) bubble championship and their second Stanley Cup in franchise history, defeating the Dallas Stars in six games. Centre Brayden Point led the Lightning offense with 14 goals and 19 assists (!!!) throughout the playoffs. On the defensive side, defenseman Victor Hedman was awarded the Conn Smythe trophy (the award for the MVP during the playoffs). Other top players in the league include Sidney Crosby (Pittsburgh Penguins), Nathan MacKinnon (Colorado Avalanche), Connor McDavid (Edmonton Oilers) and Patrick Kane (Chicago Blackhawks)
When will the next NHL season start?
COVID-19 paused the NHL regular season in March forcing a four-month hiatus in play. In a normal year, the new NHL season would begin in October...but we all know 2020 is certainly not normal. With the 2020 season wrapping up in late September, the league is targeting January 1st as the potential start date for the 2021 season, although nothing's set in stone just yet. We'll be waiting for that puck to drop!
All my ladies, let me hear y'all!
The women's hockey scene has gotten mighty messy as of late. At the end of its 2019 season, the Canadian Women's Hockey League (CWHL) (one of two professional women's hockey leagues based in North America at the time) unexpectedly folded due to unsustainable business operations. It consisted of six teams, four based in Canada, one in the US, and one in China, and left a lot of female hockey stars without a team.
Then there's the National Women's Hockey League (NWHL) which has just five teams centralized in the Northeastern US. However, in both the former CWHL and the current NWHL, players get paid next to nothing compared to their male counterparts. Most of the league's players juggle full-time work and pro-hockey as the league's average salary is just $15k. To put this in perspective, the lowest amount an NHL team can pay a player is $700k. Can you say #WageGap?
So in 2019, more than 200 of the world's best female hockey players joined forces to fight for change forming the Professional Women's Hockey Players Association. They are currently boycotting (refusing to play) in the current professional hockey league structure with the goal of creating a viable cross-border league with better working conditions (is health insurance so much to ask?) and better pay. That means no Marie-Philip Poulin, no Hilary Knight and no Brianne Jenner to watch this season. Welp.
But, you can watch them on their Dream Gap Tour this year. It's a short-term band aid but will hopefully help create a long-term solution. For now, the conversation seems to be at a standstill and the future of women's hockey hangs in a kind of uncomfortable limbo. Subscribe to The GIST and follow our social channels to stay up-to-date on more of this news.
Fun facts
The Stanley Cup was created in 1893. It was named for Lord Stanley of Preston, a Canadian Governor General.
The Pittsburgh Penguins (that's Sidney Crosby's team!) used to have a real-life penguin mascot. Pete, as he was affectionately called, was introduced in 1968 before a game against the Pennsylvania state rival Philadelphia Flyers.
There are more than 2,200 names engraved on the Stanley Cup (FYI, each team has their names engraved after winning), but only 12 women have made the cut, either as owners or team executives. Let's get to adding to this tally, shall we?
Don't get The GIST's twice-weekly newsletter yet? Let's make it email official.