🏈

🏀

🏆

It wasn't over, it still isn't over!

June 29, 2020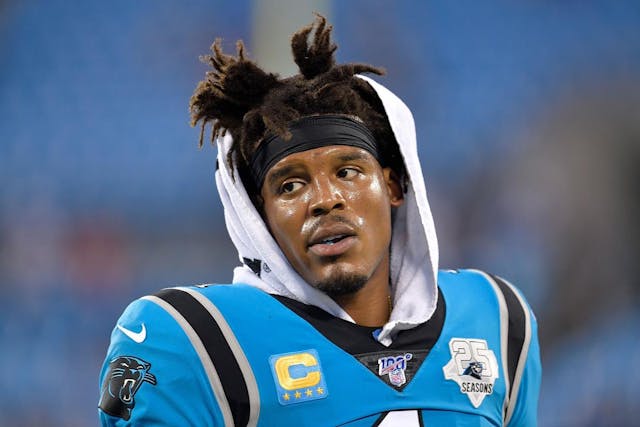 GRANT HALVERSON/GETTY IMAGES
🏈

🎾

⛳

🏀

⚾

Around and around and around we go

June 18, 2020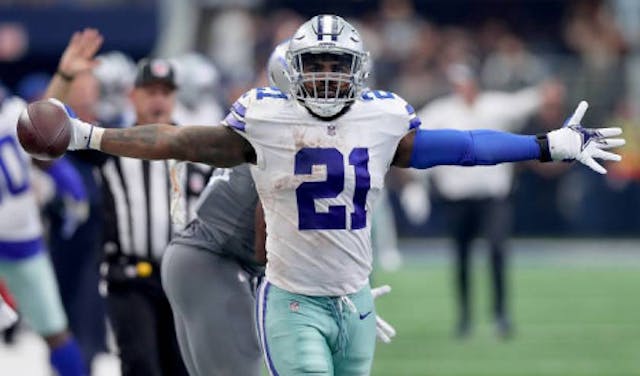 TOM PENNINGTON/GETTY IMAGES
The GIST: Sports are coming back. But, unfortunately, so are some athletes' positive COVID-19 test results.
Oh no. Who?: Most recently, several players from the Houston Texans and Dallas Cowboys have tested positive, including Cowboys star running back Ezekiel Elliott. Elliott is the third NFL player, and arguably one of the biggest stars in sports, to be publicly named.
Despite this, the NFL still seems to be planning for a normal regular season with fans (!!!) and for training camps to start in late July. Does this seem dangerously (in a literal sense) optimistic to you or is it just us?
Yikes. What about college football?: Many of the most prolific NCAA football teams — including Auburn, Mississippi State, Texas A&M and Alabama — have reported coronavirus cases among their players recently as well. Not good. Oklahoma State linebacker Amen Ogbongbemiga said he tested positive after attending a protest in Tulsa.
The NCAA is continuing to monitor the situation before making any drastic decisions, but yesterday, the Southern Heritage Classic — an annual matchup between Tennessee State and Jackson State played in Memphis in September — became the first NCAA football event to be canceled because of coronavirus. And we're thinking it won't be the last.
Wow. Can you give me some good news?: For sure! The PGA Tour tested all players, caddies and staff ahead of today's RBC Heritage tournament (the second event since the season restart), and for the second week in a row, there wasn't a single positive test. Let's polite golf clap to that.
Speaking of golf, the LPGA is returning on July 31st. The women's tour has added a new tournament called the LPGA Drive On Championship, which will kick off the season with back-to-back events in Ohio. Mark your calendars.
Amazing! Keep it rolling: Despite rumors that the WTA and ATP's US Open would be canceled, it's now officially scheduled to start on August 31st, thanks to New York governor Andrew Cuomo giving it the go ahead. Thanks, man! While not everyone is happy about the announcement, Serena Williams is stoked so we're stoked too.
And on Monday, the WNBA officially confirmed that the regular season will start in late July and will feature 22 games followed by a traditional postseason. Untraditionally, there won't be any fans, and all teams will play, practice and live at the IMG Academy in Florida. Quite the destination these days.
And...I'm afraid to ask...what's up with the MLB?: Don't be afraid — we have progress! The MLB and the players union are talking again, and they seem to have come to an agreement on a "jointly developed framework." The new plan would have the season start on July 19th with players receiving their full salaries for the amount of games played (as they wished).
The number of games is a sticking point, though. The suggested number was 60, but there seems to be some flip flopping on that. The league and union still have work to do (someone call these guys a couples' counselor), but one thing's for sure: the players are ready.
🏆

🏈

Keep the conversation going

June 18, 2020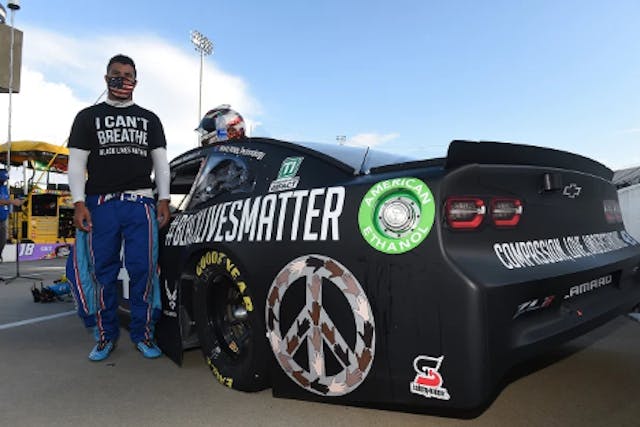 JARED C. TILTON/GETTY IMAGES
The GIST: The Black Lives Matter movement has found an unlikely but long-overdue ally in the sports world: NASCAR.
Really?: Really! NASCAR has a long history of racism, an overwhelmingly white fanbase and up until last week, a sea of Confederate flags at most races. But the stock car racing series is working to change: this week, NASCAR hired Brandon Thompson as their vice president of diversity and inclusion, a new role within the organization.
Thompson's promotion comes at a time when NASCAR is looking to expand its fanbase and attract new and diverse talent to the sport. Moves like this prove the value and the power of the Black Lives Matter movement — let's keep it going.
Awesome. Any other news?: It looks like Colin Kaepernick, the quarterback (QB) who began the #TakeAKnee national anthem protests and was subsequently banished from the NFL in 2016, has a great chance to return to the league in 2020.
The Los Angeles Chargers might be adding Kaepernick to their workout list, and the Philadelphia Eagles are showing interest in bringing him on as a backup QB. And apparently the Las Vegas Raiders (who recently moved from Oakland) are trying to do the same. Yes, please!
Kaepernick even has the backing of two unlikely sources: NFL Commissioner Roger Goodell and president Donald Trump. Well, well, well how the turn tables.
🏈

⚽

🏆

Be the change

June 04, 2020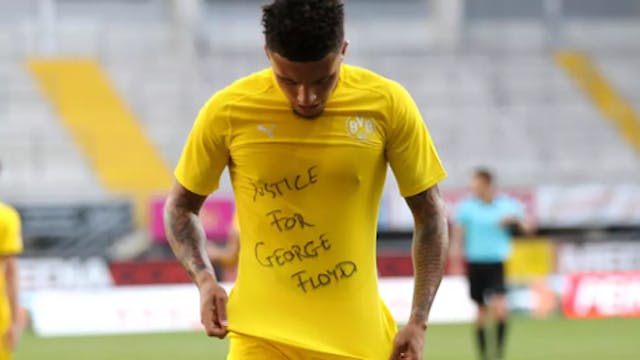 LARS BARON/AFP
The GIST: While athletes' voices are powerful on their own, backing from teams and strong action taken throughout organizations are imperative if we want to see real and necessary change driven by sports.
What soccer is doing: Germany's Bundesliga, one of the only major leagues currently playing, saw four players publicly show their support during matches last weekend. One of the players, Borussia Dortmund star Jadon Sancho, received a yellow card after taking off his jersey (a no-no) to reveal a handwritten "Justice for George Floyd" message on his undershirt.
FIFA (soccer's highest governing body), thankfully, was having none of that. In a unique official statement, the president of FIFA, Gianni Infantino, called for Sancho to be praised instead of punished.

On-pitch activism is usually discouraged in soccer, but Infantino's statement is a powerful door-opener in a sport that battles longstanding racism. Progress, people!
How the NCAA is helping: Kevin Warren, the commissioner of the Big Ten Conference (the oldest Division I sports conference in the NCAA) has created the Big Ten Conference Anti-Hate and Anti-Racism Coalition. The coalition will partner with existing diversity councils on school campuses in an effort to empower and educate students.
Warren, who is the first and only Black commissioner of a Power Five conference (the top five conferences in the NCAA Division I), said in the official coalition announcement that "George Floyd's death cannot be in vain."
The Philly Special: While many (not all) NFL teams have made official statements regarding the Black Lives Matter movement, the Philadelphia Eagles took it a step further: Eagles chairman and CEO Jeffrey Lurie, who rarely participates in team meetings, joined a closed meeting with players and coaches for a discussion on race relations.
Lurie encouraged an open and honest dialogue between the Eagles team, which compelled players like Jason Kelce to speak out on social media.

And, Lurie also pledged to dedicate more resources to work on reform within the organization, and the team will continue to raise money for the Eagles Social Justice Fund.
🏒

⚾

🏀

🏈

Guess who's (maybe) back, (maybe) back again?

May 28, 2020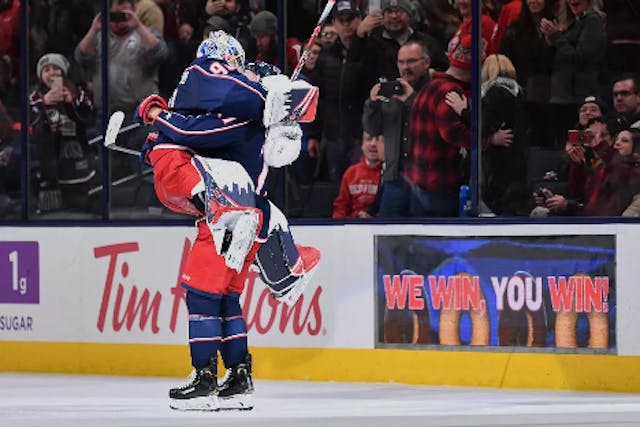 JAMIE SABAU/NHLI VIA GETTY IMAGES
The GIST: The NHL is the first pro league in North America to give us hope a real, detailed plan for returning to play. Meanwhile, the MLB is disrespecting its players, the NFL is wearing rose-colored glasses and the NBA is stringing us along. Does this situation remind you of a rom-com or what?
LOL it does. So, what's the NHL's plan?: Basically exactly what we reported on Monday (we're so ahead of the times!). On Tuesday, NHL commissioner Gary Bettman announced that the regular season is over and 24 teams will play in an unusual Stanley Cup playoff scenario. No word on when (or if) it will start, but the league has promised thorough safety and testing measures when it does.
Bettman also confirmed the league will use two hub cities (one for each conference) with seven US cities and three Canadian cities in contention to host. Due to international travel restrictions, NHL deputy commissioner Bill Daly all but confirmed they'll likely play in the US, but that hasn't stopped the Alberta government from trying to host in Edmonton. Shoot your shot!
Any other NHL news?: With the regular season officially over, the end-of-season awards can be decided! The Art Ross Trophy, which is won by the player with the most points (one point for each goal and assist), will go to Edmonton Oiler Leon Draisaitl (pronounced DRY-SIGH-TULL), after he put up 110 points in just 71 games. Impressive.
New (again) dad Alexander Ovechkin of the Washington Capitals and Boston Bruin David Pastrnak will share the Maurice "Rocket" Richard Trophy for most goals after they each tallied 48.

And the Boston Bruins are the Presidents' Trophy winners after "finishing the season" (quotes because did they really though?) with the most points (two points for a win, one point for an overtime loss).
So what's up with the MLB?: On Tuesday, they submitted their official return-to-play proposal to the MLB Players Association (MLBPA), and the MLBPA is having none of it. The MLB proposed some pretty drastic cost-cutting measures that would dramatically decrease players' salaries.
Sure, these guys already make a ton of money and we get that everyone has to make some sacrifices nowadays, but the league may have taken this one too far. They're suggesting a paycut of anywhere between 47 and 77 percent to players' salaries, depending on their original salary amount.
Where's the NBA at?: Let's pop them under the TBD column. There was talk that the Disney World plan could be finalized during tomorrow's weekly Board of Governors meeting, but it's looking like we might need to wait a little longer for confirmation. And there are new reports that play could start up in late July, but no one's confirming anything.
NBA commissioner Adam Silver said he'd have an answer for us by June 1st, so be sure to check in with us again on Monday.
Any other comeback plans?: The NFL still has time before September kickoff, but they're planning on having fans in the stands by then. Uh, we'll see how that one goes. The WNBA has finalized their rosters, the CFL has given the go-ahead for all teams to open practice facilities, and MLS is letting their players practice again...but only if they want.