🏎
⚽
🏈
Sports Quick Hits: December 6th 2021
December 06, 2021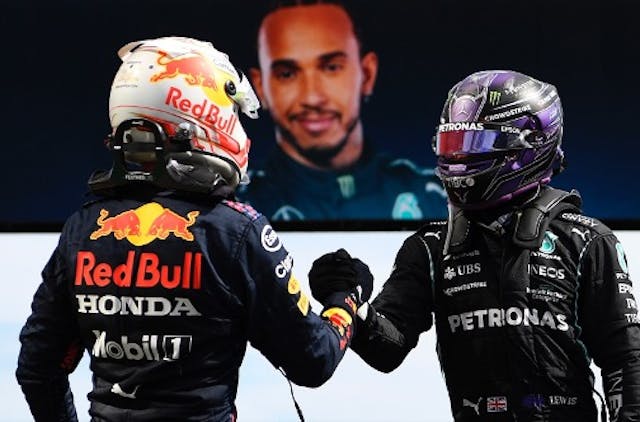 SOURCE: SPORF/TWITTER
🏎️F1: Mercedes' Lewis Hamilton won yesterday's controversy-filled Saudi Arabian Grand Prix (GP), his 103rd GP victory and a win that ties him with his rival, Red Bull's Max Verstappen, atop the leaderboard. With just one race remaining on the calendar, the Drive to Survive producers couldn't have written it better.
⚽️MLS playoffs: And then there were two. Saturday's 3 p.m. ET title game will feature a battle of No. 4 seeds when the Western Conference champion Portland Timbers face the Eastern Conference–winning NYCFC.
Portland has dominated on defense, conceding just one goal through the playoffs, while NYCFC has relied on a well-balanced offense. This is going to be good.
🏈NFL: If you're looking for some motivation on this Monday morning, just know that the Detroit Lions finally won yesterday, after going winless through their first 11 games. They defeated the Minnesota Vikings 29–27, thanks to an incredible touchdown as time expired. Anything is possible.
🏒
🏀
🏈
Sports Quick Hits: December 3rd 2021
December 03, 2021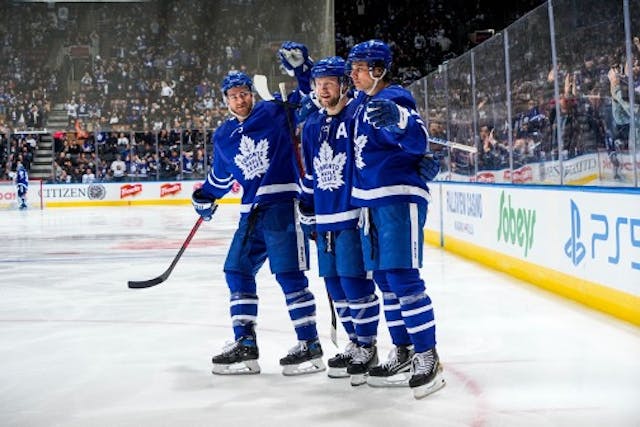 SOURCE: TORONTO MAPLE LEAFS/TWITTER
🏒NHL: After a rocky start to the season, the Toronto Maple Leafs find themselves near the top of the Eastern Conference. Extending their win streak to five games with their 8–3 win over the Colorado Avalanche on Wednesday, this team can't be stopped (we think it's the Timbiebs). Catch the Buds in action against the Minnesota Wild tomorrow at 7 p.m. ET.
🏈CFL: The Division Finals — the last round before the Grey Cup — take place this Sunday, with the East's Hamilton Tiger-Cats taking on the Toronto Argonauts at 12:30 p.m. ET, followed by the Winnipeg Blue Bombers playing the Saskatchewan Roughriders for the West's title at 4 p.m. ET.
The Argos edged out the Ticats 3-1 in their regular season matchups, and the Blue Bombers claimed victory over the Roughriders in the 2019 Divison Final. Who ya got?
🏀NBA: The Toronto Raptors claimed a much-needed 97–93 win over the reigning NBA champion Milwaukee Bucks last night. Talk about certified winner boys. Let's hope they can keep it up against the Washington Wizards on Sunday at 6 p.m. ET.
Speaking of winners, with last night's 114–103 win over the lowly Detroit Pistons, the Phoenix Suns have now won a franchise-record 18 straight games and extended their "no loss November" streak into December. Do we hear 19?
🥌
🏈
⚽
⚾
Sports Quick Hits: November 29th, 2021
November 29, 2021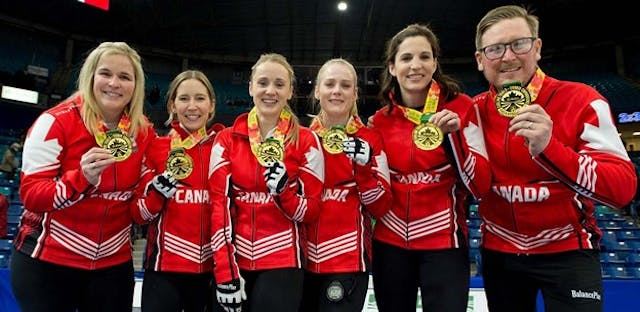 SOURCE: CURLING CANADA/TWITTER
🥌Curling: Canada's Olympic curling teams are set. After a tight competition, women's Team Jones and men's Team Gushue — both Olympic gold medalists — will be representing the red and white in Beijing in February. Rock on.
🏈CFL: Round one = done. Playing at home, the Hamilton Tiger-Cats defeated the Montreal Alouettes 23–12 yesterday to advance to the East Division final against the Toronto Argonauts. Oskee wee wee.
Meanwhile, in the West, the Saskatchewan Roughriders secured a wild three-point overtime win over the Calgary Stampeders to punch their ticket to the division finals against the Winnipeg Blue Bombers.
⚽Soccer: While MLS Playoff action continues, the CanWNT is also playing some soccer of their own — namely, international friendlies against Mexico. After a 2–1 loss on Saturday — shoutout to Jordyn Huitema (pronounced HIGH-tah-mah) for Canada's goal — the teams will take the pitch again tomorrow at 5:30 p.m. ET. Time to bring our "eh" game.
⚾️MLB: While we were sad to see (now former) Toronto Blue Jays Gold Glove second baseman Marcus Semien sign with the Texas Rangers yesterday, the Jays' own big move in signing All-Star pitcher Kevin Gausman helped to ease the pain.
🏈

NFL Week 12: Highlights (and lowlights)

November 29, 2021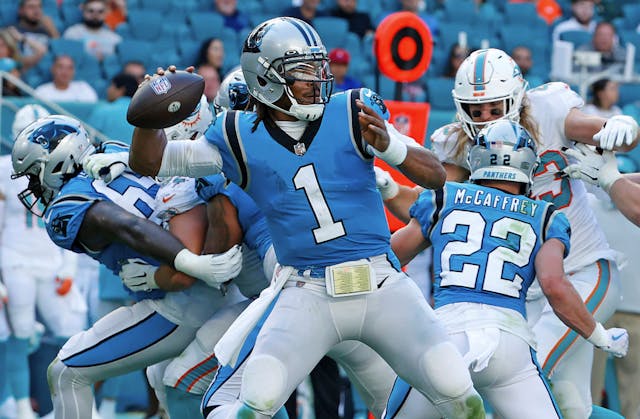 CLIFF HAWKINS/GETTY IMAGES
Do you get déjà vu?: Stop us if you heard this one before, but Tampa Bay Buccaneers quarterback (QB) Tom Brady led his squad to a 38–31 comeback win over the Indianapolis Colts yesterday. Because of course.
Oh no no no no no: We promised lowlights, and this one's a doozy. The New York Jets defeated the Houston Texans 21–14 yesterday, but Jets QB Zach Wilson was part of a brutal interception when he threw the ball off of his teammate's back and into the Texans defender's hands. You have to see it to believe it.
Riding the pine: He's baaack...on the sidelines. After a stellar performance in his first start of the season last week, Carolina Panthers QB Cam Newton was benched yesterday after throwing two interceptions in a rough 33–10 loss to the Miami Dolphins.
Striking gold: The San Francisco 49ers extended their win streak to three, thanks to yesterday's 34–26 win over the Minnesota Vikings. And look away Vikings fans, because there's more bad news: star running back (RB) Dalvin Cook was carted off the field with a shoulder injury. Scary.
Monday Night Football: The fun continues tonight at 8:15 p.m. ET when the desperate-for-a-win Seattle Seahawks face the surging Washington Football Team (WFT). Can Seahawks QB Russell Wilson help his squad level up or will the WFT make the NFC East title race a little more interesting?
🏈

Thanksgiving football: Buffalo Bills (6-4) vs. New Orleans Saints (5-5) — 8:20 p.m. ET

November 25, 2021

The GIST: Although New Orleans Saints QB Jameis Winston is sidelined for the season with a torn ACL, you'll still want to save room for this primetime matchup.

Bills: After a red-hot 4-1 start to the season, Buffalo has struggled of late, losing two of their last three with both losses coming to mediocre teams. Early MVP candidate QB Josh Allen will need a standout performance to squash the surfacing doubts about his squad.

Saints: Winston went down with a torn ACL then backup QB Taysom Hill suffered a concussion, ceding the starting role to third-string QB Trevor Siemian, who's 0-3 in his three starts under center. Not great.
That said, New Orleans will have an elite running game if RBs Alvin Kamara and Mark Ingram are available.
Prediction: With both squads coming off embarrassing losses in Week 11, it's hard to know which version of each team will show up tonight. But with the uncertainty surrounding the Saints' injuries, we have to go with the Bills and their top-ranked defense in this one. Just don't jump through your Thanksgiving table in celebration, Bills Mafia.