🏀

🏒

🏈

⚽

Not so fast

May 07, 2020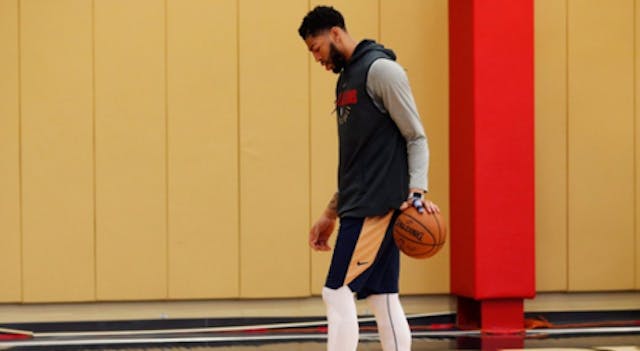 GERALD HERBERT/AP
The GIST: It's a good thing the NWSL is leading the charge, because other major leagues in North America still have a lot of work to do before they can get back on the court/ice/field/our screens.
NBA: Earlier this week, the NBA gave the all-clear for teams to reopen their practice facilities to allow for individual workouts starting tomorrow...which sounded great in theory. But when the rules of the workouts were announced yesterday, it seems very unlikely league-wide practices will begin anytime soon.
Only teams in cities with laxed restrictions can take part, and even then, teams will need to adhere to safety and distancing rules. Based on state guidelines and individual team decisions, as few as three teams plan to open their facilities tomorrow. Like we've mentioned before, this could lead to a v. unfair advantage for some teams once the season eventually restarts.
NHL: The NHL has been pretty tight-lipped lately, but this "bubble city" idea might actually work to restart the season. The plan has four North American cities acting as host cities for (maybe) the rest of the regular season and the playoffs (of which the format has yet to be announced) which would take place over the summer.
Up to 14 cities submitted a bid to host before last Friday's deadline, and each had to show that they had enough empty hotels to safely house between 600 and 1,000 people (you know, to avoid popping the bubble), and a nearby practice facility.
NFL: Although there's still a ton of time before the NFL regular season starts in September, they're not exempt from impacts of the COVID-19 pandemic. The league is currently estimating a possible loss of $3.2 billion if the season has to be played without spectators. And the international series has been canceled, which would have seen one game take place in Mexico City and four games in London. Bloody hell.
Speaking of football in Europe, at least fútbol is on its way back. The German pro league Bundesliga got the official okay from Chancellor Angela Merkel to resume the season on May 15th, and Spain's La Liga has opened training camps, so between these leagues and the NWSL, it looks like we're all going to be big soccer fans this spring.
🏈

"Who gives a sh!t about gender?"

April 27, 2020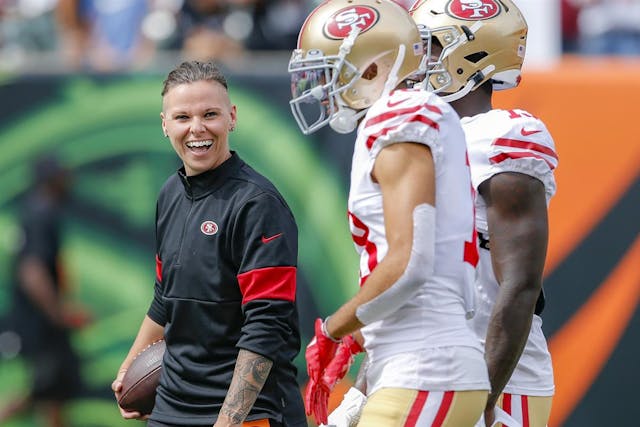 SOURCE: GARY LANDERS/ AP
The GIST: This recent NFL talk has us thinking about the trailblazing women — specifically the coaches — who have contributed to the game.
The numbers: Since 2015, seven full-time female coaches and 15 female coaching interns have worked in the NFL. Currently, four women hold full-time assistant coaching positions. Amazing, right?! However, given the typical NFL team currently averages 23 assistant coaches and there are 32 teams in the league, there are about 736 assistant coaching opportunities. We're no math majors, but this means women hold only 0.54% of assistant coaching roles.
And while the NFL has implemented policies such as the "Rooney Rule," which requires teams to interview ethnic-minority candidates for head coaching and senior football operations jobs, there are no similar gender-diversity policies. Hhhmmmm.
The firsts: Still, there are four full-time coaches in the league and that's a BFD, especially when football, despite having professional women's football leagues, is "not a women's sport." Five years ago, Dr. Jen Welter got the ball rolling when she became the first woman to coach in the NFL as the Arizona Cardinals training camp/preseason coaching intern.
Just a year later in 2016, Kathryn Smith became the NFL's first female full-time coach when she landed the role of special teams quality control coach with the Buffalo Bills.
The present: Mostly recently, Katie Sowers, who's been an offensive assistant coach with the San Francisco 49ers since 2017, became the first woman and openly gay full-time coach in the Super Bowl. Can we get a HYFR?
Then, shortly after the season ended, Jennifer King became the NFL's first Black female full-year coach when she was hired by the Washington who must not be named as a full-year coaching intern. You love to see it.
The future: With the combination of having female coaching role models, an increase in female fandom (the NFL says 47% of its fans are women) and head coaches "not giving a sh!t about gender," we predict we're only going to see more female coaches in the future (and maybe even our first female NFLer).
🏈

#BooTheCommish

April 27, 2020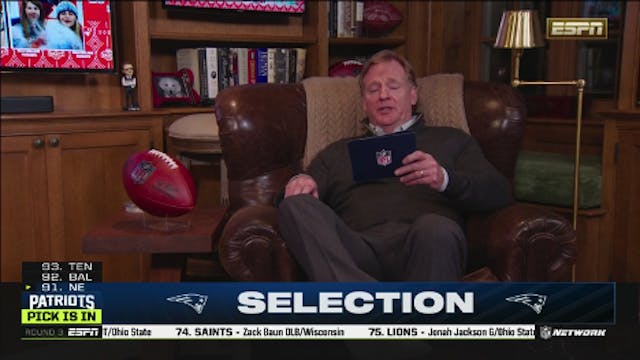 SOURCE: SB NATION/TWITTER
The GIST: Just how desperate are we for the return of sports? Well, a record-high 15.6 million viewers tuned in to watch the first round of the 2020 NFL Draft broadcast live from league commissioner Roger Goodell's basement, so you tell us.
How did the virtual draft go?: Pretty well, actually. There were no major technical glitches (though Dallas Cowboys head coach Mike McCarthy is still figuring out his angles) and the tradition of fans booing the commissioner was kept alive. It just wouldn't have been a true draft otherwise.
The most entertaining part for many viewers seemed to be the behind-the-scenes glimpse of team executives' at-home war rooms (special shoutout to New England head coach Bill Belichick's dog) and watching the incredibly awkward interactions between players and their families (new Cowboy CeeDee Lamb is never living this one down).
Who was drafted?: With the most obvious pick of the evening, the Cincinnati Bengals drafted Louisiana State University (LSU) quarterback Joe Burrow first overall. Burrow was the first of 14 LSU players selected, while Ohio State's defensive end Chase Young and cornerback Jeff Okudah went second and third, respectively.
🏈

Sure know how to pick 'em

April 23, 2020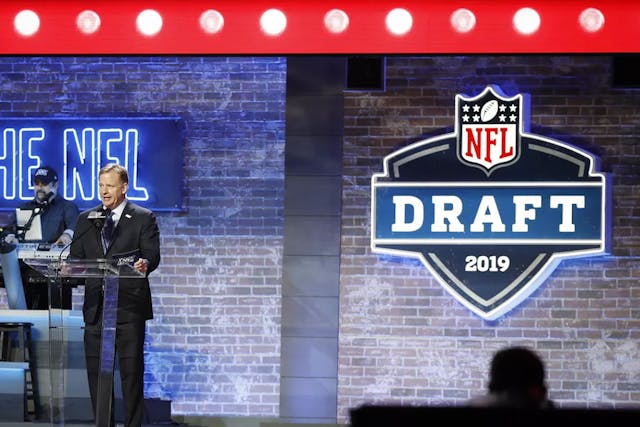 SOURCE: FREDERICK BREEDON/GETTY IMAGES
The GIST: After the WNBA showed us how it's done, it's time for the NFL to step up to the challenge. It's Virtual Draft Day!
Okay wait, what's a draft again?: A player draft allows a professional league's teams to select the best eligible amateur players to add to their rosters. In the NFL Draft, all 32 teams have one pick in each of the seven rounds (unless they traded them), and the eligible player pool is mostly made up of college players.
Usually the NFL Draft takes place live in a centralized location, with athletes, fans and team executives attending the three-day event. This year's Draft was originally set to take place in Las Vegas, with draft picks arriving by boat across the famous Bellagio fountain and 750,000 fans expected to attend. A low-key affair.
But now...?: They're going digital. The Draft will be broadcast live from NFL Commissioner Roger Goodell's basement (seriously) in New York, with athletes and teams joining via Microsoft Teams and Zoom, from their respective homes across America.
The NFL did a practice draft earlier this week to work out any technical glitches, and while it got off to a rocky start, everything seems to be in tip-top shape for tonight's primetime event at 8 p.m. ET. Let's just hope for a strong WiFi connection.
Fingers crossed. So who's up first?: That honor goes to last season's worst team, the Cincinnati Bengals, who are projected to take QB Joe Burrow first overall. Burrow was the star QB for Louisiana State University (LSU) for two years and won last season's College Football National Championship after being named the Heisman Trophy winner (aka the best college football player).
If/when the Bengals pick Burrow, he'll become just the third player (the others being Cam Newton, who was drafted in 2011 and Jameis Winston, who was drafted in 2015) this century to win the Heisman, National Championship and go first overall in the Draft. Now there's a fun fact if we've ever seen one.
🏈

Thank you for being a friend

April 23, 2020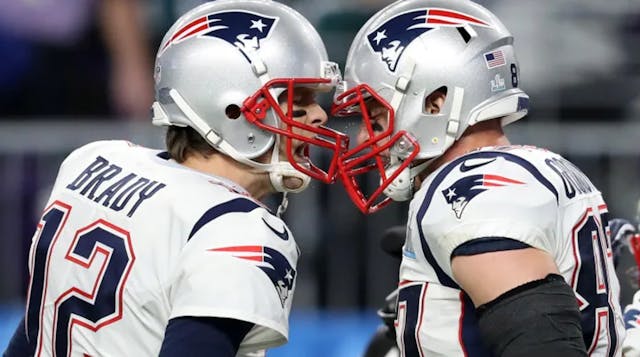 SOURCE: MATTHEW EMMONS/USA TODAY SPORTS
The GIST: New England Patriots fans, you might want to skip this one. Beloved former Pats tight end Rob "Gronk" Gronkowski has joined his quarterback (QB) bestie Tom Brady as the newest member of the Tampa Bay Buccaneers. Look out, Florida!
What?! I thought he retired?: Yeah, same. Gronk was drafted by the Patriots in 2010 and spent his career in New England until he retired last March. At just 29 years old, his retirement was a pretty big shock to the sports world.
That said, Gronk suffered numerous injuries during his career, which took a toll on his mental health. After retiring, Gronk became an NFL analyst for Fox Sports and signed a contract with WWE, where he recently won the WWE 24/7 Championship.
So why is he back?: That's the power of Brady, baby. The legendary QB created his own shockwaves when he signed with the Buccaneers in March, after 20 seasons and six Super Bowl wins with New England.
The Bucs have solid wide receivers, but Brady's always best when he has a tight end he can trust. Gronk and Brady won three Super Bowls together, and if Gronk can get back into playing shape by the time the season starts in September *knock on wood*, we think this dream duo can make it four.