NWSL club NJ/NY Gotham FC sees increased exposure with Sue Bird, other famous investors
August 01, 2022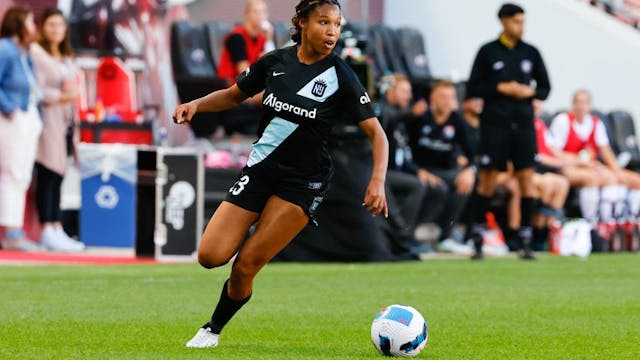 RICH GRAESSLE/ICON SPORTSWIRE VIA GETTY IMAGES
The GIST: NJ/NY Gotham FC has scored a star-studded investment roster. As mentioned last week, WNBA icon Sue Bird and two-time Super Bowl champ Eli Manning joined a growing list of famous investors in the NWSL club on Friday, with Gotham now valued at a reported league-record $40 million.
The investment continues the trend of rising valuations and celebrity dollars in the NWSL, a move that Gotham's chief business officer Andrea Pagnanelli told The GIST boosts the club's exposure. Star power.
The investors: Per Sportico, Bird and Manning joined the ownership group after NBA star Kevin Durant and his business partner Rich Kleiman invested in May, with former USWNT and ex-Gotham player Carli Lloyd doing the same just a week earlier. Pagnanelli said more minority co-owners with local ties are on the way.
The celebrity impact: Simply put, investments from high-profile people increases Gotham's profile. "We're just managing up to a lot more owners who want visibility and to owners who can help," she said. "[It] allows us to make decisions quicker, open doors."
Bird and Lloyd's investments, Pagnanelli said, is driving "new reach." The exec noted that the club's Instagram following rose by 2K after Lloyd's investment announcement, while Bird resonates with the fanbase.
The proof-point: A-list investors are en vogue in the NWSL, perhaps pioneered by LA-based Angel City FC. The club co-founded by Natalie Portman counts over 100 micro-investors in its ownership group, many of whom are high-profile Hollywood or sports figures.
With names like Uzo Aduba, Jessica Chastain and Mia Hamm on board, the club booked $35 million in commercial revenue before its first game in April.
Gotham's context: Gotham has revved up from zero to 100 over the last four seasons. The club upgraded from 5K-seater Yurcak Field to the 25K-capacity Red Bull Arena just before the March 2020 pandemic shutdown, and rebranded from Sky Blue FC to Gotham in April 2021.
This year marks the club's first full season with fans at the upgraded venue. We love a makeover.
Zooming out: Pagnanelli noted the celeb investment is mutually beneficial. While Gotham actively courted minority owners, some of the newcomers approached the club of their own accord. From LA to NY, the women's sports boom is attracting — and paying off for — new investors. As Pagnanelli said, "The time is now."