First year of NIL era brings in $917 million in deals
July 06, 2022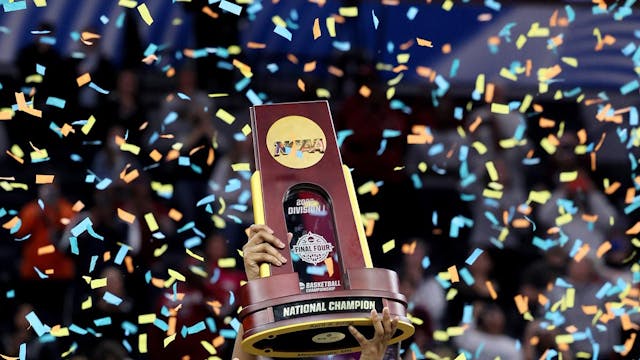 SOURCE: ANDY LYONS/GETTY IMAGES
The GIST: College sports' name, image and likeness (NIL) era turned one on Friday, and it was quite the year for sports business' newest frontier. Student athletes raked in $917 million (!!!), with 37.3% of all NIL deals in women's sports. Hope you like cake.
The sports: To no one's surprise, football collected 49.9% of NIL compensation. Men's and women's basketball landed in the No. 2 and No. 3 spots with 17% and 15.7%, respectively. Digging out fourth and leading the pack for niche sports? Women's volleyball, which garnered 2.3% of the dollars spent.
Removing football from the NIL equation spotlights the eagerness to work with female student athletes. Women's sports notched 52.8% of all remaining deals in the last year, a smooth 5.6% more than non-pigskin men's sports.
Moreover, female athletes outpaced their male counterparts in licensing rights, averaging $12.5K per deal compared to the men's $8.8K. Cha-ching.
The brands: Commercial partners came in clutch for female athletes. A whopping 91% of the compensation in women's sports came from brand deals, with donors (via booster collectives) contributing 8% and fans anteing up that final percent through fan club memberships and exclusive content subscriptions.
Tech businesses struck the majority of all NIL deals, leading the way for national brands. Trading card and NFT companies made up 17.9% of spend, with mobile apps at a close second with 16.5%. E-commerce companies landed in third at 7.7%.
Zooming out: With players zeroing in on tech companies and brands leaning heavily into women's sports, the NIL space is reflecting the future of sports business. The new, nontraditional industry game changers aren't hedging bets blindly — the digital global world means tech companies are here to stay, and so are investments in women's sports.