Zwift's director of women's strategy discusses Tour de France Femmes
July 20, 2022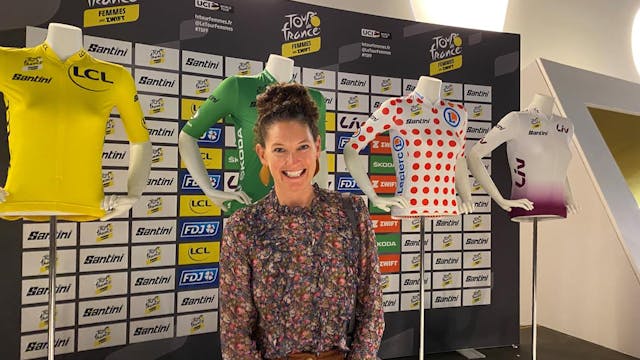 SOURCE: KATE VERONNEAU
The GIST: The first official Tour de France Femmes finally begins on Sunday with a peloton of commercial partners backing the race. The company in the maillot jaune? Cycling and running platform Zwift, both the Tour's title sponsor and a brand that's quickly emerging as the champion of women's cycling.
Ahead of the inaugural event, we connected with Kate Veronneau, Zwift's director of women's strategy, to learn how the company is using its platform to fuel a women's sport that's racing to the top.
The catalyst: Zwift played a crucial role in launching the Tour de France Femmes. The platform hosted the Virtual Tour de France in 2020 as a pandemic-era solution to the delayed official race, and invited male and female cyclists to ride.
The six-day event ensured equal routes, prize money and air time on French sports network Eurosport. The result, per Veronneau? Equal viewership.
"It proved to the [Amaury Sport Organisation (ASO)] that this is a viable option," she said about the Tours' organizer. "Audiences are demanding this and it's time to launch a real Tour de France for women. That started the conversation."
The investment: The brand's moves go beyond the Tour de France Femmes. Zwift booked its spot in March as the title sponsor of the ASO's Paris–Roubaix Femmes, the sport's storied one-day race. As a result, prize money for this year's April edition rose to $54K from the $7.5K mandatory minimum awarded at the 2021 inaugural race. Cha-ching.
The tech: Many of the Tour's top partners are tech companies, which increasingly embed themselves in the sports landscape. Tech is "literally creating more space and more opportunity to attract fans, to attract sponsors," Veronneau said.
"Early on our platform, women's teams were hosting rides where the community and sponsors and fans could join," the exec noted. "It offers some unique interaction with the athletes, another way to promote themselves, to promote their team, another way to promote their sponsors as well."
Zooming out: The pro women's racing scene offers a sport "very stuck in its ways" a chance to modernize — and cash in. "Women's cycling is growing at the recreational level hugely, around the world," Veronneau said, noting the sustained popularity of outdoor and indoor cycling following a pandemic surge in bike purchases.
The sport is also reaping rewards of the women's sports boom. "You're seeing some really progressive, smart companies that are already thinking ahead a little bit," Veronneau said. "This is the future of sport." We couldn't agree more.