March Madness: Making the case
March 25, 2022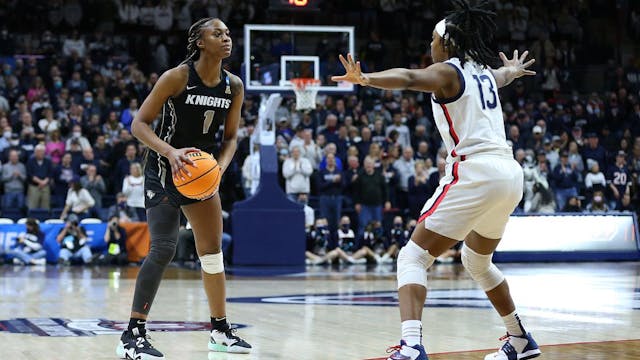 SOURCE: M. ANTHONY NESMITH/ICON SPORTSWIRE VIA GETTY IMAGES
The GIST: This year's NCAA women's basketball (WBB) tournament is boasting more than upsets — the off-court gains are just as exciting. First- and second-round viewership is up 15% from last year, including an early-round record 1.13 million tuning into UConn's victory over UCF. And all those eyeballs mean serious brand exposure.
The details: March Madness is a boon for brands — the women's and men's tournaments have generated over $165 million in media value during the first week alone, excluding commercials. Plus, the women's tournament averaged 89 minutes of total brand exposure during games, nearly 20% more than the men's tournament. *flips hair*
Increased sponsorship opportunities help. Spalding and State Farm scooped up rights to sponsor the basket stanchion, along with a collection of other brands that varied by venue.
Zooming out: The college ball arena is rife with opportunity. According to SponsorPulse,* over 99 million Americans engage with college basketball annually, and 11.8 million are more likely to purchase from brands with basketball sponsorships. All of which is great news considering WBB is proving that it attracts both serious sponsorship money and impressive audiences.
*P.S. SponsorPulse is a launch partner for The GIST Sports Biz