FIFA: New sponsor on the block
April 15, 2022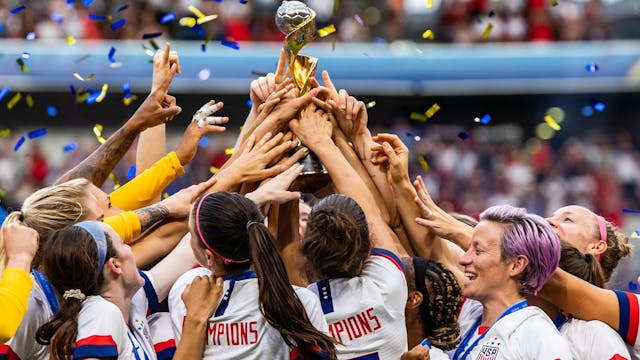 MIKOAJ BARBANELL/SOPA IMAGES/LIGHTROCKET VIA GETTY IMAGES
The GIST: FIFA booked its latest 2023 Women's World Cup sponsor on Wednesday — New Zealand-based accounting software platform Xero. The move reflects Xero's commitment to women's soccer, and is another win for FIFA's new commercial partnership structure.
The details: Xero's sponsorship kicks off next year at the tournament down under, and continues with the 2024 and 2026 U20 and U17 Women's World Cups. The cloud-based tech company is also pitching in on two FIFA programs designed to advance women's soccer — capacity building for administrators and coach education scholarships. Teamwork makes the dream work.
The context: In December, FIFA launched a newly equitable commercial partnership model to capitalize on the growth of women's soccer. They unbundled the women's and men's properties, offering brands more customization in deals, including allowing brands the opportunity to invest specifically in the women's tourney.
Zooming out: The new commercial partnerships structure is one of the first designed to uncover (and benefit from) the true valuation of women's sports. Existing deals that bundle women's and men's properties ignore the tangible growth of women's sports. A prime example? The NCAA's women's basketball broadcast deal.
The restructure also allows FIFA to align with the changing landscape. Younger consumers want to support brands that tackle systemic inequities, which adds further incentive for companies to back women's sports (that currently receive just 4% of sports media coverage).
There's no time like the present to maximize business potential. Per SponsorPulse,* over 75 million Americans engaged with the women's tournament in the last year, and 12 million say their excitement grows as the World Cup inches closer.
*P.S. SponsorPulse is a launching partner of the The GIST Sports Biz