Serena Williams' US Open run generates record viewership, engagement
September 02, 2022
Serena Williams isn't the only one picking up wins during her farewell tour.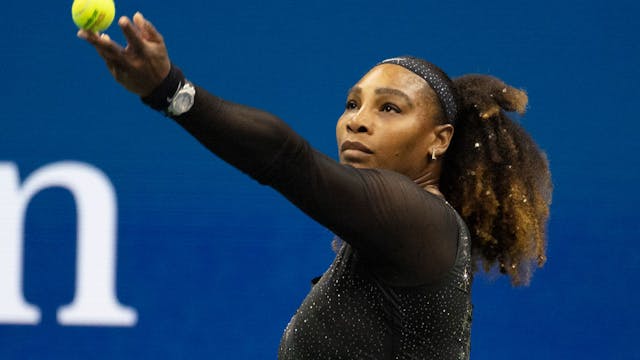 SOURCE: TIM CLAYTON/CORBIS VIA GETTY IMAGES
The GIST: Serena Williams isn't the only one picking up wins during her farewell tour. Hype is building as the 23-time Grand Slam champion continues her run at the US Open, resulting in record engagement and a major impact on the market. Just another ace from the GOAT.
By the numbers: While Williams shows up on the court, fans are showing up off it.
45%: The increase in tweets about Williams' second-round victory over Anett Kontaveit on Wednesday, compared to her first-round W against Danka Kovinić. Plus, tennis conversation at its peak on Wednesday was up 365% on Twitter from Tuesday (when men's world No. 3 Rafael Nadal was playing).
29,959: The record number of people who filled Arthur Ashe Stadium on Wednesday, just edging out the 29,402 who watched Williams IRL on Monday.
2.7 million: ESPN's average Monday night audience for Serena's first-round win, which peaked at 3.2 million. It's the network's best US Open showing since acquiring the Grand Slam's rights in 2009, and the Serena effect even spilled over into the afternoon: 626K watched from noon to 7 p.m. ET, up 44% from 2021.
70%: The number of bets placed at Caesars and DraftKings for Williams to win the singles competition, all wagered ahead of Wednesday's dub. A whopping 82% of day-of FanDuel bettors also chose Williams. Trying to will the fairytale ending into existence.
The price tag: The ticket price to see Williams face Ajla Tomljanović (pronounced EYE-luh tuhm-YAH-nuh-vitch) in tonight's third round surged 143% to $530 in the 24 hours after Serena beat Kontaveit, with the cost rising more than 900% (!!!) since July. As a whole, the ticket price for all third round matches has risen 221% in the same time.
The market is reflecting the will of the people. The average ticket to September 10th's women's singles final costs $1,972, more than double the record high price of $940 for the 2019 final that saw Canadian Bianca Andreescu beat Williams.
The bottom line: Williams will continue to be the top news story during her US Open run. Passionate fans are ready to show their support through all available avenues, something unique to a generational talent like Serena. Simply the best.