WNBA: Votes for bonuses
August 22, 2022
WNBA fans will soon have a say in player bonuses.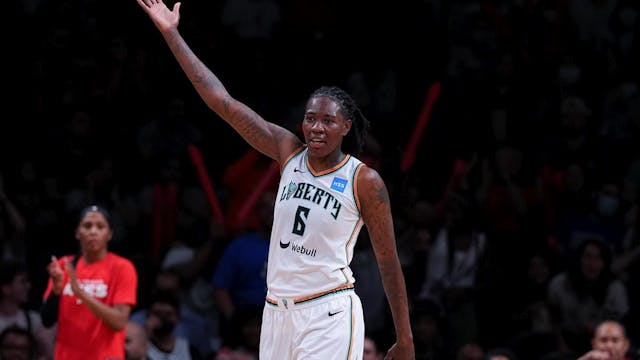 SOURCE: MITCHELL LEFF/GETTY IMAGES
The GIST: WNBA fans will soon have a say in player bonuses. On Thursday, several of the league's players partnered with Sports Biz Network for a project that will allow the athletes to earn monetary rewards for winning fan polls. Sports Biz Network plans to pay players $1 million in total from NFT sales. Ready those campaign slogans.
The partner: Sports Biz Network describes itself as a community-based platform for sports, business and cryptocurrency enthusiasts. It offers topical workshops and also sells NFTs.
The details: Fans who purchase the platform's $99 World of Athletes NFT are then able to take part in the network's fan polls, which will include contests on MVP, Rookie of the Year, Best Dressed and Play of the Week.
Participating fans will have access to Sports Biz Network's Women in Sports Virtual Summit next month, as well as exclusive meet-and-greets with athletes.
Players who joined the program include the New York Liberty's Natasha Howard and DiDi Richards, the Las Vegas Aces' Dearica Hamby, the Washington Mystics' Shakira Austin and the LA Sparks' Brittney Sykes.
Zooming out: The initiative seeks to monetize the WNBA's highly engaged fanbase, which tends to reward partners for working with the league and its players. The project also encourages participation for a worthy cause — 61% of fans in the U.S. say gender equality is the social issue they are most passionate about.