WNBA: Shooting for that raise
April 25, 2022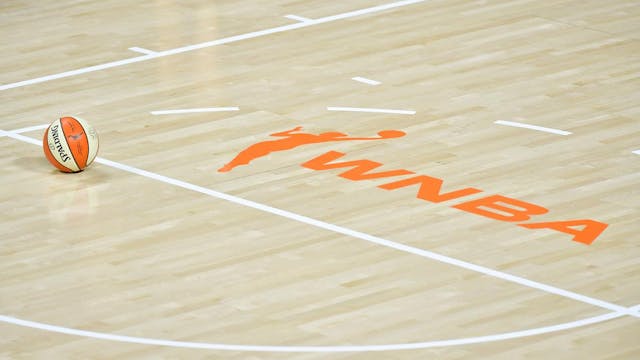 JULIO AGUILAR/GETTY IMAGES
The GIST: The WNBA has scored ratings win after ratings win in recent months, and the timing of the rise couldn't be better. According to a Friday report, the W is aiming to negotiate a new broadcast deal worth $100 million per year, which would kick in for the 2024 season.
The current deal: The league has five national broadcast partners for the 2022 season — ESPN, CBS, Amazon Prime Video, Facebook Watch and NBA TV. The W's deals with ESPN and CBS are reportedly worth over $25 million per yearcombined, while the details of the Amazon and Facebook partnerships have not been publicly disclosed.
Prime Video is one of the league's newer broadcast partners. The streamer signed a multiyear deal with the W ahead of last year's 25th season.
The context: If the W can land a $100 million deal, the influx of cash will (hopefully) go a long way to increasing players' salaries, especially with lucrative international options coming off the table.
Russia's war with Ukraine, the subsequent economic strife and the arrest of Brittney Griner makes it an unattractive — and possibly dangerous — destination. Meanwhile, China's COVID-19 restrictions led the U.S. to encourage citizens to leave.
Many players would prefer to not go overseas, but as Connecticut Sun forward Jonquel Jones says, domestic and international salaries are currently "not comparable." She reportedly earns around $200K a month with Russia's UMMC Ekaterinburg — her annual salary in the W. Shocking.
Zooming out: The W has quickly become the example of tangible growth in women's sports in the U.S., and it's past time for a media deal to reflect how the W stacks up. The league averaged 306K viewers per game during the 2021 regular season, similar to MLS viewership at 384K.
The big difference? MLS boasts a $90 million broadcast package with ESPN, Fox and Univisión, well over double the W's current agreement. A new media deal with more accurate valuation could cement the W as the proven sports entity it is.
A dramatic increase in broadcast valuation would also naturally increase the figures on agreements with new — and existing — sponsors. Pro tip to all brands: act on the W, like, yesterday.