If your expert knowledge of golf begins and ends with Happy Gilmore, we've got your back. Tap tap taparoo.
October 17, 2020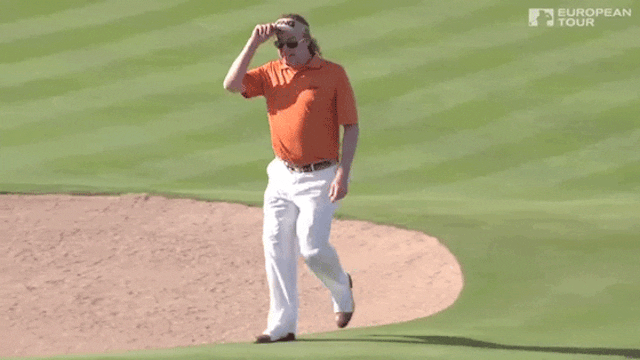 SOURCE: GIPHY.COM
The GIST
A full round of golf is 18 holes. Holes generally range from 100 to 500 yards. Unlike most other sports, the goal is to have the lowest score (counted by strokes) at the end of the game — meaning take the least amount of swings or putts to get the ball in the hole. Each hole on the course is given a number of strokes that it should take for a person to get the ball in the hole (this is called par) and typical championship courses have a full par value of 72.
How is it organized?
Similar to tennis, men's professional golf players play in PGA (Professional Golf Association) Tour and women play in LPGA (Ladies' Professional Golf Association) tournaments. A tournament consists of four rounds of golf (one per day from Thursday until Sunday). The biggest tournaments are called majors. The PGA hosts four majors each year: the Masters, the US Open, the British Open and the PGA Championship. The ladies have one additional major on the LPGA circuit. Their five majors are the ANA Inspiration, U.S. Women's Open, Women's PGA Championship, Women's British Open and the Evian Championship.
Outside of the majors, there are also various other tourneys the pros can partake in. A player's world ranking is based on how they do in each tournament. The most well-known and prestigious tournament is the Masters, played in Augusta, Georgia. In addition to winning copious amounts of cash money, players also receive the green jacket (super cool to win, super impractical to wear). The Masters is unique because winners are automatically invited back to play in the tournament annually for the rest of their lives!
Golfin' greats
This isn't just your grandparents' game anymore! While golf is a sport where experience is incredibly important, the past decade has shown that you can be young and still be at the top of your game. The best golfers today include Dustin Johnson (American who is married to Wayne Gretzky's daughter, ), Rory McIlroy (Irish sweetheart), Brooks Koepka (American who won back-to-back US Open and PGA Championship tourneys) and Jordan Spieth (young American stud).
And then there's Tiger Woods. Tiger dominated the game for over a decade, winning 14 major tournaments. And then things crashed (literally) and burned for the golfing superstar. Tiger was caught cheating on his wife and Swedish model, Elin, claiming that he had a "sex addiction". More recently, Tiger was arrested in Florida in 2017 for a DUI after crashing his SUV. He has since made a rather spectacular comeback and is back to being one of the top ranked golfers in the world.
Gals who golf
It's a myth that 'golf' stands for "Gentlemen Only Ladies Forbidden", but only just barely. For decades, golf has been seen almost exclusively as a man's game, but thankfully ladies have continued to break down those barriers. Professional women play in the LPGA (Ladies PGA) which is organized similarly to the men's. And Canadian sensation Brooke Henderson is one of the best in the world — she holds the record as the youngest woman to ever win an LPGA tournament AND is the in Canadian history (male or female) with nine career titles. Just unreal.
In 2019, the LPGA awarded its largest ever prize ($1.5M USD) to South Korea's Sei Young Kim at the CME Group Tour Championship. That's $500k more than the previous record prize. Even though the overall prize money handed out in the LPGA pales in comparison to the PGA, there is reason for optimism. The LPGA's 2020 schedule features 32 events with record prize money and at least 500 hours of televised content. Keep making moves, ladies!
Prep for your next trivia night by making sure you know these facts:
A hole-in-one means you took just one stroke to get the ball all the way into the hole. Tradition says that that golfer must then buy a drink for each person in the clubhouse. But fear not, most courses have hole-in-one insurance so that you actually don't have to pay. Hilarious.
Jack Nicklaus is strongly considered the best golfer of all-time winning 18 majors, which remains the record for most ever.
Have you ever sipped on an Arnold Palmer, that delicious blend of iced tea and lemonade? Well, the drink is named after a very successful pro golfer who was known to request the combination! The late Arnold Palmer won four (!!!) Masters tournaments and seven majors over his career.
Don't get The GIST's free twice-weekly newsletter yet? Let's make it email official.