🎾

Tale as old as time

November 13, 2019

The GIST: Stop us if you've heard this one already: a male athlete and a female athlete win the same tournament, and he gets paid twice as much as she does. Sound familiar? This is the story of , where Rafael Nadal took home $1.049 million, while Bianca Andreescu won a cool $519,480.
Andreescu actually took home less than the men's runner-up, Daniil Medvedev, who left with $531,010. So, essentially, it's more lucrative to be a losing man than a winning woman?
It's 2019. What gives?:In this case, there are some arguably "valid" reasons for this particular wage gap. One of them has to do with tennis' governing bodies.
Got it. But why does this matter?:The Rogers Cup is one of those shared events. However, the weight of the tournament is different for each side. For the men, it's a Masters 1000 tournament, worth 1000 points in. For the women, it's a Premier 5 event, worth 900 points.
In other words, if a Grand Slam tournament (the US Open, for example) is a tier I event, then the men's Rogers Cup would be a tier II and the women's Rogers Cup would be a tier III. The lower the tier, the less prize money.
Seems strange:You're not wrong. And given that the Rogers Cup attracts high-calibre men and women (heck, queen Serena Williams was playing!), Tennis Canada, which operates Rogers Cup,mandate an equal prize pool.
Rogers Communications as the sponsor could also use the revenue from our ridiculously high phone bills to match the prize money. But neither Tennis Canada nor Rogers has stepped up. Yet.
Sounds complicated:Equal pay always is. Look no further than what the US Women's National soccer team is going through in their. The good news? Tennis is one of the most progressive sports out there in terms of equal pay.
🏀

Guide to Fantasy Basketball

September 30, 2019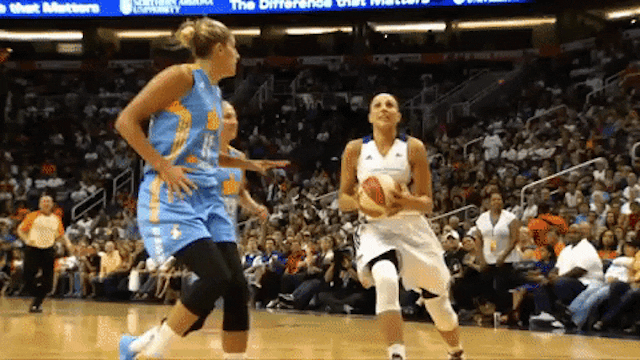 WTF is fantasy basketball?
So glad you asked! Fantasy basketball is all about building the best (imaginary) basketball team with real NBA players and competing against the other teams in your league to prove who's best.
Not entirely clear? Let's compare this to Hollywood then, because we're suckers for pop culture and why the heck not. We want you to picture your favorite actors. Next, imagine if all of your favorite actors were to suddenly team up and join a movie that YOU have full creative control over. The actors are real, their ability to deliver lines is real, but YOU select who's on the cast, what parts they play, and how they will be directed.
For this exercise, replace Ryan Gosling with LeBron James, replace the movie set with a court, and replace line delivery skills with bball skills in your mind. That is fantasy basketball. You have control of your players and your players have control of the game and their ability to produce results.
Sounds fun, how do I play?
To play this fun AF game, you first need to join a league. Your office may already have one in the works, so definitely ask around, but you can also join a league for free online! These websites are some of the best, and most popular out there:
Once you join a league, a "Draft Day" will be set and scheduled by your league's commissioner (fancy phrase for league organizer). You should aim to do all of your prep work and research before your scheduled Draft Day, as this will be the day that you actually select your team. It's a BFD.
Before we dive in, you should know that teams are mostly made up of six forwards (SF, PF, F), five guards (PG, SG, G), and two centers (C), for a total roster of 13 players (ten active players + three inactive bench players each day). There are 301 players in the NBA and you only need to pick 13 on Draft Day, so be sure to make your picks count.
Fantasy basketball is generally structured in a VERY similar way to fantasy hockey – if you have not yet checked out our Fantasy Hockey Guide, then we strongly recommend you take a quick jump over and read all about the wonderful world of fantasy sports and the small nuances that come with it.
Let's return really quickly to Draft Day, as this day is absolutely critical to your success. There are two types of drafts – the snake draft, by far the most common, and the auction draft. Just like hockey, a snake draft is when each team in the league is assigned a predetermined draft number and selects a player (from the remaining available players) to join their roster on their respective turn. If there are ten teams in your league, then you will draft somewhere between first and tenth, with the tenth drafter also selecting the eleventh pick because the order flips after each round. It will look something like this:

The whole point of Draft Day is to build your team using the best players available to you. Whether you pick the known high performers or take a gamble on a potential breakout star (aka sleeper pick), Draft Day is all about what you decide. There's some strategy to this, y'all! But, don't fret, your picks are not set in stone; you'll get the chance to make trades or pick up undrafted players during the season to mix your roster up and chase after a baller you couldn't/didn't nab in the draft. As always though, beware the buyer as a big trade could require you to give something big up in return…
If you haven't a clue what to do, most websites offer ADP (Average Draft Position) for each player to help a sister/mister/GISTer out. The ADP is the average spot that the player was taken across all of the drafts run on that website – the higher the ADP, the more in demand that player is, which is a big clue that they might be pretty friggin' good.
As an owner after the draft, you set up your squad every day and select which players get to play Like Mike and hit the bball court and who gets to sit on the bench. Most often, you'll play against another team in your league each week in a head-to-head format to see who's team does the best in a variety of categories – points, threes, rebounds, assists, and steals are some of the most common categories, but it can vary depending on what your commissioner has decided.
The team who outscores their opponent in each of the league's categories at the end of every week will earn a point; for example, if Team A had 36 total rebounds for the week and Team B had 32, Team A would earn a point. The team with the most points in their "head-to-head" matchup will earn the dub (win because dub is short form for W) for the week and this will go towards their overall standing in the league. Rinse and repeat this process until playoffs and there you have it, a regular-season of fantasy basketball.
Wanna get good? Here are some draft tips to get you started
À la Elle Woods & her iconic orange Mac laptop in the 2001 classic Legally Blonde, you're gonna have to sit down, do some homework, and take some notes in order to slay your fantasy league. So hit the Google and check out these resources: